How to make the best easy gluten-free cherry almond cake recipe - This simple recipe uses a homemade cake from scratch and a can of cherry pie filling to create an amazing dessert!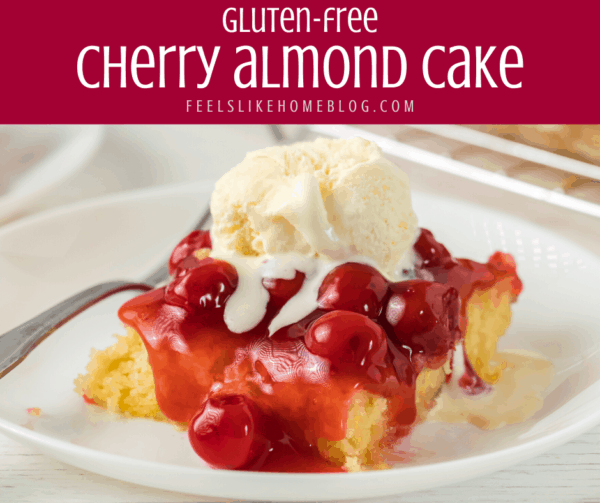 Any time you use cherry and almond in the same sentence as dessert, I am right there with you. I adore cherry almond anything.
I may even like cherry almond better than chocolate. It's a tough call.
Stay with me through this next part.
I have to tell you why I came to have this cake.
Or just skip to the bottom. That's where the recipe is.
Yesterday, I explained how Allie got what nearly amounted to a birthday non-party for her third birthday whereas Grace had two pretty elaborate parties for her third birthday.
With that in mind, let's talk about birthday cake. We forgot about a birthday cake until the day before Allie's birthday party.
Since I'm gluten-free, Joe wanted to make me a special cake (because the last few gluten-free cakes we've tried have not been worth sharing with anyone let alone you, my dear readers) and a special-er cake for Allie, but in the end, we let her choose one at the Walmart bakery. She was happy with her cake with yellow edges and orange flowers, and I got an amazing cherry almond cake all to myself.
This almond cake recipe doesn't make a thick, fluffy cake. The cake is slightly dense (as all gluten-free cakes tend to be, in my experience), but it is very moist and not at all gritty or weird in texture. It is a little crumbly, almost like cornbread, but it is just right for a cake. The texture is hard to explain, but I promise you - even gluten-eaters will love this cake.
We used my KitchenAid stand mixer for this recipe, but you could also do it by hand. Prepare yourself for an arm workout.
How to make gluten-free cherry almond cake
Preheat oven to 350º.

Whisk together the softened butter with the sugar until the mixture is smooth. Add in the eggs, one at a time, until they are full incorporated.

Add milk, vanilla, and almond extract, and whisk together.


In a separate bowl, mix the flours, salt, and baking powder.
Add the dry ingredients to the wet a little at a time and beat until creamy.

Spread batter in a greased 9x13 pan and bake at 350º for 30 minutes.

Allow the cake to cool for 60 minutes and then spread a can of cherry pie filling over the top.

Serve cake warm or cooled with a dollop of whipped cream and/or a scoop of vanilla ice cream.

Check out these other delicious gluten-free desserts while you're here:
Recipe