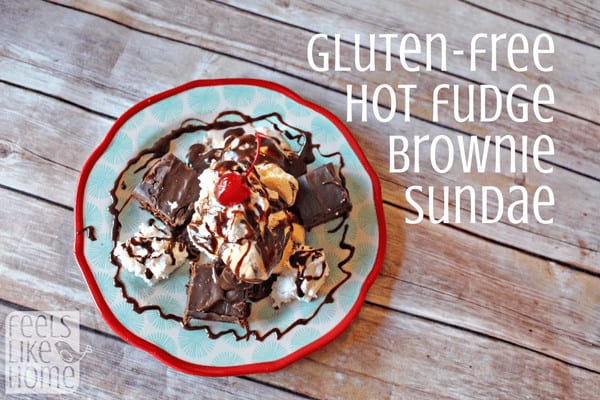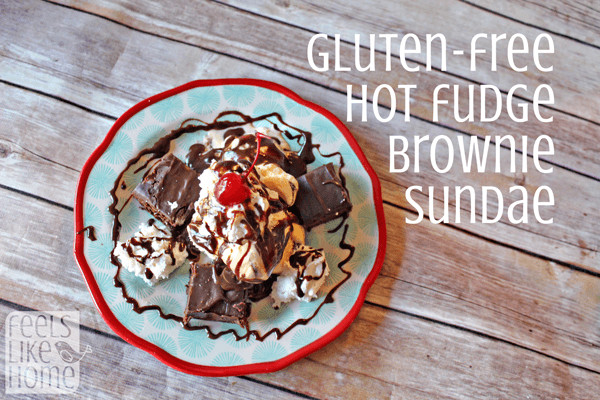 I had a birthday over the summer. I turned 37, which seems like a big old nothing birthday because it's just in the middle of the thirties and no big deal at all. But anyway, Joe and the girls made one of my favorite desserts just for me, and so I enjoyed my special night.
They made me a big brownie sundae and of course it had smooth, rich hot fudge drizzled over top. Is there a dessert that screams "comfort food" more than that? I can't think of one.
Check out these other delicious gluten-free desserts while you're here:
How to make gluten-free hot fudge brownie sundaes
The first step is to prepare the hot fudge. Click here for that recipe.
You want it to be hot but not boiling hot, so make it first and let it cool off while you prepare the brownies.
The next step is to make the brownies. Click here for that recipe.
Let both the brownies and hot fudge cool for about an hour. Hot fudge brownie sundaes are wonderful with hot brownies, but if you take gluten-free brownies out of the pan too soon, they basically turn to mush. You need whole brownies for the sundae part to make sense.
So take the slightly warm brownie out of the pan and place it into a bowl. Cut it in half so that the ice cream can sink down in between the pieces.
Add a scoop or two of vanilla ice cream on top of the brownie, and drizzle generously with hot fudge sauce. If you're feeling extra fancy, add some whipped cream and a maraschino cherry on top.
That's it. You have a hot fudge brownie sundae, and it only took you half of the afternoon to make it.
I kid. It's not that involved.