Hosting a birthday party is super fun, but hosting a Build A Bear Workshop birthday party is spectacular. Having a Build A Bear Party is fun for all ages! This review explains the process.
This year, Grace's birthday party was at Build-A-Bear Workshop, and it was her best party ever.
She says that every year (and so do I), but this year, it was true.
This was my least labor intensive party ever, but it was also her most expensive party ever.
Here's the crew after the Build-A-Bear part of the party but before cake and ice cream. They look like they're ready for a break, right?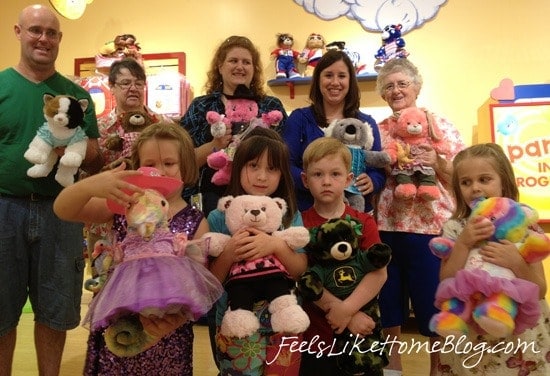 That's the beauty of it! This was an active party where everyone was involved.
Before A Build-A-Bear Workshop Party
Build-A-Bear people (what do you call them?) called me a few times before the party to ascertain the details of the party and make sure everything was all set. They directed us to printable invitations on the Build-A-Bear website, and we printed one for each person Grace wanted to invite.
As you can see from the photo, Grace wanted to invite a lot of people. And, typical of any party, four people didn't come.
At the Build-A-Bear Workshop Store
My crowd of friends and family is usually running late, but our party leader (Jessica, a Build-A-Bear Workshop employee) was gracious and willing to wait. While we waited for the last couple of guests to arrive, our party leader and I discussed what options we'd give the kids (according to my budget), and the guests chose their new friends.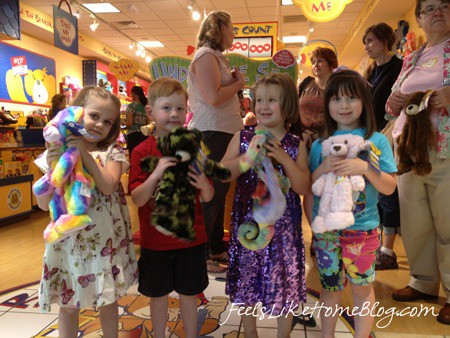 When we finally got started, sat down with the kids to tell them the rules (the only one I remember is that it was okay to use outside playground voices) and give them a preview of the party's timeline.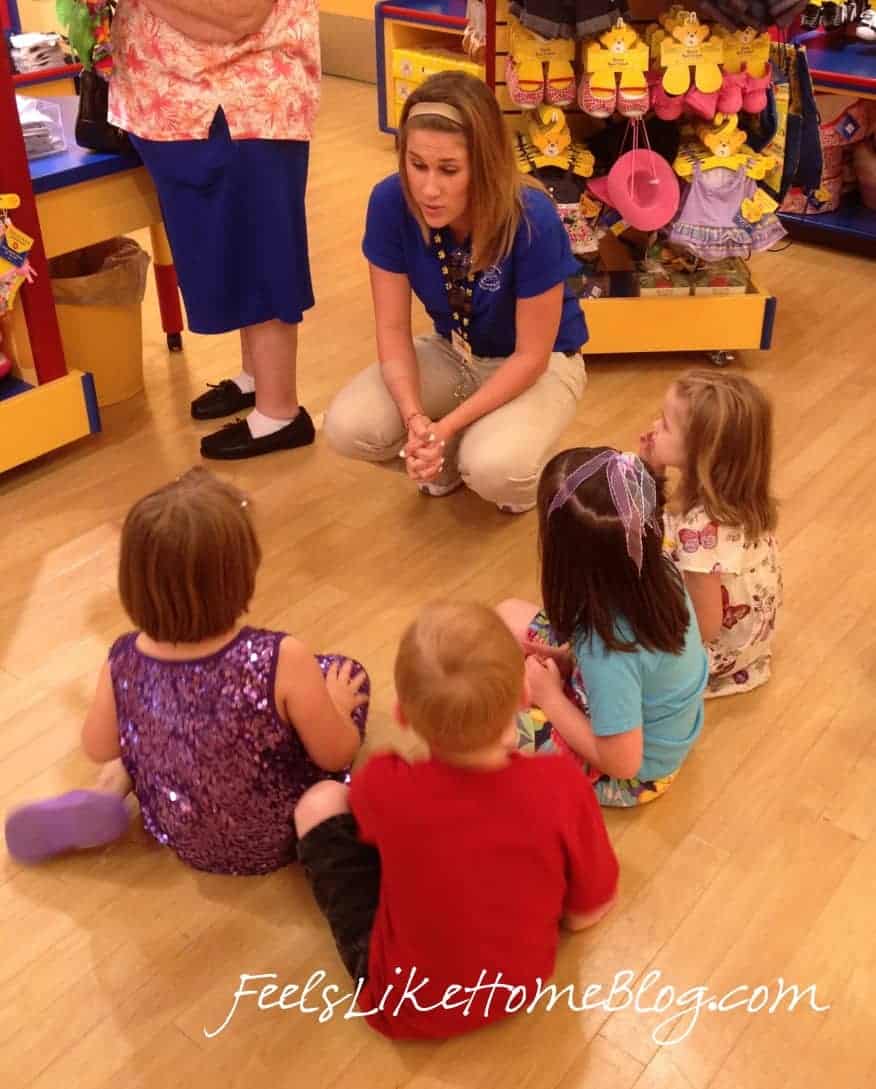 Build-A-Bear Workshop has a great party plan. The slowest part of the process - stuffing the bears - happened while most of the group were playing games. They played ring around the rosy and duck-duck-goose and Simon says and red light, green light.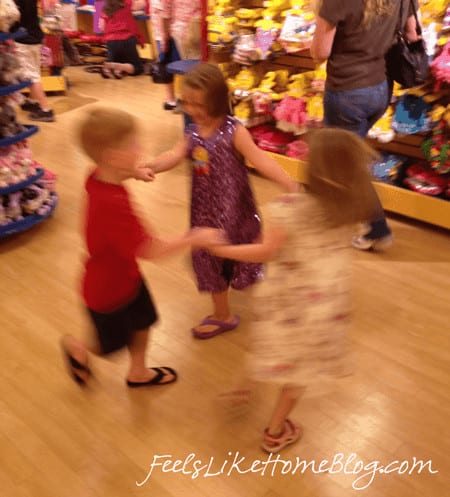 If you're planning a Build-A-Bear Workshop party, get familiar with some floor games before your party. Jessica and the kids eventually ran out of ideas, so I had to jump in with some games of my own.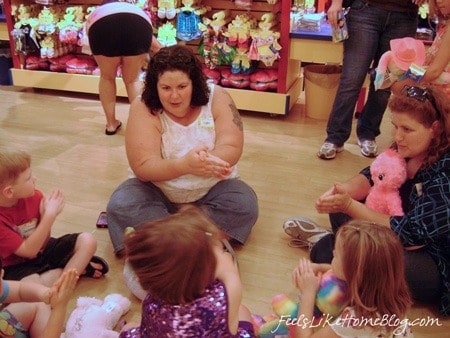 After the animals are all stuffed, Jessica spread hearts all around and told each person to choose two of them. As is Build-A-Bear tradition, she led the kids (and adults) in a long dance to make sure the animals always have full tummies, happy hearts, smart brains, and a bunch of other things. It's a really cute process that ends with making a wish for your new friend.
After making their wishes, everyone stuffed one of their two hearts inside their animals.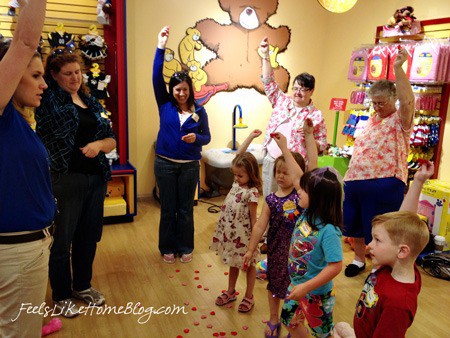 Remember that each person had two hearts? Everyone's second heart went into Grace's animal! I didn't see that coming, but I thought it was really special.
Grace thought it was special, too. Every once in a while, she says, Momma, Morghan (that's the seahorse she made that day) has everyone's special wish inside her.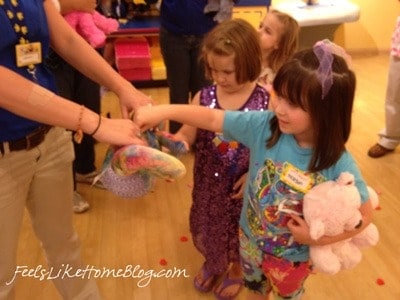 After all of the animals were sewn up, it was time to bathe them.
Did you know that all Build-A-Bear Workshop animals are allowed to come back to the store for an air bath whenever they want? The staff told me that once.
Everyone - kids and grown-ups alike - had five seconds to wash and brush her animal before they all found outfits.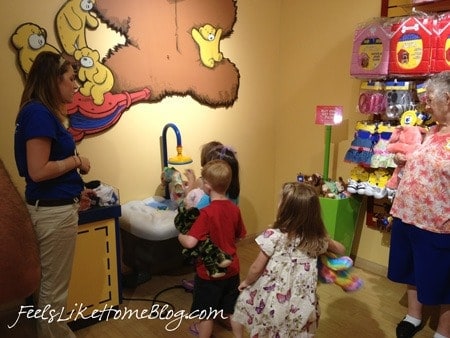 I had a gift card from Build-A-Bear Workshop, and some people didn't show up, so I let the kids get whatever outfit they wanted for their bears. If your party isn't pre-paid, you will probably set a budget for your guests. The party leader makes it really easy; I could have told the kids that they could pick a t-shirt or an outfit or none at all.
After the bathing, the kids dressed their new friends. Everyone loved this part! Some of the guests tried outfit after outfit on their bears; others found the outfit they wanted and that was the end of the shopping.
While they shopped, Jessica had all of the guests sign a Signature Bear for Grace.
Meanwhile, Grace's new friend tried on all kinds of outfits and accessories. I was thankful that seahorses don't have feet.
Imagine if she'd chosen the octopus.
I don't want to think about it.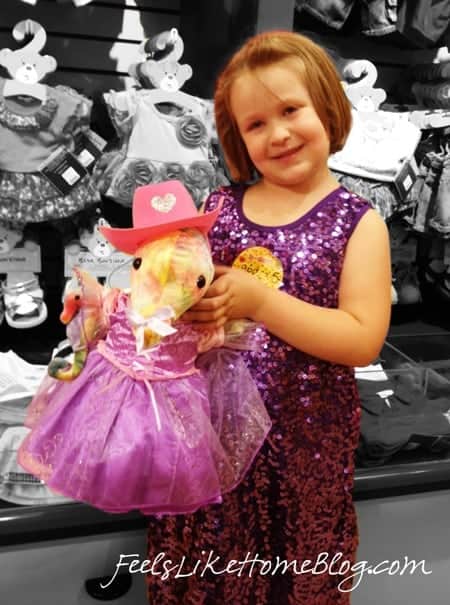 Once everyone was dressed and happy, Jessica and her helper grabbed all of the tags, totaled my purchases, and led the partygoers to the front of the store. We all lined up for photos.
There was a promotion going on that week where you got a free Build-A-Bear Workshop beach towel with a certain purchase, and Jessica gave each and every one of our guests one of the towels. The kids were really excited to bring home a new friend and a special new Build-A-Bear towel.
After the Build-A-Bear Workshop Party
After the Build-A-Bear Workshop part of the party was over, we moved the group to the mall's food court for teddy bear cake and ice cream and time to run around and play.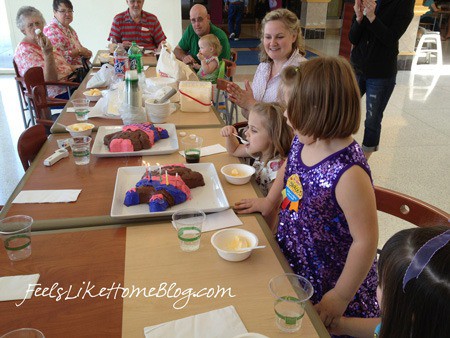 My Final Thoughts
This party was just grand. It was perfect. I'm not saying that because Build-A-Bear Workshop hosted us. Every single person in attendance (grandparents, friends, and friends' parents) said the party was just so much fun.
Jessica kept everyone involved, and everything moved right along without feeling rushed. Plus, who doesn't love shopping for a special friend?
Our party's total (for 9 animals plus outfits) was $325. That's a lot of money, and I wouldn't have spent that much from my own pocket. On the other hand, because Build-A-Bear Workshop provides everything, my only other expense for the party was cake and ice cream. If I added up party favors, activities, and the time I spent on other parties, it probably comes out equal.
You could do a party at Build-A-Bear Workshop for a lot less than $25 per person. I initially had given each person a $25 budget, but ended up letting them get whatever outfit they wanted (making the total closer to $30 for some). If each guest made an animal and didn't get an outfit, you could have a party for around $15 per guest.
I am a Build-A-Bear Workshop Friend, and I have a longterm relationship with the company. I received a gift card that paid for most of our party in order to review their party process.