The 25 best educational single player games for kids, tweens, teens, and adults. Fun one player puzzles and challenges for all ages. Can also be used as cooperative games for two players.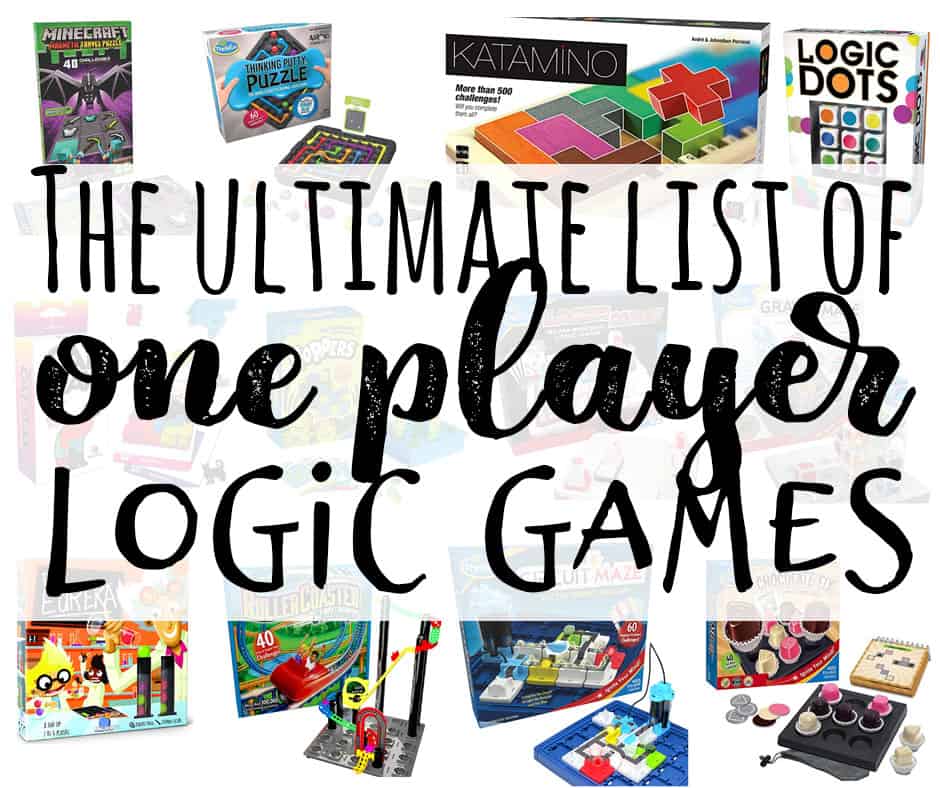 We love these single player games because they are quiet and allow my kids to play by themselves, as the name would imply. They are great because they have easy puzzles that my kids played when they were in the 4-8 range, and they have grown with the kids who now are 12 and 16 and solve the medium and hard level puzzles.
The other thing we like to do with them, however, is to play them as a cooperative game. Allie, my tween, especially likes to solve the puzzles with me, so we do that a lot in the evenings after work.
All of these games make awesome birthday and Christmas gifts because they are fun. They are packed with learning - logic skills, spatial skills, reasoning skills, and critical thinking skills - but the learning is cleverly disguised as pure fun. Your kids will play these games and grow their brains in amazing ways, and they will never be the wiser for it.
If you're looking for family games, check out this list of 30+ games with no reading required and 45+ games for tweens, teens, & adults to play together and this list of cooperative games for kids, teens, and adults.
Visit the Christmas gift guide for families for hundreds more gift ideas!
Rush Hour – Grace played this for the first time when she had an occupational therapist who came to the house. Almost every session, the OT would find this game in her bag, and Grace loved it. I got it for her, but it is now a toss-up as to who loves it best, teen Grace or her tween sister.
Game play is super simple. The game comes with puzzle cards, and you set up the puzzle using only the cars on the front of the car. You have to move them around, going only forward and backward on tracks, until you are able to slide the red car out of the traffic jam. The puzzles start out easy but get pretty tough - hard enough to challenge me!
Also, there are expansion packs #2 and #3 and #4 which I bought in 2017. Each one gives you an extra car and 40 new puzzles, for a total of 120 new puzzles. All of the expansion packs fit into the one original gray drawstring bag.
Dog Crimes – Okay, so we have and love Cat Crimes being that we are crazy cat people, but that one seems to be no longer available, so you will have to settle for Dog Crimes instead. Allie and I play Cat Crimes all the time. Basically, you have a crime written out on a puzzle card, and you have to use the clues on the card to figure out which pet was in which spot in the room to figure out which one was the culprit. This is exactly the kind of logic that kids will need someday on the SAT.
Thinking Putty Puzzle – The day this arrived, it was my teen's new favorite thing ever in the whole wide world. She is obsessed with Crazy Aaron's Thinking Putty, and the game comes with a bunch of it. It's like most of the other ThinkFun puzzles on my list here. It is really well done and comes with a deck of sixty challenge cards. Super fun.
Katamino – This one is made of wood unlike the others on the list, so if you avoid plastics, this is the one to get. (Not saying the others are bad, we LOVE every game on this list!) This one is a lot like Tetris in that you have shapes you have to fit together in a certain way to solve the puzzle. It comes with over 500 (!!!) puzzles to solve, and they all have multiple solutions, so this is a game that you will be able to play literally forever. This one is nice too because there is a 2 player game that you can do with the same pieces.
Minecraft Magnetic Travel Puzzle – Allie is a Minecraft maniac. I recently had to restrict her screen time to two days a week because she was so reliant on YouTube and video games for every moment of her life. This puzzle book is a nice compromise for us, using elements from her beloved game (a pickaxe, chest plate, and sword) in three different materials (diamond, gold, and stone), but the onus is on her to provide the entertainment. The book that comes with the puzzle provides clues (that are pretty tricky!), and the player has to figure out which piece goes in which space on the tic-tac-toe type board. As the name would imply, this one travels really well.
Hoppers – This fun game is a remake of a decades-old classic by the same name. It's from ThinkFun, so you know it's well made, and it comes with 40 different puzzles. The pieces and the cards all store in the little blue box, making this a great, portable puzzle game that you can take to restaurants and in the car.
Cat Stax – We love cats, right? So I got this game on a lark and my tween and I love it. It comes with twelve cats of varying sizes and shapes as well as 48 challenge cards. Each card tells you which cats to use and how many layers you can have, and then you have to make the shape it shows. There's a dog version too. This one is great for taking on the go to restaurants or doctor's offices because it comes in a pretty small box.
Laser Maze – I wanted this game forever before I finally bought it, and I don't know what took me so long. It is awesome! You have to understand a bit about light and mirrors to win, but the game teaches you as you go. Basically, you have to get the laser beam from the generator to the target using a series of mirrors (some that the light passes through and some that reflect it only) according to the challenge cards. Of course, the challenges get progressively harder as you move through the deck. My tween likes this one so much that she plays with the pieces even when she's not doing a challenge. She likes to make up her own creations and also to make challenges for me to solve. What could be better than that?
Gravity Maze – This is from the same company as Laser Maze above and follows a similar pattern with game pieces and challenge cards. The game pieces are very well made and solid, just like Laser Maze. In this game, you have to build a marble run up off the board, and then the marble falls (there's the gravity part) through the run to the target block. It's super fun and another one that Allie plays even when she's not doing a challenge. You can't go wrong with a one player game from Think Fun, the company that makes these two games (as well as Rush Hour and the Minecraft game above).
Circuit Maze – This is a third game from Think Fun, so you know it's going to be awesome. Similar to Laser Maze and Gravity Maze, this one has blocks that you have to arrange on a board to hit the target. It comes with sixty challenge cards, so you will not run out of puzzles to solve. (I didn't check, but I think all of the Think Fun games come with sixty puzzle cards. We've never run out of them in all the years we've been playing. We always go back a few puzzles when we start playing, and sometimes even start over from the beginning if it's been a while since we played.)
Roller Coaster Challenge – Yet another Think Fun game, this one also builds up. You have a bunch of track pieces and a bunch of riser pieces and of course the challenge cards, and you have to get the roller coaster from the starting point to the end. This one comes with 40 challenge cards, and they go from easy to super hard, so you won't run out of challenges. We sometimes have to let these sit for a while and come back to them later. Joe hates when we do that, but it helps to let your subconscious memory work out the solution by taking a break. Sometimes it helps.
Dr. Eureka – We found this game at the beach and bought it to play in our condo on a cold, windy day. The idea is that you have molecules in test tubes, and you have to get them into other test tubes without dropping them. One thing I like about this game is that it's fun for one player but equally fun for up to four players. It's adaptable. Like most of the other games on the list, it comes with challenge cards that get harder as you progress.
Logic Links – In this game, you have to use clues to arrange chips in a certain order. The challenge cards start out easy but get tricky quickly. It is very portable being that it comes in a small box. It comes with 166 puzzles and enough chips for multiple people to play at one time. Like all of the games on this list, you can play it cooperatively, but this is one that you can play as a race to see who can complete five games first (or any number you choose).
Balance Beans – This ThinkFun game is supposed to build pre-algebra skills, but don't tell your kids that. They will just think it's a fun game with fun pieces. You have forty challenge cards and have to figure out the correct configuration to balance the beans on the other side. This is the only game on my list that isn't appropriate for tweens and teens. I would say that this one is best for kids from about age 4 to 9 or so.
Chocolate Fix – This is another Think Fun game, so you know it's a good one. It's sort of like the Minecraft game above where the puzzles give you clues and you have to figure out where each of the nine pieces fits in the tic tac toe style board. It comes with 40 challenges.
Logic Dots – In this game, you have nine dice that you have to arrange according to a challenge on one of the 36 cards. It is challenging because each of the dice has six sides, right? So you have to figure out which color needs to go in which spot. I'm hesitantly including this one on the list because it costs quite a bit more than the others, and it has fewer puzzles. But I went ahead and included it because it's a good game that we really like.
IQ Link – Allie got this for Christmas in 2017, and we have been enjoying it ever since. Like all the other games here, it includes game pieces and puzzle challenges. For this game, it tells you which pieces to use, and you have to get them all fit together in the box to win. The pieces are neat because they are made of circles and balls, and some of them can pivot to fit together while others can't. There are lots of variations of this game. For all of them, you get pieces of different shapes and you have to fit them together in the box. All of these games are nice for taking on the go because they come in a small, packable box.
Kanoodle – We have had this game for a decade after receiving it as a gift when Grace was still a toddler. The different colored balls in the photo are all tetris-type shapes made up of the balls, but the balls themselves are not singular shapes, if that makes any sense. You have to put the balls together to make a pyramid or one of 200 other puzzles in the challenge booklet. I am terrible at this game, but my tween LOVES it.
If you're looking for games the whole family can play at one time, check out this list of games that don't involve reading and this list of games for older kids and teens. They are all really excellent and loads of fun.
These 25 single player games are perfect for kids but also provide a challenge for adults. They teach awesome logic and reasoning skills, and every single one of them is well made and beautiful. They are fun and interesting. Whether you play as one player or two players cooperatively, you are going to love these games!
Tell me in the comments, what one player games are you going to try?