The free family vacation planner is made of 10 printable pages that make planning a vacation so easy and organized. Reduce the stress of travel prep and avoid the chaos of a disorganized trip with these free travel planner printables. This simple travel binder is perfect for helping you prepare ahead of time and focus on fun with your family and friends.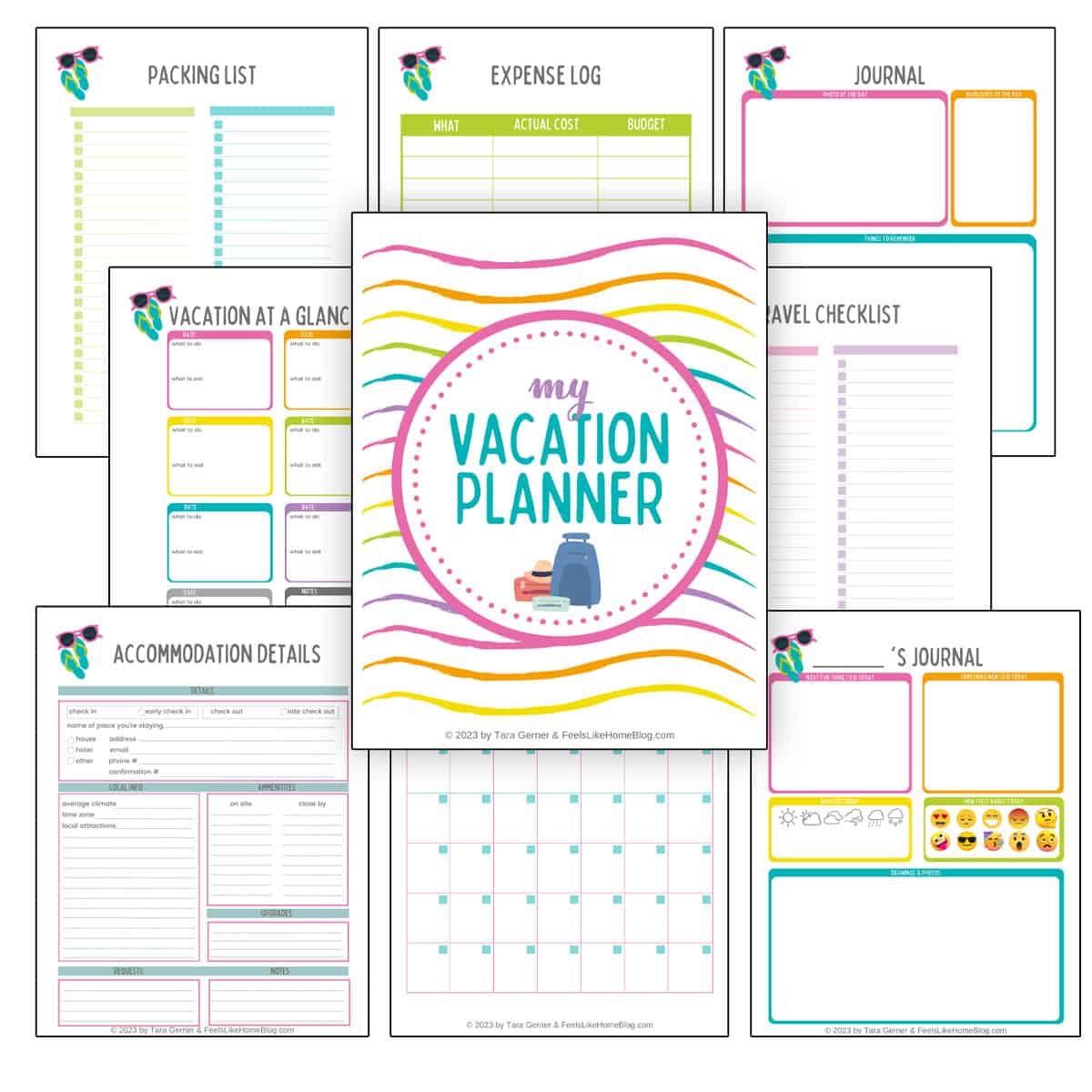 Are you planning a vacation? If there's any travel in your near (or even distant) future, you need to download this printable family travel planner!
Vacations are exciting and magical, but having fun on the trip is the end result of a lot of hard work, am I right? It's stressful researching and planning all the things, from hotels to flights to attractions to meals to entertainment, and then having to pack (and hope you haven't forgotten anything!), track your budget, and keep everything together. It can be a huge headache!
Enter the Family Vacation Planner, my new travel binder – because it doesn't have to be a headache anymore!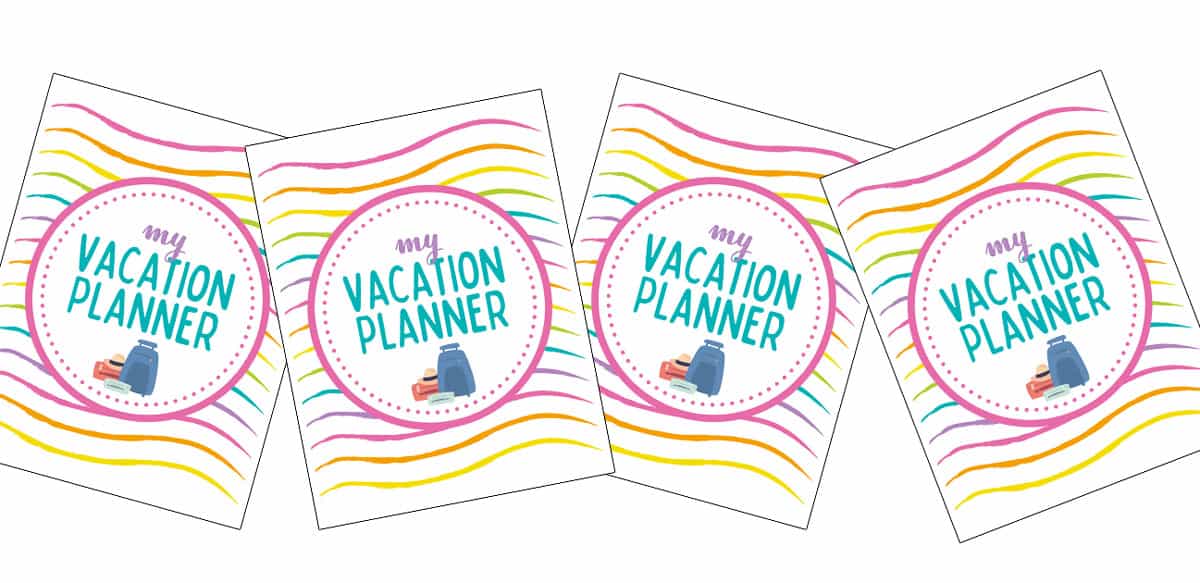 What is a travel binder?
A travel binder is a 3-ring binder or a spiral bound notebook filled up with pages that you've printed out to organize your family vacations. You can make your own travel binder, hand-drawn in the bullet journal style, or you can download a pre-made printable travel planner like the one below.
A typical travel binder includes pages for budgeting, packing, activity planning, and an itinerary. The free download at the bottom of the page includes all those things in a pretty, colorful format.
How I use my travel planner for family vacations
This free printable travel planner comes from a much larger family vacation planner, and that larger one is exactly what I used to plan my family's recent 3-week European vacation. 
You read that right: 21 days of non-stop travel, in 3 destinations with 3 different vrbo rentals, and 5 flights, and 2 train passages. And day after day after day after day of activities and attractions and meals. 
I'm exhuasted just thinking about that trip, because we walked 89 MILES in 19 days (not counting the flying days at the beginning and end), but it was the vacation of a lifetime, and it went off without a hitch.
I designed the family vacation planner because it was what I needed to stay sane in the days leading up to that trip – and it worked! The only major issue we had was that my daughter's luggage got lost on the way home from London, but no planner could have prevented THAT snafu. We had an awesome vacation, and we only went over budget a teeny smidge, and we knew every night what we would do the next day, thanks to my meticulous planning and having written and recorded every detail of our trip in the months leading up to the vacation.
You can do this, too! The Family Vacation Planner makes it SO EASY!
You can download a free sample of the Family Vacation Planner below. It contains 10 of the pages from the larger trip planner, and it will help you to put your vacation together more easily and efficiently than going it on your own. Continue reading below to see what's included in the free planner.
Read on to discover what's in the free travel planner: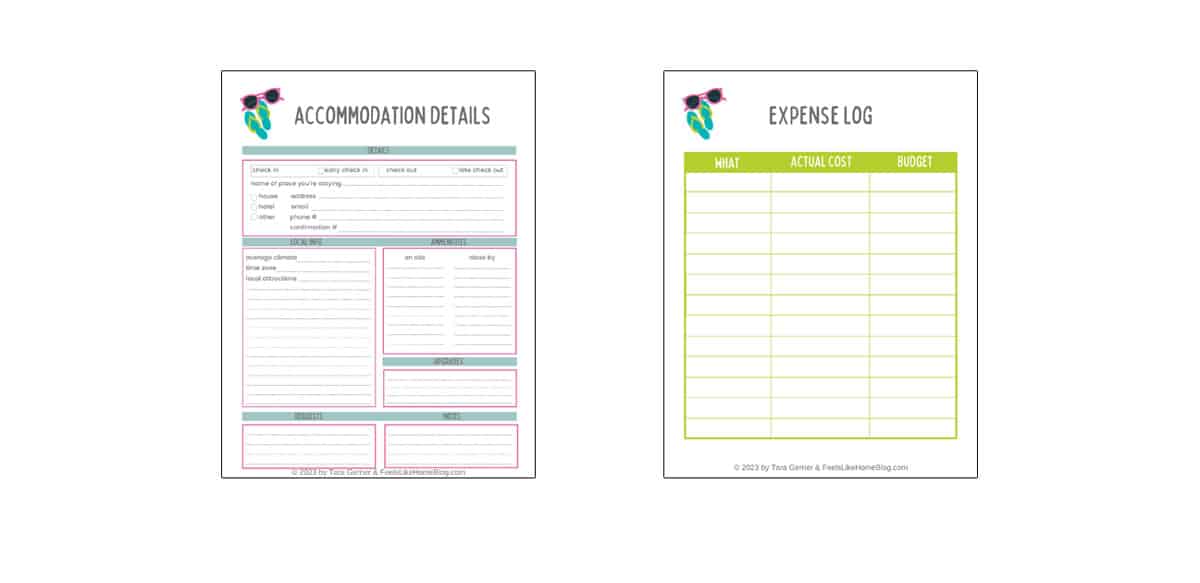 Travel planner cover
This is a fun and pretty cover for your travel binder. See the graphic a few paragraphs above.
Accommodation details
This page gives you a place to record all the details of the hotel, house, or apartment reservations that you've selected. You can write down the amenities offered, what attractions are nearby, the address, check in and check out times, and more.
Expense log
Keeping track of your vacation spending as you go is the best way to ensure you stick to your budget for the week. These pages give you a place to write down everything you've spent. If you don't keep track while you're spending, how will you know if you have enough to cover the trip?
No one wants to come home to a big credit card bill, so do yourself a favor and print out a bunch of these pages.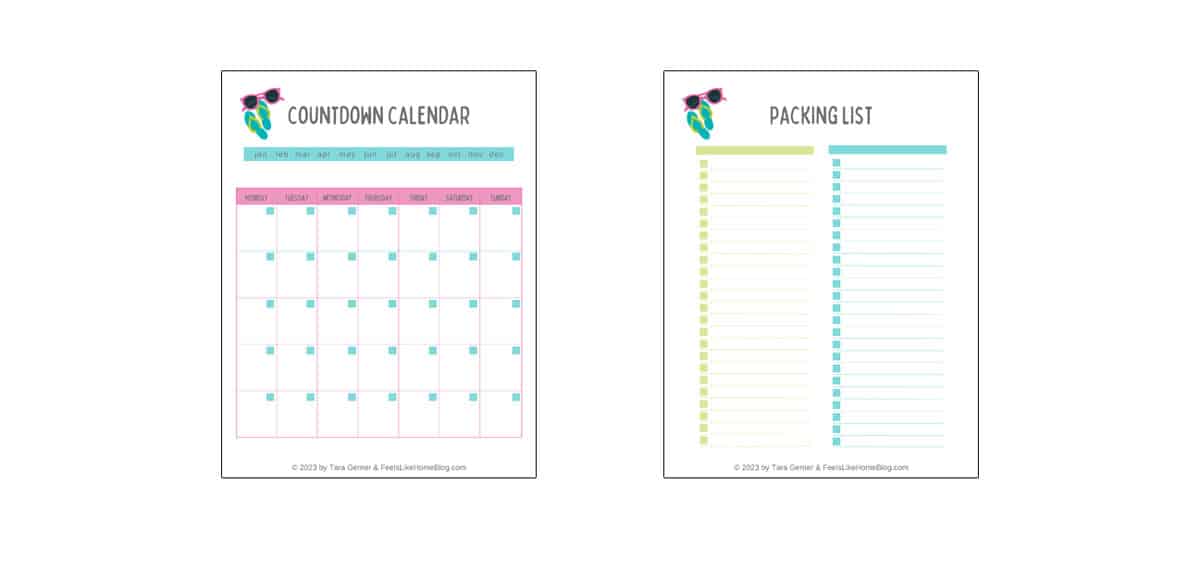 Countdown calendar
Vacation planning needs to happen in advance in order to make your family trip a success. What are you going to do the month before the trip? When are you going to purchase the airfare? When are you going to book the room or apartment? How far in advance do you need to order new luggage, packing cubes, and electricity converters? There are so many things to do in the weeks leading up to your vacation; you need a place to write down what's going to happen and when.
Packing list
This is a blank list with checkboxes that will allow you to make a different packing list for each family member. Cut the pages in half and hand them off if your kids are old enough to be responsible for their own bags. (Remember, mama, you don't have to do it all yourself!)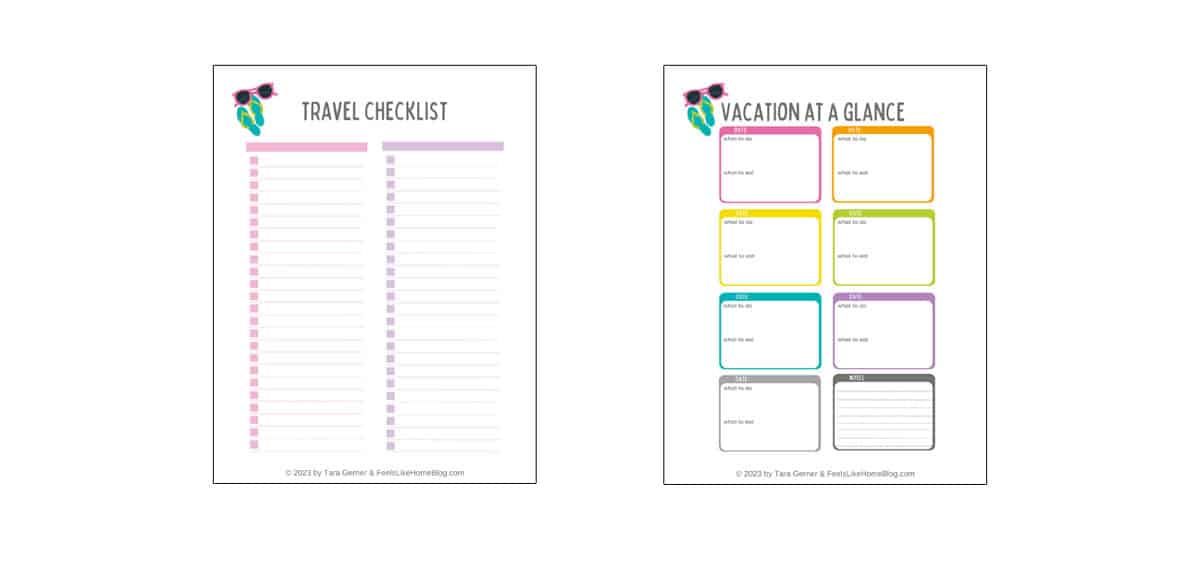 Travel checklist
This is a bonus blank list that's just for you! You can use it in any way you like, because I KNOW there are going to be things you need to do and remember that I haven't even thought about. Maybe you need a space to record all the attraction tickets you've purchased or the dining reservations you've made or the group activities you've signed up for or the menu you'll be preparing at the destination or the spots you want to hike to at a national park or the toys you want to bring on the airplane or in the car. This is your space to add your own thing to your travel binder. Prepare to print more than one!
Vacation at a glance
Think of this as your weekly travel itinerary, or your preview of what's coming up. This is a high level page for the whole family with spaces for what you're going to do and where you're going to eat each day of the trip. I like to print one of these out and leave it with my sister at home, so that she'll know what's going on and how accessible we should be each day, should she need to reach me for some reason.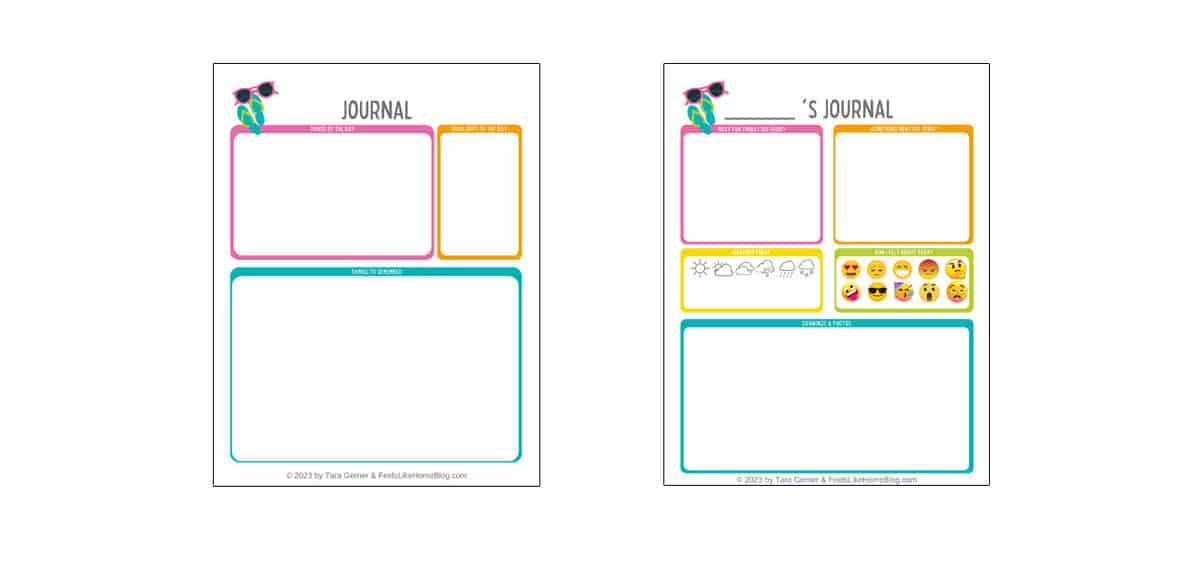 Travel journal
If there is one thing I have consistently done for every vacation for the last ten years, it's keep a travel journal. It's simple: a running description of everything we've done for the day, along with what we've spent, and the highlights of the day. I usually end up writing on the back as well as the front. These journal pages also have a spot for your favorite 3x5 photo from the day.
Kids' journal
I LOVE these kids' travel journal pages! Each one has a nice big space for a drawing or photo, plus a section to write their favorite part of the day, new experiences they've tried, the weather, and a fun emoji section where they can circle how they felt about the day. (And there are lots MORE choices than just happy and sad!) Giving the kids their own journal serves a couple of purposes: it provides entertainment for a few minutes as they color and write, and it also gives you a priceless souvenir of the trip through their eyes. Even toddlers and young children can use these pages with a little help.
These are the best travel planner printables you'll find!
I promise that these vacation planner printables are going to help you to plan and organize any type of vacation, from a road trip to a beach resort to Disney to a cruise to your own adventure abroad. You can even use them for weekend getaways or a staycation full of day trips. Print them out, put them in a binder, and use them. You'll be so glad you did.
PS. The free sample above will help you to plan your vacation and stick to your budget. But if you want to skip the free sample and go right for the entire Family Vacation Planner, head over to the shop to check it out.