This Nutty Buddy ice cream recipe is so good and so easy to make at home without an ice cream machine! This classic ice cream is a quick, no churn recipe with all the flavors of your favorite Little Debbie Nutty Buddy cookie bars: creamy peanut butter and crispy chocolate wafers in a rich vanilla base.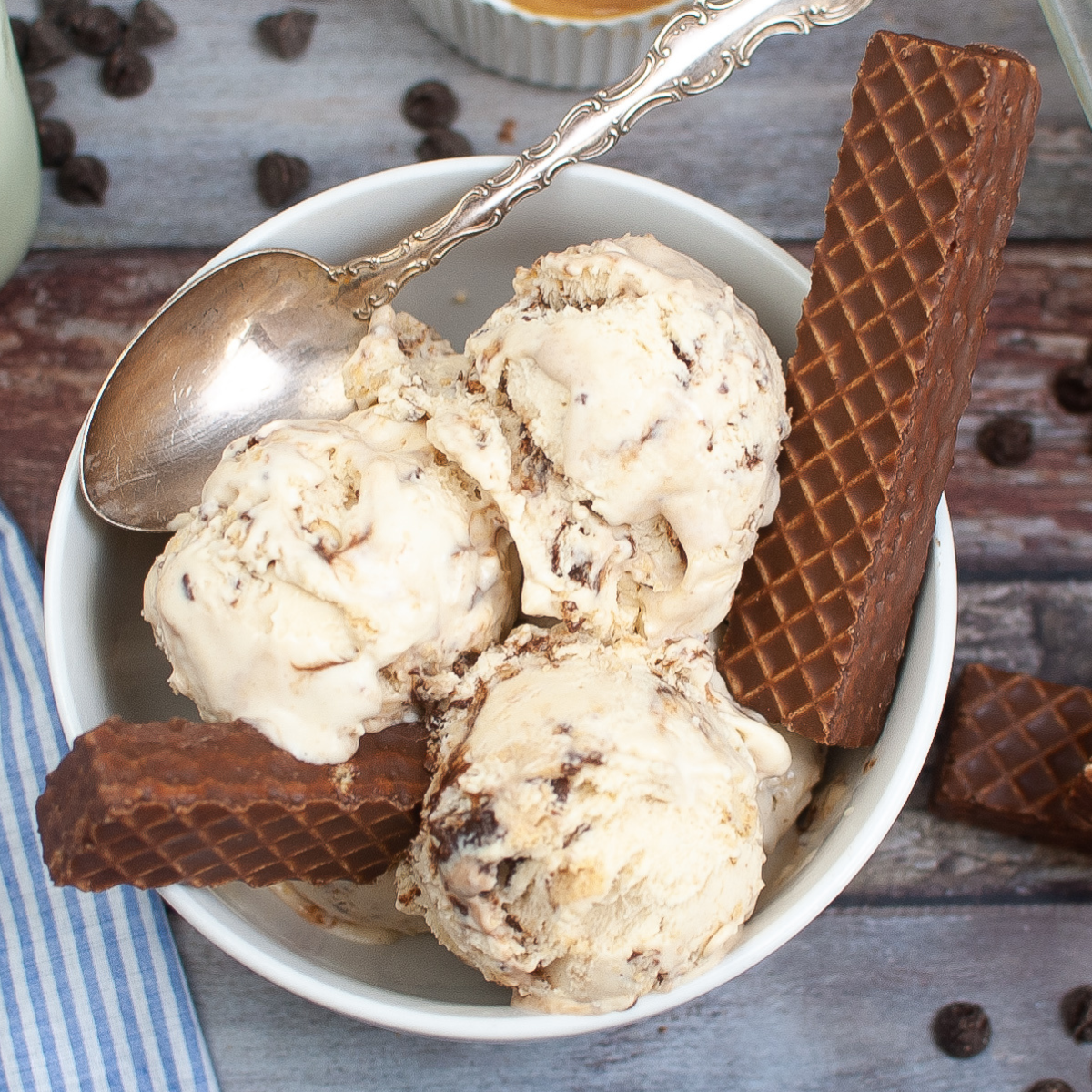 My kids love ice cream. What kids don't?
A few years ago, my kids were taking tons and tons of online cooking classes. I guess they started during covid and just never stopped.
One of their favorite cooking classes was the one where they learned to make no churn ice cream. We had an ice cream machine at the time, but I had to remember the freeze the big bowl in order to use it to make ice cream, and our freezer is perennially overfilled and the bowl just wouldn't fit. So no churn ice cream was a great idea (although we always found room for that, so I don't know why we couldn't find room for the ice cream maker... this makes no sense in retrospect).
We started out making no churn Oreo ice cream, and we made that into an ice cream pie. Then we started making cheesecake ice cream, red velvet ice cream, mint chocolate chip ice cream, and even pumpkin pie ice cream. They all use the same ice cream base and the same basic process.
My kids and I are crazy about peanut butter. We search out and eat peanut butter everything, and when I saw that Little Debbie's Nutty Buddy bars came in an ice cream flavor, I decided we would need to make our own.
And it is amazing.
I called this Nutty Buddy ice cream because it has the cookie bars in it, but it could just as easily be called chocolate peanut butter ice cream because that's what it is. If you don't have Nutty Buddy bars, just leave them out. It's still chocolate peanut butter ice cream, and you can't go wrong with that.
What is no churn ice cream?
This homemade ice cream would be a hit in any ice cream shop because it's delicious. But there's no reason not to make it at home because it's so easy!
No churn ice cream is super simple to make, and all of it starts with the same basic recipe: heavy whipping cream and sweetened condensed milk. I do not understand how you go from that mixture to ice cream, but that's what it does. It's magic.
The process for no churn ice cream is the same no matter what flavor you make: first you whip the heavy cream to form soft peaks, then you stir in some sweetened condensed milk, then you fold in the flavorings, mix-ins, and any color you might want to add.
Why is this the best Nutty Buddy ice cream recipe?
Chocolate and peanut butter are classic favorites in ice cream! You can't go wrong.
Nutty Buddy ice cream sets up really firm if you leave it in the freezer overnight, so it's perfect for ice cream cones - a cake cone, a sugar cone, or even a big old waffle cone - all sooooo good.
This is a great tasting and creamy ice cream, with or without the Nutty Buddy bars. Again, chocolate and peanut butter? Yes, please!
Your whole family will love this ice cream with its crunchy cookie bits and creamy peanut butter base.
What you'll need to make Nutty Buddy Ice Cream
Equipment
Whenever I make no churn ice cream, I always use an ice cream pan specifically for that purpose. It comes with a lid that makes the process really easy, and it keeps the ice cream fresh. If you don't have an ice cream pan, you could use a loaf pan and wrap it tightly with plastic wrap.
You'll also need some kind of mixer for this recipe, whether you use a handheld electric mixer or a stand mixer. The stand mixer is quicker and easier to use because you don't have to stand there and babysit the cream while it beats, but mine is big and heavy, and it's a drag to have to haul it out from its hiding place. So I almost always end up using my portable little hand mixer and just stand there holding it for five minutes.
Ingredients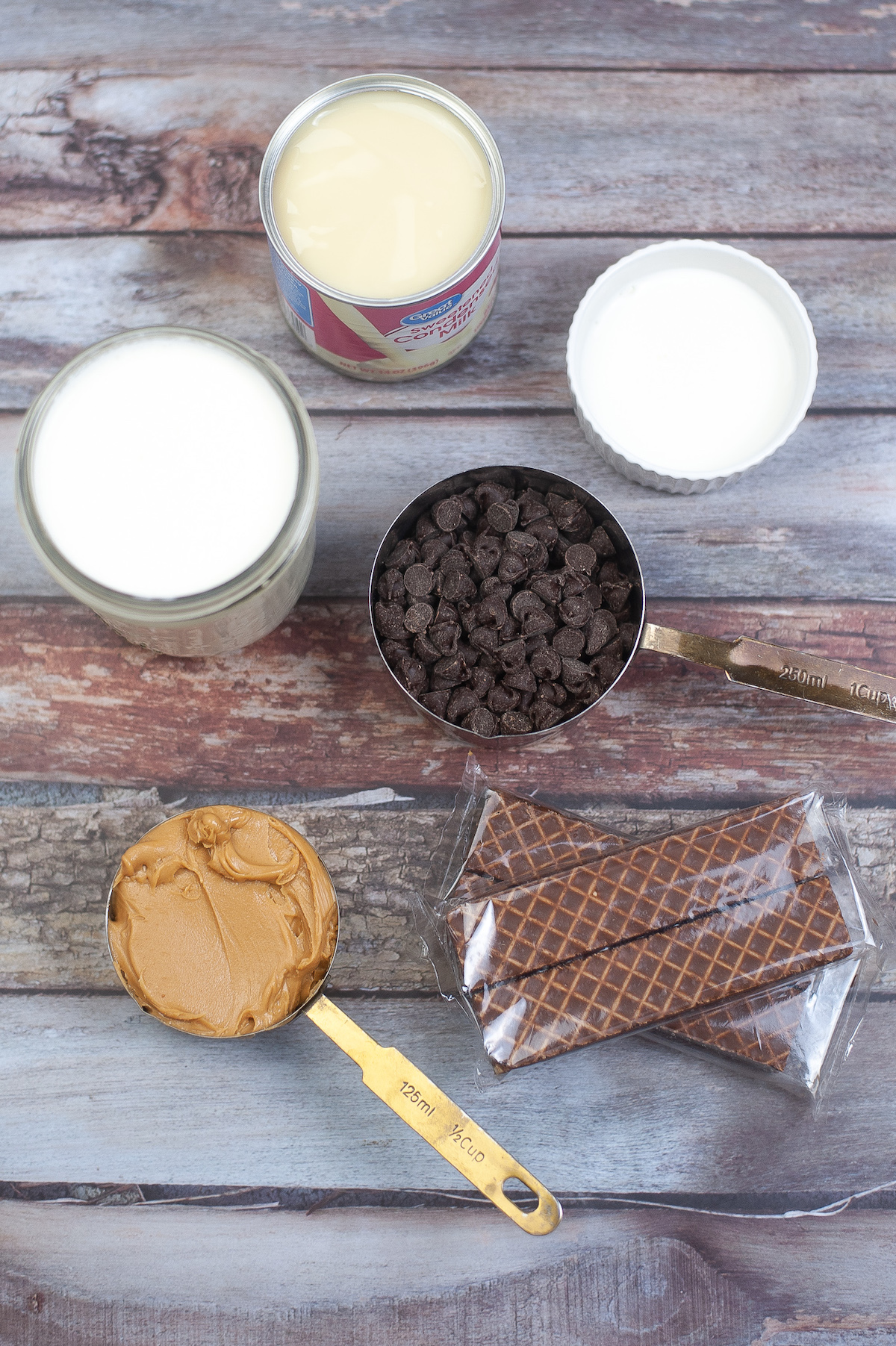 See the printable recipe card at the bottom of the page for amounts.
Heavy cream - This is also called heavy whipping cream or just whipping cream.
Sweetened condensed milk - This provides liquid for the ice cream, but it also provides the sugar. You can't make no churn ice cream without sweetened condensed milk.
Smooth peanut butter - I suppose you could use chunky if that's all you had, but I think the bits of peanut would be sort of weird in the ice cream. But hey, if you like bits of peanuts, you do you.
Semi-sweet chocolate chips - Mini chocolate chips work the best for ice cream, but you'll be melting these, so regular big ones will be just fine.
Half and half - You'll need just a tiny amount to melt the chocolate. If you don't typically have half and half on hand, don't go buy some for this recipe. Just use a tablespoon of heavy cream instead. It will be just fine.
Little Debbie Nutty Buddy cookie bars - This is what makes it "Nutty Buddy Ice Cream" after all.
How to make the best chocolate peanut butter ice cream
Use a mixer to whip the heavy cream until soft peaks form. This will take 4-5 minutes on a high speed. You don't want stiff peaks, and you definitely don't want butter, so don't over beat your cream. Soft peaks only.

Add the peanut butter and continue to mix until the peanut butter is well blended.

Add the condensed milk and incorporate.

Add the chocolate chips and half and half (or heavy cream) to a small microwave-safe bowl.

Microwave in bursts of 20 seconds, stirring for 30 seconds between each burst, until the chocolate chips have become a smooth liquid.

Chop the Nutty Buddy bars into small pieces.

Fold chopped cookie bars into the ice cream using a rubber spatula. Be careful not to deflate the ice cream.

Pour ice cream mixture into an ice cream pan ⅓ full. Add half of chocolate mixture.

Swirl chocolate into the ice cream to make ribbons.

Repeat layers until the pan is full. Top with any remaining cookie pieces.

Freeze for 4-6 hours or overnight.
Tips for the best Nutty Buddy Ice Cream
Make sure everything is super cold. Keep the heavy cream in the fridge until the last possible moment, and put your bowl in the fridge for a half hour before you start whipping the cream. Having everything be really cold will help the heavy cream form peaks more easily and prevent over beating.
Fold it in! Does anyone else think of Schitt's Creek every time a recipe says to "fold it in?" I sure do. But anyway, when you add the sweetened condensed milk, flavoring, coloring, and chocolate, you'll want to very gently fold them in.
Folding means that you'll use a large, flat spatula to turn the mixture over from the bottom over and over until the ingredients are well blended. Do this gently so that the cream doesn't get flat. If you try to stir the milk in, you will deflate the whipped cream and your ice cream will be a frozen chunk of milk rather than light and airy ice cream.
If you've put the ice cream in the freezer overnight, you may need to let it sit out on the counter for a few minutes to make it easier to scoop. This ice cream gets pretty hard.
If you don't have an ice cream pan, make sure you cover your loaf pan tightly with plastic wrap or the top might get a little weird in the freezer.
Don't try to make this ice cream low fat. It will have an unpleasant consistency, and it will taste like trash. You need heavy cream and sweetened condensed milk. Nothing else will work.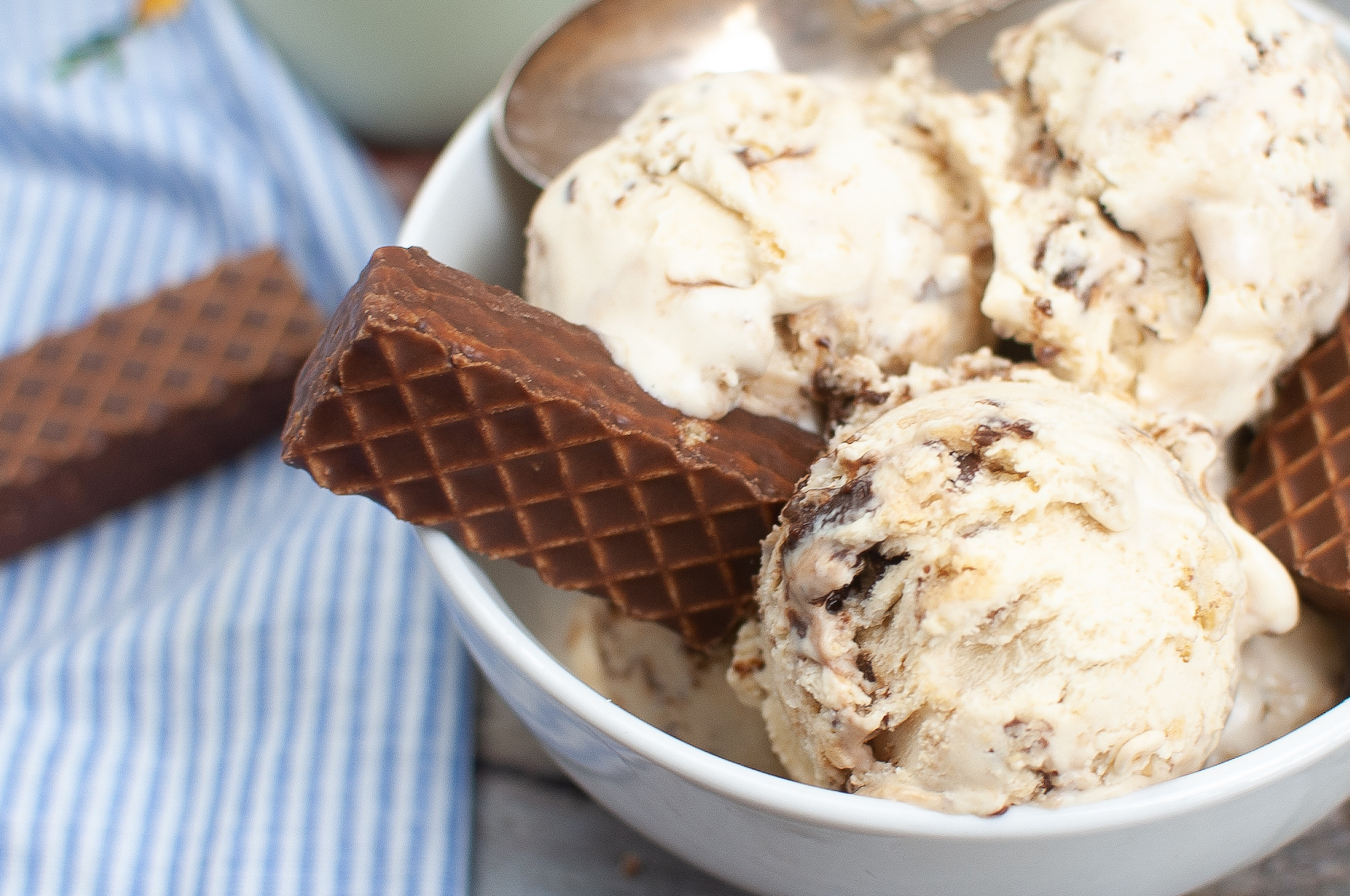 How long does no churn Nutty Buddy ice cream last?
At my house, it lasts about a day, but I don't think that's what you are asking.
If you use an ice cream pan with an airtight lid, no churn ice cream will generally stay good for about two to three months.
If you use a loaf pan and wrap it tightly in plastic wrap and then aluminum foil, you will probably be able to keep it one to two months.
If you leave the ice cream open to the air in the freezer, it will get freezer burnt in less than two days. Keep it covered.
Try these other great tasting ice cream flavors:
Recipe