These fun Lucky Charms pancakes are the perfect St. Patrick's Day breakfast. Wake your little leprechauns up with green pancakes filled with Lucky Charms marshmallows. The best part is that they're ready in less than 25 minutes!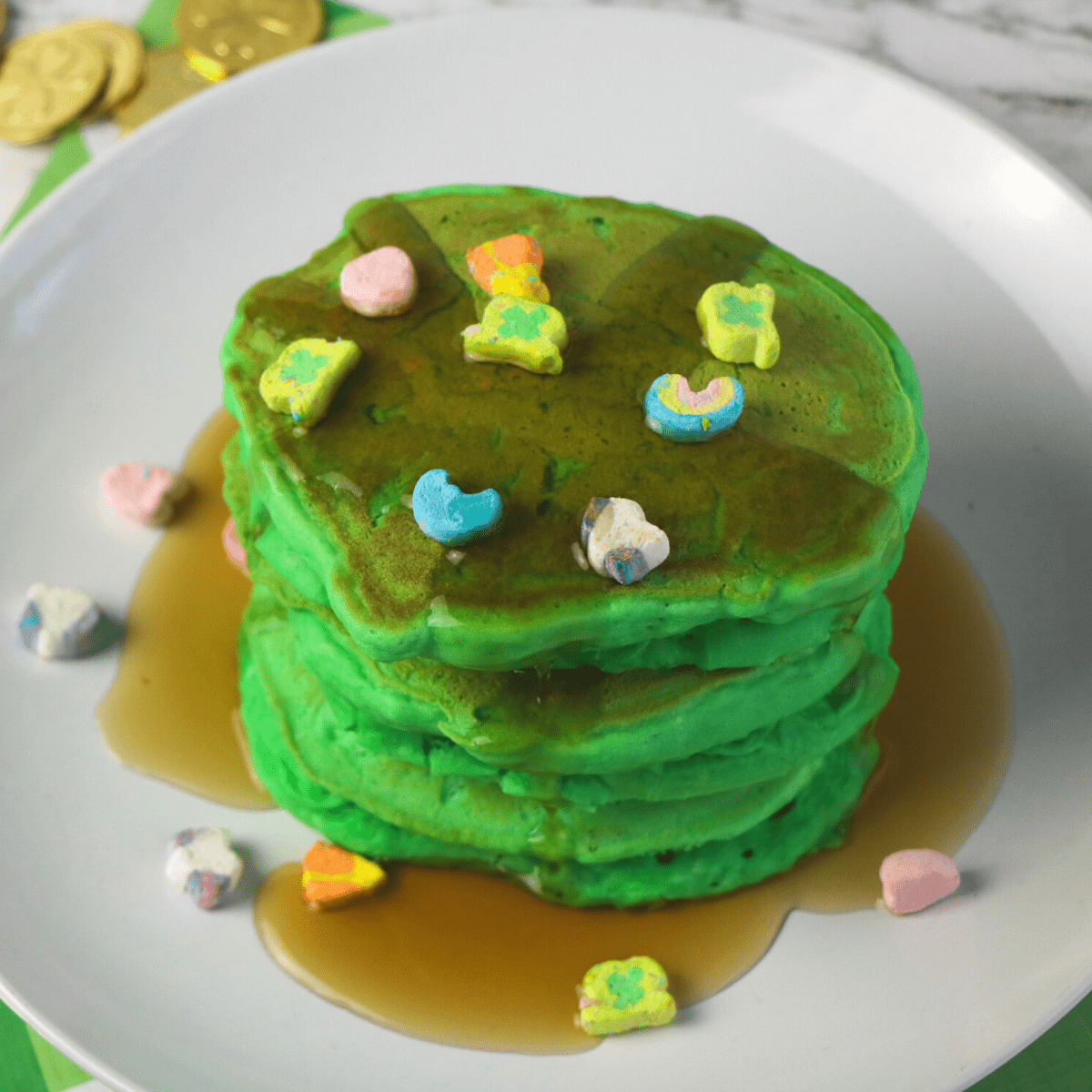 Why your kids will love these Betty Crocker Lucky Charms Pancakes
This is a fun breakfast treat. I mean, really fun food. It's bright green and it's filled with a whole lot of marshmallows and topped with marshmallows, and what better combination exists on the planet than that? There isn't one if you're a kid. And they're tasty enough that the whole family will enjoy them.
This recipe is super simple because it starts with a boxed pancake mix. These buttermilk pancakes are delicious and consistent, and you will eat them because they're delicious even though they're obnoxiously green. A good box mix will give you a better than homemade taste in much less time than making pancakes from scratch.
You can use whatever you want to top these pancakes. I suggest maple syrup but I once blew my kids' minds and used slightly melted marshmallow fluff, sprinkled with Lucky Charms marshmallows. Talk about a sugar high! But it was so much fun, and they're still talking about that breakfast.
What you'll need to make Lucky Charms Cereal Pancakes
EQUIPMENT
Whisk - You'll need this to mix up the batter. You'll probably also want to use a rubber or silicone spatula to fold in the marshmallows.
Stovetop griddle, Electric griddle, or large skillet - I use an electric griddle because I can set the temperature and I know exactly how hot the plates are. I end up ruining fewer pancakes. But if you're comfortable with a stovetop griddle and can make pancakes with that, go for it. And if you don't have either one, use your biggest skillet and hope for the best.
Measuring cups and spoons
A large mixing bowl
INGREDIENTS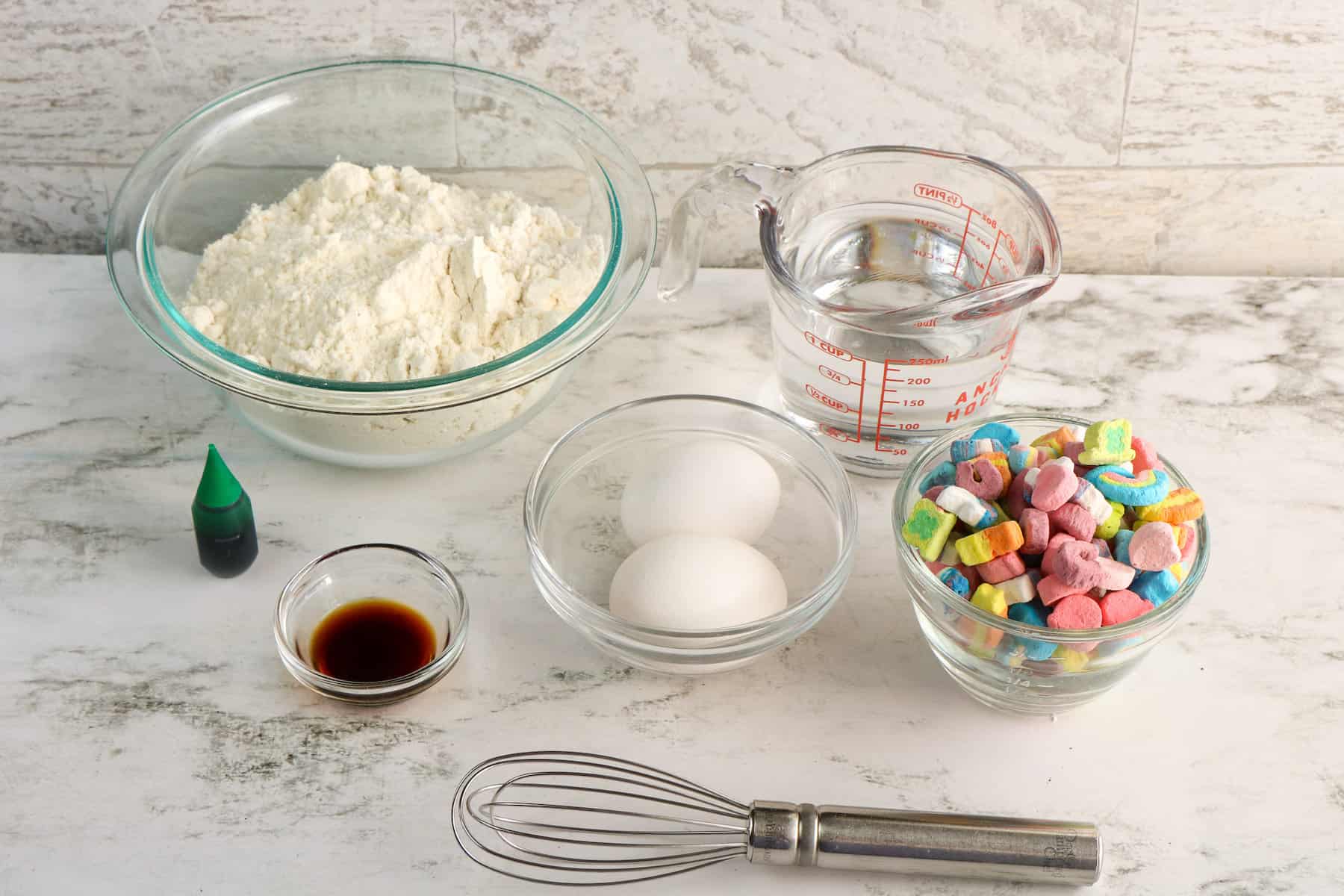 See printable recipe card at the bottom of the page for measurements and more information.
Buttermilk pancake mix - You can mix up your own pancake mix using flour, baking powder, and salt, but I don't bother. I prefer the convenience and flavor of the pancake mix that you can buy in the store. You still get a homemade pancake experience (as opposed to Eggo pancakes or whatever - wait, does Eggo make pancakes? You know what I mean.) because you'll make delicious pancakes but without a bunch of measuring and mixing.
On a related note, I have seen a Lucky Charms Pancake Kit in the grocery store and was curious about it. But I doubt it will be available all the time, so I'm going to keep on making my green food color pancake mix pancakes.
Milk or water, per pancake mix directions - You can use dairy milk or dairy-free milk, as desired.
I like to make these pancakes with "cereal milk" because that gives the finished pancakes so much more flavor. I didn't include it in the photos below because it's an extra step, and I wanted to keep the overall recipe under a half hour. But if you have a little extra time (or can make the cereal milk the night before), you won't regret it.
Here's what to do: Pour 1¼ cup of milk into a large measuring cup or a small mixing bowl. Add ½ cup of Lucky Charms cereal (with or without marshmallows, you choose) to the milk, and let it sit for one hour. The cereal will get all soggy and gross. You want this. After an hour or so (heck, you could leave it in the fridge overnight if you forget about it), pour the milk through a strainer and discard the soggy cereal. What you have left is about a cup of deliciously sweet cereal milk that tastes just like Lucky Charms. Measure out 1 cup of this brew to use in your pancakes.
Large eggs
Vanilla bean paste or vanilla extract - I generally only use vanilla bean paste because it has a richer and more delicious vanilla flavor. Vanilla bean paste is made from actual crushed up vanilla beans, whereas vanilla extract is the thinner liquid that's made by soaking vanilla beans in alcohol and then removing them. So the extract doesn't actually have any vanilla in it, but the paste does. Anyway, I switched over from extract to paste a couple of years ago, but if all you have is extract, go ahead and use that. Your pancakes will still taste good.
Green food color liquid or gel - My photographer used liquid food color in the photos below, but I personally only use gel food color. It provides a much richer and brighter green hue with less product. But as with the vanilla, use what you have. But if you really want bright green pancakes, go buy a tube of gel. You'll be glad you did.
Lucky Charms marshmallows or generic dehydrated marshmallows - The first time I made this recipe, I picked through a box of Lucky Charms cereal and used the fancy marshmallows in my pancakes and used a bit of the cereal to make cereal milk, and then I threw the rest of the cereal in the trash because no one wanted to eat it without the marshmallows. The next time, I bought a tub of generic dehydrated marshmallows from Amazon, thinking that my kids would complain because they weren't the actual Lucky Charms multi-colored marshmallows. Well, guess what. THEY DIDN'T EVEN NOTICE. So I didn't have to throw away a box of cereal, and now I have lots of marshmallows to make these pancakes a bunch of times. And my kids think I'm the best mom ever.

How to make green pancakes with Lucky Charms
These are really pretty simple to make, especially if you already know how to make pancakes.
Preheat electric griddle to 350ºF or stove to medium-low heat.
In a medium bowl, whisk together the milk, eggs, and vanilla bean paste until well blended.

Add green food coloring to the wet ingredients and whisk.
Add the dry ingredients to the wet ingredients and stir until just moistened. Some lumps will remain in the pancake batter. This is normal. If you've made pancakes before, you may know that the thinner your batter, the thinner your pancakes. The thicker your batter, the fluffier your pancakes. I personally prefer thin pancakes, so I generally add more milk than the recipe calls for. But if you (and especially your kids) prefer thick, fluffy pancakes, you might want to start with less milk and add it gradually to get the consistency you prefer.

Fold in ¾ cups of Lucky Charms marshmallows. Please be aware that some of the marshmallows will melt in the pan.

Lightly grease your hot griddle with nonstick cooking spray or some butter.
Using a ¼ cup measuring cup, add the green batter to the griddle. Cook for 2-3 minutes, until bubbles form on the top of the pancake. When the edges begin to pull up from the griddle, flip and continue to cook until golden brown on both sides.
Serve hot. Drizzle with maple syrup. Top pancakes with remaining marshmallows, and whipped cream.
Can you freeze green pancakes?
Why yes, yes you can! Pancakes are one of my favorite things to make ahead because they're so easy to grab from the freezer, pop in the microwave for a few seconds, and eat like they were freshly made. You get a mouth-watering breakfast in seconds, even if you don't have time to cook.
To freeze green pancakes, cook as the recipe directs. Place the cooked pancakes in a single layer on a cookie sheet or sheet pan lined with parchment paper. Freeze for one hour.
After an hour, remove the pancakes from the cookie sheet (they should pop right off thanks to the parchment), and drop into a plastic freezer bag. They'll keep for a month or two as long as you remove the air from the bag each time you take some out.
To reheat frozen pancakes, place 3 pancakes on a microwave safe plate and microwave for 30 seconds. (Less pancakes, shorter microwave time.) Could not be easier.
Check out these other fun holiday posts while you're here:
Recipe