Give your sweetheart a heart-shaped omelet for breakfast in bed! Learn how to make a heart omelette with cheese and eggs. It's a special fun, healthy, romantic breakfast idea. Low carb.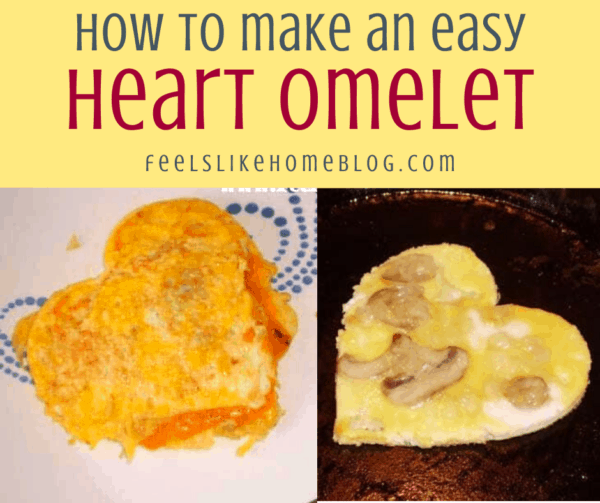 Wouldn't your Valentine be impressed by a heart-shaped omelet?
You can buy pancake molds at the store for a few dollars. Last week, when Grace and I were at the craft store, we saw some. They were $5, and next to them sat 59 cent cookie cutters. Same size, same shape. The cookie cutters were all metal (covered with some kind of enamel), while the pancake molds were metal covered with silicone and had a handle.
I decided that the silicone covering wasn't worth an extra $4.41. I bought two different cookie cutters, came home, and told Joe that I wanted to use them to make heart-shaped omelets.
Then I forgot about the whole thing. I'm the idea person around here, but follow through is not always my specialty.
I forgot about it until Joe served me a heart-shaped omelet on Saturday morning.
My Valentine is a real sweetheart.
After I ate my beautiful heart-shaped omelet, I asked Joe to show me how he made it. You know, so that I could show you.
How to Make a Heart-Shaped Omelet
Prepare the omelet filling. I love sautéed mushrooms and onions, so the first step is to cook them in a wee bit of olive oil.
Remove the filling from the pan.
Give the pan and the cookie cutter a spritz of cooking spray and set the cookie cutter in to heat up. I use just one notch above low.
Preheat a second pan on low. You won't need it for a few minutes.

While the pan and cookie cutter are heating, break one egg into a bowl and whisk. Pour the single egg into the mold and quickly push the mold down.


If you don't press the cookie cutter down, the egg will run out under it. You only have to press it down for 30 seconds or so, until the bottom layer of egg cooks enough to harden.
Before the egg is cooked through, drop your filling into the egg. It will sink in a bit and cook into the egg. (Joe didn't press this one down quickly enough and the egg leaked out.)

Now you can slow down. Let the egg cook until the bottom is beginning to brown. The top can be runny, it will cook later. Use a thin blade to cut around the cookie cutter if it stuck (and it probably will).

Remove the cookie cutter.

Once the egg is solid enough to be flipped, turn it, uncooked side down, into your second, pre-heated pan. Keep the heat very low, just hot enough to finish cooking the egg and keep it warm.

Repeat steps 3 through 7 for the second egg.
While the second egg is cooking, sprinkle ¼ cup of shredded cheese on top of the first egg (in the pan staying warm). It will begin to melt. When the second egg is done, place it on top of the first. Cover for a minute or two until the cheese is melted.


Recipe