How to make heart-shaped pancakes with a metal cookie cutter - These DIY chocolate chip pancakes are as delicious as they are pretty! They are a fun way to have breakfast for Valentine's Day or any day of the year. Breakfast in bed for Mom on Mother's Day would be nice too! Perfect for kids and families. Top with peanut butter, fruit, or maple syrup.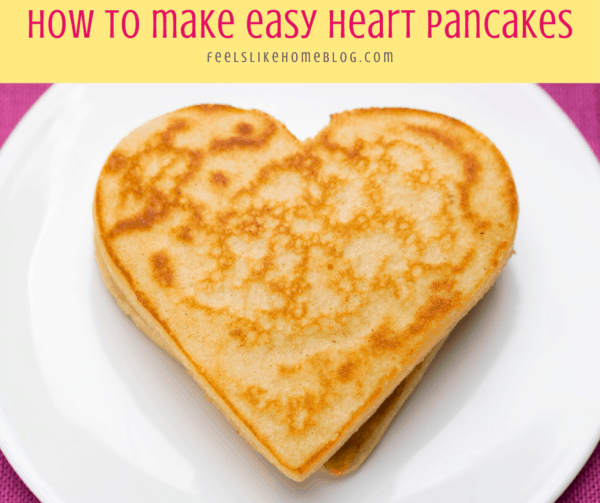 We had a lot of snow this week.
Joe was outside shoveling our driveway for the twelfth time this week when I had a brainstorm.
When he came in, I had a hot, heart-shaped pancake dotted with chocolate chips waiting for him.
I used pancake mix so that they'd go together quickly, and I made them in much the same way as he'd made the heart-shaped omelets earlier in the week.
How to Make Heart-Shaped Pancakes
Whisk together the pancake mix and the water.
Set the cookie cutter in the pan, and spritz them with cooking spray. Heat the span and the cookie cutter together. I set my stove on medium to heat.
When the pan is hot, hold the cookie cutter down with one hand (or tongs) and pour just enough pancake batter into the cookie cutter to spread over the whole thing. Mine took about ⅓ cup of batter.
If you don't press the cookie cutter down, the batter will run out under it. You only have to press it down for 30 seconds or so, until the bottom layer of pancake cooks enough to harden.

Before the pancake is cooked through, sprinkle chocolate chips into the the batter.

Now you can slow down. Let the pancake cook until the edges are beginning to set. If you don't wait long enough, pancake batter will run everywhere when you lift up the cookie cutter.

Remove the cookie cutter.

Flip the pancake over and let the top brown a bit.


To serve, flip the pancake back over (chocolate chips facing up) and serve with a dollop of peanut butter and maple syrup.

My pancake mix batter filled my heart-shaped cookie cutter 5 times, just enough for a test heart (that fell apart because I took the cookie cutter off too soon), Joe, my sister Amanda, Gracie, and me. Perfect.
For the secret to cooking perfect pancakes, head over to this post.
And here are a few more pancake variations that you might like:
Recipe