This easy carrot cake pancakes recipe is healthy and delicious! With walnuts or pecans and white raisins, it has all the flavors of your favorite sweet cake in a savory meal. Serve with cream cheese maple syrup.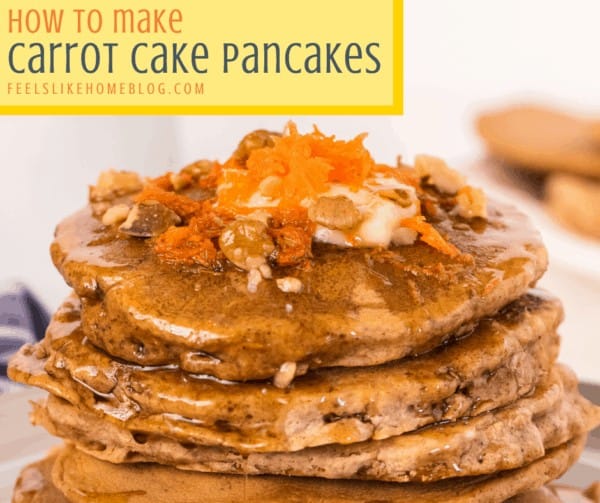 This awesome recipe comes from the section on using cheese graters. You need either a cheese grater or a food processor to get the carrots cut up in small enough pieces to make the pancakes.
Pancakes are perfect for hiding fruits and vegetables. I like to chop up apples or fresh peaches and put them in the batter. I like to put crushed pineapple in sometimes, or even chocolate chips. Nuts are always nice, too.
My friend, Allie, gave me her recipe for pumpkin pie pancakes, and I loved those, too. I really can't think of anything I don't like to put in pancakes.
If you're trying something in the batter that you've never tried before, be careful of how much liquid you add. Some foods (especially fruits) are more juicy than others and will dilute the batter.
A quick word of warning about carrot cake pancakes: you can't cook them quickly.
You have to cook them slowly over medium-low heat in order for the carrots to cook inside the pancakes.
If you cook the outsides of the pancakes too quickly, you'll have fluffy pancakes with crunchy carrots inside.
It's not really pleasant. If you cook them slowly, though, the carrots soften and the pancakes are delicious.
How to Make Healthy Carrot Cake Pancakes
Prepare the carrots. Finely grate 1 pound of carrots. You will need 2 cups of grated carrot for the recipe.
Prepare the dry ingredients. Whisk together the dry pancake mix, nuts, raisins, cinnamon, nutmeg, cloves, and ginger in a medium bowl.


Prepare the wet ingredients. Whisk together all the wet ingredients: brown sugar, oil, vanilla, and whatever the pancake mix requires (eggs, water, oil, etc) in a large bowl.

Mix the batter. Add the dry ingredients to the wet ingredients and stir until blended.

Add the grated carrot. Fold the carrots into the batter.

Cook the pancakes. Heat a large nonstick skillet over medium-low heat. Coat the pan with cooking spray and spoon the batter by ¼-cup mounds onto pan, spreading with a spatula. Cook for 2 minutes or until tops are covered with bubbles and edges look done. Carefully turn pancakes over; cook 1 minute or until bottoms are lightly browned. Be careful not to undercook them or the carrots will be crunchy. That is not so pleasing to the palate.


Serve pancakes with butter and syrup, with cream cheese syrup, or with honey butter.
The secret to fluffy pancakes
I learned a long time ago that the secret to perfect pancakes is the consistency of the batter. Some people prefer their pancakes to be thick and fluffy. For these pancakes, you want your batter to be on the thicker, stickier side. I personally prefer light, thin pancakes, so I like my batter to be thin and runny. You can adjust this recipe to your taste, using more or less oil and water than your pancake mix suggests.
Recipe