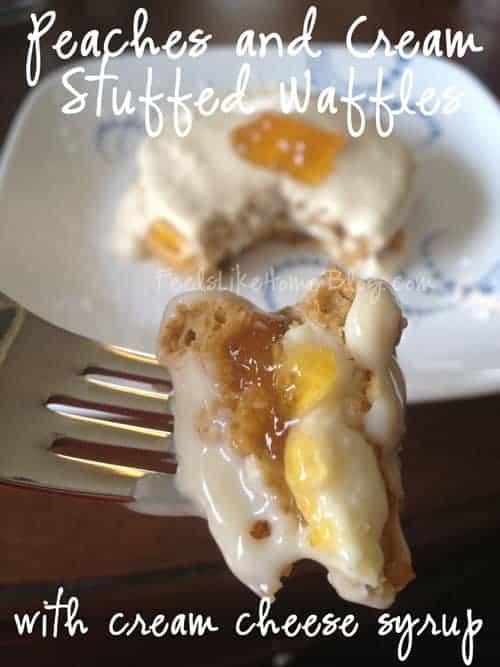 Pin
These peaches and cream stuffed waffles sandwiches includes a thick, sweet cream cheese syrup recipe good for pancakes or waffles.
This recipe is inspired by stuffed french toast, an indulgence I adore. I figured if it was good with bread, it would be even better made with flavored waffles.
When I first conceived this recipe, I thought I would stuff it with my favorite jam - our homemade watermelon jam. Then I thought about you, dear reader, and I decided to use something commercially available instead. You can thank me in the comments.
Really, though, you could use any jam or jelly, fruit preserves, thinly sliced fresh fruit, or even frozen fruit (that's been thawed and drained, of course). I only chose peach because I thought peaches and cream stuffed waffles sounded nice, but I also think cherries would be amazing.
The key to this recipe is the cream cheese syrup. Without that, it would be just a cream cheese and jam sandwich, no big deal. With the syrup, it is sweet and decadent.
The cream cheese syrup is easy to make, but it does take a bit of time. You could make it ahead, even a day or two before you needed it, refrigerate, and reheat to serve. It needs to be warm when you serve it or it will be too thick to pour.
I have our leftovers in the fridge right now, and they reheat nicely in the microwave.
Like some other of my creations, this would be good for breakfast, brunch, or dessert. It is very sweet, so you may want to serve them with a protein to balance out your meal.
One more thing. Grace, my picky and very light eater, ate an entire two-waffle sandwich with a generous portion of cream cheese syrup.
This one really struck her fancy (unlike my peanut butter dip from yesterday, when she ate the waffles and deemed the dip inedible).
How to make cream cheese syrup
Make the cream cheese syrup first and keep it warm while you prepare the waffles and filling.
Over medium heat, melt a stick of butter and half of a block of cream cheese. When both the butter and cream cheese are melted, gently whisk them together until the butter is all incorporated with the cream cheese. It will take a few minutes so be patient. Be very careful while you're stirring. Because the consistency of the melted butter is very different from the consistency of the melted cream cheese, it's easy to slop it out of the pan. (Ask me how I know.)
Whisk in the milk, vanilla, and maple syrup, and whisk them in one at a time. Dump the powdered sugar in and whisk until it's all incorporated.
Check the consistency of your syrup. If it's too thick, add more milk and blend. Leave it on low heat while you prepare the sandwiches. If you let it cool too much, it will set up like jello and won't pour on your waffles.
How to make peaches & cream stuffed waffle sandwiches
Toast 8 frozen waffles.
While the waffles are toasting, soften 4 ounces of cream cheese in the microwave. Heat for 30 seconds then stir. If it's not soft enough, heat for an additional 20 seconds and stir. You may need to do this a few times, but don't heat it for more than 20-30 seconds at a time.
Spread cream cheese on half of the waffles and peach jam on the other half. Assemble the waffles into sandwiches, each with one cream cheese side and one jam side.
Spoon enough of the hot syrup over top of the waffle sandwiches that it covers the top and pours down over the sides. Add a dollop of jam on top for garnish, if desired. Finish with a light sprinkle of powdered sugar.
Recipe