How to make DIY homemade watermelon jam with pectin powder - This simple and easy watermelon jam recipe uses sugar and pectin to cook the best watermelon jelly you've ever eaten!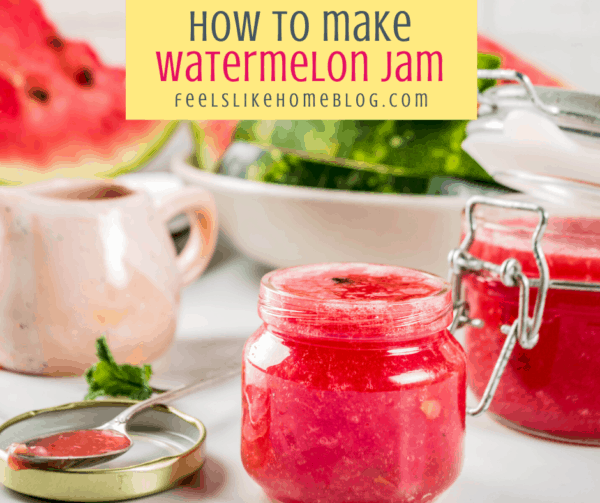 Since I learned to make jam several years ago, I have always wanted to make watermelon jam.
I've never eaten watermelon jam, mind you, but I have had a twenty-five year love affair with watermelon-flavored Bubblicious (bubble gum), and so I have been thinking that watermelon jam would be simply delightful.
I'm going to give away the ending of my story and say that watermelon jam tastes simply delightful. It has all of the flavor of my beloved gum, and it doesn't irritate my TMJ.
There were no instructions for watermelon jam in the box of pectin, so we made it up as we went along. We had one medium-sized watermelon, and it made two batches of jam with enough watermelon chunks leftover for us to have as an after dinner snack.
What you'll need to make the best watermelon jam
Ingredients
See printable recipe card at the bottom of the page for amounts.
Fresh watermelon - Seedless watermelon is nice, but you can use standard watermelon as well. You'll need to remove any black seeds, separate the red fruit from the from rinds, and cut the watermelon into chunks.
Fresh lemon juice
2 boxes of No Sugar Needed Pectin - If you only add 1 box of pectin, you will end up with something akin to watermelon syrup. Also, "no sugar needed" is misleading. You still need a lot of sugar, just not as much as traditional pectin.
White sugar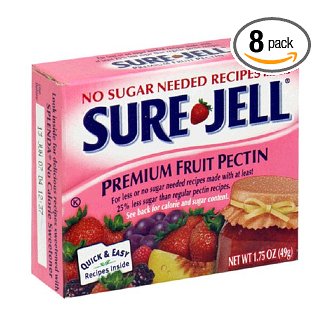 How to Make Homemade Watermelon Jam

Puree the watermelon chunks in a blender or food processor. Depending on the size of your blender, you may have to blend in two batches, but the finished amount of puree should be roughly 4 cups. There is no need to strain the watermelon juice because the puree gets very thin.
Pour the watermelon puree into a large pot. Add lemon juice.
In a small metal bowl, whisk both packets of pectin together with ½ cup of the sugar. This will prevent the pectin from clumping later on.
Whisk the pectin/sugar mixture into the watermelon puree.
Bring the mixture to a boil over medium-high heat. Stir almost constantly to prevent the bottom of the mixture from burning.
You will add the rest of the sugar when the mixture is boiling so hard that you can't stir the bubbles away. Whisk the sugar in.

Return the mixture to a hard boil, and cook for one minute.
After one minute, remove the jam from heat.
If your jam doesn't set up, simmer until it has reached the consistency you want. Alternately, you can start over at step 3 and add additional pectin.
Preserving your watermelon jam
You have three choices:
Can the jam. This is my favorite option. It's simple, as long as you have the right tools. More on that below.
Make watermelon freezer jam. You can freeze the jam up to one year. Use containers especially for keeping in the freezer. Cook the jam as directed, and wait to fill the containers until the jam mixture has cooled completely.
Eat the jam. This is a good option, except that this particular recipe makes about 10 cups of jam. It will only keep a few weeks in the refrigerator, so... unless you're going to give it all away really quickly, this isn't a great option.
Canning Homemade Watermelon Jelly
Preheat 10 half-pint jars and 10 jar lids. We do this by running the jars through the dishwasher and boiling the lids and seals on the stove.
Heat a very large pan of water for canning. Use a canner pot if possible. Preferably, this is a 20-quart or bigger pot filled about halfway with water and heated on high til the water boils.
Get out a jar, make sure it is both clean and dry, and fill it with jam using a ladle and a funnel, leaving about ¼ inch of empty space at the top.
Wipe the top of the jar with a clean paper towel to make sure it's clean and dry. Place a lid on top of the jar.
Screw a lid ring on firmly.
Repeat until all jars are full. If you have a partial jar, you should put it in the refrigerator and eat it in the next couple of weeks. Don't can a partial jar of watermelon jelly (or any jam or jelly for that matter).
Place all of the jars into the hot water in the big pot. Boil them for 10 minutes. (If you are above sea level, times will vary. Consult the instructions inside the box of pectin to be sure.)
While the jars are boiling, set a dry towel on the counter (or in some other place where they can sit undisturbed for at least 24 hours). When the time is up, use tongs to remove the jars and set them in the middle of the towel. When all of the jars are out of the water bath, bring the ends of the towel up and lay it over top of the jars. This will help them to cool slowly. Honestly, I don't know why that's important, but my mom told me to do it, so I do it.
Once the jars are cooled, check to make sure they sealed. Just like the jars in the store, the lids should all be sucked down and shouldn't give when you press on them. You'll most likely hear this happening as the jars cool; I always listen and keep count. Because I'm a canning dork.
When we started canning, I think we spent around $100 at Walmart for all of the canning supplies that we needed. I've also seen them at Lowe's and Home Depot for similar prices. At the same time, there's nothing wrong with freezer jam, aside from it being a little less convenient than shelf-stable jam.
Of course, after you've opened a jar of melon jam, you'll want to store it in the fridge until it's been used up. It will stay good for a couple weeks to a month.
Important tips for canning this watermelon jelly recipe
You will need to use the widest and deepest pot you have, like a stockpot or a canning pot. The watermelon puree will climb up the sides of the pot as it cooks, and it will also splatter a lot because you'll be cooking it at a full boil. The bigger and deeper the pot, the better.
You can try to use another type of pectin if you want to, but I can't guarantee your results. I use this exact recipe with no sugar pectin. I do not use liquid pectin, and I do not use regular pectin. My jam sets up perfectly every single time. Some commenters have said that their jam didn't set up at all or that it overset, and I am sorry for that. Elevation, air temperature, and other factors will impact your finished jam. But as I said above, this EXACT recipe has worked for me every single time I've ever tried it.
As I said in the recipe below, you can use this same method to make a delicious watermelon syrup. Just reduce the amount of pectin to one box instead of two. The syrup is great on ice cream, waffles, cheesecake, pancakes, and more. Use it the same way you'd use raspberry sauce or even maple syrup.
Use the plate test when you think your watermelon puree has boiled long enough. To do this test, you will need to put several small plates or bowls in the freezer for 10-15 minutes (put them in before you begin pureeing and cooking). When you think the watermelon juice has cooked enough, drip a very small spoonful onto one of the plates. If the texture starts to solidify and form a skin, it is done. If it stays runny, it needs to cook longer. The reason I say to put several plates in the freezer is that you may have to do this test more than once to get the right consistency.
You will need a set of canning tools and a canning basket. You'll use the the jar lifter, wide mouth funnel, and basket the most. Pouring the boiling hot watermelon puree into the jars is so much easier with a funnel, and you will need the jar lifter to move the jars full of boiling hot jam around. Finally, the basket allows you to lift all of the jars out of the water bath at the end without any trouble.
When filling jars with the water melon jam, pour very slowly and careful. This liquid is over 200º, and it will burn you severely if it splatters. It's also very sticky, so it will be tough to get off your stove or countertop if it spills. And don't forget to wipe rims before you put the lids on the jars.
Once the jars are full, allow them to sit for 2-3 minutes. You will be surprised at how much the jam settles into itself, and you will have space in the jar for a bit more jam. You want to get up to about ½" below the top of the jar.
My Last Word on Watermelon Jelly
This jam was so good that it will be in our rotation every year from now on. I have eaten it several times since we made it, on toast, on bread, and on crackers. I could eat it every day. It's just that good.
More delicious summer recipes
Recipe