The best recipe for easy raspberry sauce which can be used as a dessert topping or as a filling in cupcakes, crepes, or other baked goods. Use only 5 ingredients and 20 minutes to make this homemade fruit coulis. This decadent vegan sauce can be made with fresh or frozen berries. Use it to top ice cream, cake or cupcakes, pancakes, cheesecake, shortcakes, hot biscuits, toast, and much more. Pipe it into the center of a cupcake for a sweet filling. It is also great as a reduction on nice cuts of steak, grilled chicken and pork chops.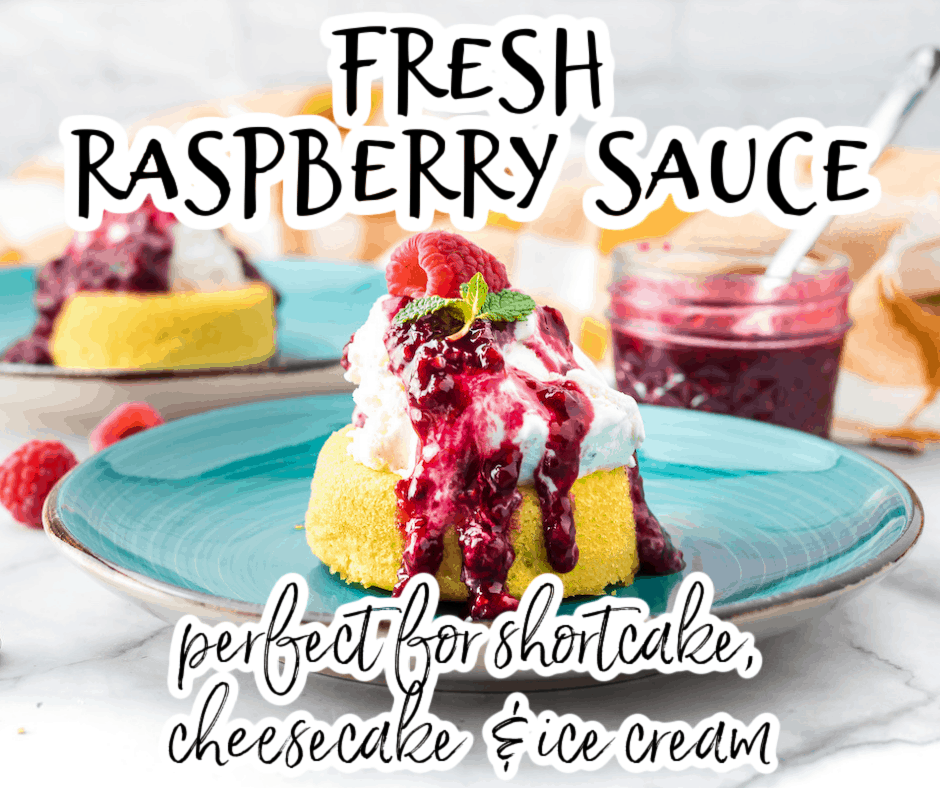 When I was a little girl, there was a huge patch of decades-old raspberry canes close to her front porch. I have fond memories of picking red berries and gold berries in a white Corelle bowl and putting them on top of my cold cereal without even washing them first, not because I took them back to my house, but because my little sister and I walked over to Grandma's house almost every morning to eat breakfast.
Sometimes, we ate at home and then ate again at Grandma's, but mostly, we just woke up and headed out, still in our little girl jammies. My sister even carried her blankie down the dirt road. It was a different time, back in the early 80s.
When I bought my own house in the fall of 2001, I couldn't wait until spring when I'd be able to plant my own raspberries. That first year, I planted golden berries, and those did pretty well for a decade. Later, I added in some jumbo red raspberries which haven't done as well, but I try to add berries every year. I want to be able to pick a cup at a time.
I'm not there yet, usually getting 3-6 berries a day. It's pathetic, but I don't stop trying. I'll probably plant a few more canes this spring.
Anyway, you need a minimum of a little more than a full pint a of fresh raspberries for this recipe, but more berries are always a good idea. I like to make the sauce with 2-½ cups of berries and then use more for a pretty garnish. Especially when I'm using the sauce on a cake or pancakes, I probably go way overboard with the "garnish" berries and instead make them almost their own layer. There won't be many whole berries left in the sauce (if you can find any at all).
Enjoy. Stop back and let me know in the comments what uses you find for this yummy sauce!
How to make raspberry sauce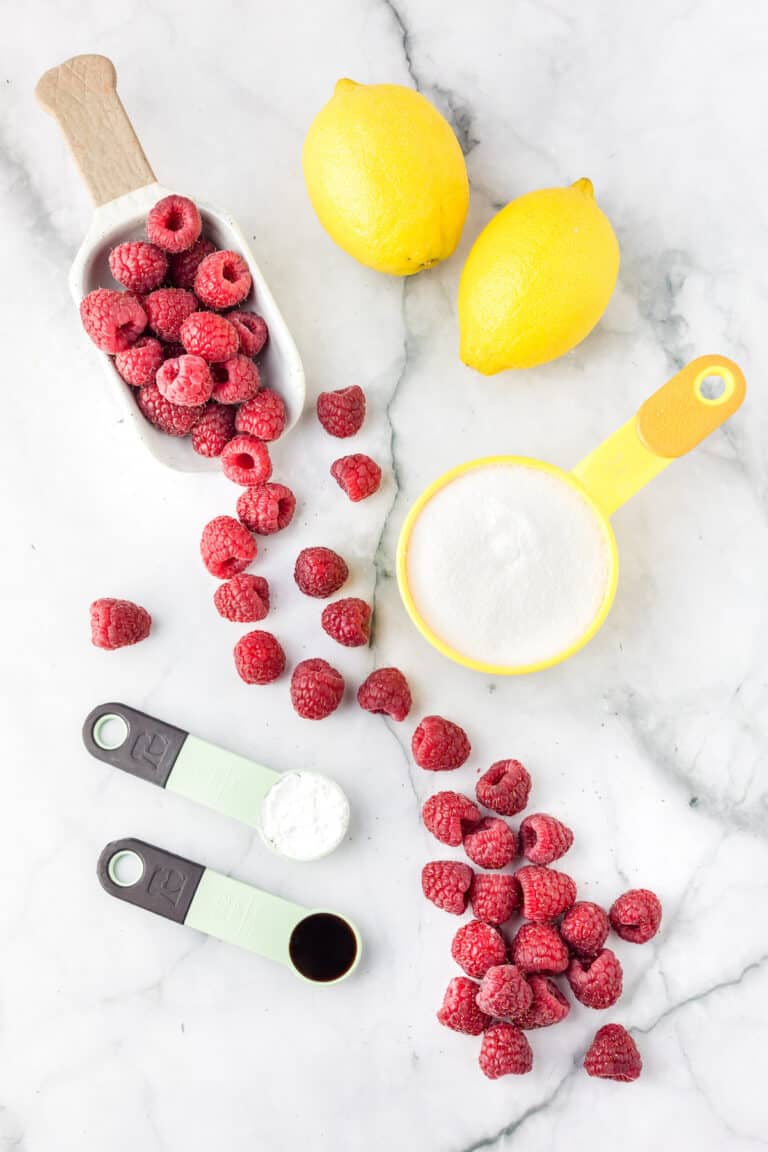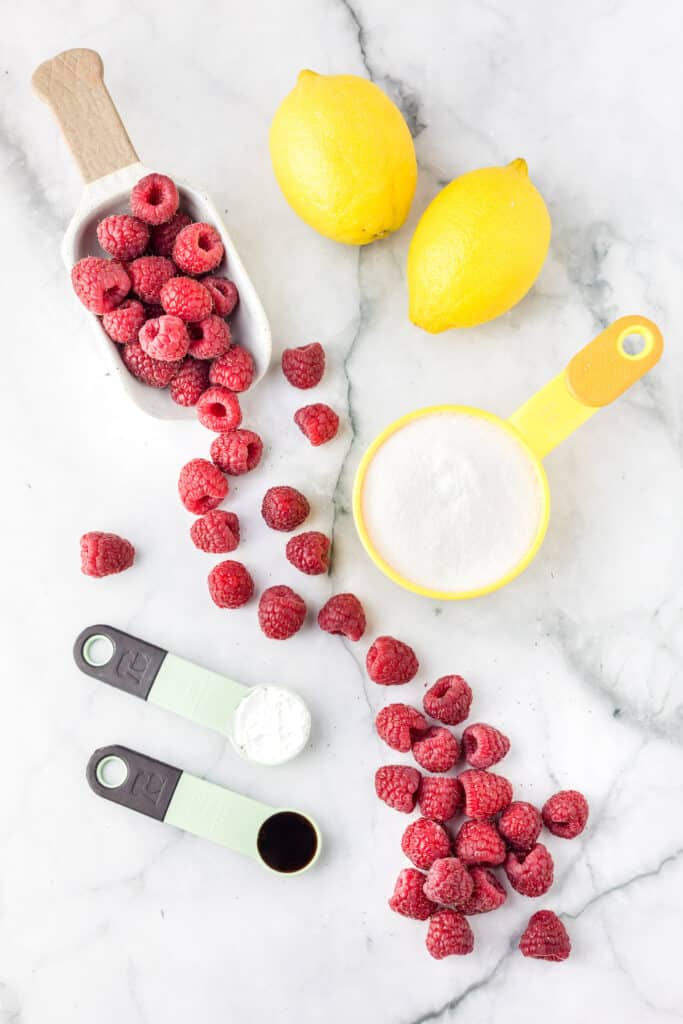 You will need the following:
1 large lemon - you will use both juice & zest
2 ½ cups fresh or frozen raspberries
¾ cup sugar
½ teaspoon vanilla extract
1 teaspoon cornstarch
1 tablespoon water
And then here's what you will do with it:
Zest the lemon, collecting 1-2 teaspoons of zest to use in the sauce. Then cut it in half and juice one half to measure about 1 tablespoon of juice. Set both the zest and juice aside for adding into the sauce later.

Add half of the raspberries (about 1-¼ c) and half of the sugar (a little less than ½ cup) to a small saucepan.

Stir until the sugar is dissolved. Turn on the heat to medium under the pot and heat to boiling, stirring frequently.

Reduce heat to medium-low and add remaining berries, vanilla, lemon juice and lemon zest.

Whisk the cornstarch and water in a small bowl. Mix well. Pour into the hot raspberry sauce in the pan. Stir and return to boiling over medium heat for 4-5 minutes or until the mixture has thickened.

Remove pan from the heat. Sauce will thicken as it cools.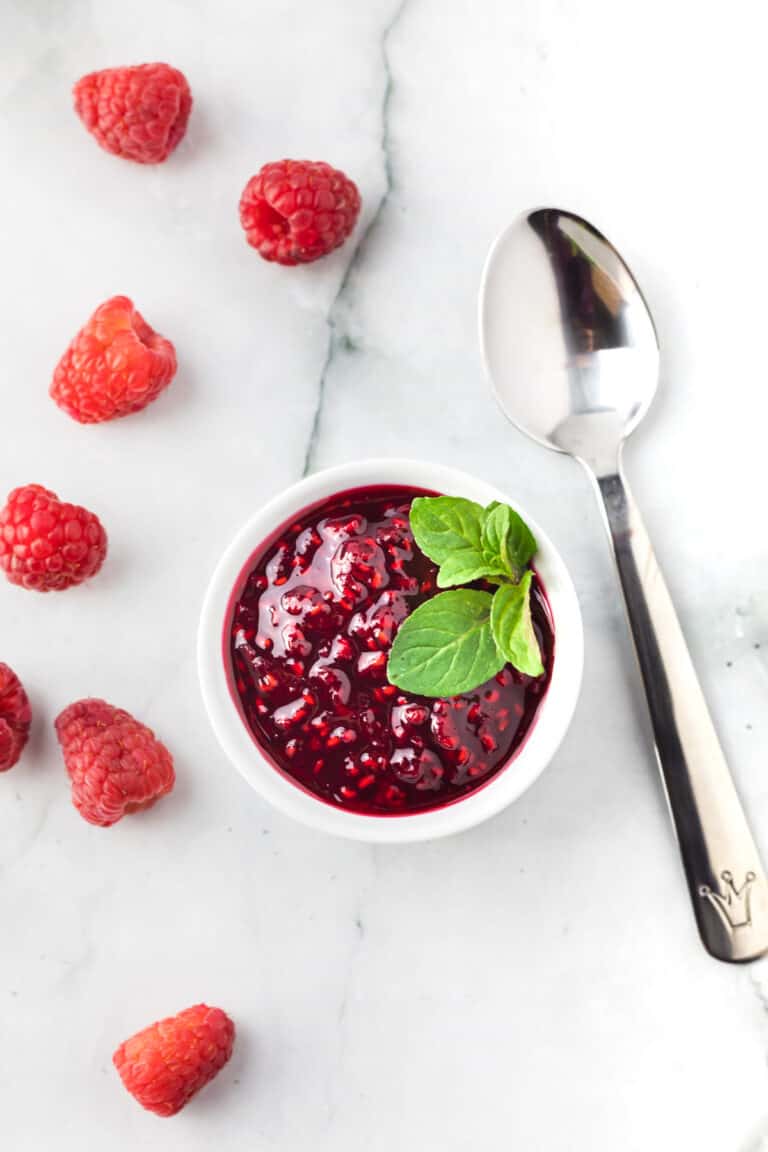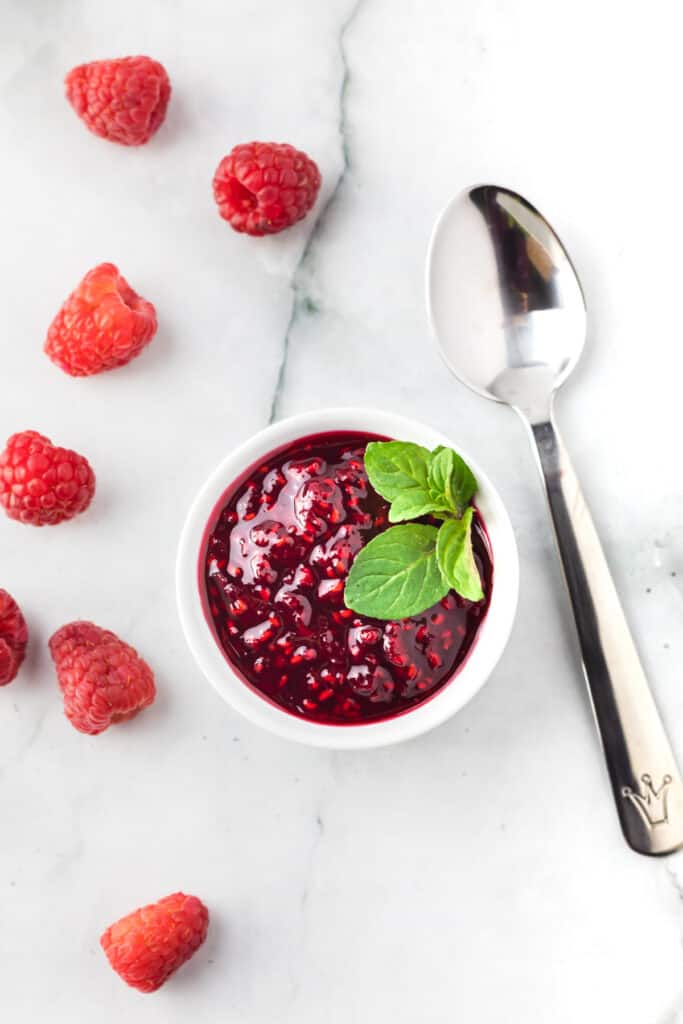 Recipe Notes
Traditional raspberry coulis is not cooked, but the end result is similar to this sauce.
Raspberry sauce can be be used warm, right off the stove or chill in the refrigerator for 2-4 hours and used cold. My personal preference is to use it warm on warm foods like meats, pancakes, hot biscuits, and toast, and cold on room temperature and cold foods like ice cream, cake, and cheesecake.
Store in an airtight jar or container in the refrigerator for up to a week.
Recipe is just as good when halved. It will then make about 1 cup of sauce.
How to use raspberry sauce
Raspberry sauce is delicious served warm as a reduction on top of nice cuts of steak, grilled chicken, and pork chops. It's also delicious when warm on pancakes, hot biscuits, and toast. I use it warm from the stove or heat it in the microwave to use on warm foods.
If you heat the sauce in the microwave, do it in very short increments, like 15 seconds, and then stir very well in between. If you heat it too long, it will cook more and get much thicker quickly, almost like pudding.
The sauce is also delicious cold. I prefer it cold when served on top of cold foods like ice cream, cake or cupcakes, pancakes, cheesecake, and shortcakes.
This is also an excellent filling for in between layers of a cake or the inside of a cupcake. You can use an extra long icing tip and pipe it into the center of a cooled cupcake for a sweet filling.
Here are a few recipes that are delicious when topped with this sauce:
Recipe