This easy nonalcoholic watermelon drink is one of my favorite recipes! Including a simple syrup with orange zest and fresh watermelon that's been pureed in the blender, this healthy drink is simply refreshing, sweet, and delicious! Perfect for kids.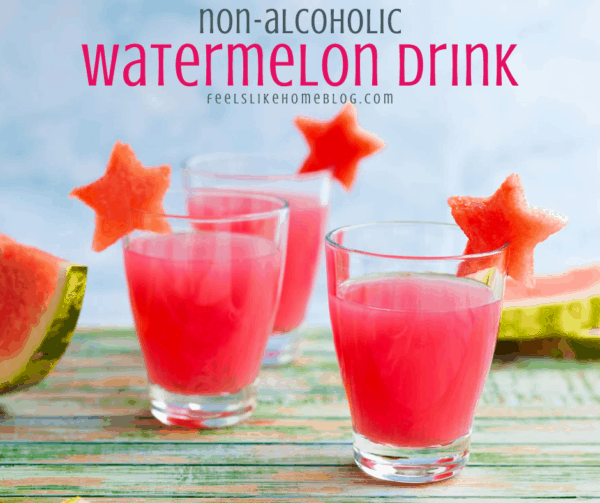 Even when I'm not gestating, I don't consume much alcohol. It's a medical issue. I like to drink, but I really shouldn't because of some of the medicines that I take.
I saw a wonderful, summery watermelon drink recipe in the June issue of Everyday Food, but it called for tequila. Wanting to imbibe, I made some changes to the recipe and stirred it up for our family.
Two very minor changes turned the watermelon cocktail into a non-alcoholic watermelon mocktail perfect for our whole family. Even 2-year-old Grace loved it.
How to make a refreshing non alcoholic watermelon drink
In a small saucepan, bring sugar, water, and orange zest to a boil over high heat. Reduce to a simmer and cook until sugar completely dissolves, about 3 minutes. Pour through a strainer to remove the orange zest and let cool in a bowl.
Alternate microwave instructions: Add sugar, water, and zest to a microwave safe bowl and microwave for 2 minutes. Stir well. If needed, microwave in 1 minute intervals until the sugar has all dissolved.
In a blender, purée 2 cups of watermelon chunks until smooth.
Combine the watermelon purée, syrup, and lime juice in a 2 quart pitcher. Mix well. Add soda and stir gently. Pour into glasses.
Garnish with lime wedges, watermelon shapes, or mint sprigs.
You could substitute any fruit for the watermelon in this recipe.
Recipe