This is the best double chocolate chocolate chip cookie recipe that makes simple chewy cookies! The dough makes thick, bakery style cookies with candy corn inside, but they can be adjusted to any candy!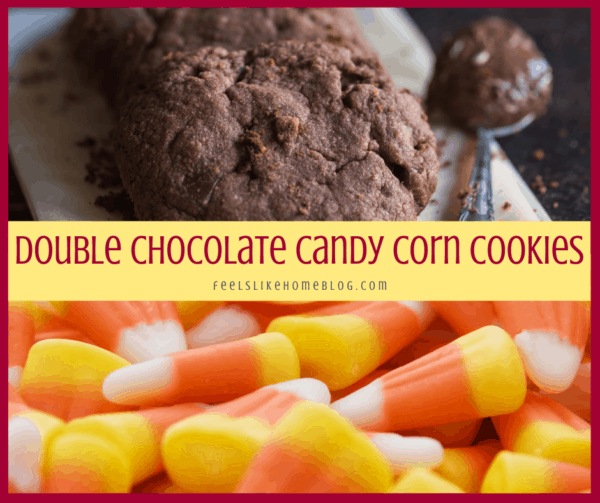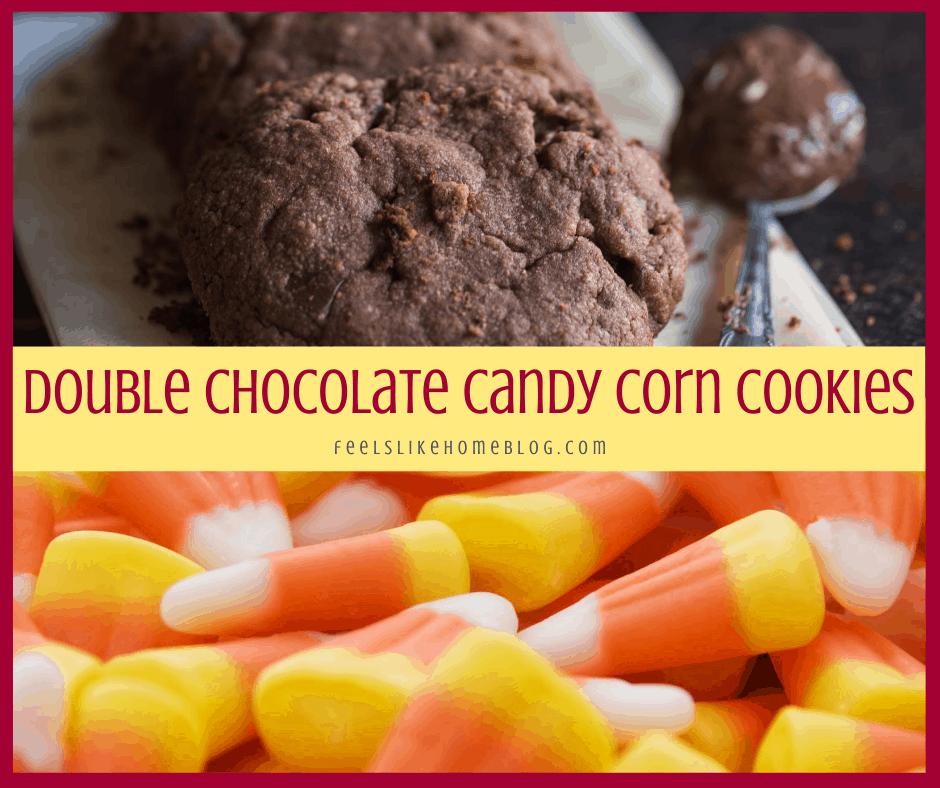 Since my sister's birthday in August, Grace and I have been meaning to make her a batch of cookies.
Something has gotten in our way time after time after time. Most recently, it was a hospitalization and a broken bone.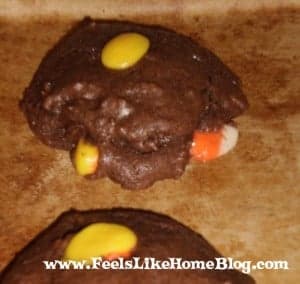 But today!
Today, we were determined to bake cookies, and bake cookies we did.
Inspired by Eat N Park's Smiley cookies, I decided to make candy corn cookies. After searching the internet for a recipe to which I could add candy corn, I found this chocolate chocolate chip cookie recipe.
I adjusted the recipe to suit myself, and I love the results. The cookies are delicious!
How to Make Double Chocolate Candy Corn Cookies
In a stand mixer, cream the butter, brown sugar, and white sugar together until light and fluffy. Add the vanilla and orange extracts.

Add eggs one at a time, and beat until well incorporated.
Whisk together the cocoa, flour, baking soda, and salt. Sift.

Try to keep your helper from throwing the sweet smelling flour mixture around the kitchen. That can get messy.

Add sifted ingredients to the mixing bowl.

Use a wooden spoon to fold the dry ingredients in until they're just combined. For the longest time, it will feel like you're just moving around the sifted ingredients. Suddenly, it will feel like you're trying to stir cement.

Stir in the chocolate chips and the candy. Mix just enough to distribute. Don't overwork the dough!

(Sorry, Dear Reader. That's a gratuitous photo of my cute but messy helper in her Learning Tower.)
Cover the dough with plastic wrap and refrigerate for an hour or so.
Preheat the oven to 350 and line a cookie sheet with parchment paper.
Dip a small scoop into water (to prevent sticking) and drop dough onto a cookie sheet about 1 ½ inches apart. Flatten the balls slightly, and try to make sure that none of the candy corn pieces are precarious. If they are sticking out too far, they'll melt and slide off the cookie. It doesn't hurt anything, but they won't be in your cookies, either.

Bake for 15 to 20 minutes or until the edges begin to brown.

Allow the cookies to cool on the cookie sheet. I don't know why, but that helps them to be moist and gooey.
Clean up the huge mess your helper made when she was sifting flour.

This looks like a lot of steps, but it really isn't. The cookies go together very quickly.
You'll want to check out these other delicious recipes while you're here:
Recipe