The best ever simple and easy pecan pie bars - These bar cookies are easy to make from scratch and are quick to bake. This traditional Southern recipe is great for a crowd. Perfect party or potluck dessert. These classic bar cookies are gooey and chewy.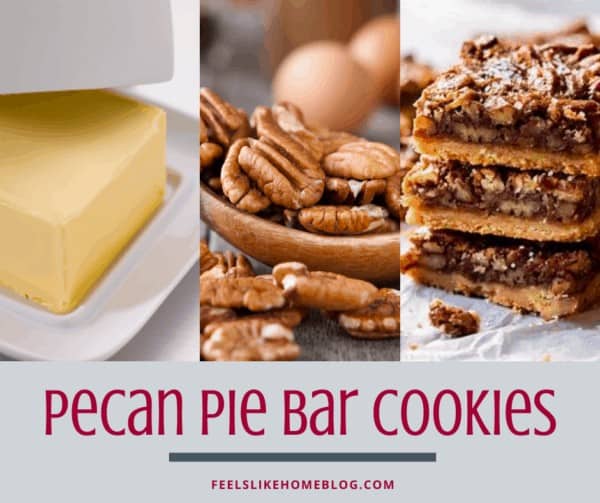 You already know that I love pecan pie, right? Well, if you didn't know, it is my absolute #1 favorite kind of pie followed closely by cherry.
I spent many months perfecting my perfect pecan pie and then my crustless pecan pie, and they are fabulous. I also gained 15 pounds that fall, but we'll talk about that another day.
At any rate, these pecan pie squares are really good. They're like the cookie version of my amazing pie but in a portable form, so they are great for family dinners as well as potlucks and parties. They're especially nice at Christmas parties because they're rich and decadent, but really, they're great all year round.
I know you can buy pecan tarts at the grocery store, but those can't hold a candle to these. These cookies are just so much better. You will be glad you took an hour to make them, I promise.
How to make the best pecan pie bar cookies
Preheat oven to 350º.
In a large mixing bowl, blend together the flour, ⅓ cup sugar, ¾ cup softened butter, and salt until the mixture resembles coarse crumbs.
Press firmly and evenly into a greased sheet pan. Bake 20 minutes.
In a second large bowl, combine eggs, corn syrup, 1 ½ cups sugar, ¼ cup melted butter, and vanilla. Stir in pecans to coat.
Spread evenly over hot crust. Bake for an additional 25 to 30 minutes or until set.
Cool on a wire rack and then cut into 12 squares.
One more note: don't overbake these. If you do, they will get hard. Definitely bake the crust for 20 minutes, but then check the filling a few times starting around 20 minutes, to see if the filling is set. Once it stop jiggling, take those cookies out of the oven and set on a wire rack to cool.
Recipe