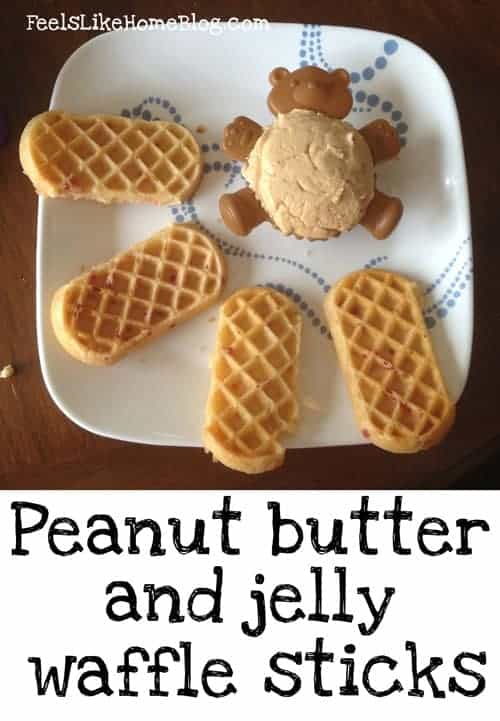 It's a Week of Waffles at Feels Like Home! Being that I'm a Chief Waffle Officer, I'll be posting waffle recipes featuring Eggo Waffles all week – from April 1 to April 7. I'll share some breakfast, lunch, dinner, snack, and dessert recipes, so make sure you come back each day for my most recent creation! (In the interest of disclosure – Eggo Waffles are not gluten-free. I did sample this recipe, and it was delicious.)
My kids' favorite foods are ones they can play with. They like to dip, spread, and sprinkle, and they love to assemble their own mini sandwiches. Whether with crackers, bread cut out with cookie cutters, nut chips, or something other fixing doesn't matter. They love to make sandwiches, and they love to eat ingredients separately. With that in mind, when I saw Eggo's Strawberry Strudel Wafflers in the grocery store, I was inspired to let the girls make their own peanut butter and jelly sandwiches. These Wafflers are like waffle sticks. The package says "Packed with flavor! No syrup needed!" It's true; every bite is full of sweet strawberry goodness.  I didn't include jelly in the sandwich; it's unnecessary. In the interest of encouraging my children to play with their food eat, I intended to serve them Strawberry Strudel Wafflers with a peanut butter dipping sauce as an afternoon snack. My peanut butter dipping sauce didn't exactly come together as I'd planned; its consistency turned out more like peanut butter frosting. It tasted really good like that, so I was afraid to muck with it. To be perfectly honest, I'm not sure how to make my frosting into a dip. Do you have any suggestions for that? I thought about adding more milk, but I was afraid that would dilute the flavor. I also thought about adding melted butter, but I worried about it becoming greasy. I was stuck with indecision and decided just to give the girls peanut butter "frosting."
Side note - These would be awesome for packed lunches because the jelly flavor is already inside the waffles. There's nothing to make the waffles get soggy. Pack the peanut butter dip in a little container, include a plastic knife, and let the kids assemble their sandwich or just eat the parts.
I wasn't sure what to call this recipe. It's a fun, messy, jelly-stuffed, peanut butter frosted, open-faced waffle version of a peanut butter and jelly sandwich, but that doesn't exactly roll off the tongue. I went with Peanut Butter and Jelly Waffle Sticks, but I don't think that's the right title. What would you call them?
Great Eggo Waffle Off
Do you have a favorite waffle recipe? Go to Eggo's Facebook page to enter your recipe in the Great Eggo Waffle Off. You might win $5,000! While you're on the Eggo Facebook page, make sure you check out the fun recipe ideas, as well as other entries to the contest.
This post is part of a project called a Week of Waffles from Eggo, sponsored by Kellogg. I have been compensated to create and share recipes using Eggo Waffles. All recipes, photos, and text are created by me.