Heart shaped cherry hand pies are perfect for your sweetheart or kids on Valentine's Day or any time of the year! You only need 4 ingredients to make these festive mini pies with a flaky crust and juicy filling. Baked in the oven, not fried.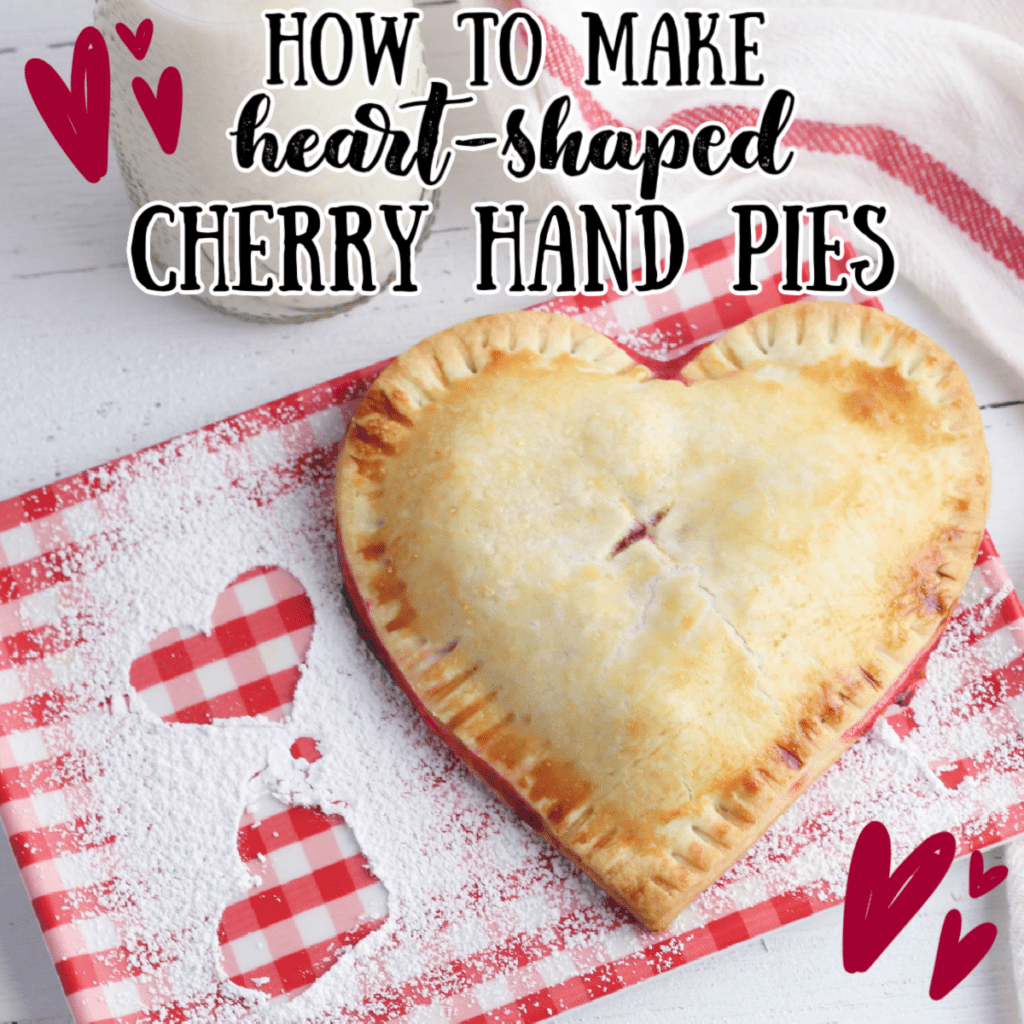 When I was a little kid, my dad would buy us hand pies from the convenience store. I don't remember the brand, but I still buy them occasionally because they remind me of him and they taste so very good.
The problem with those hand pies, nostalgia aside, is that they are super sweet, enormous, and very very high in calories. Not the kind of thing you'd want to eat on the regular. Also not the kind of thing I can finish in a sitting, and I feel bad throwing it away, but it's not exactly savable either.
Why you've love this cherry hand pie recipe
I love any dessert that is portable, so hand pies are perfect. We can take them on a picnic or to the beach or on a hike. You can put them in a packed lunch or drop some in a pretty bag and give them as a gift. Hand pies are super versatile.
Or, if you're not concerned about taking it to go, how about a warm hand pie topped with ice cream? YUM!
The other thing you're really going to love about this recipe is that it is so stinking easy. Pie crust, pie filling, a little egg wash, and you're done. 10 minute recipe and super impressive results.
What you'll need to make heart shaped cherry hand pies
Equipment
Like any pie recipe, you'll need a rolling pin to roll out the pie crust. I suppose if you're using a packaged pie crust (as I always do), you could probably roll it out and seal the cracks with just your fingers, but I think it's a lot easier to use a rolling pin. I always use one.
To make heart-shaped pies, you'll need a large heart-shaped cookie cutter. Mine is 5 inches across. If you don't mind that they're not hearts, you could use a large circle or even cut the crust into squares, rectangles, or triangles.
To bake the pies, you'll need a baking sheet or baking stone. I prefer a stone, but a metal baking sheet works almost as well. I personally line my bakeware with parchment paper, but my photographer does not, so you won't see it in the photos below.
Finally, I recommend brushing the pies with egg wash, so you'll need a basting brush or pastry brush to do that.
Ingredients
This is a super simple recipe with just a few basic ingredients. Here's what you'll need:
1 unbaked pie crust - As I said above, I always use refrigerated pie crust from the grocery store. I think it tastes great, and it is consistently great, and it is super easy. I have, one time in my entire life, made a homemade pie crust from scratch, and I thought it was a lot of work and tasted pretty much exactly the same as the packaged crusts. So I never make pie crust from scratch, and it doesn't bother me one little bit to admit that.
1 can of cherry pie filling - I think cherry pie filling is amazing. I know you can make it from scratch, and I have done that, but I really like the sweetness and goopiness of the canned stuff. Look for the extra cherries pie filling. It's usually called premium pie filling. It has more cherries and less sauce, and I think that is nicer than the one with more sauce and fewer cherries.
1 large egg - This is for the egg wash at the very end. You could skip it if you're in a pinch, but your pies will come out white and a little dull rather than golden and a little shiny.
1 tablespoon sugar - This is just a nice garnish to add to the tops of your hand pies. If you don't use an egg wash, the sugar won't stick to the pie crust.
How to make mini hand pies with cherry filling
Preheat your oven to 425ºF. Line a baking sheet with parchment paper but do not grease the baking sheet or the parchment paper. (Parchment paper is optional. I use it but my photographer does not, so you won't see it in the photos.)
Unroll the pie dough on a lightly floured flat surface. Use a rolling pin to flatten it slightly, to a thickness of about ¼ inch. Use the heart cookie cutter to cut out eight heart shapes.

Place four of the pie crust hearts on the baking sheet.

Spoon cherry pie filling into the center of each heart, spreading it out across the heart but leaving about ½ inch of space at the edges of each heart.

Top each pie crust with another heart. Use a fork to crimp the edges together. Cut a small slits in the top of each to form an X. This will let the steam to escape. (This is an important step. If you don't do it, the pie will puff up from the steam trapped inside and the top crust will get distorted and my pop open, allowing the filling to leak out all over your baking sheet.)

Whisk egg with a fork, adding a few splashes of water as necessary to get it to a uniform consistency. Use a pastry brush to brush the egg wash on top of each pie, then sprinkle with sugar.

Bake pies in the preheated oven for 25 to 30 minutes, or until pie crusts are golden brown.

Remove the pies from the baking sheet and allow them to cool completely before serving.
Variations on the cherry hand pie
If you wanted to get really fancy, you could mix a teaspoon of almond extract into your cherry pie filling. Then you could sprinkle some slivered or chopped almonds on top in place of or in addition to the sugar. You could also mix the almonds into the pie filling if you wanted a bit of a crunch in the pies.
If you don't have or don't like pie crust, you could use puff pastry for these pies instead. It's a little harder to cut with a cookie cutter though, so if you use puff pastry, you'll probably have to make rectangles or squares. Also, puff pastry is sold frozen, and you have to thaw it in the fridge overnight before using. Also, you have to use it super cold straight out of the fridge or else it gets sticky and hard to work with.
I am a cherry fiend, but my kids sort of hate cherries. So, for them, I make apple hand pies by using apple pie filling instead. You can use any pie filling, jam, or even Nutella or peanut butter in this simple recipe.
If you want your hand pies to be more like the commercial ones, you can whip up a quick glaze to drizzle over the top. To do that, simply whisk together 1 cup of powdered sugar with 2-3 tablespoons of heavy cream (whole milk will work in a pinch), and a ½ teaspoon of almond extract (use vanilla extract if you're filling with something other than cherries). Whisk until it's a nice thick but pourable consistency, adding additional cream if required, and then drizzle over the warm - but not hot - pies.
How to store leftover mini pies
You can keep these pies at room temperature, wrapped in plastic wrap, for 2 days. If you wrap them in plastic wrap and then aluminum foil or put them into an airtight container or plastic freezer bag, you can keep them in the fridge for another couple of days. (The refrigerator tends to cause baked goods to dry out which is why you'll need to seal them up so carefully if you want them to stay nice in the fridge.)
You can also freeze hand pies, although you will get the best results if you freeze them before baking. Once they are sealed shut, place the whole baking sheet in the freezer overnight or until the pies are dry to the touch. Then remove to a plastic freezer bag and store in the freezer up to a month. No need to thaw before baking, just add 10 minutes or so to the baking time.
Tips for better cherry hand pies
It's perfectly fine to use your favorite pie dough, packaged or homemade, or even puff pastry sheets.
You can use whatever fruit filling you like, including any pie filling, jam, fruit preserves, or even Nutella or peanut butter. You can also make a pie filling from scratch although I don't have a good recipe for that.
You can probably get more than 4 pies out of a package of pie dough if you squish the scraps up and re-roll them.
You can decorate the top with granulated white sugar or whip up a simple powdered sugar and cream glaze to drizzle over.
Some of the filling will probably ooze out of the seams during baking. It's fine. There will still be plenty of filling inside.
You're also going to love these other heart-shaped foods:
And you should try these other delicious (and easy) pie recipes:
Recipe