Cinnamon Roll PIE?! This is so amazing! If you like the gooey goodness of cinnamon rolls, you are going to LOVE this pie which is made from two layers of cinnamon roll dough with a sweet nutty brown sugar filling in between. Tasty and simple and easy to prepare with Grands! prepared rolls. Great for families and holidays!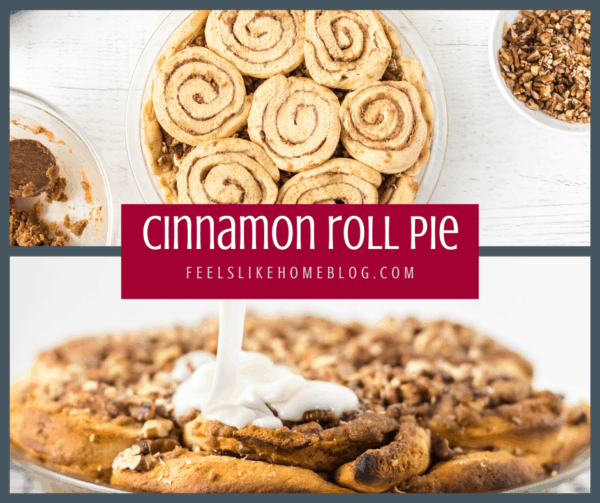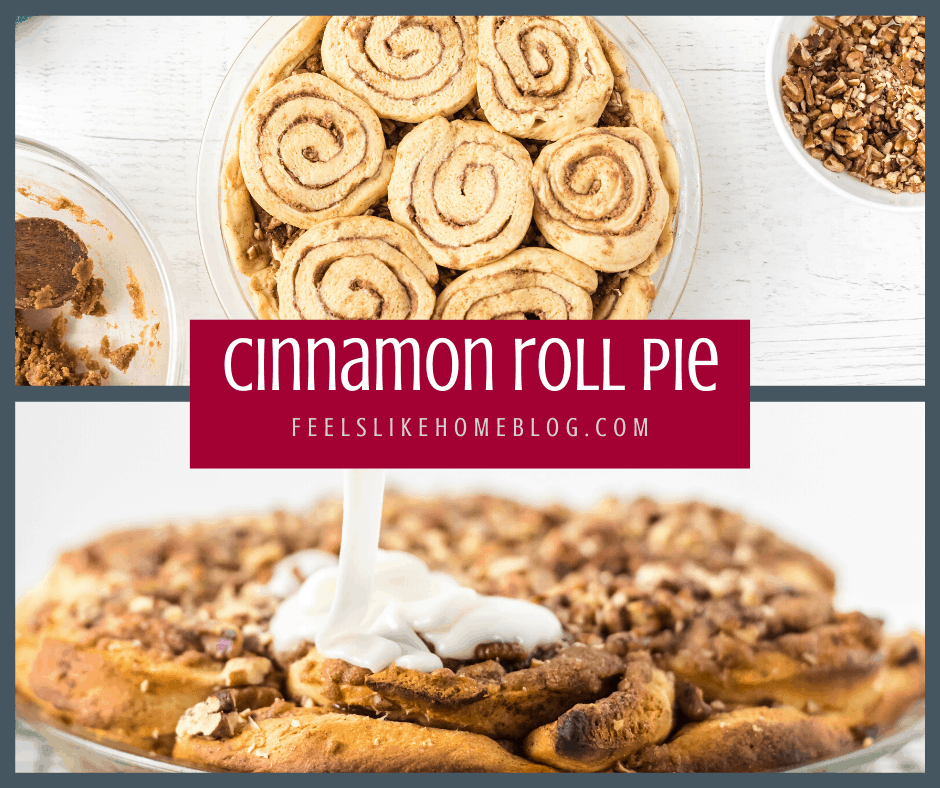 Back in October, I shared tips for cooking with kids. One of those tips was to buy foods that make it easier for the kids to cook, like packaged cinnamon rolls. They make it easy for kids to make a complete breakfast or brunch - all they have to do is pop open the roll, place the cinnamon rolls in a baking dish, bake, and then ice. They're simple and easy enough for kids to make with just a little oven help.
This recipe is easy, friend. It's so easy that my kids can do it. Allie made this almost all by herself, with Joe reading the recipe and helping her to measure and then putting the completed pie in and out of the oven.
Joe was not all that happy to be beginning a blog-related baking project at 8:30pm, but duty called and he is naught but a dutiful spouse. The girls, of course, were thrilled to begin baking at bedtime.
That's how we roll some days.
So the recipe, as you can see at the top, is Cinnamon Roll Pie.
It uses cinnamon rolls for the crust - a perfect detour around making a pie crust from scratch, which I have never, ever done in my entire life and may be able to avoid for the rest of it.
The pre-made cinnamon rolls cut the prep time down to almost nothing, taking about 20 minutes from start to sliding in the oven.
In fact, Allie spilled the brown sugar after it had been solidly packed into the measuring cup, and they had to start over with the packing.
And it still only took 20 minutes.
Using packaged cinnamon rolls also gives you two packets of glaze to top your pie, which sends an already delicious pie simply over the top of the deliciousness scale. The finished pie is better than you can even imagine. You're going to LOVE it.
What you'll need to make the best cinnamon roll pie recipe
Equipment
You will need standard kitchen equipment like measuring cups and spoons, a sharp knife and cutting board, and a mixing bowl. You will also need a nice big pie plate, and I recommend a pie shield to prevent the edges from burning during baking. If you have a mini rolling pin, that will also be helpful.
Ingredients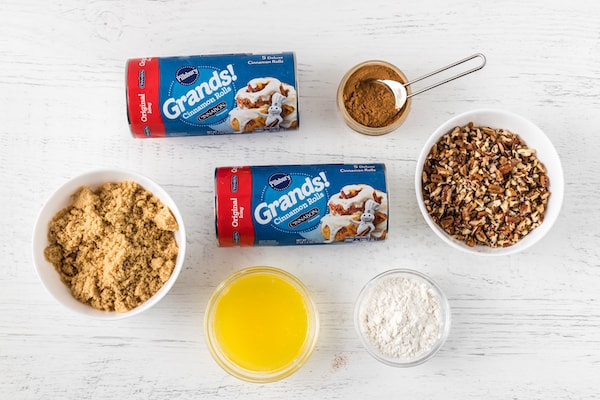 2 packages of pre-made cinnamon rolls - I personally like the Grands! brand best, but you can use any variety. I don't think homemade from scratch cinnamon rolls would work as well, but I'm not 100% sure as I've never made them myself.
1 cup packed brown sugar - Light or dark doesn't matter. Use what you have.
5 tablespoons flour - This is ¼ cup plus 1 tablespoon. You need the flour to bulk up the cinnamon pecan brown sugar filling and make it more stable.
1 tablespoon cinnamon - If you wanted a slightly different flavor, you could do 2½ teaspoons of ground cinnamon and ½ teaspoon of ground nutmeg.
6 tablespoons melted butter, plus additional to grease the pie plate - 6 tablespoons is ¾ of one stick.
1½ cups chopped pecans - I love the crunch of nuts in this pie, and pecans are my favorite nuts which is why I used them. You could just as well us walnuts, almonds, or even macadamia nuts.
How to make cinnamon roll pie
Preheat the oven to 400ºF.
Grease a pie pan by brushing it with melted butter (this butter is in addition to the 6 tablespoons required in the recipe) or spraying it with butter flavored cooking spray.
Cut each cinnamon roll in half horizontally so that you have 2 complete but thinner rolls from each one. Line the greased pie plate with half of the cinnamon rolls, pressing them slightly to cover the bottom and sides of the pan. This is where a mini rolling pin is handy.

Add the brown sugar, flour, cinnamon, and butter to a small bowl and stir together to make a paste. Spread ⅔ of the filling mixture over the cinnamon rolls, then sprinkle with 1 cup of chopped pecans.



Cover the filling with the remaining cinnamon rolls (you may have some left over, depending on the size of your pie pan).

Spread the remaining filling over the top layer of rolls, then top with the remaining pecans.

Bake at 400ºF for 30 minutes or until golden brown. Pay attention and cover with foil if the top crust starts to get too dark.

While the pie bakes, place the packets of icing on top of the oven to warm. Once the pie is done, let it cool for 15 minutes, then drizzle generously with the frosting. Allow frosted pie to cool for at least 30 minutes so that the icing can set up. Best when served warm.

How to serve cinnamon roll pie
This pie is best served warm with the glaze drizzled over top. If it has cooled to room temperature, simply heat a slice for 30 seconds in the microwave or pop the whole pie back in a 250ºF oven for 10-15 minutes to reheat it without the slices getting soggy.
I prefer to serve this as a dessert, but cinnamon roll pie is also an easy make-ahead breakfast recipe that's great for holidays like Easter, Mother's Day, Thanksgiving, & Christmas. If you make it ahead, don't put the icing on until you're about to serve. Reheat the pie in the oven in the morning as described above, and then drizzle the icing over top of the hot pie just before serving.
Cinnamon roll pie variations
Wouldn't this be great with a layer of apple pie filling in between the layers of cinnamon rolls? I am going to try cutting 3 large Granny Smith apples into quarter-inch slices, tossing them with the filling, and layering the apple filling in between the two layers of cinnamon rolls. Let's call that cinnamon roll apple pie.
Or, use this process to make an apple pie with a cinnamon roll crust on the top and bottom? You could skip the cinnamon filling altogether and just use apples in the middle. It's a different version, but also a cinnamon roll apple pie.
If you like cinnamon roll pie, you will love these other dessert recipes:
Recipe