Homemade raspberry pie is very quick and easy to prepare with a refrigerated pie crust. This raspberry pie filling recipe uses just a couple of ingredients and produces perfectly thick, rich, and sweet results every time!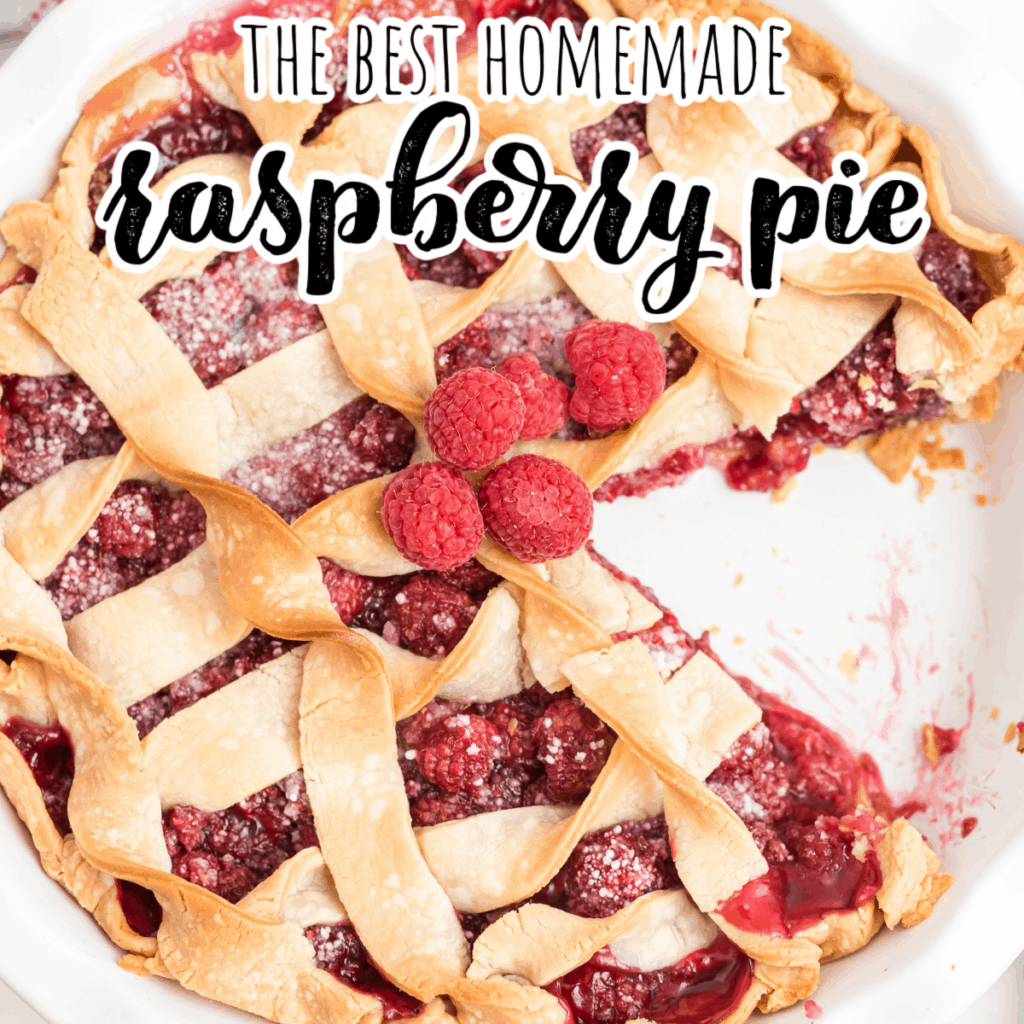 A couple of weeks ago, my sister said to me, "Do you want to come over to my friend's house to pick raspberries?" It was 10 am and already about 96 degrees. "Not really," I replied. "How about I give you a bucket and you pick them?" She declined.
In the end, I went with her to pick raspberries, resigning myself to having sweat dripping down into my eyes and rolling down my back. I was hoping to net enough berries for a pie.
I'd never eaten raspberry pie, but it sounded good.
I came home with about 6 quarts of berries and immediately began to look through my recipes.
I found a fresh cherry pie recipe that I like a lot, and I thought it would work with raspberries.
It did; the pie was perfect.
The raspberry filling was firm like jam, not the least bit runny. It was crunchy, like eating popcorn kernels, because the raspberries were full of seeds, but that didn't detract from the flavor.
We ate raspberry pie with ice cream and raspberry pie with whipped cream and raspberry pie just plain by itself.
I liked it so much that I actually paid for raspberries to make it again. ha!
What do you need to make a homemade raspberry pie?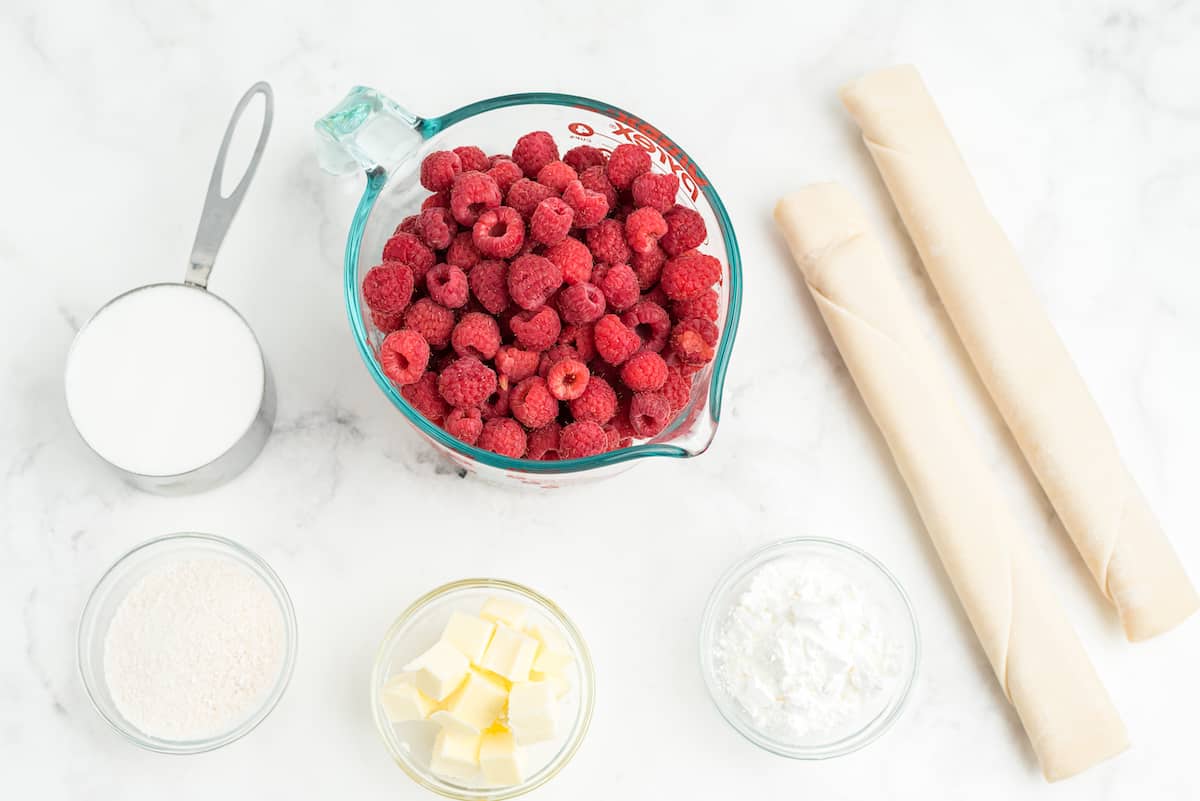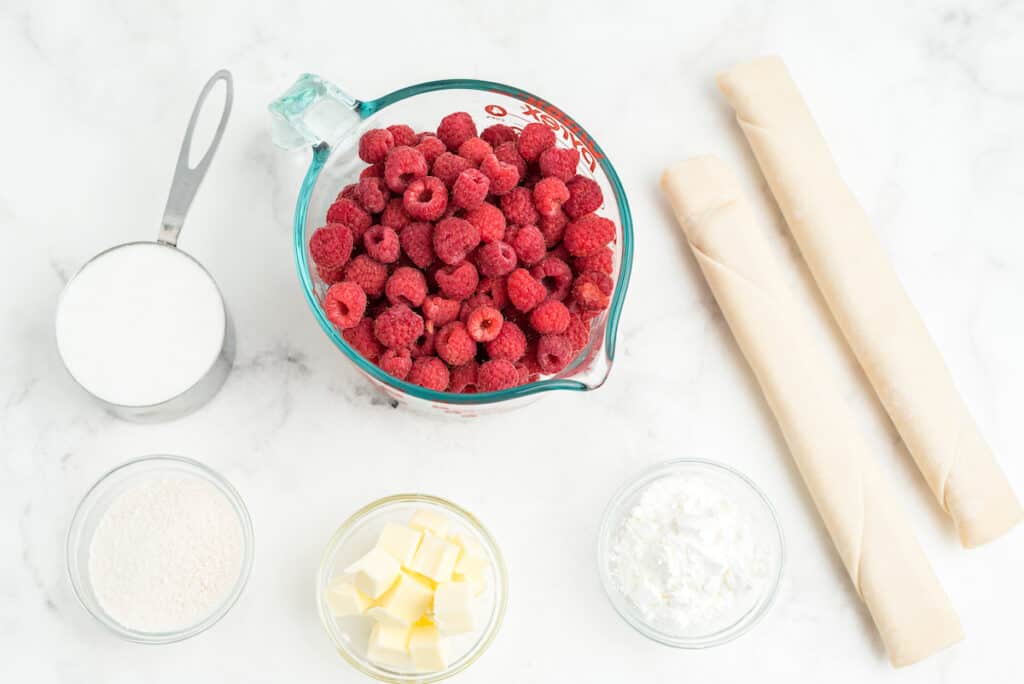 Ingredients:
2 pie crusts – I use pre-made pie crusts from the dairy case, but you can make your own from scratch if you're so inclined. Unfortunately, I do not have a good pie crust recipe, so you will have to Google or search on Pinterest for that.
5 cups fresh raspberries – See notes below about using frozen berries.
1 tablespoon lemon juice (optional) – For the love of all that is holy, do not use bottled or canned lemon juice. Lemons cost about 60¢ a piece at my local grocery store, and one lemon makes about 2 tablespoons of juice. If you use lemon juice (and it does make a beautiful difference in the flavor), then splurge on the fresh lemon and squeeze your own.
Sugar – I like my pie tart. If you prefer yours sweeter, use more sugar.
Quick cook tapioca – This is essential to prevent a runny pie filling.
Cornstarch– This is also essential to prevent a runny pie filling. You could alternately use ½ cup of flour, but I personally prefer the mix of tapioca and cornstarch.
Cold butter – I use salted for baking, but salted and unsalted are both fine.
Tools:
Can you use frozen raspberries in this pie?
Yes, you can, but I say that with reservations.
Frozen raspberries tend to be mushy, so you will not have the same consistency as you will if you use fresh ones.
If you are using frozen berries, you will need to thaw and completely drain them prior to cooking. Excess moisture make a runny pie filling.
You will need to add a bit more tapioca and cornstarch than you would if using fresh berries because there is so much more moisture in frozen berries than in fresh. Be sure the frozen raspberries are more than thoroughly coated with powder, adding extra powder in an approximate 4:3 (tapioca:cornstarch) ratio.
Can you use a homemade pie crust?
Yes, of course you can. I have only ever made 2 pie crusts from scratch in my entire life, and I wasn't thrilled with either one. I prefer the refrigerated crusts in the dairy case, but there's no reason not to make your own if you have a good recipe.
Do I have to do that twisty thing on the top crust?
No, definitely not. You can use two crusts and make a traditional fully covered top, just make sure that you cut out some pieces all the way around to allow the steam to escape.
Or, you can use one crust on the bottom and add a streusel topping similar to the one in this pie recipe. (Leave out the cinnamon for your raspberry pie.)
Or, you can just use one crust on the bottom and leave the top completely bare, as you would for a pumpkin pie.
Why is my raspberry pie filling runny?
This happens for three primary reasons: the pie wasn't baked long enough; the pie wasn't cooled long enough; you didn't use enough tapioca & cornstarch.
Baking time: As with any recipe, the baking times given below are approximate and may need to be adjusted based on your elevation and particular oven.
BUT, it really is necessary to cook the berries at a high temperature for 15 minutes and then at a lower temperature for at least 40-45 minutes. If the pie filling isn't boiling when you take it out of the oven, it hasn't cooked long enough.
If the filling isn't boiling but the crust is getting too brown, cover the whole thing with aluminum foil and let it bake another 5 minutes. Keep checking it every 4-5 minutes until it boils. Once it is bubbling nicely, you can remove it from the oven and allow to cool. The pie filling will thicken as it cools.
Cooling time: Most baked goods solidify as they cool, and fruit pies are no exception. Your pie must be room temperature or even chilled in order for the filling to be firm. A hot or warm fruit filling is always runny.
Not enough dry ingredients: Okay, so this one is a little harder to predict, but raspberries naturally contain a ton of water which will come out during baking. If you don't have enough dry stuff in there to soak up some of the liquid, you will have a runny pie filling.
I suggest starting with 4 tablespoons (that's ¼ cup) of tapioca and 3 tablespoons of cornstarch, and that is exactly what works for 5 cups of fresh berries - for me.
Because raspberries can be big or small, plump or slightly shriveled, the amount of powder required can be variable. I know this is not what you want to hear when you read a recipe, but it is what it is.
And if you are using frozen berries? You need a crap ton of powder to soak up all the excess moisture even if you have thawed and drained them as suggested.
Note the pictures below and aim to have your berries well coated in the sugar/tapioca/cornstarch mixture before adding them to the pie.
BUT having said all of that, if you use too much powder, your cooked raspberry pie filling will have a gritty texture which is not pleasant at all. Try to recreate the coating on the berries in the photo below, and you should be good.
How to make a homemade raspberry pie
Without a doubt, it has taken you longer to read this blog post than it will take you to make your pie. This recipe is that easy!
Preheat your oven to 425ºF.
Roll out one pie crust into a 9-inch pie plate. Refrigerate until you need it.
In a large mixing bowl, combine sugar, tapioca, and cornstarch.

Toss the berries in lemon juice then in the powdery mixture so that they're evenly coated.

Fill the pie crust with the coated berries.

Sprinkle cubes of butter over the berries.

I didn't cover the pie with a full crust because I wanted lots of steam to escape (too much steam can make the crust puff up, but more importantly, it can make the pie filling runny). I cut the top crust into strips, twisted each strip, and crimped it onto the bottom crust.


Bake the pie at 425º for 15 minutes. Cover the edges with a pie shield. Reduce heat to 350º and bake for another 45 minutes or until the crust is golden brown.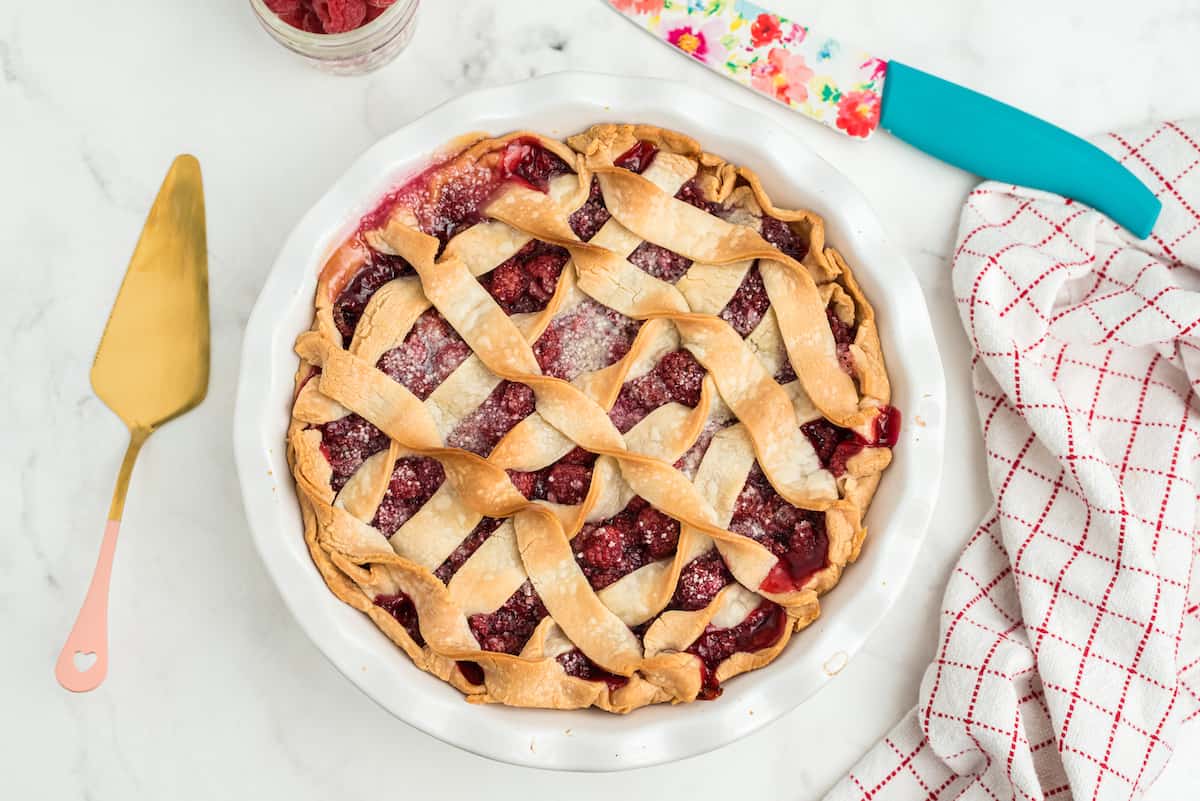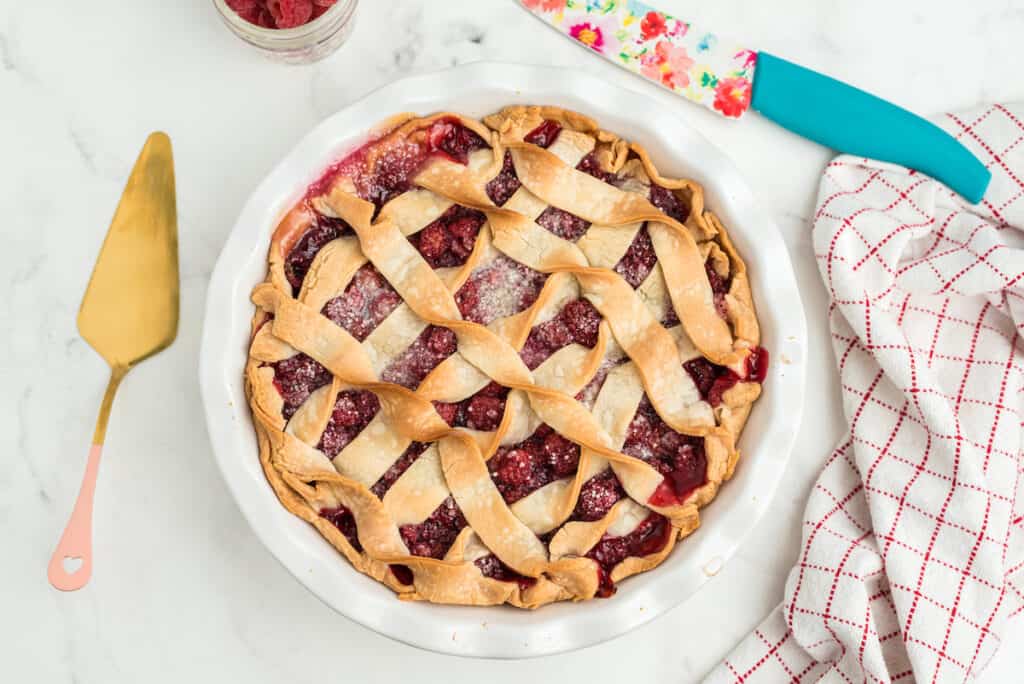 Try these other delicious berry recipes while you're here:
Recipe