Looking for the best simple and easy brunch food? Whip up some Cheesecake Stuffed French Toast for the ultimate breakfast favorite! Start with a classic French toast batter but add a sweet cream cheese filling and fresh fruit or jam to make this a special favorite. It's perfect for Mother's Day or Easter brunch, or anytime you want to serve something easy and impressive!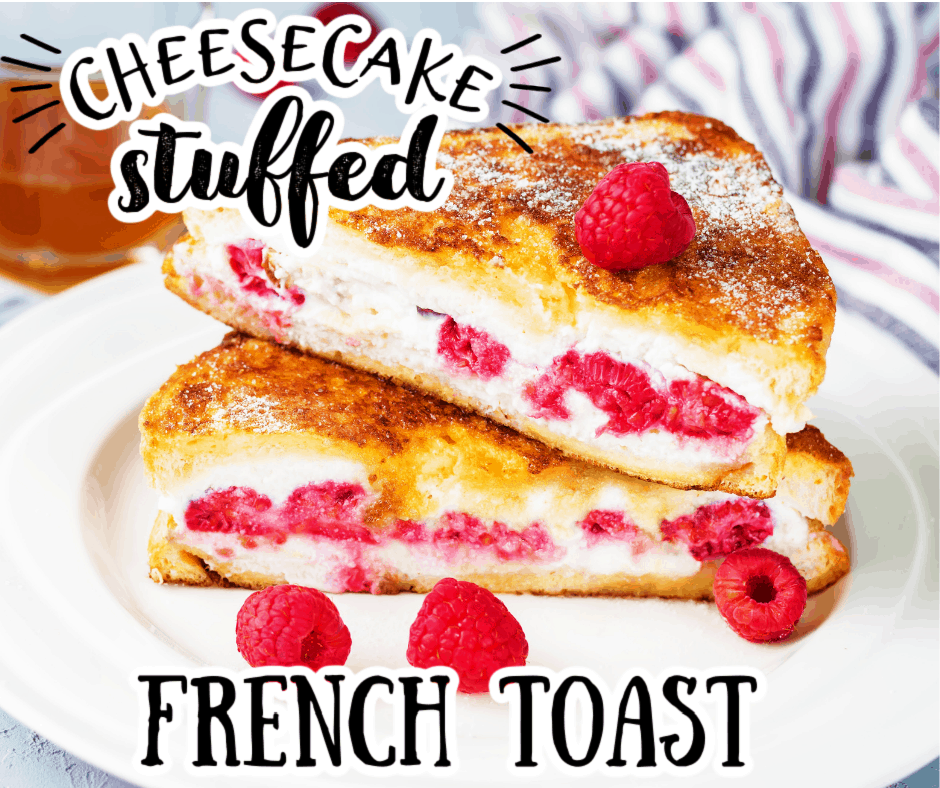 I love stuffed french toast.
I love every stuffed french toast recipe I've ever had, actually, but especially the ones stuffed with cream cheese.
When we were at the shore this past August, we visited The Blue Plate Dinner in Lewes, Delaware and the IHOP in Rehoboth, Delaware, and I ate stuffed french toast in both places. They were sweet, creamy, and wonderful.
My Mom's French Toast Casserole is a sort of stuffed french toast, but it has to be made the night before and left to soak for 12 hours. That was not an option for us when we got out of bed at 8:48 in the morning. We hadn't planned ahead, we were all hungry, and we wanted something sweet and luscious. Joe whipped up this stuffed french toast, and it was tremendously good.
How to make cream cheese stuffed French toast
Ingredients that make this a special meal
Instructions for stuffed French toast
Using a mixer on high speed, beat the heavy cream until stiff peaks are formed. Don't over beat the cream or it will turn to butter! I suppose you could mix the cream with the cream cheese and sugar all at the same time and then beat that, but I prefer to make the whipped cream first as it forms peaks more easily when it's by itself.
There is no need to clean the beaters before the next step.
In a separate bowl, beat together the cream cheese and sugar until the mixture is smooth and creamy. Fold in the whipped cream and mix gently so that you have a light and fluffy cream cheese mixture.
Spread the cream cheese mixture on four of the slices of bread and sprinkle generously with the raspberries. Press berries down into the cream cheese mixture as much as possible, and spread a bit more cream cheese on the matching pieces of bread. This will seal the sandwich shut when you put them together. If using jam, spread it on the other four slices of bread and skip the top layer of cream cheese. (It's much less messy if you don't spread cream cheese and jam the whole way to the edges.)
Put the bread together to form four cream cheese and fruit/jam sandwiches. Cut the sandwiches in half to make eight triangles, and set aside.
Whisk together the eggs, milk, vanilla, and pumpkin pie spice in a flat-bottomed bowl or pie plate. Set aside.
Melt a little butter (or whatever you like to use) on a griddle or large skillet over medium-high heat until the butter sizzles, but be careful not to burn the butter.
While the griddle or skillet is heating, allow each sandwich to sit in the egg mixture until it is completely soaked through. If the egg mixture isn't deep enough to soak the whole sandwich at once, soak one side then flip to soak the other side.
Transfer the soaked sandwich to the hot griddle and cook until browned on the bottom. Flip it over, and cook until browned on the other side then remove from the heat.
Garnish with more fresh berries, a dab of jam, or your favorite syrup.
Tips for serving stuffed French toast
I personally think these are best when they have cooled slightly so that the cream cheese mixture sets up more. When they are straight out of the skillet, the cream cheese is too liquidy and runs out when you cut it. But if you like them hot, it's okay serve them that way.
I am not a big fan of fresh mint, but if you have it, it makes a really nice presentation to serve the sandwiches with a sprig of mint and a few fresh berries. Your family will think they're in a restaurant.
And while we're talking garnishes, wouldn't this be awesome with my homemade raspberry sauce instead of syrup? Out of this world!
The nutritional information on the recipe card below is for a half sandwich triangle. These sandwiches are super filling but not the healthiest, so I like to serve a half sandwich (a triangle) with a denser, leaner protein like an egg or a slice of omelet roll if I'm being really fancy.
Stuffed French Toast Variations
You can use any bread and almost any filling for stuffed French toast. If you can spread it, it will work! How about one of these?
More French toast goodness:
Try these other delicious berry recipes while you're here:
Recipe