This Fruity Pebbles Cake is an easy & fun rainbow layer cake recipe made with Fruity Pebbles cereal. Festive & creative cake recipe perfect for birthdays or any occasion! Made from scratch with standard pantry ingredients and includes homemade vanilla buttercream.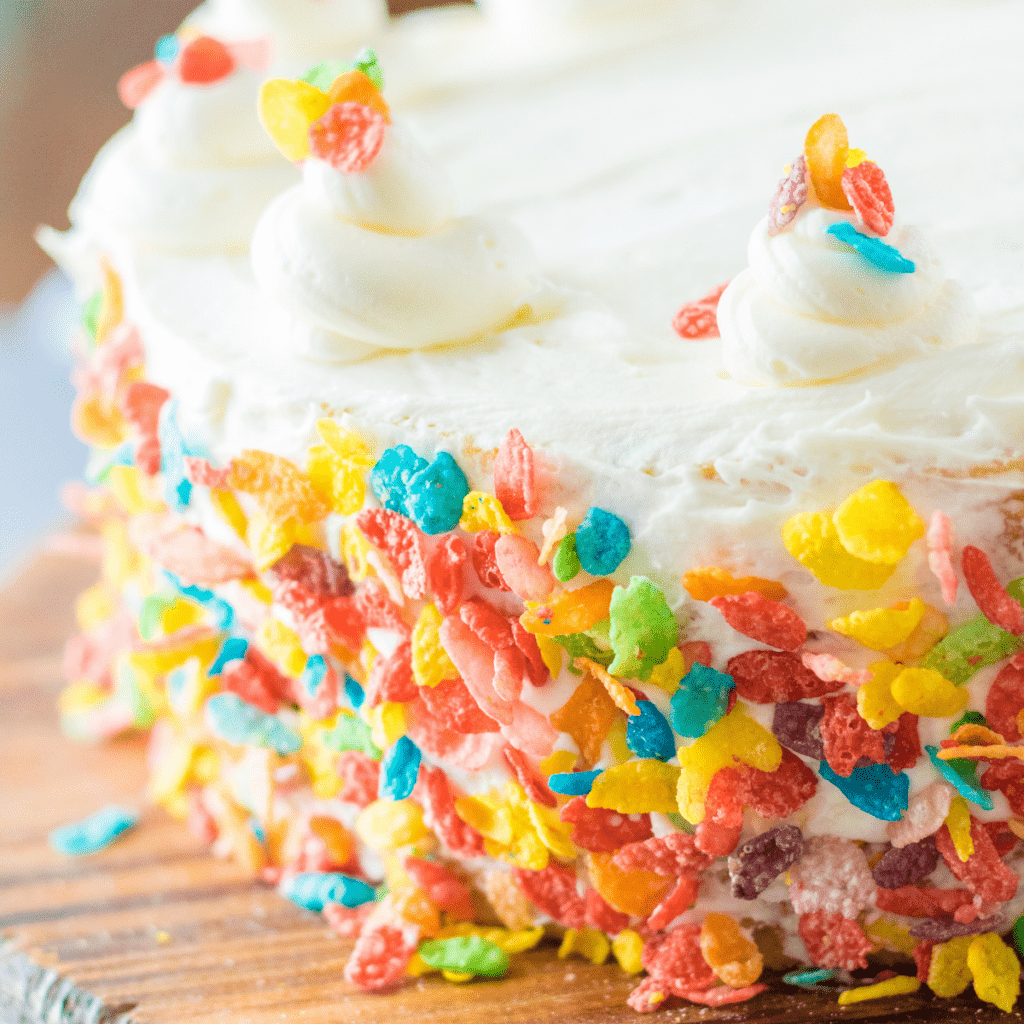 Why this is the best rainbow layer cake
This cake is made from scratch using very simple pantry ingredients, and it's waaaaaay better than a cake mix.
This Fruity Pebbles layer cake has the epic sweet and fruity flavor of Fruity Pebbles infused in every bite.
This Fruity Pebbles cake has a light and airy texture that is moist without being sticky.
It tastes like cereal milk. You know what that is, right? It's that delicious liquid left in the bowl after you've finished your Fruity Pebbles.
This recipe is easy to make which makes it a great weeknight dessert, but it's really impressive which makes it a terrific birthday cake option. The super cool rainbow colors make it perfect for St. Patrick's Day, Easter, and Christmas parties.
The history of Fruity Pebbles cereal
Fruity Pebbles cereal was first introduced in grocery stores in 1971 to capitalize on the popularity of The Flintstones cartoon and the movie spinoffs that followed.
I'm so glad that they decided to make Fruity Pebbles because it's been my favorite cereal since I was a kid! I have eaten them on and off for most of my forty-two years.
The original Fruity Pebbles cereal was made of cherry, lemon, and orange flavored flakes. In 1985, Post added purple. In 1987, they added green. Berry Blue came in 1994, Incrediberry purple in 1995, and Bedrock Berry Pink in 2005.
Who knew there was so much involved in one little box of cereal, am I right?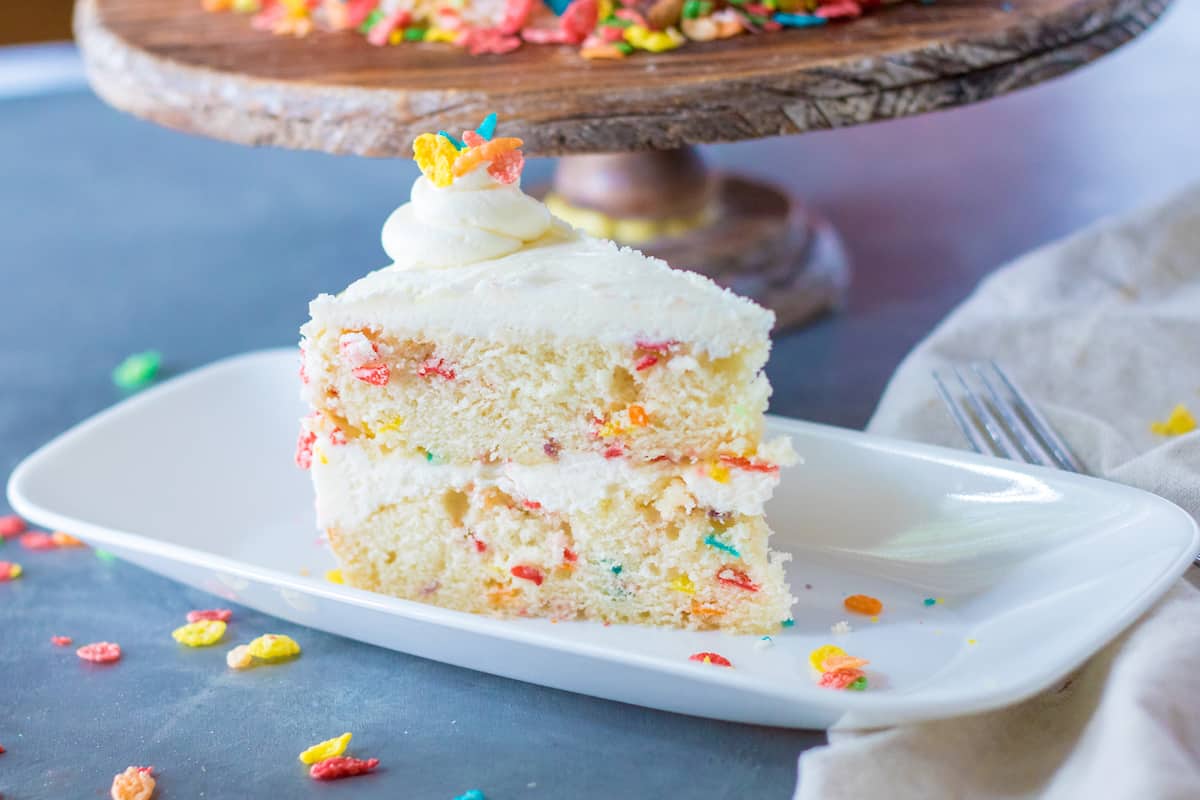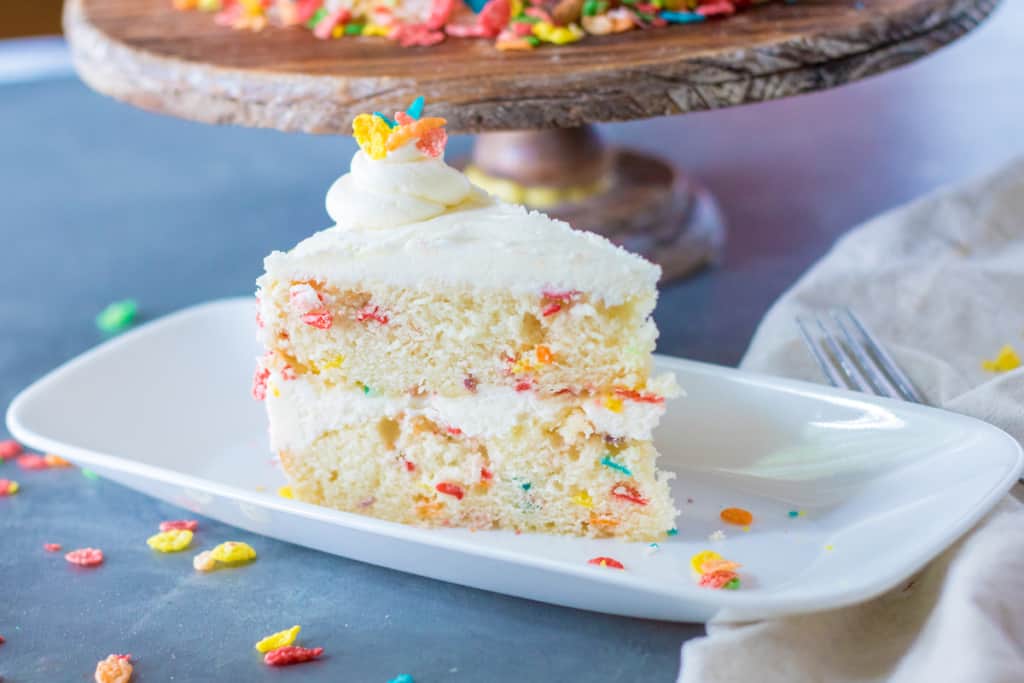 Are Fruity Pebbles gluten-free?
According to the box, they are! I ate Fruity Pebbles for all the years I ate a gluten-free diet, and I never had a problem.
Because recipe formulations can change, always make sure you check the ingredients on the box before you add them to your cake.
Are Fruity Pebbles vegan?
Fruity Pebbles contain several ingredients that are not vegan-friendly.
Are Fruity Pebbles healthy?
Welllllll... Post says that Fruity Pebbles is an "excellent source of vitamin D and 11 other essential vitamins and minerals" but it also contains 9 grams of sugar in a ¾ cup serving. An adult is supposed to consume 38 grams of sugar or less per day, so one smallish bowl of cereal is roughly a quarter of your sugar intake for the whole day.
So yeah, no one can claim that it's healthy.
However, if you're going to eat a slice of cake with homemade buttercream, do you really care how much sugar is in the cereal that's mixed in?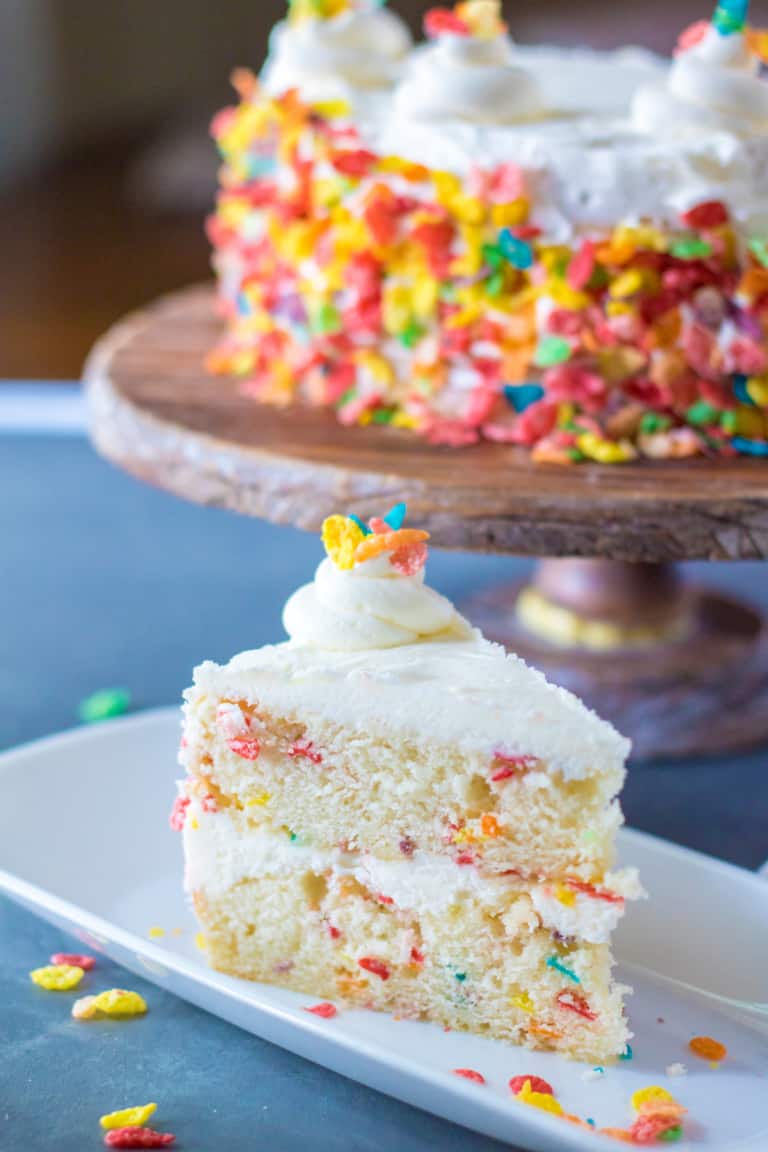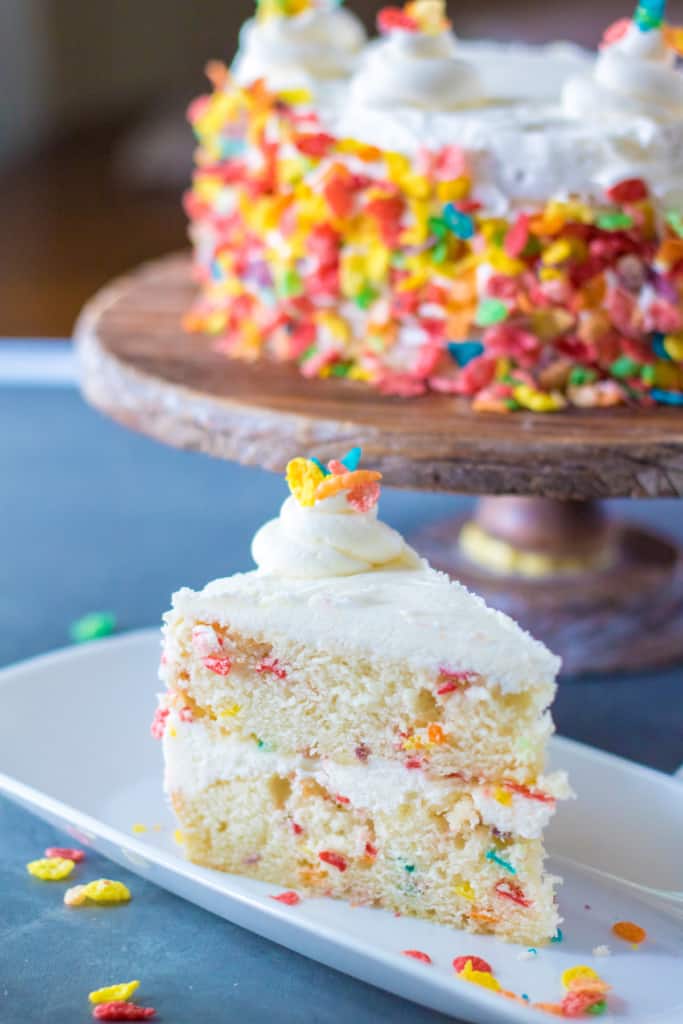 What you'll need to make the best Fruity Pebbles layer cake recipe
Equipment
This recipe makes cereal milk, which is basically just milk that has been infused with Fruity Pebbles cereal flavor. In order to get the soggy cereal out of the milk, you'll need a strainer.
You'll need an electric mixer to beat the butter and sugar for both the cake batter and the homemade vanilla buttercream frosting. This could be a handheld electric mixer or a stand mixer.
You'll also need standard kitchen equipment including a medium and a large mixing bowl, measuring cups and spoons, a whisk, and a spatula.
Finally, you'll need two 9-inch cake pans. I prefer this brand because they are heavy duty and made in the USA.
Ingredients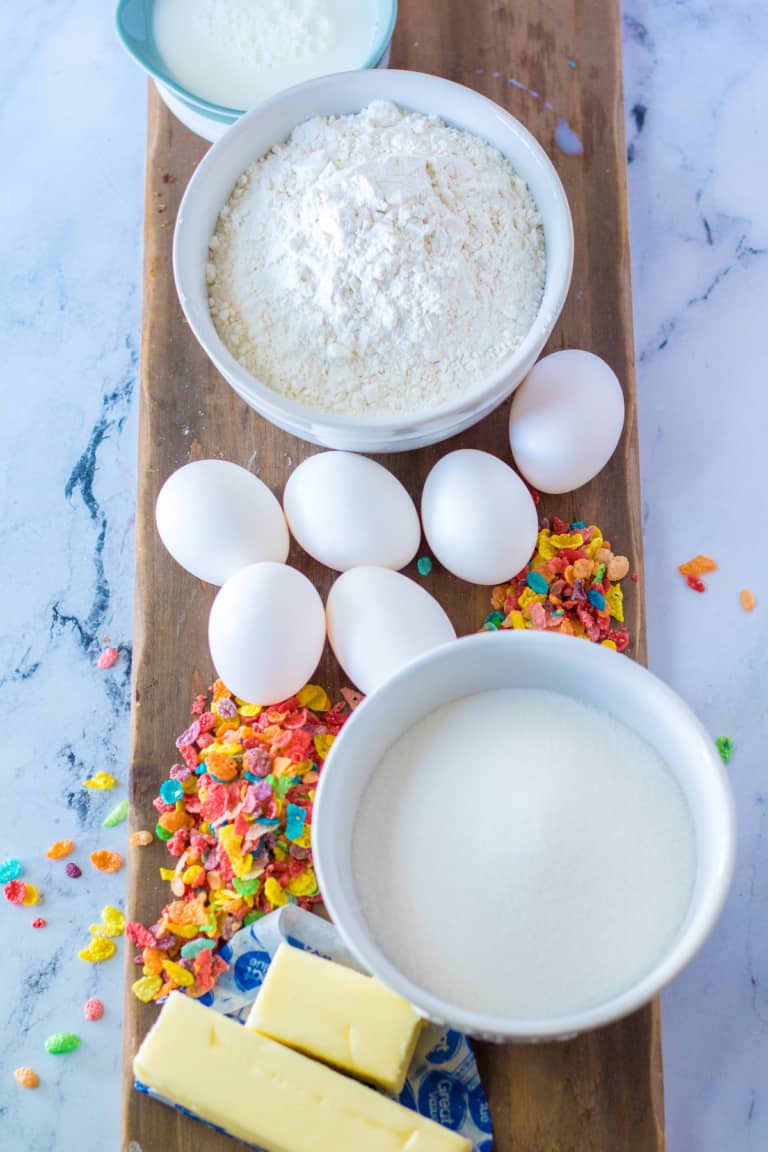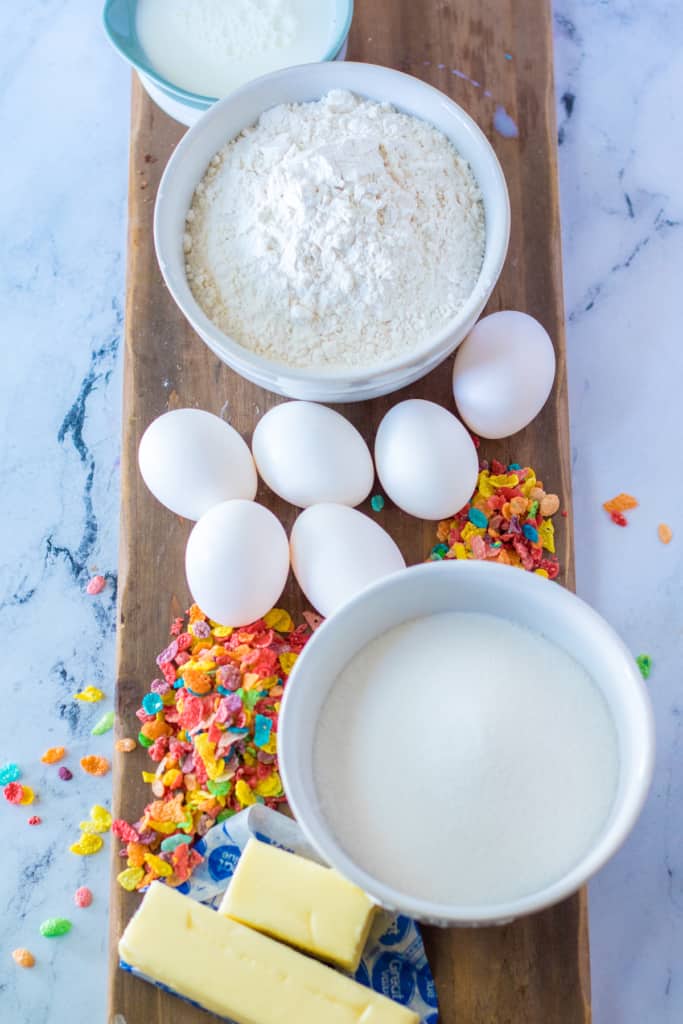 For the cake
Unsalted butter, room temperature - Butter and sugar will be whipped together to make a nice, light base for the cake. You need the butter to be soft but not melted. You should be able to make a dent with your finger, but your finger should not easily go the whole way down through. It is much better to leave the butter sit out on the counter than it is to try to heat it to soften. Heating it will almost certainly make it too soft.
White sugar - You need sugar. You can't substitute something else.
All purpose flour - Fruity Pebbles are gluten-free, so it is pretty easy to make this cake gluten-free as well. You can use a cup for cup gluten free flour substitute in this recipe and the cake will turn out great.
Baking powder - This makes the cake rise.
Salt - This is important for helping the cake to rise and also for offsetting the very sweet recipe. You should use the salt even if you use salted butter.
The whites from large eggs - Egg whites only. No yolks.
Milk - You'll use the milk to make cereal milk or milk infused with the Fruity Pebbles flavor. I use whole milk when I bake, but you can use any dairy or non-dairy milk substitute. If you want a richer cake, you can also use heavy cream or half and half.
Vanilla bean paste - I am in love with vanilla bean paste. It's a thick, glue-like liquid containing ground up vanilla beans. It has a dark but translucent appearance, and you can see the flecks of vanilla beans all throughout. I greatly prefer vanilla bean paste to vanilla extract because the extract has a noticeable alcohol taste (being made from soaking vanilla beans in alcohol), and the paste is all vanilla flavor. Also, the beans are removed from the extract prior to bottling, whereas they are ground up and part of the paste. I use vanilla bean paste in everything I make, but if you don't have it and don't want to get some, you can substitute an equal amount of vanilla extract.
Fruity Pebbles - You'll need the amount required in the recipe plus a bunch of extra to decorate your cake. Buy way more than you think you'll need.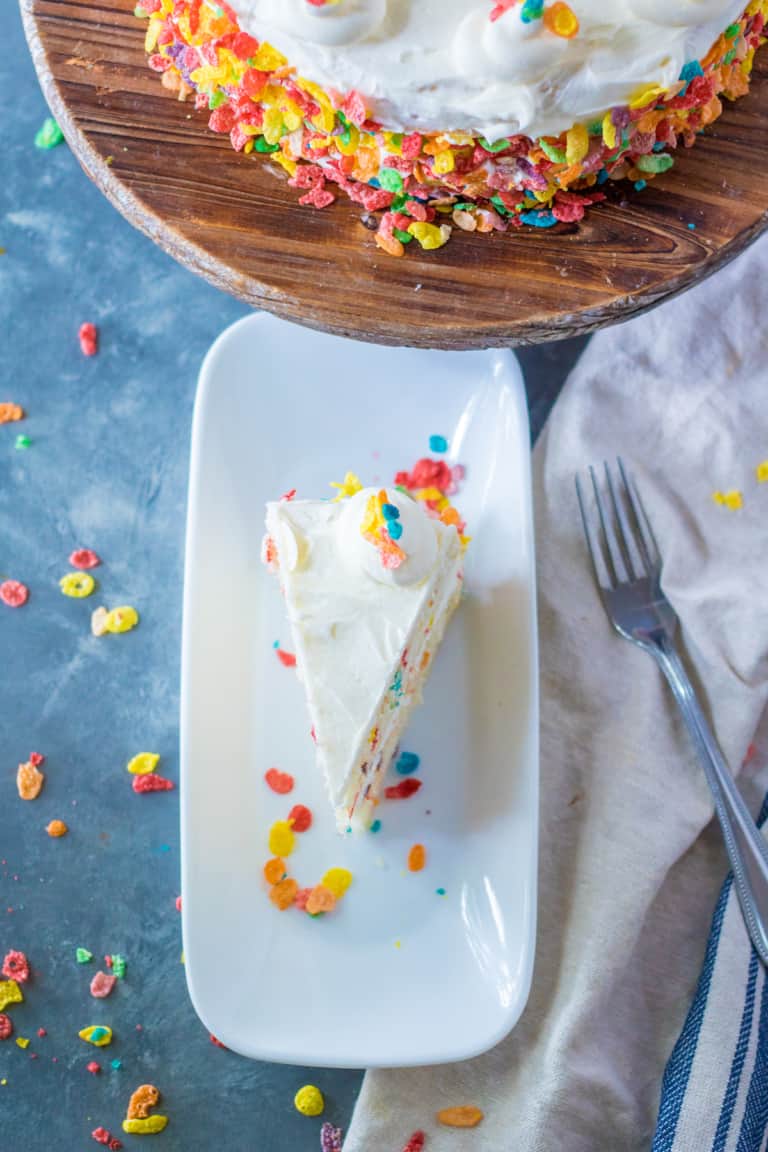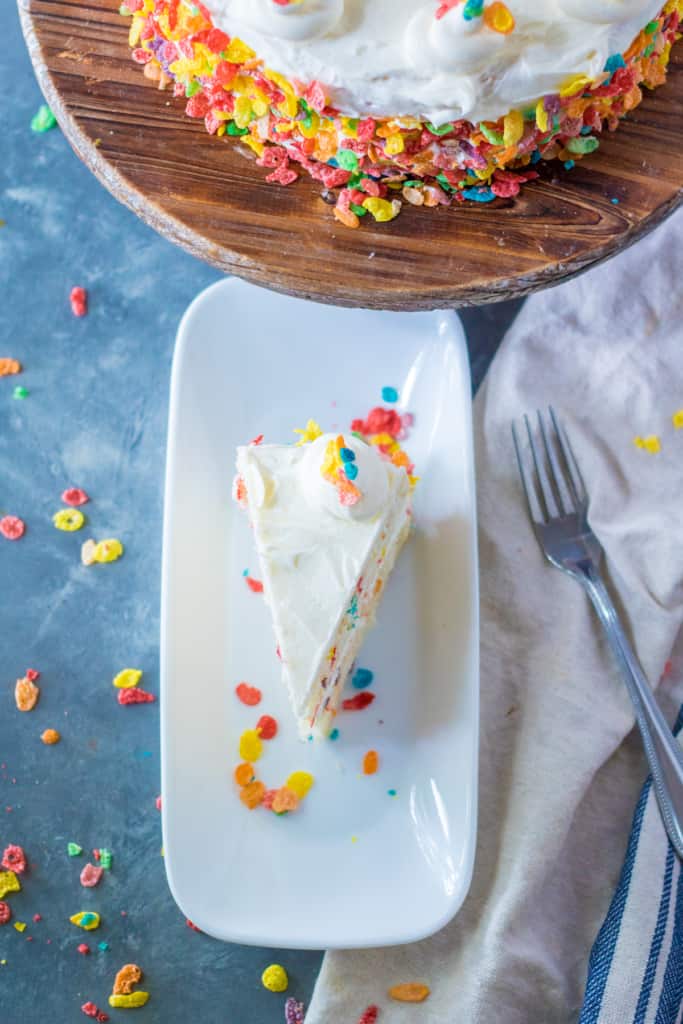 For the homemade vanilla buttercream frosting
Unsalted butter, room temperature - See note above about the correct consistency of softened butter. Buttercream frosting is basically softened butter blended with powdered sugar and whipped. I don't know any other way to make it. You can use salted butter if that's all you have; you won't notice a huge difference.
Powdered sugar - This has to be powdered sugar or your frosting will be grainy and weird.
Milk - You may not need this if your frosting is nice and light. Or you may need just a splash of it or even all of it. But don't pour it in at the beginning. Wait until you see the consistency of your frosting and then add just enough milk to make it nice and light.
Vanilla bean paste - See note above about vanilla bean paste and vanilla extract. This part of the recipe is where you will really notice a difference because vanilla extract has a slightly bitter alcohol flavor whereas vanilla bean paste is sweet. When you cook the vanilla extract, the alcohol cooks off and leaves just the vanilla flavor behind, but because the frosting is not cooked, the alcohol won't have a chance to dissipate, and if you are heavy handed with it, you may notice a slight alcohol flavor in the frosting.
How to make the best rainbow Fruity Pebbles cake recipe
For the cake
Make the cereal milk: soak ½ cup Fruity Pebbles in the milk for at least 30-45 minutes. Pour the milk and cereal mixture through a strainer and discard the soggy cereal. Set cereal milk aside.
Preheat oven to 350ºF. Grease two 9-inch cake pans and set aside. Alternately, you can spray them thoroughly with butter flavored cooking spray.
Use a handheld electric mixer or stand mixer to beat the butter and sugar together in a large bowl until light and fluffy.
In a medium bowl, stir together the flour, baking powder and salt.
Add the egg whites and vanilla to the butter and sugar mixture. Alternate adding the dry ingredients and the cereal milk to the butter and sugar until all ingredients are combined.
Fold in the remaining Fruity Pebbles.

Divide the batter between prepared cake pans.

Bake cakes 25-30 minutes or until toothpick inserted in the middle comes out clean. Cool in pan for 5 minutes then turn out onto cooling racks to cool completely.
For the homemade vanilla buttercream
Prepare the frosting while the cake is baking.
Use a hand mixer or a stand mixer on high speed to whip the 4 sticks of butter in a large bowl until light and fluffy.
Gradually add the powdered sugar to the butter, continuing to beat on low speed until all combined. Add the vanilla bean paste. Add a splash of milk if the frosting is too thick and beat on medium speed until everything is well combined.
Scrape the bowl and then turn the speed up to high and whip the buttercream until it's light and fluffy.
When the cake is fully cooled, frost it and decorate with additional Fruity Pebbles.
Rainbow cereal cake variations
Fruity Pebbles work in this recipe because they're tiny. You could make it with other types of cereal, such as Fruit Loops, Cap'n Crunch, or Cinnamon Toast Crunch, but you'd need to chop those into small bits first. Of course, Cocoa Pebbles would work just as well as Fruity Pebbles.
My recipe includes a delicious homemade vanilla buttercream frosting, but if you wanted to, you could replace it with marshmallow fluff.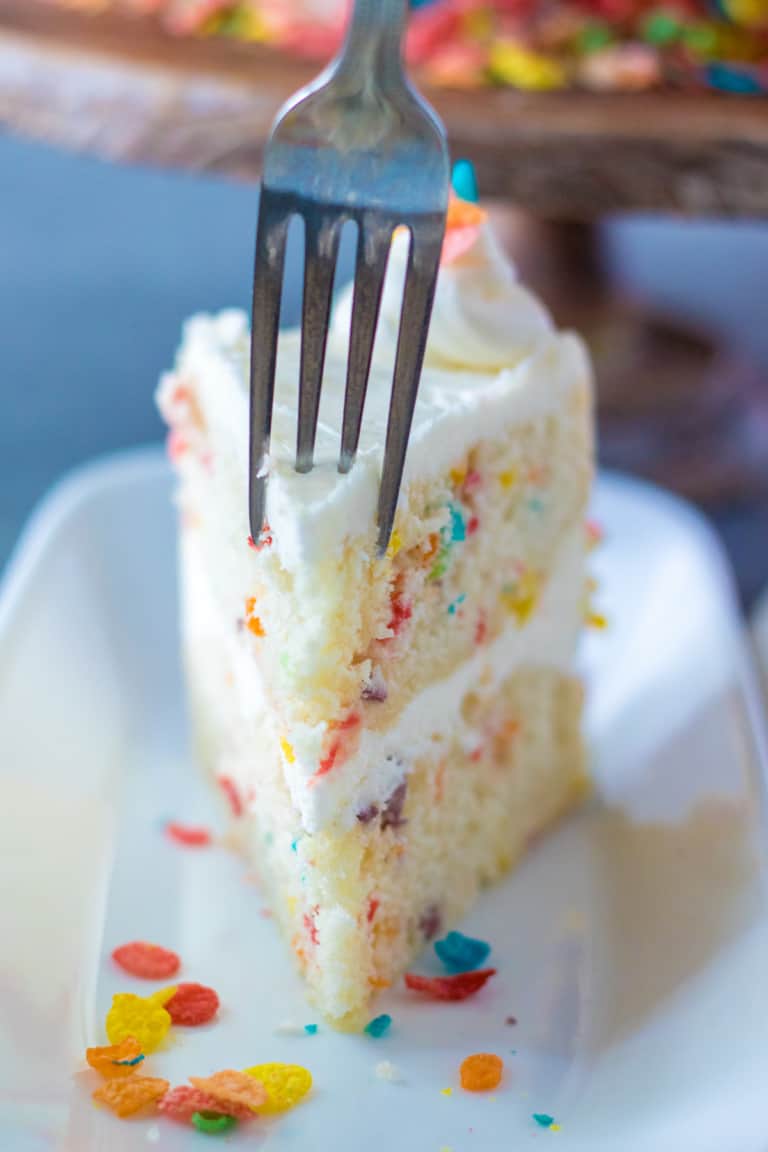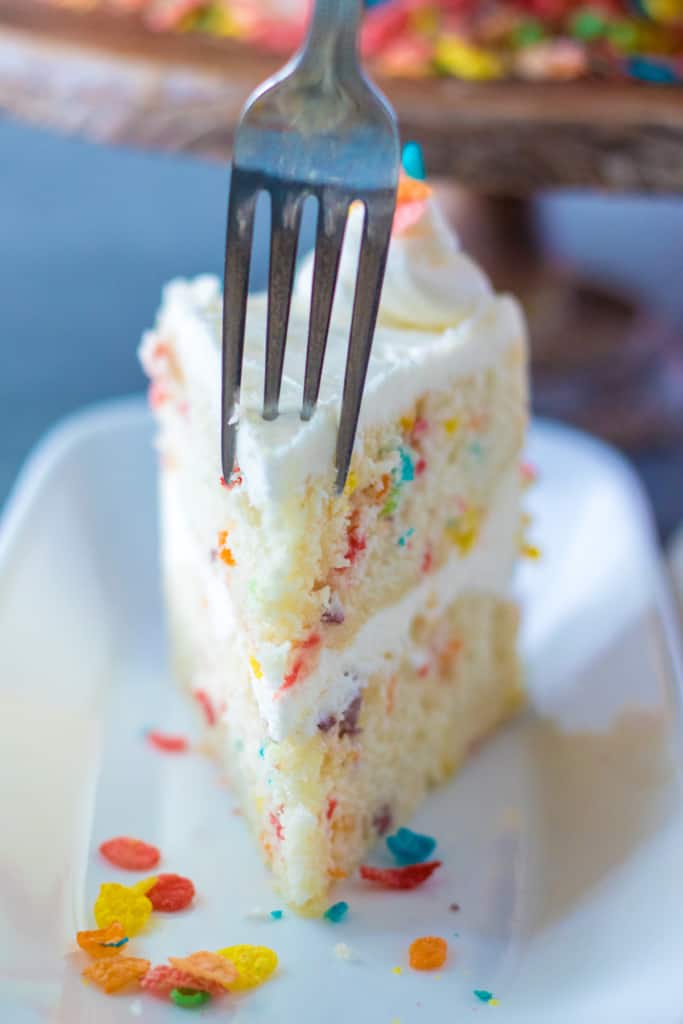 How to store Fruity Pebbles Cake
You can store your frosted Fruity Pebbles cake at room temperature for 2-3 days. If you've already sliced it, make sure to cover the cut sides with plastic wrap. You can also refrigerate the cake for up to a week, but be forewarned that sometimes refrigerating baked goods can make them a little stale.
You can also freeze Fruity Pebbles cake. Slice it first, then wrap each slice in plastic wrap then aluminum foil, then drop them into a plastic freezer bag, squeezing out all the excess air. It should stay fresh for up to 2 months.
To eat your frozen cake, place a slice in the refrigerator overnight to defrost, then you can eat it once it's fully thawed. I don't recommend thawing at room temperature.
More delicious cake recipes you're going to love
Recipe