How to make the best chocolate cake from a mix - These simple and easy hacks will make any Betty Crocker or Duncan Hines box taste like homemade. Great ideas for a moist cake doctored up with chocolate fudge frosting and caramel.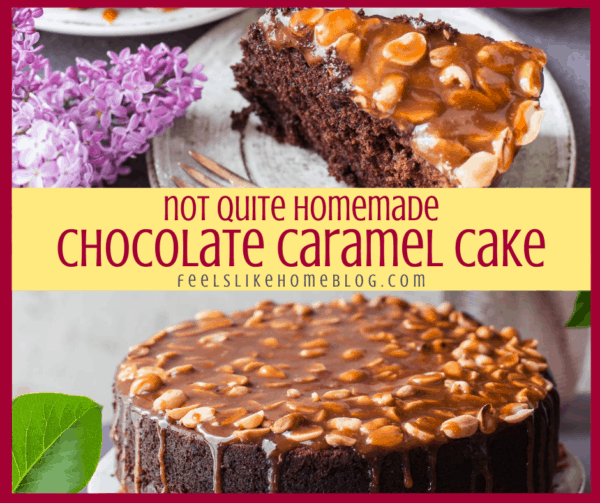 Earlier this year, Joe and I started a tradition: we invited our parents over for Sunday dinner. We did it again the next Sunday and the Sunday after. We started inviting other extended family and friends, too.
Everybody doesn't always come, and that's okay. We have dinner no matter who does or doesn't show up.
I love feeding a house full of people. I channel my Grandma, who says, "Did you have enough to eat? I don't want you to tell people that I didn't feed you." and "It's your own fault if you go away hungry." and "Can I get you something else to eat?" The first time I said those things aloud, I had to stop and laugh. Heartily.
This week, we had a homemade feast. Joe had cooked up homemade spaghetti sauce. My mother-in-law made homemade meatballs. My sister made homemade guacamole, and I helped her make some homemade broccoli salad. I love eating food that's been prepared from scratch at home.
I haven't been feeling great, though, I didn't get around to making a fancy dessert from scratch. I didn't have the energy.
So I made this instead, and it was delicious. Everyone asked for the recipe, and I was embarrassed to give it to them because, well, it's not really homemade at all.
How to make the best doctored chocolate cake mix
Preheat the oven to 350º.
Mix the cake batter as directed on the box.
In the largest skillet you have, melt the butter over medium heat. It's important that the skillet be oven safe and have a flat bottom.
Carefully pour the cake batter into the skillet and smooth it out.
Bake, uncovered, for 30 to 35 minutes or until a cake tester inserted in the center comes out clean.
While the cake is baking, mix the frosting with the caramel. Set aside.
When the cake is done, flip it out onto a large platter. While the cake is hot, pour enough frosting out onto the top (which used to be the bottom) to completely cover it and smooth it out. The frosting will melt, soak into the cake, and run all over the place, making a gooey and delicious mess. This is why you put it on a platter instead of on a plate.
Allow the cake to cool for 15 to 30 minutes, until it's warm but no longer hot. Pour the rest of the frosting onto the cake and smooth it out. Sprinkle the nuts over the top and garnish with extra caramel if so desired. I like it so that there is caramel and frosting all running down the sides of the cake.
Serve with ice cream.
Try these other delectable desserts while you're here:
Recipe