This simple and easy fall dessert recipe is better than any desserts you've ever had! It is made with a yellow cake mix and sweetened condensed or evaporated milk, sugar, and spices and topped with crunchy roasted pecans.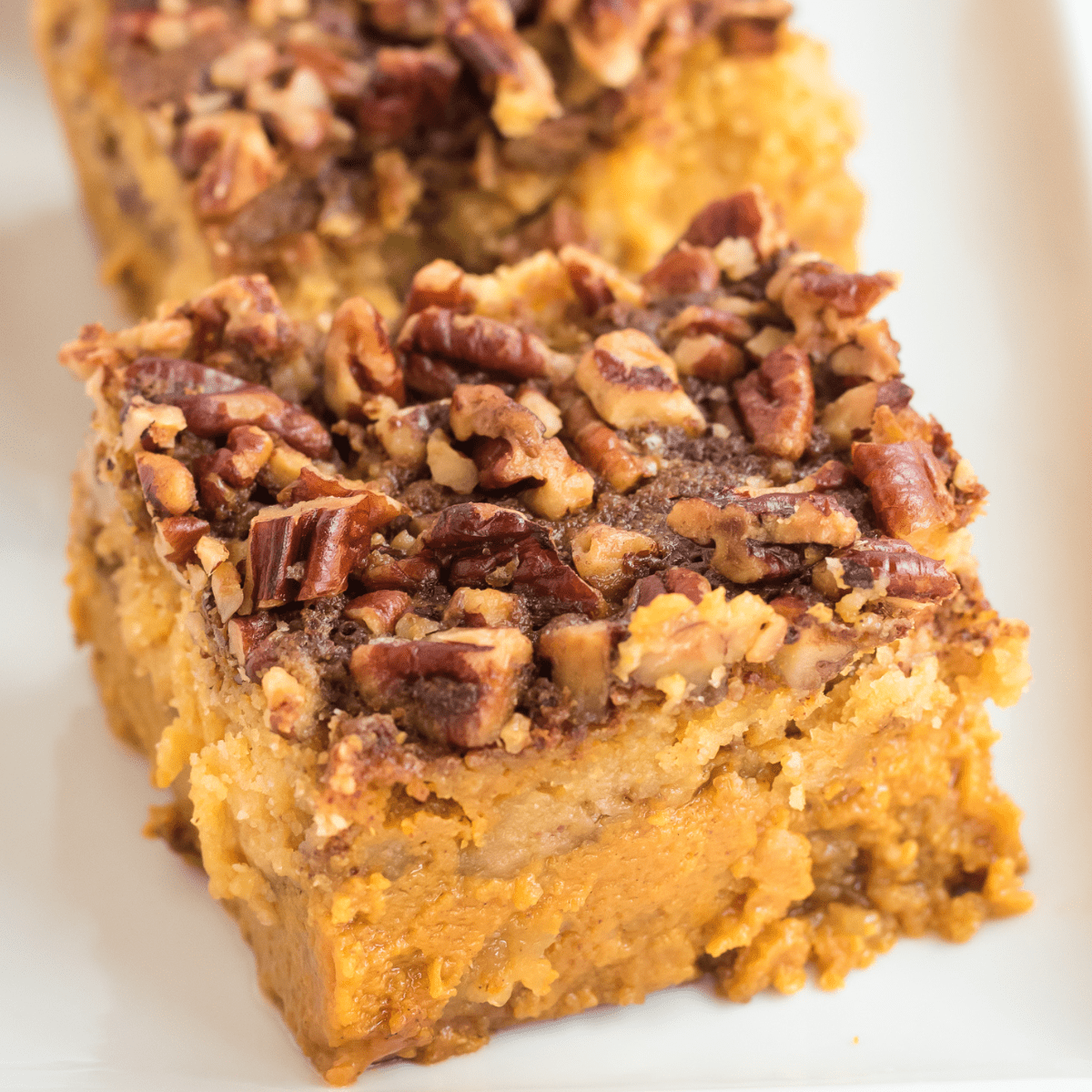 A few weeks ago, we cleaned out the big chest freezer we keep in our basement.
We have been doing pretty well with meal planning using the Meal Planning Made Easy system I created, but we realized that we were buying meat every time it was on sale. This might sound like a good idea, but we kept buying and buying, and the freezer was getting more and more stuffed - and we were not really ever using the meat we bought and froze. So we took everything out of the freezer with the intention of making an inventory to put into our meal planning binder.
It's a big freezer, and we found a lot of stuff. There was some unidentified and freezer burnt stuff, and that all got thrown away of course. There were countless bags of frozen fruit and homemade applesauce. There were twelve (12!) individually wrapped packages of ground beef, so we obviously won't need to buy that for a while. There were also eight packages of chicken breasts, several beef and pork roasts, and enough steaks to feed the whole neighborhood.
Apparently, we really like steak.
Near the end of the project, we found two rather small containers of yellowish orange stuff. I smelled them, but being that they were frozen, smell was not a clue. I thought they might be pumpkin, so I thawed them to find out. Once I knew for sure, I had to decide what to make with it.
I had a few ideas, namely:
That flan is definitely my favorite, but I didn't have all the ingredients at home so I gave up on it. I did have a yellow cake mix and a lot of butter though, so I thought it might be good to try and make a dump cake.
Now, after having made the dump cake a few times, I know this will be my standard go-to dessert recipe for September, October, and November every year for the rest of my life. It is that good.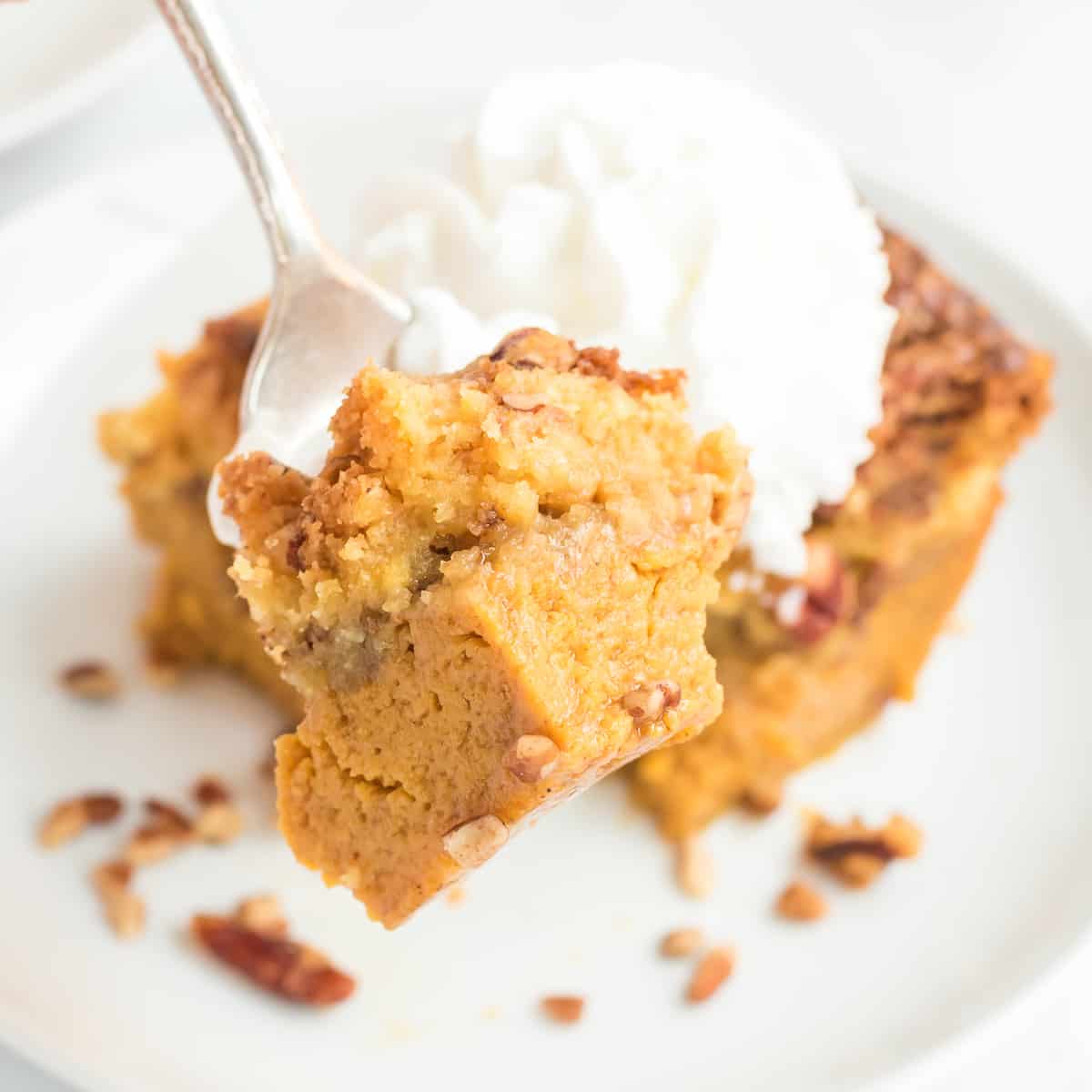 What is a dump cake?
I know the name dump cake makes it sound like the least appetizing food ever, but let me tell you how good they are. Dump cakes are super easy and taste like heaven on a fork.
The idea of a dump cake is very simple, you just dump everything into a cake pan and bake it. They are very simple.
So, for example, a cherry dump cake typically takes a can of cherry pie filling, spread in the bottom of a 9x13 pan, and then you sprinkle a yellow cake mix on top, and then pour melted butter over all that and sprinkle it with chopped almonds. Then you bake. That's all there is to it, and the taste is out of this world good. (Also, this cherry pineapple dump cake is almost as easy and out of this world good!)
So for a pumpkin dump cake, I was thinking that I would need something to make a pumpkin layer on the bottom of the baking dish, and then I could just top it with a dry cake mix (I had a yellow cake mix, but I'm also going to try a spice cake mix.), melted butter, and nuts.
And that's exactly was I did.
And the cake was DELICIOUS! Even my pumpkin-hating kid loved it, topped with a generous dollop of whipped cream or a scoop of vanilla ice cream.
What you'll need to make a pumpkin dump cake
Equipment
This cake gets made in a 9x13 pan, but a normal 2-inch deep pyrex dish will not work because it does not hold enough volume. I recommend an extra deep 9x13 pan like this one.
Ingredients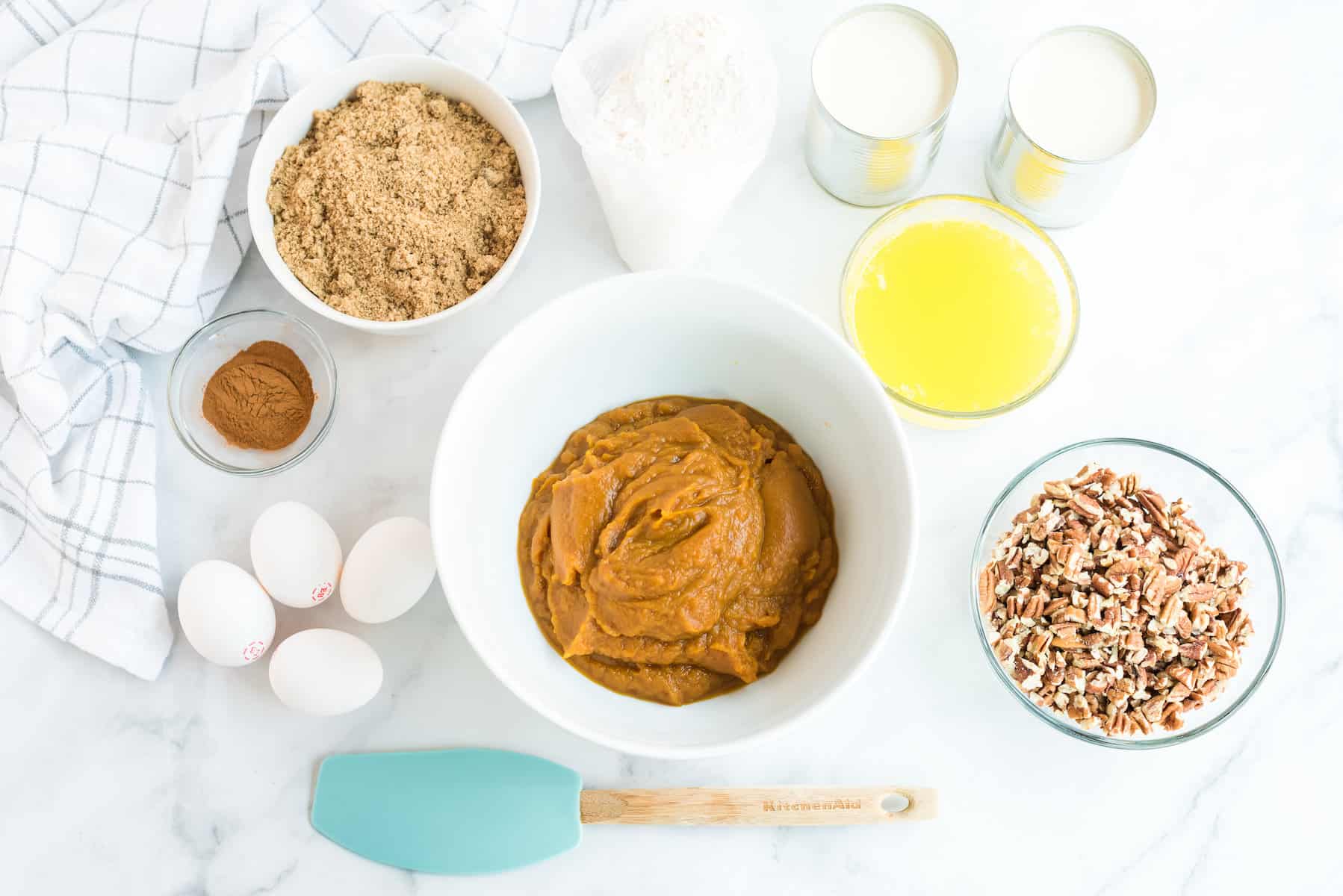 See printable recipe card at the bottom of the page for measurements.
Pure pumpkin fresh or canned; see note below. Also, do NOT get pumpkin pie filling which is gross because it already has spices mixed in, and those spices are not pleasing. At least, they are not pleasing to me. I would much rather use my own pumpkin pie spice, just plain cinnamon, or a combination of cinnamon, nutmeg, and cloves.
Evaporated milk or an equal amount of sweetened condensed milk; see note below
Brown sugar
Eggs
Cinnamon (substitute pumpkin pie spice if you prefer)
Melted butter
How to make the best pumpkin dump cake
Preheat oven to 350º. Spray a deep 9x13 pan with cooking spray.
Combine the pumpkin, evaporated milk, brown sugar, eggs, and cinnamon in a large bowl. Mix well.

Pour pumpkin mixture into the prepared pan.

Sprinkle cake mix over the pumpkin mixture.

Top the cake mix with chopped pecans and then pour melted butter evenly over the whole thing.

Bake for 1 hour, until center is set and the edges are golden brown.

Cool for at least 30 minutes before serving.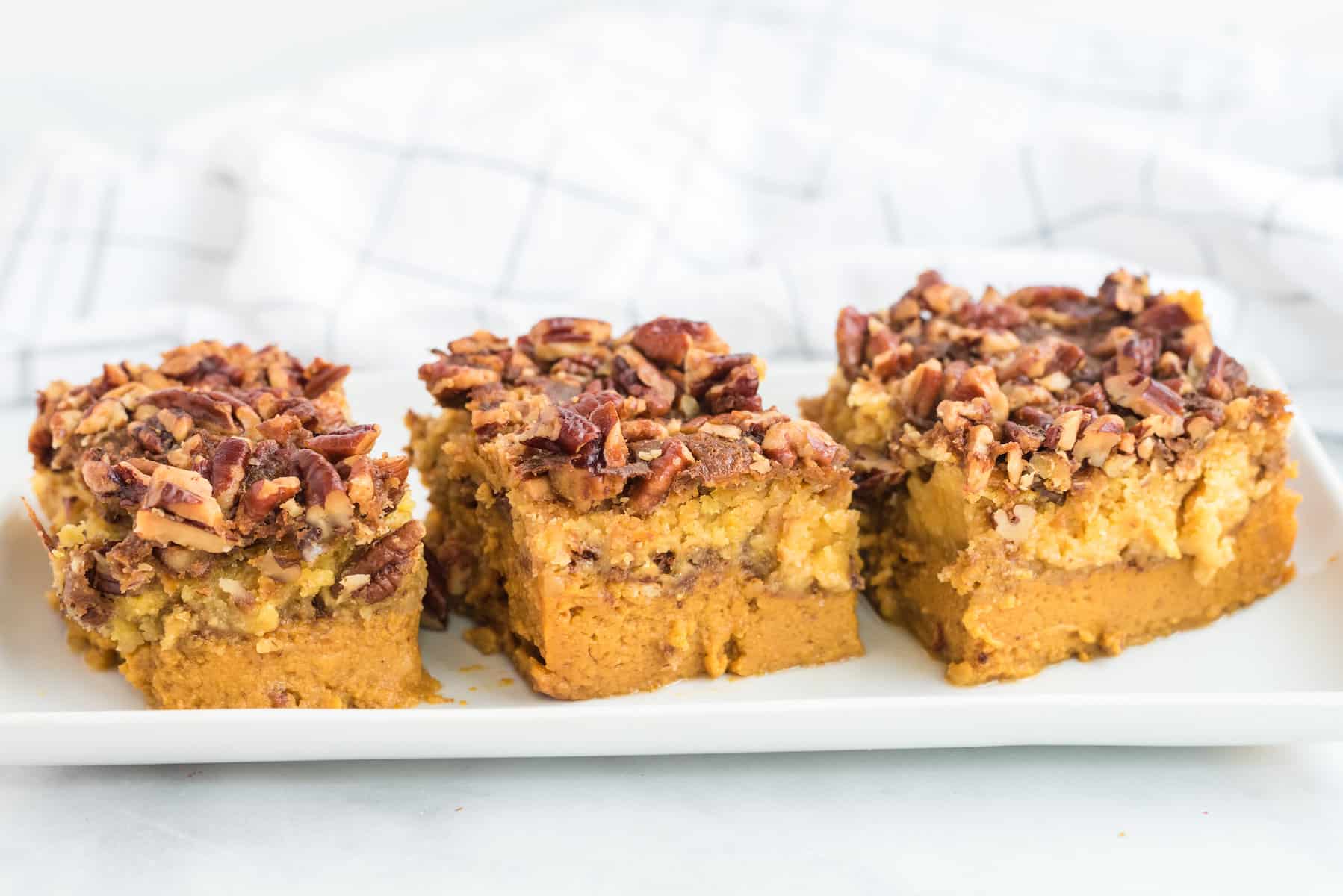 Note on using fresh or frozen pumpkin (rather than canned)
To use fresh or frozen pumpkin, you will probably need to remove some of the liquid. I boiled mine because I thought that would be easiest, but you could also strain it through cheesecloth and a colander or strainer.
To boil the pumpkin, place it in a small sauce pan and cook it on medium-low heat for 15 minutes or so, until it has thickened and the watery liquid has cooked off. Note that it will not be as thick as canned pumpkin, but it will work in the recipe as long as it doesn't have a lot of watery liquid on top.
Note on using sweetened condensed milk versus evaporated milk
I have used evaporated milk, sweetened condensed milk, and a combination of the two, depending on what was available in my pantry. The finished cake has come out completely delicious every time, no matter what I used. I suppose it probably has a slightly different flavor depending on what you use, but I've honestly never noticed. It's a very forgiving recipe. Use whatever you have.
Try these other delicious pumpkin recipes:
Recipe