How to make the best easy turtle pumpkin pie with caramel whipped cream - Includes vanilla pudding and canned or fresh pumpkin. Light and refreshing no-bake no oven no eggs eggless pie recipe.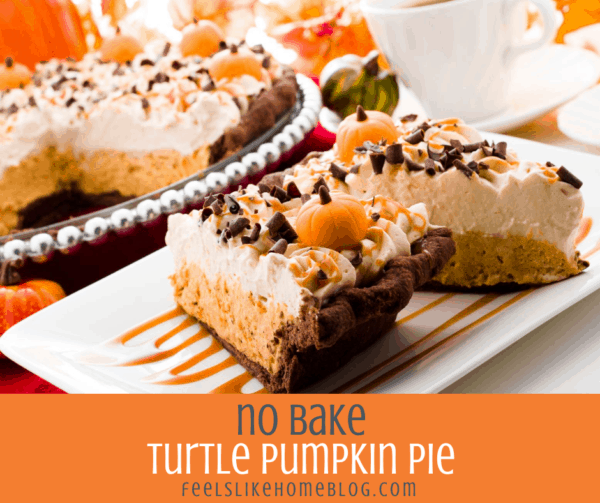 I love doctoring up my recipes.
I frequently take something normal, like a chocolate cake mix or a yellow cake mix, and tweak it here and there until it becomes a magnificently rich and glorious creation.
This pie starts with a can of pumpkin and a box of vanilla instant pudding and turns it into something magnificent. You could also use cheesecake or white chocolate pudding mix. I haven't tried either one, but I am absolutely certain that they would be amazing in the recipe.
How to make no bake turtle pumpkin pie
For this pie, you can either use a regular pie crust or a graham cracker crust. I would buy one or the other at the grocery store, but you could easily make them on your own. Sorry, but I don't have a recipe for either one.
If you use a graham cracker crust, this pie would be entirely no bake. If you use a refrigerated crust, you will have to bake the crust to golden brown before moving on with the pie.
Pour ¼ cup of caramel topping into the crust and top with ½ cup chopped pecans.
Beat milk, pudding mix, pumpkin, and spices with a whisk until blended. Stir in 1-½ cups whipped topping. Spread into crust.
Refrigerate at least 1 hour.
Mix remaining whipped topping and caramel topping and spread over pie. Top with remaining pecans just before serving.
You could also sprinkle the finished pie with chocolate sprinkles or chocolate shavings and drizzle with additional caramel topping.
Recipe