Creamy and delicious No Bake Peanut Butter Pie with a chocolate crust. Only 5 ingredients, so easy, and everyone will be begging for the recipe!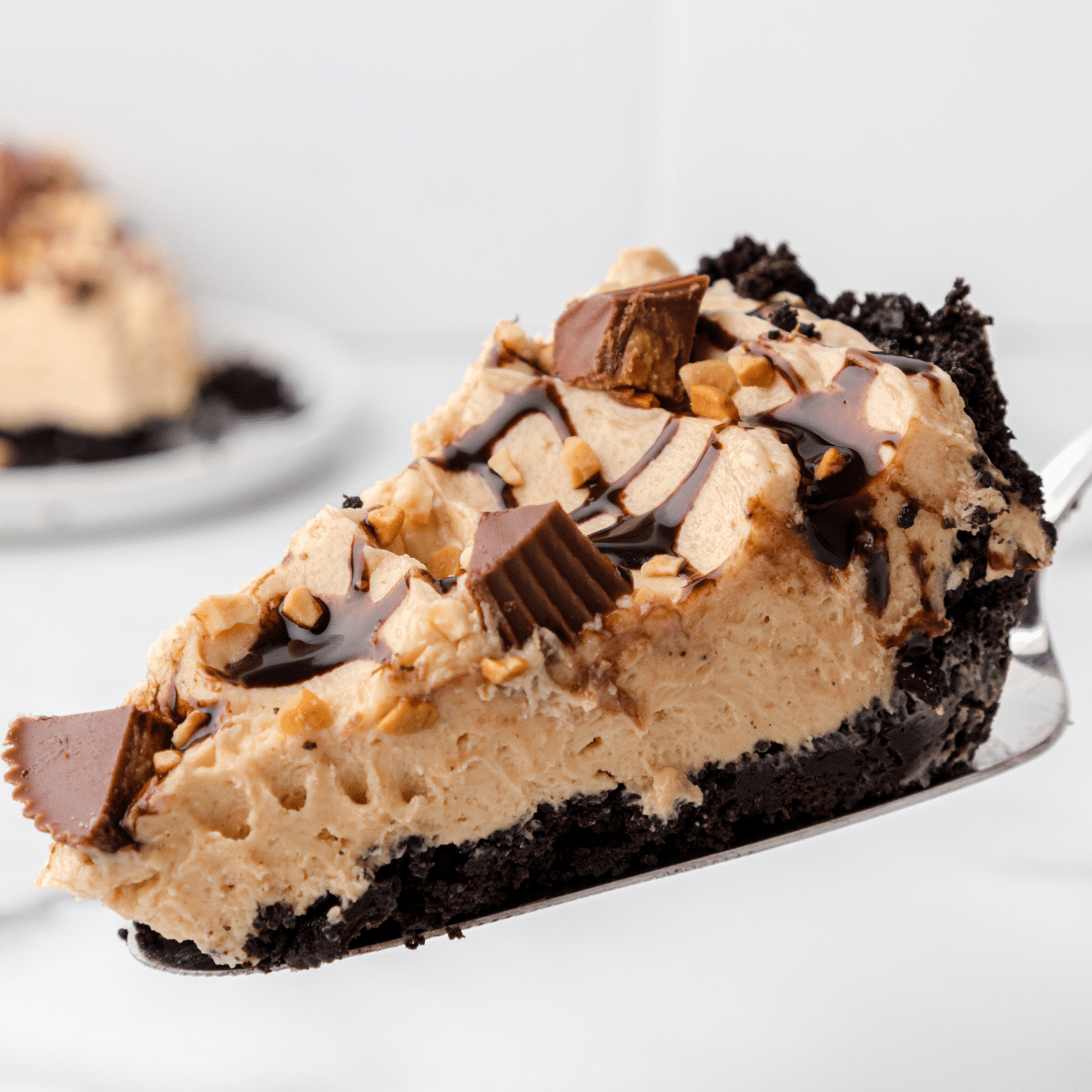 My friend, Linda, brought the best peanut butter pie I've ever eaten to the picnic we both attended this past Saturday.
I've eaten more than my fair share of peanut butter pie, so that's really saying something. It was that good.
I asked for the recipe and she gave it to me. I was shocked. It was secret family recipe good, but apparently it's not a secret.
Of course, what do I do when I get an amazing recipe? I share it with you.
Why this is the best no bake peanut butter pie recipe
With an easy graham cracker crust, this pie is completely no bake and completely delicious! It's the perfect ice box pie for a summer picnic or party or just an informal summer dinner.
With just a handful of simple ingredients, the peanut butter pie filling is bursting with intense peanut butter flavor.
This peanut butter pie recipe can be made ahead - up to a day or two early. Just wrap it in plastic wrap and store in the fridge!
What you'll need to make the best peanut butter pie
EQUIPMENT
Electric mixer - This makes easy work of the peanut butter and cream cheese mixture. You can do it with a whisk, but it takes a lot of elbow power.
Large mixing bowl - You will need this to mix the creamy peanut butter filling.
Pie plate - If you buy a premade chocolate crust, it will come in a foil pie pan, and you won't need this.
INGREDIENTS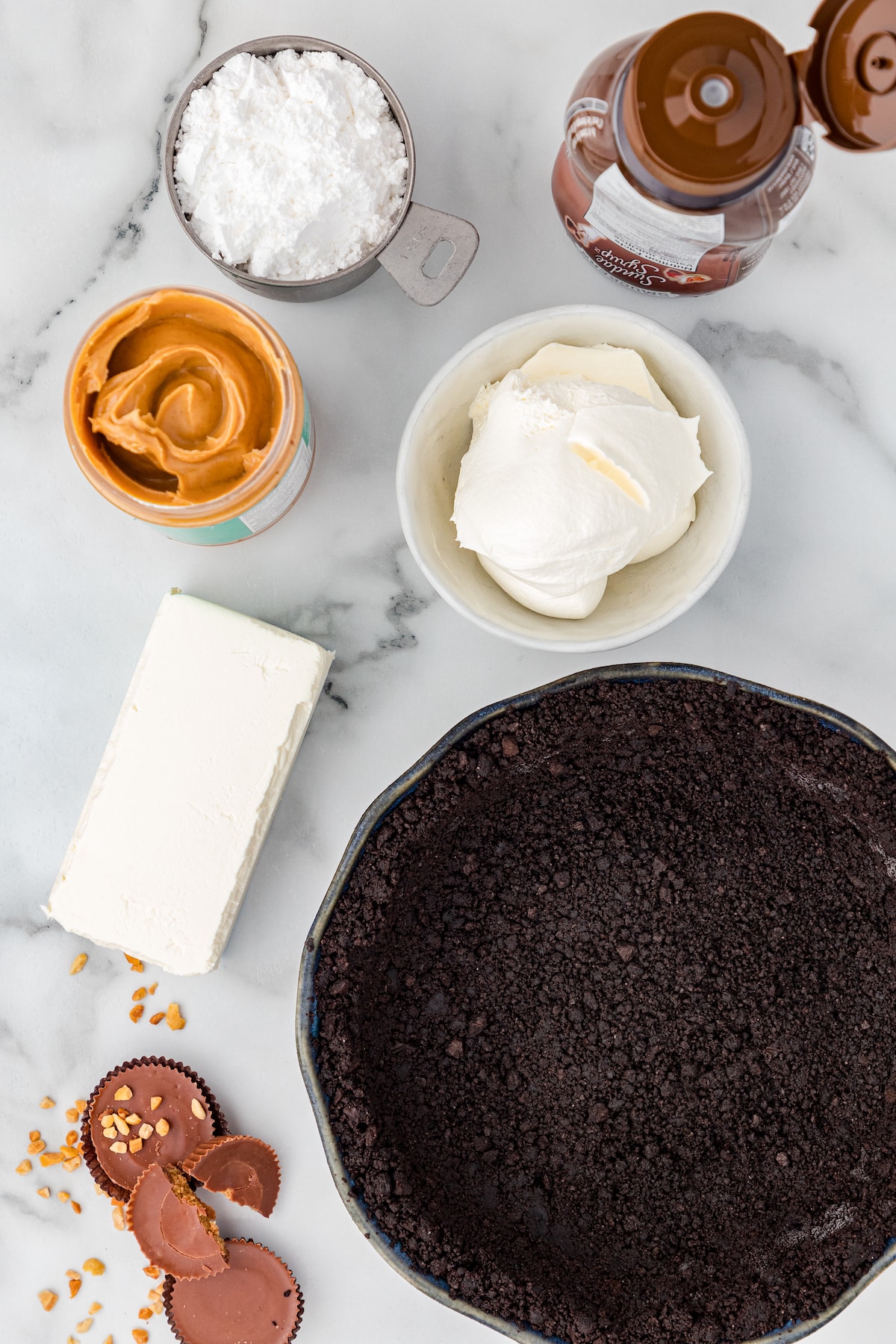 See printable recipe card at the bottom of the page for all measurements and nutritional information.
Softened cream cheese - I use low fat. This needs to be at room temperature, so if you can, set it out a few hours prior to making the pie. If you forget (like I always do), pop it in the microwave in bursts of 20 seconds at a time until it is soft enough to work with.
Powdered sugar - This is also known as confectioners' sugar or 10x sugar.
Creamy peanut butter - This is not a low fat recipe, but I use low fat peanut butter and low fat cream cheese, and it tastes amazing. I figure every little bit helps.
Whipped topping - I use the generic Cool Whip. It needs to be completely thawed.
Chocolate pie shell - You can find these in the baking aisle of the grocery store or make your own. This cheesecake recipe includes instructions for the most amazing Oreo crust. You could make that if you were so inclined and press it into the bottom and sides of your pie plate.
Chocolate or chocolate peanut butter sauce - This is optional, for the garnish.
Chopped peanuts - This is optional, for the garnish.
Chopped Reese's peanut butter cups - This is optional, for the garnish.
How to make the best easy peanut butter pie recipe
Using an electric mixer, cream the softened cream cheese and powdered sugar together in a large bowl until smooth.

Add the peanut butter, and mix until smooth again.

Fold in Cool Whip with a rubber spatula.

Pour filling into the pie crust and smooth out the top.

Top with chocolate sauce and peanuts, if desired.

Cover with plastic wrap and chill in the fridge for at least an hour before serving.

Expert tips for the best no bake peanut butter pie
Some people like to eat this pie frozen! It's great as a frozen dessert. Simply cover it and stick it in the freezer for up to a month. If you do decide to freeze it, though, don't thaw it to eat. Just serve it frozen.
Store leftover pie wrapped tightly in plastic wrap for up to 5 days in the refrigerator.
This recipe won't work as well with real whipped cream. You need the non-dairy whipped topping to hold up the heavy peanut butter filling.
Try to use an electric mixer for the filling. It will come out much creamier if you do.
You can double this recipe and make it in a 9x13 pan.
Instead of chocolate sauce, you can drizzle this peanut butter pie with homemade hot fudge.
MORE DELICIOUS PEANUT BUTTER RECIPES
Recipe