This nostalgic Peanut Butter and Jelly Pie is filled with a creamy no bake peanut butter filling, chopped peanuts, strawberries, a sweet layer of strawberry jam, and topped with lots of whipped cream and more strawberries! It's a little slice of heaven for peanut butter lovers!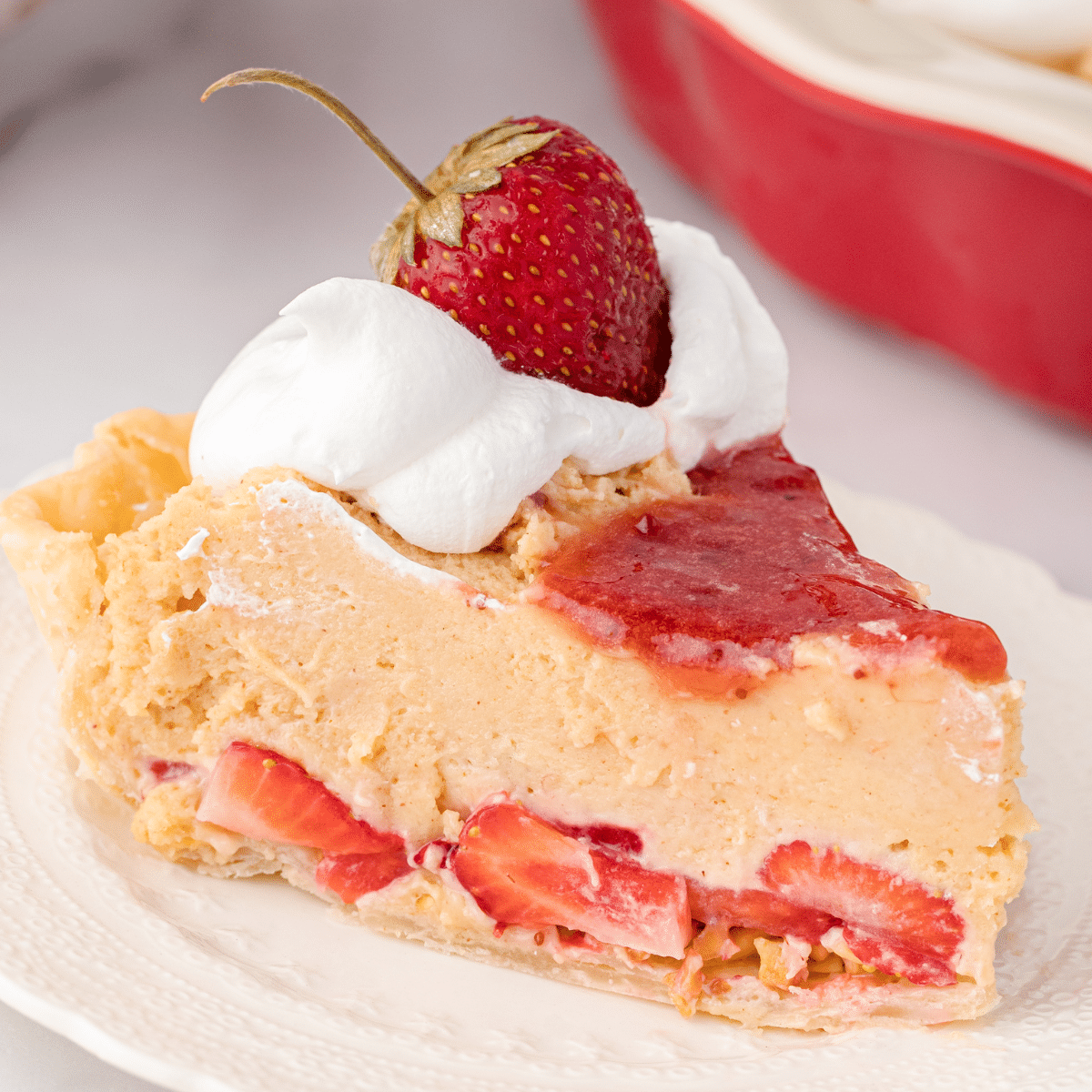 I love this recipe.
Loooooooove it.
I am not sure where it came from, but I've had it for many years.
It is a perfect early summer recipe, as fresh strawberries makes it sing.
Why this is the best peanut butter and jelly pie recipe
This recipe has all the flavors of a peanut butter and jelly sandwich. The crust gives you a bread flavor, then you have a super peanut buttery creamy filling and a layer of strawberries on the bottom paired with a layer of strawberry jam on top. My mouth is watering just thinking about it.
This recipe starts with a pre-made pie crust, giving it a very simple and easy prep.
I like using a traditional pie crust, but you could make this a completely no bake recipe if you used a prepared graham cracker crust from the grocery store.
The peanut butter layer in this recipe is creamy, thick, and rich, and it is perfectly complemented by the crunchy peanuts and sweet strawberries.
It's versatile. If you prefer another fruit, use it! As long as you can find fresh fruit and a matching jam or jelly, you can use any flavor you want. Raspberry, blueberry, blackberry, even peach or apricot. Any would be delicious.
What you'll need to make a pb&j pie
EQUIPMENT
Rolling pin - If your pie crust is smaller than your pie plate, you will have to roll it out to make it a bit bigger.
Pie plate - I like a deep dish pie plate for this recipe.
Fork - You will need a fork to prick the crust so that it cooks evenly and doesn't get big bubbles of steam underneath.
Electric mixer - You can use a mixer or a whisk to prepare the filling, but a mixer is much easier.
Rubber or silicone spatula - You have to fold in the whipped topping, so you need a spatula to do that. If you beat the filling with a mixer or whisk after adding the whipped topping, it will deflate and make a liquid instead of a fluffy filling.
INGREDIENTS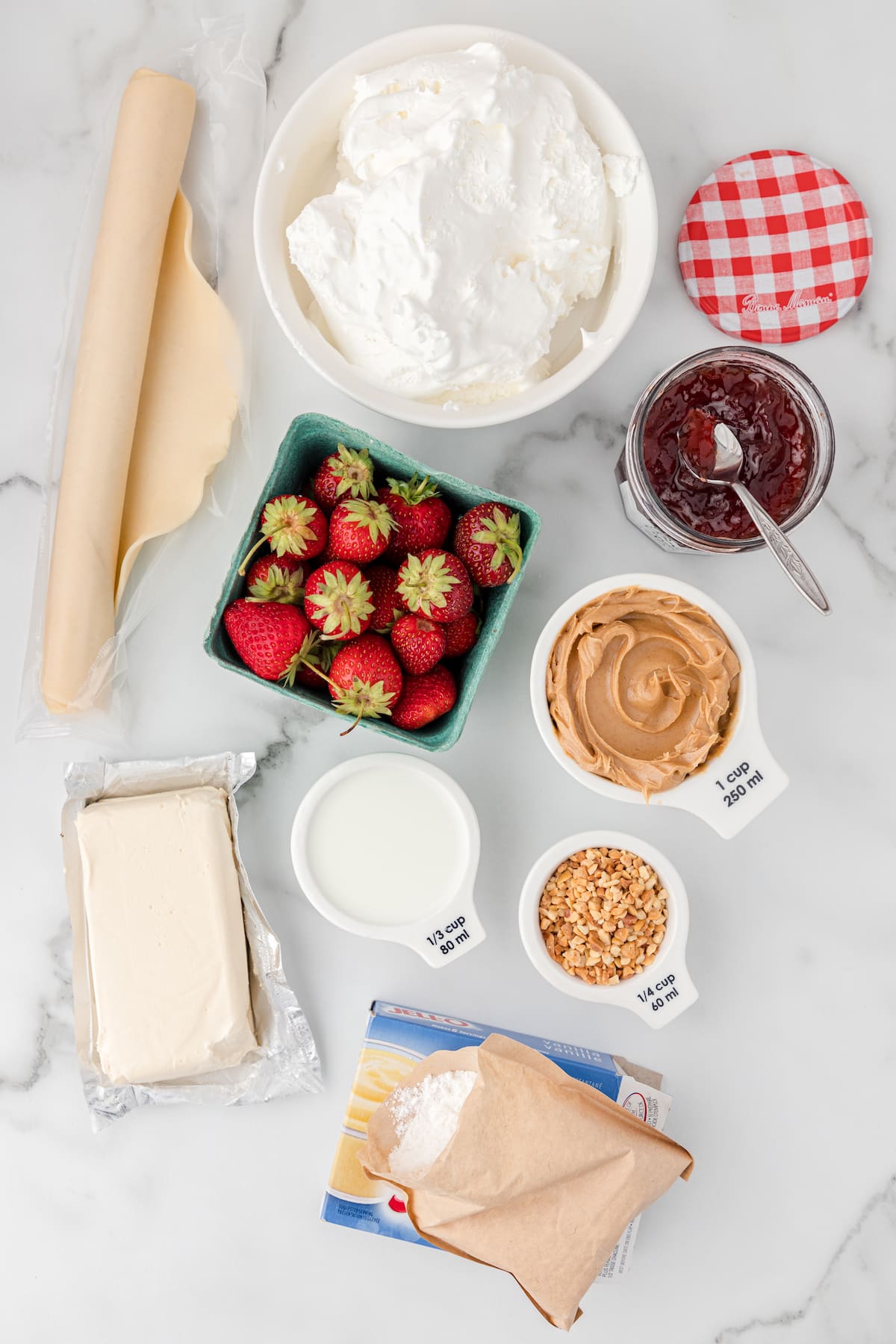 See printable recipe card at the bottom of the page for measurements and nutritional information.
Flour - You will need to lightly flour the surface on which you roll out the pie crust dough.
Pie crust - I use Pillsbury (or the store brand) and prebake it, but you could use a prepared graham cracker crust if you want a completely no-bake pie.
Chopped peanuts - You'll sprinkle these on the crust when you bake it, and you'll also add some on top of the finished pie.
Strawberries - You're going to make a layer of sliced strawberries on the bottom of the pie and then use a few for garnish on top of the pie.
Softened cream cheese - I always forget to set the cream cheese out on the counter before I start making the pie, so I end up putting it in the microwave in bursts of 20 seconds at a time until it's soft enough to work with. If you have enough forethought, you can leave it on the counter for a couple of hours to soften.
Smooth peanut butter - I suppose you could use crunchy if that's all you have, but I think the smooth makes a nicer filling for the pie.
Milk - I use dairy milk. You can experiment with soy milk or almond milk, but I can't guarantee your results. The dairy milk works with the pudding to make the filling set up properly.
Whipped topping - I use the generic Cool Whip. You need the stuff in a tub though, not in a can.
White chocolate instant pudding mix - Alternately, you can use the cheesecake flavor. It needs to be instant pudding.
Strawberry jelly - You're going to top the pie with this.
How to make the best peanut butter and jelly pie
Preheat oven to 425ºF.
Roll dough on a lightly floured surface using a rolling pin to make it the size of your pie pan. Press crust into pie plate and prick with a fork.

Sprinkle half of peanuts over bottom of pie crust. Bake 10 to 12 minutes, until golden brown. Remove from oven and cool completely. You can turn the oven off at this point.

Set aside the six nicest strawberries for a garnish. Slice the remaining strawberries and arrange them over the cooled crust in an even layer.

Combine room temperature cream cheese and peanut butter in a large bowl; mix together using a whisk or an electric mixer.

Gradually add milk, whisking until smooth.

Add half of whipped topping and all of pudding mix; mix.

Immediately spoon peanut butter mixture into crust, spreading evenly.

Whisk jelly until smooth; pour over center of filling. Spread evenly.

Sprinkle remaining peanuts over jelly and garnish with remaining whipped topping. Arrange remaining strawberries over whipped topping as desired.

Chill at least 1 hour prior to serving.

Tips for the best peanut butter and jelly pie
Make sure you prick the crust. Pricking the crust means that you use a fork to poke holes in the pie crust before baking. The holes allow any steam that forms under the crust to escape before it can make bubbles. A smooth pie crust does not have big bubbles under it.
Make sure you prebake the crust. This is a mostly no-bake recipe, so if you don't bake the crust before you start, your crust will be unpleasantly raw.
More delicious peanut butter recipes
Recipe