This easy Peanut Butter Chicken Recipe is a quick, simple, and healthy dinner idea that's on the table in less than 30 minutes. Serve it over noodles or rice with fresh stir fried vegetables.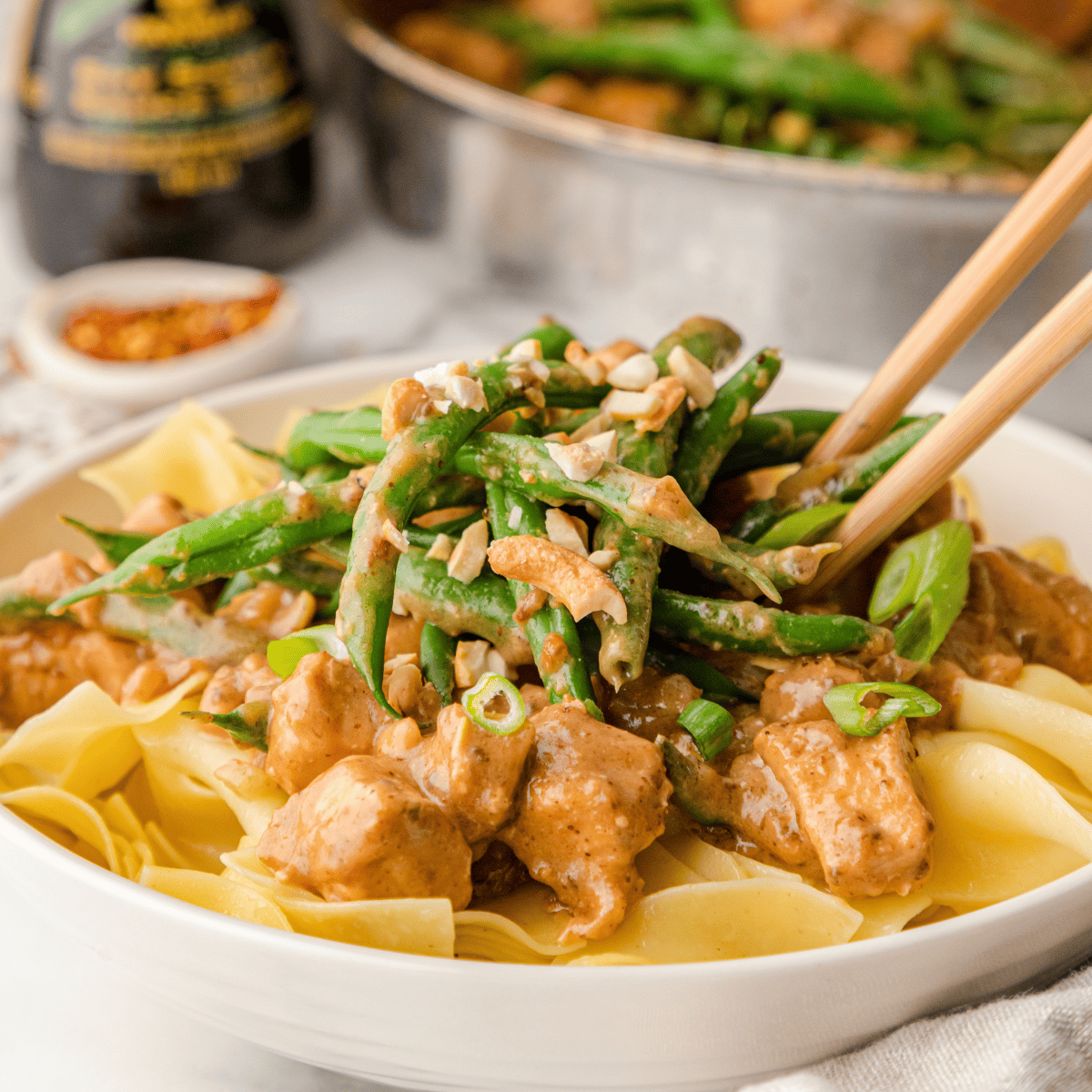 I love peanut butter.
When I was in college, the cafeteria served an amazing vegetarian dish with peanut butter sauce, and I adored it.
I had never thought about cooking peanut butter with savory food before that, but I was smitten with the first bite.
What you'll need to make the best peanut butter chicken
EQUIPMENT
Garlic press - A garlic press is a handy tool to have in your kitchen, and once you have one, you'll probably use it every day. Can you mince the garlic with a sharp knife? Yes, you can. But will someone probably get a big chunk of garlic in their mouthful of food? Also probably yes. A garlic press minces the garlic so small that you can't see it in the food in the end, and that releases all of the magnificent oils that make the food taste amazing.
Microplane grater - This is to grate the fresh ginger.
Wok - Or a large skillet.
INGREDIENTS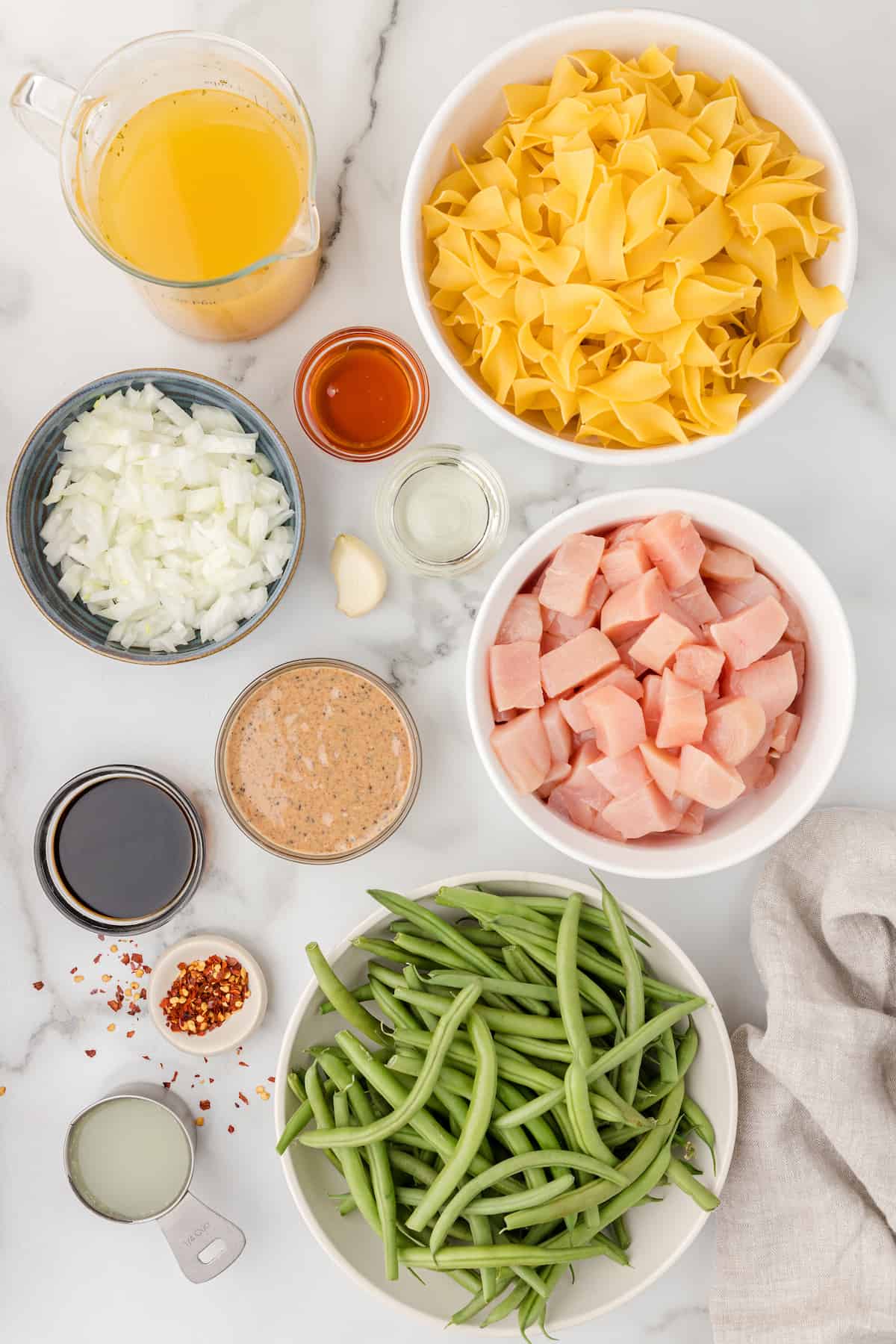 See printable recipe card at the bottom of the page for measurements and nutritional information.
Wide egg noodles
Olive oil - You can substitute peanut oil here, if desired.
Skinless boneless chicken breast – You'll want to cut these into bite size pieces. Also, you can use boneless skinless chicken thighs instead of breasts if you prefer.
Onion
Fresh garlic 
Fresh ginger
Green beans – Trim the beans before adding them to the stir fry.
Low sodium chicken broth –
Smooth peanut butter –
Honey
Low sodium soy sauce - Be sure to read the label if you are gluten-free as many soy sauces contain gluten.
Red chili pepper flakes - Red pepper flakes are pretty spicy, so we'll only use a little bit. If you like your food hot, increase the amount.
Lemon juice
How to make Indonesian peanut butter chicken
Cook the noodles according to the package directions.

Heat the oil in a skillet over medium-high heat. When the oil is hot, add the chicken.

Cook the chicken for 5 minutes on each side, or until juices run clear and the internal temperature measured on a meat thermometer is 165ºF.

Add in the onions, garlic, ginger, and green beans.

Whisk together the chicken broth, peanut butter, honey, soy sauce, pepper flakes, and lemon juice in a medium bowl.

Pour the creamy peanut butter sauce over the chicken and veggies. Reduce to medium heat.

Cook and stir 10 minutes, until slightly thickened.

We like to mix our noodles in the pan, but you could also just serve it over top of the noodles.

Optionally, you can garnish with green onions and peanuts.
Peanut butter chicken stir fry variations
The first time I made this recipe, I had a glut of green beans that I wanted to use up, and so I kept making it with green beans. But there's no reason that you couldn't make the stir fry with other vegetables, including broccoli, red bell peppers, carrots, or snow peas. It would still be delicious.
Likewise, I mostly make this dish and mix noodles into the sauce, but you could also use white rice, brown rice, jasmine rice, or cauliflower rice or even rice noodles instead.
This peanut butter chicken, but if you have an allergy, you can just as easily make almond butter chicken or cashew butter chicken, and it will still taste good.
The only difference between Indonesian peanut chicken and Thai peanut chicken is a squeeze of fresh lime juice in the sauce in place of fresh lemon juice and the addition of coconut milk.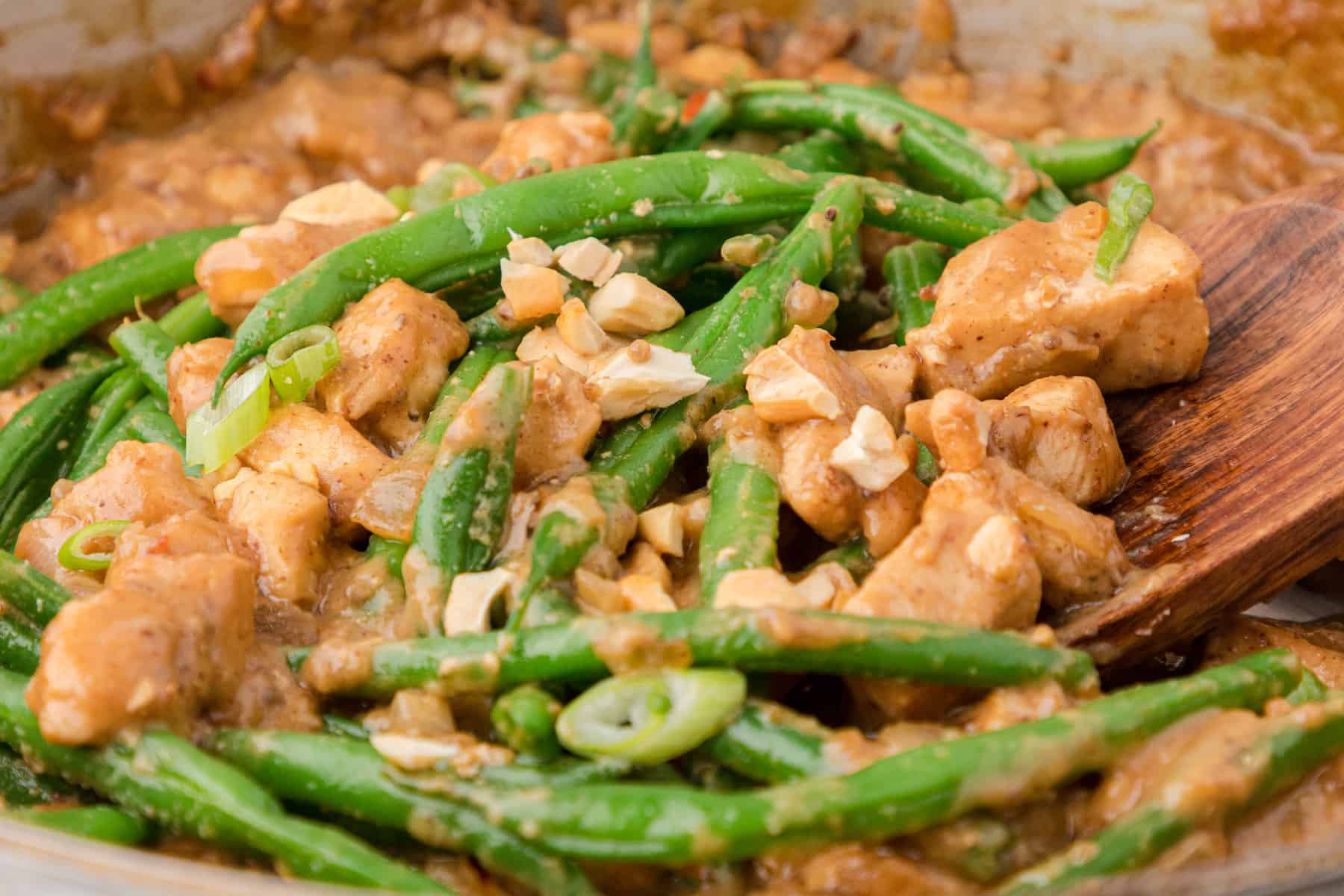 Storing leftover peanut butter chicken
Transfer cooled peanut butter chicken to an airtight container and store it in the refrigerator for up to 3-5 days. To reheat, mix in a few drops of water or chicken broth and microwave for 30 seconds at a time until heated through.
Try these other savory peanut butter recipes
Recipe
This was so delicious that I ate it for breakfast this morning, too. It makes a lot, so I'll probably have it for lunch today, too. And maybe breakfast tomorrow.