These shrimp are coated in a spicy Sriracha sauce with turmeric, garlic, and lime. Cooked as a stir fry meal for a quick and easy weeknight dinner in less than 15 minutes.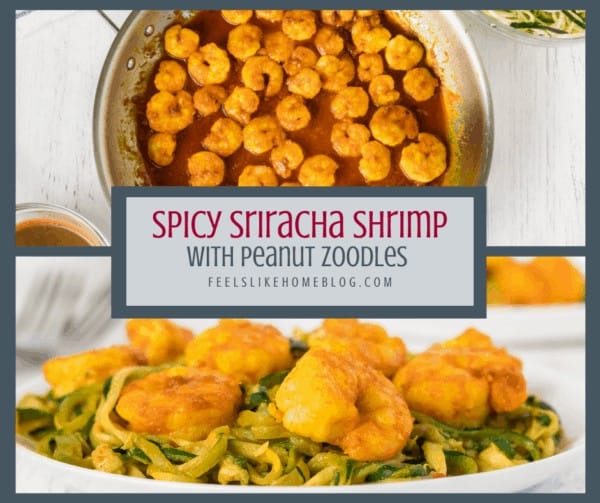 I like spicy foods. For a while after my bariatric surgery, I thought I'd lost my taste for spice, and I certainly don't eat foods as spicy as I once did, but I still love me some buffalo and Sriracha sauces, as well as some sambal oelek (which is a hot pepper paste used in some Asian foods such as my very favorite healthy General Tso's chicken which I will share here soon).
Joe made this spicy Sriracha shrimp in his quest for lower calorie, higher flavor foods for me to eat. The spice of the Sriracha is a perfect complement to the sweet and rich flavor of the peanut butter in the zucchini noodles.
If you don't have a spiralizer, get one! You'll need it to make the zucchini noodles. If you aren't down with zoodles, you could serve this shrimp over rice or rice noodles, or I suppose spaghetti although I think that would be a sacrilege. Don't be that guy.
How to Make Spicy Sriracha Shrimp with Peanut Zucchini Noodles
Prepare the zuchinni noodles. Spiralize 4 medium-sized zucchini so that you have a mound of zoodles. Set them aside.
Prepare the spices. In a very small bowl, combine the pressed or minced garlic, turmeric, and a pinch of salt.

Make the Sriracha sauce. Heat the coconut oil in a large skillet over medium-high heat (You could use olive oil if it's all you have; I don't think it makes that much of a difference. Don't go out and buy a whole container of coconut oil unless you think you'll use it for other recipes.). Add the turmeric mixture and toast for one minute. Stir in the Sriracha sauce.

Cook the shrimp. Add the shrimp to the skillet in a single layer if possible and toss in the sauce to coat. Cook about 5 minutes, flipping once, until the shrimp is opaque on both sides.

Make the peanut sauce. While the shrimp cooks, whisk together peanut butter, water, another clove of pressed garlic, lime juice, and soy sauce. Thin with more water if needed to make a sauce rather than a paste. Add additional sriracha to taste if you like more heat.

Cook the zoodles. Remove the shrimp from skillet and set aside. Add the zoodles you cut earlier and sauté for 3-4 minutes, until soft. Please don't attempt to boil your zoodles. They will turn into a mushy zucchini paste, and you will be sad. Zoodles must be sautéed to retain their crispness.

Mix the zoodles with the peanut sauce. Toss the cooked zucchini noodles with the peanut sauce in the pan or in a medium bowl (if you feel like washing an extra bowl which I never do).

Assemble the dish. Place a heap of zoodles on a plate and top with the spicy Sriracha shrimp.

Check out these other great shrimp dishes that are packed with bold flavors:
Recipe