These shrimp appetizers have plump juicy cajun shrimp over creamy avocado and crisp cucumbers drizzled with spicy remoulade sauce. Shrimp cucumber bites are naturally low carb and low calorie with amazing flavor and only 48 calories per bite!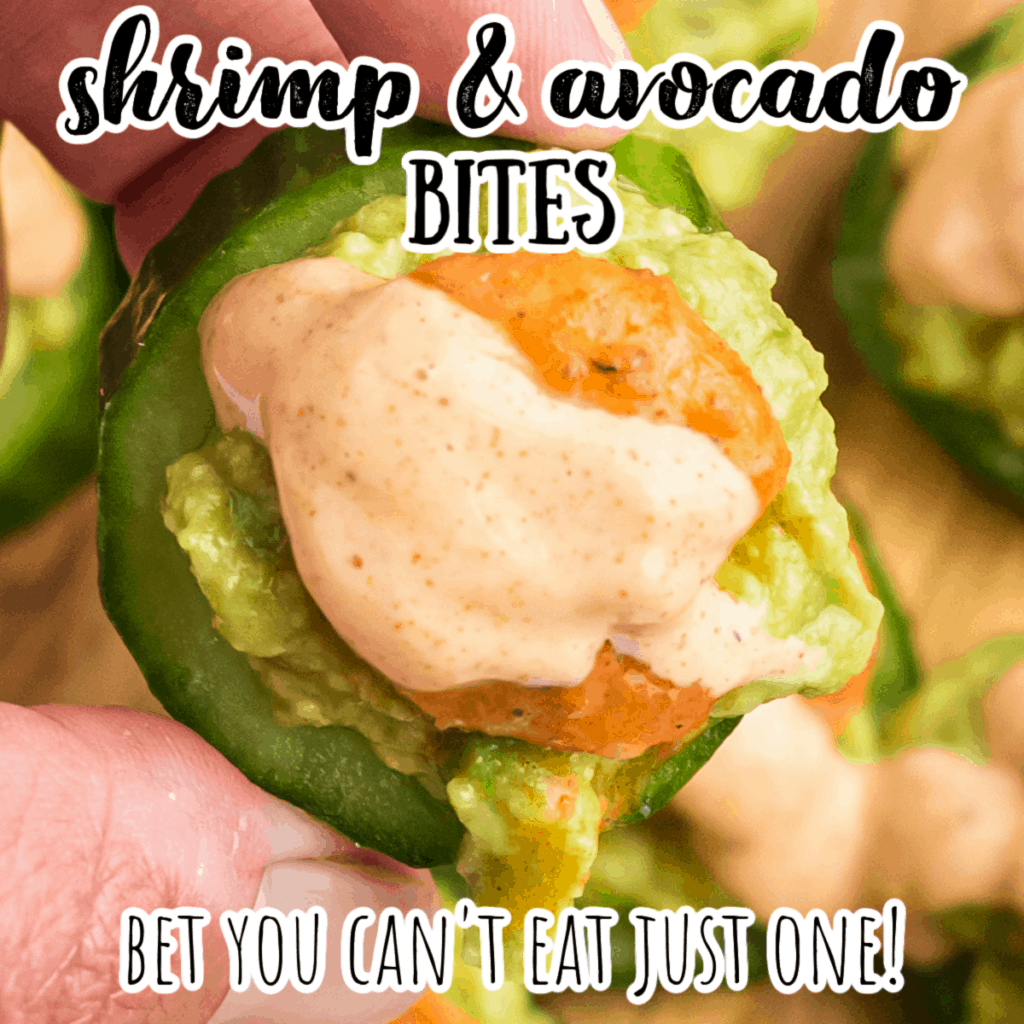 These shrimp bites are beloved by just about everyone, from keto and low carb to gluten-free to grain-free and paleo to people who eat anything and everything. The combination of the slightly sweet and creamy guacamole with the spicy blackened shrimp is just out of this world good.
I know I'm calling these shrimp bites and appetizer, but I love to eat them for a main course. Shrimp and vegetables? Yes, please!
If you paired these with some baked sweet potato fries or air fryer potato chips or even homemade potato salad, you'd have a full meal worthy of any restaurant plate.
What you'll need to make these easy shrimp bites
Equipment
This recipe comes together with just basic kitchen equipment, like a zippered plastic bag, a large skillet, knives, and bowls. But you will need a citrus juicer to squeeze the lemon and lime. If you want to peel the cucumbers (I personally don't bother.), you would need a vegetable peeler or paring knife.
Ingredients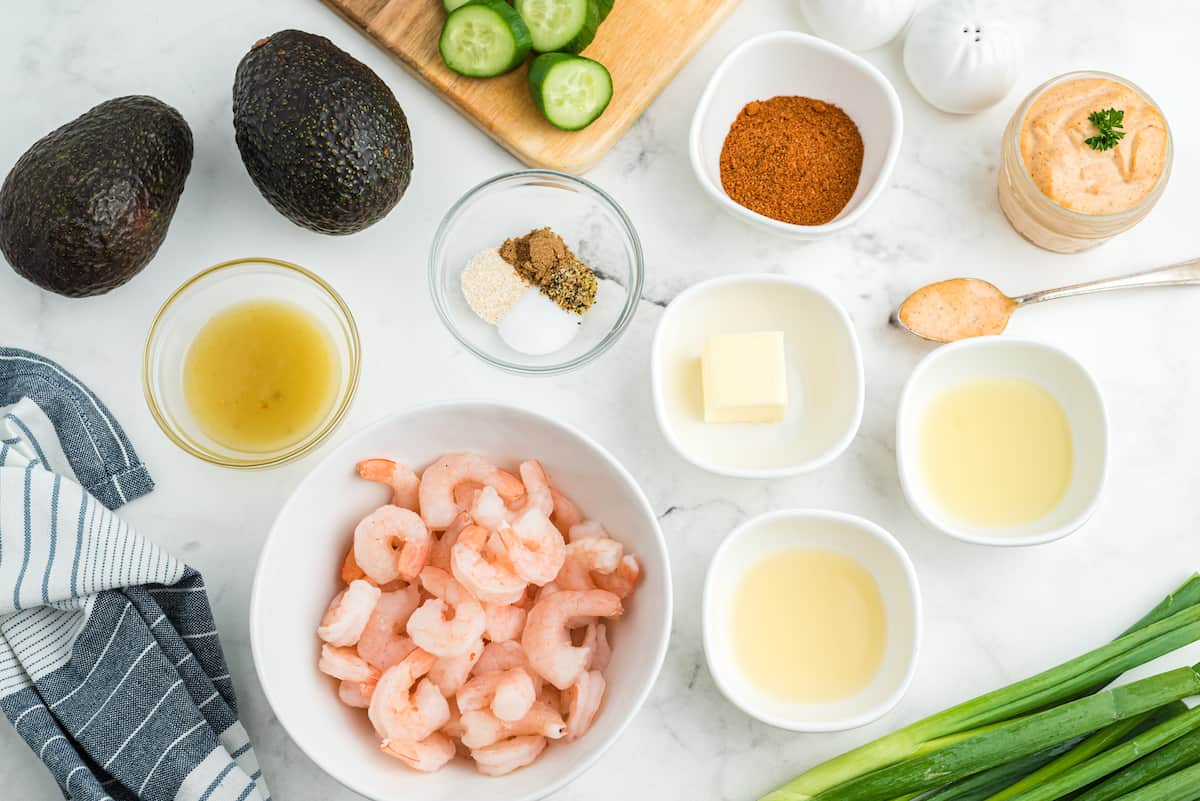 For the shrimp
For the guacamole
For serving
How to make shrimp avocado cucumber bites
For the shrimp
Place salted butter (or butter and salt), 1 tablespoon of the lime juice, 1 tablespoon of the lemon juice, 1 tablespoon cajun spice blend, and the peeled and deveined shrimp in a large zippered bag. Squish around to make sure everything is well combined, and then let the shrimp marinate for a minimum of 30 minutes up to an hour. (Try not to let it sit for much more than an hour because the shrimp will get weird.)

Remove the shrimp from the bag and place into a large skillet over medium high heat** (see note below on the best way to cook shrimp) and cook the shrimp on each side until opaque, slightly pink, and cooked through, about 1-2 minutes on each side. Set shrimp aside to cool while you prepare the guacamole.

For the guacamole
To make the guacamole, mix the mashed avocados, with all the other guac ingredients. As noted above, if you have a preferred guacamole seasoning, you can use it in place of the spices and sauces called for.

Mix thoroughly.

For serving
Pat the cucumber slices dry with a paper towel or clean kitchen towel to remove excess moisture.
To assemble the bites, top a slice of cucumber with a small dollop of guacamole followed by one shrimp.

Drizzle with remoulade sauce and sprinkle with chopped green onion tops or chives.

**Note on cooking shrimp
If you dump all of the chilled shrimp into the skillet at the same time, it will cool the pan and your shrimp will take a longer time to cook, losing their juices and becoming rubbery.
The best way to sear shrimp and get that nice plump and juicy texture is to add a few at a time to the skillet without crowding them. Use tongs to flip each one over, approximately 1-2 minutes per side if you pan is hot enough to start, and cook the shrimp in batches.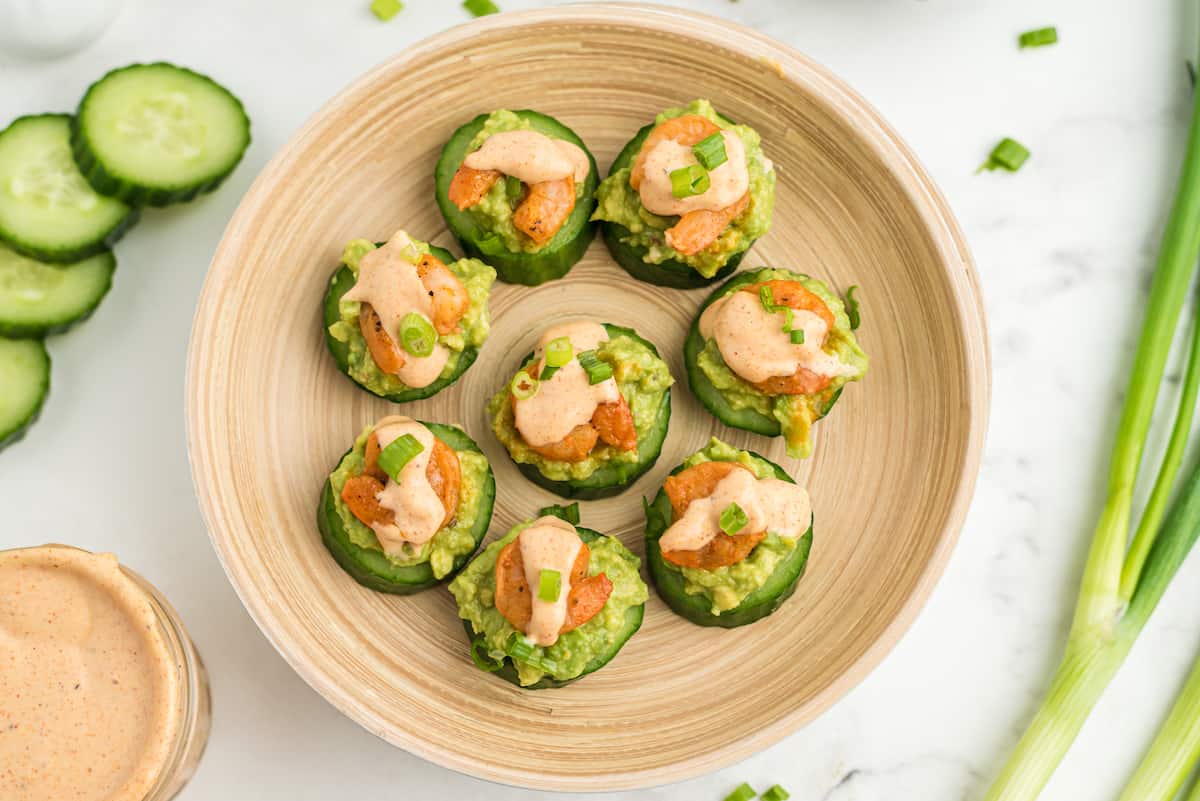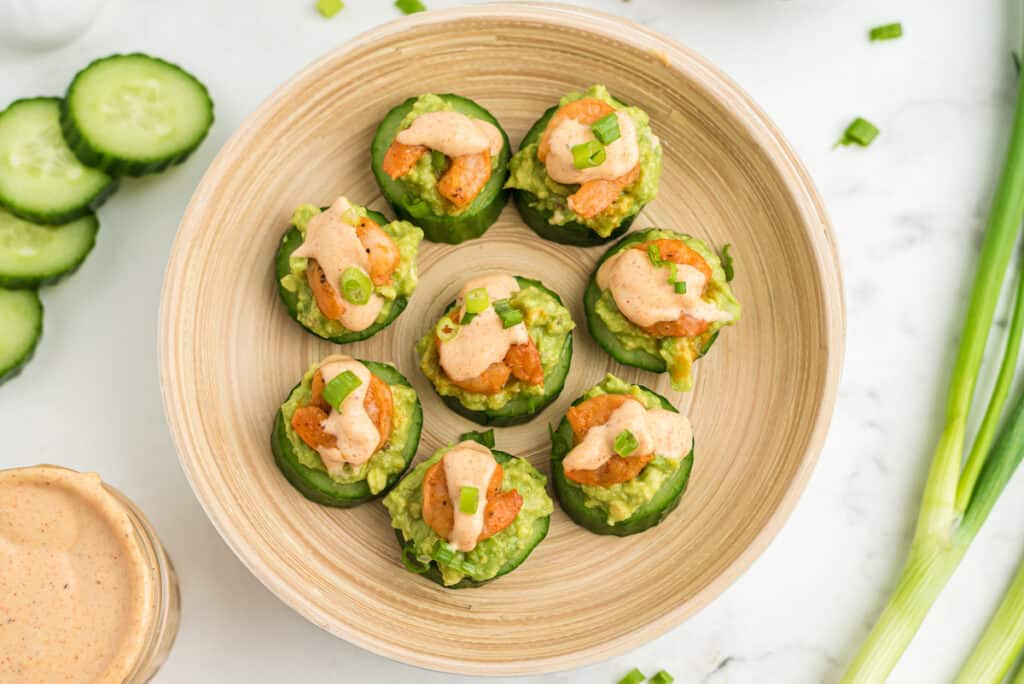 How do I store these avocado shrimp cucumber bites?
Don't store these assembled. They will get weird and you'll just end up throwing them out.
Guacamole generally doesn't store very well, but because there is some lemon and lime juice in this one, it may be okay, if covered, in the refrigerator for 1-2 days. The guac may turn brown on top, and there's really nothing you can do to prevent that. Brown guacamole tastes just like green guacamole (similar to the way an apple turns brown but still tastes good), so either mix it up to incorporate the brown or simply scrape the brown off into the trash.
Store the shrimp and cucumbers separately, but also in the refrigerator, for a maximum of 1-2 days.
Assemble the shrimp bites when you're ready to enjoy them.
Can I make any shortcuts to this recipe?
One of the easiest things you can do for this recipe is just to buy pre-made guacamole seasoning. Then you just use mix that up with the mashed avocados. My favorite seasoning is from the Pampered Chef, but there are others available in the grocery store. I almost never make guac from scratch anymore.
If you want to buy precooked shrimp, you can either quickly season it, or if it's already seasoned, just do some assembly. However, the flavoring of the shrimp of this recipe is to die for, so it's definitely worth the extra time it would take to cook them yourself.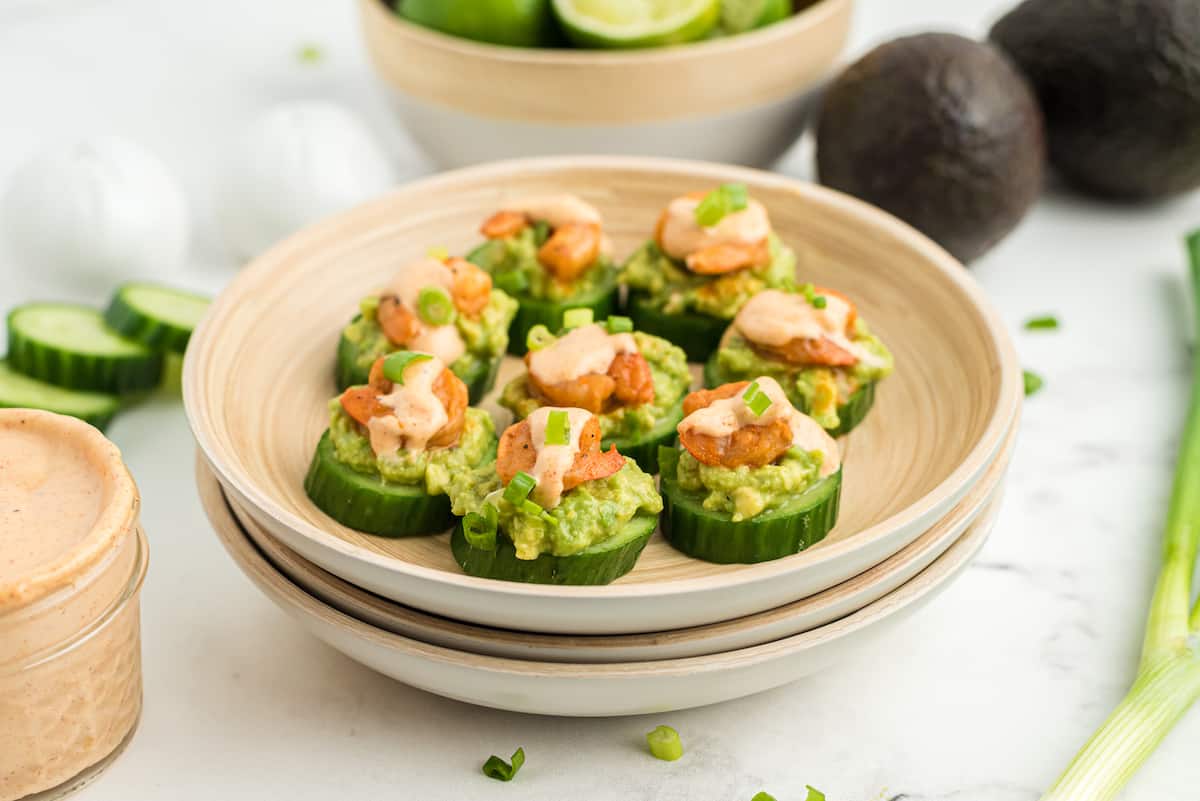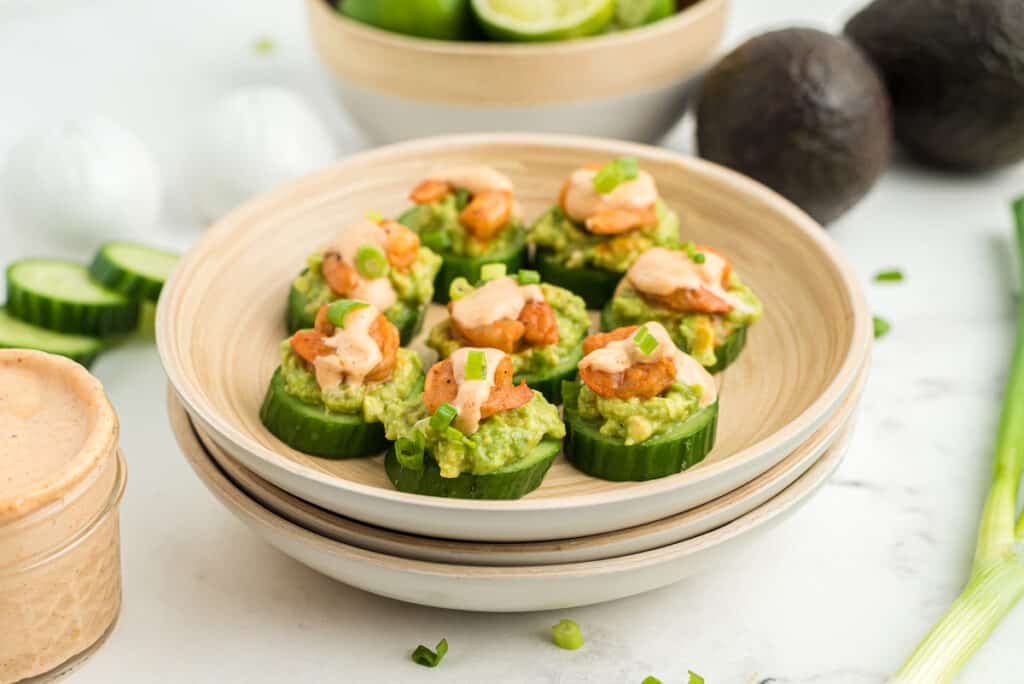 More shrimpy deliciousness
Recipe