How to make the best homemade cilantro lime shrimp - This can be used for burrito bowls, tacos, or lettuce wraps. This simple and easy recipe uses a marinade to give the shrimp a big flavor. Healthy recipe is paleo and keto and can be served with rice or cauliflower rice.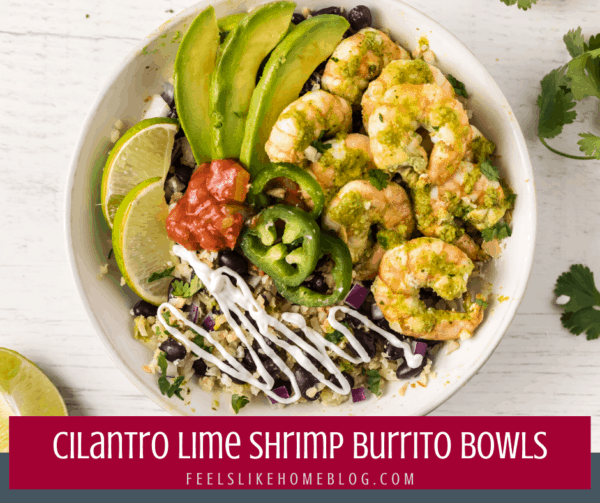 If you haven't noticed, we really like burritos, tacos, and burrito bowls at my house. They are so yummy, and they are versatile in that each member of our family can choose just the toppings that she likes and leave off the ones that she doesn't like.
That's important when your kids are as picky as mine.
I love cilantro. Love love love it, and I also really love lime, so this recipe is perfect for me. The cilantro and lime both shine through in the finished shrimp, especially if you use the reserved marinade as a sauce as I suggest. (Note that you do NOT use the used marinade as a sauce; you need to discard the used marinade. You should set some of the marinade aside when you make it to use as a sauce later.)
How to make cilantro lime shrimp burrito bowls
Prepare the marinade by adding cilantro, lime juice, olive oil, minced onion, salt, cumin, and jalapeno to the blender. Pulse until the mixture is bright green and the cilantro is chopped up fine. You can add additional olive oil if needed to thin out the paste and facilitate blending.

Divide the marinade in half, using one half for the shrimp and reserving the other half for a sauce at the end.
Place the thawed, uncooked shrimp in a large zippered plastic bag. Add the marinade and squish it around to coat. Set the shrimp aside or refrigerate while you prepare the rest of the recipe, but don't allow the shrimp to marinate for longer than 30 minutes. Shrimp can get weird if it marinates too long.

While the shrimp is marinating, cook the cauliflower rice according to the package directions.
Heat olive oil in a large skillet over medium heat and sauté the cooked cauliflower rice, cumin, salt, pepper, and garlic for 3-4 minutes or until the rice is starting to brown.

Heat a second skillet over medium-high heat and add the shrimp from the marinade and discard the marinade from the bag. Arrange the shrimp in a single layer in the skillet (cook in batches if necessary) and cook for 3 minutes per side or until the shrimp turns opaque. Be careful not to overcook the shrimp to prevent them from getting rubbery.

Heat the black beans in the microwave or on the stove.
To serve, add some cauliflower rice, black beans, and shrimp to a bowl and top with salsa, avocado slices, onions, jalapeño, additional cilantro, and Greek yogurt. Drizzle with the cilantro lime sauce you reserved earlier.


Here are a few more burrito, taco, and burrito bowl recipes that you might like:
Recipe