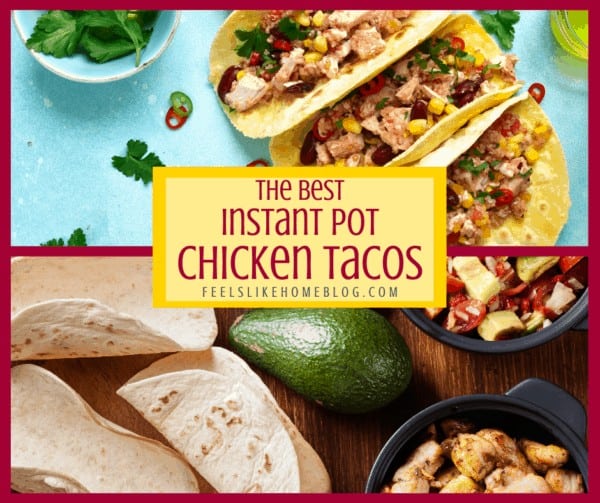 These Instant Pot chicken tacos are quick and easy and delicious! They can be made from fresh or frozen chicken breasts or thighs and are great for tacos, salads, or nachos.
We resisted the Instant Pot for a long time, but when my friend Jill drank the Kool-Aid and raved about her Instant Pot, I finally caved and got one. Jill said it would save oodles of time and energy in the kitchen, and my poor husband is seriously overworked, so I thought he would love it - if it was as amazing as Jill claimed.
I brought the new Instant Pot home and gave it to Joe for his birthday, hoping he would not hate me for it.
Well, he didn't. He did a little research and totally fell in love with his new Instant Pot. He immediately started using it at least twice a week, a habit which has continued to do this day.
Joe has myriad of Instant Pot recipes, so I am going to start sharing them with you. His favorite thing to do with his IP is to make chicken in it. He can put the chicken in frozen, cook it for 15-20 minutes, and then have chicken ready to go for just about any recipe, especially these Instant Pot chicken tacos which are one of my favorites.
This particular recipe is a recipe he created just for me. Even though Joe first made it with rice, nowadays he leaves the rice out so that it's easier for me to have my bariatric portion. He just makes 1 ½ cups of brown rice on the stove and mixes it when he serves it. It's extra work that you wouldn't have to go through unless someone in your house doesn't eat rice. If you do leave out the rice, also leave out 1 cup of chicken broth (still put in ½ cup so that there is enough liquid for the IP to cook properly).
Recipe