Sheet Pan Jerk Chicken Nachos baked on a sheet pan and loaded with shredded chicken, cheese, black beans, corn, and all your favorite toppings. This family favorite is an easy dinner recipe and a must for game day or any party.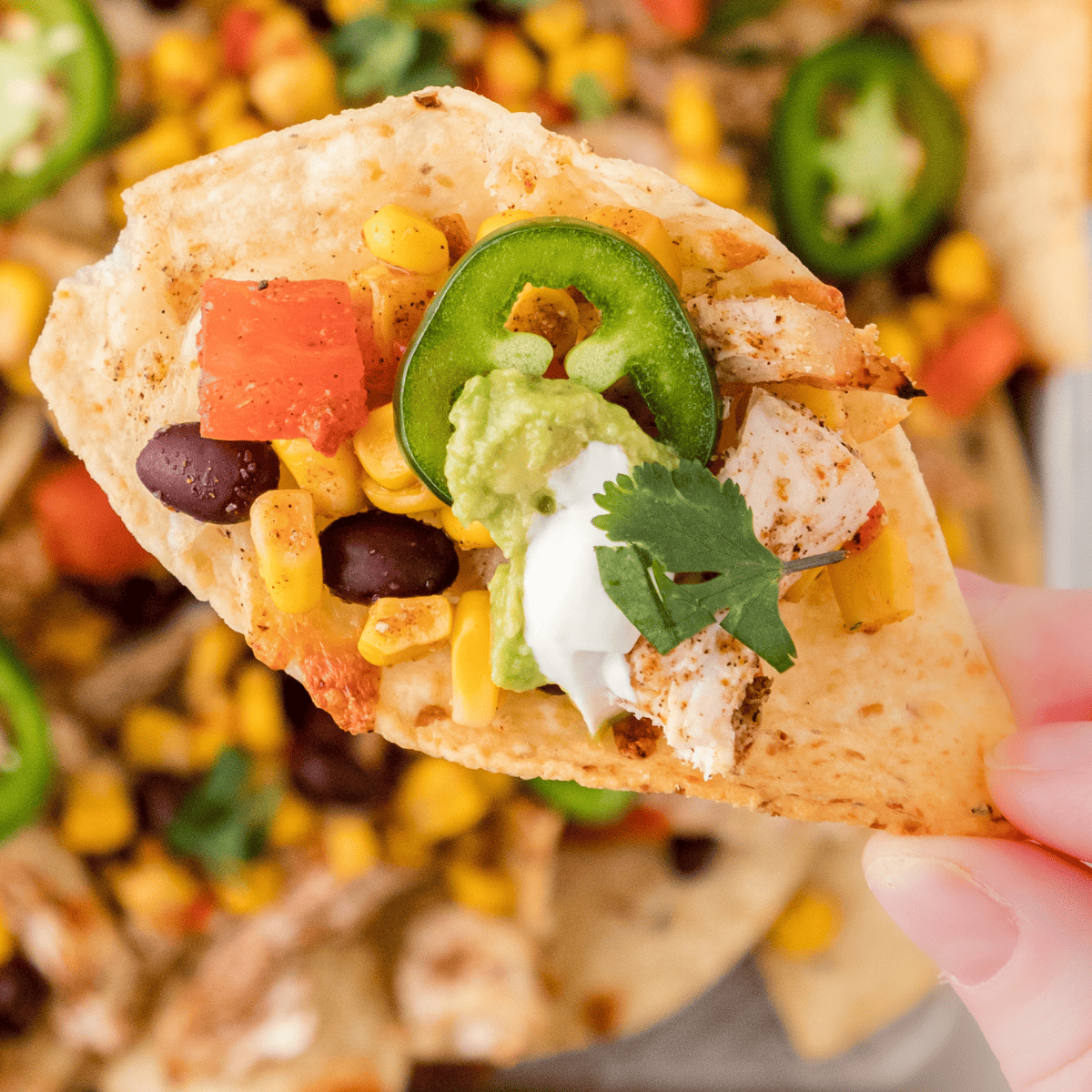 For the last couple of weeks, I have been unapologetically devouring comfort food.
Lots of it.
Hot Pockets, pizza, ice cream, baked potatoes with cheese, French fries.
I have not exactly been the picture of healthy eating. That's not the whole story, really.
Sometimes, Joe makes healthy food like potato chowder or spaghetti with chicken, and I eat that, too. But if I have a choice, I've been really hungry for the less than healthy comfort stuff.
I think it has something to do with pregnancy. It's a good excuse.
Several years ago, I hosted a Pampered Chef party, and the consultant made these baked chicken nachos. They are really tasty, just the kind of thing I've been craving.
If you make your own baked tortilla chips and maybe add some shredded romaine lettuce, these could (almost) pass for a moderately healthy food.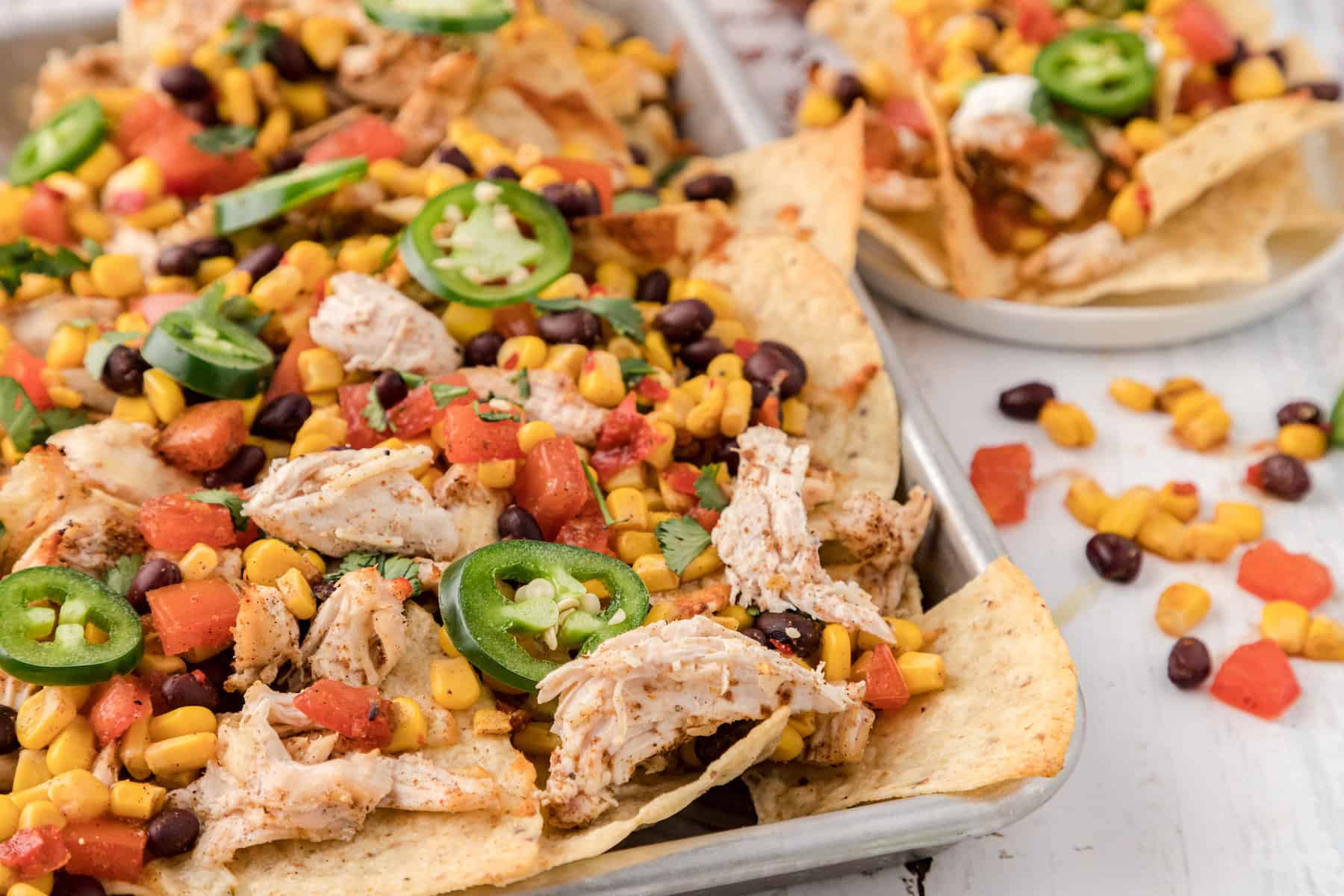 Why these are the best sheet pan chicken nachos
Sheet pan nachos are basically the easiest meal ever. Spread some chips on a baking sheet, top with chicken and cheese, bake, and sprinkle on your favorite nacho toppings. It could not be easier.
Unlike the nachos you get at a restaurant, where everything is piled high and falls over when you start taking chips out, these nachos are spread out. The toppings are easy to get and keep on the chips.
If you are serving picky eaters (like I am), sheet pan nachos are perfect. You can bake the nachos, chicken, and cheese, and then add the nacho toppings on each plate rather than on the whole pan.
What you'll need to make jerk chicken nachos
EQUIPMENT
Baking sheet - Sometimes I use a metal baking sheet and sometimes I use a stoneware bar pan or large round stone. It usually depends on what is clean. (Just over here keeping it real.)
Garlic press - You can cut fresh cloves of garlic with a sharp knife and get fairly small pieces. But I think a garlic press is better because the pieces get even smaller and are fairly evenly tiny. When you cut garlic with a knife, the pieces tend to be uneven, and someone always gets a bite of raw garlic. This doesn't happen with a press.
Citrus press - Like the garlic press, this isn't 100% a necessity, but it sure makes the prep easier. If you don't have a press, you will have to squeeze the limes by hand.
INGREDIENTS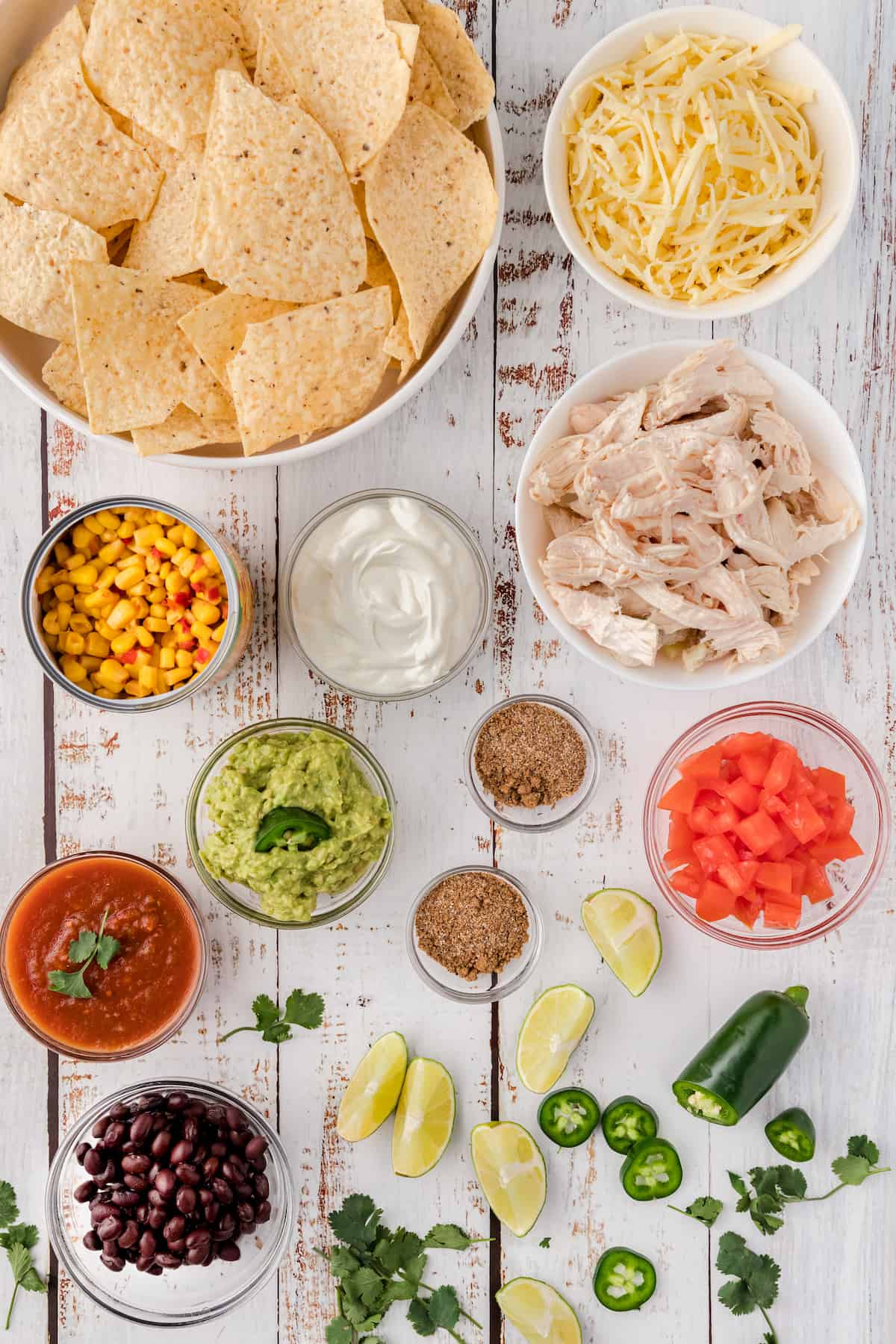 See printable recipe card at the bottom of the page for measurements and nutritional information.
Tortilla chips - The best tortilla chips for sheet pan nachos are the thicker style, flat chips. You don't want scoops and you don't want the thin restaurant-style chips. They will get crushed and not hold up to the toppings.
Shredded chicken - I often use 2 cans of shredded chicken, well drained, but you can certainly cook a chicken breast or two and shred it yourself. Or, you could use a rotisserie chicken from the grocery store. You can also use boneless chicken thighs if you prefer. And, if you want a whole different meal, you can use a pound or two of ground beef or ground turkey. Sprinkle the beef with 1-2 tablespoons of Jamaican Jerk Seasoning during cooking, then drain well before adding to the chips.
Shredded Mexican blend cheese - Any melty cheese will work. You can use any shredded cheese, from a Mexican blend to shredded cheddar cheese to colby jack, pepper jack or plain old monterey jack cheese.
Jamaican Jerk seasoning - Often commercial Jerk Seasoning contains a lot of salt, so I make my own using the recipe I linked here. It has an awesome jerk flavor without a lot of added sodium and no MSG, using thyme, allspice, cinnamon, smoked paprika, garlic powder, cumin, onion powder, and several other spices. Also, my recipe uses cayenne peppers in place of habanero or scotch bonnets which are much hotter.
Mexicorn
Black beans - You can substitute red beans or pinto beans if you prefer.
Fresh garlic - You'll press this to mix with the lime juice and veggies.
Diced tomato
Fresh lime - You'll need a lime half or two to press into the sauce. It's nice to have additional lime slices to squeeze over the finished nachos.
Fresh cilantro - From here down, the ingredients are my favorite nacho toppings. Feel free to use whatever you prefer.
Jalapeno slices
Sour cream
Fresh guacamole
Your favorite salsa
Scallions or green onions - Sometimes I throw these on top, and sometimes I don't, but they do make the nachos better.
Avocado - I like to dice an avocado and throw that on my nachos. My kids don't like them, so I usually add this just on my plate.
Black olives - I love black olives, and often throw them on at the end.
How to make this easy sheet pan nacho recipe
If using uncooked chicken, fry the chicken in a large skillet in a bit of olive oil over medium heat. When the internal temperature has reached 165ºF, remove chicken from the skillet, cool, and then shred with two forks.

Preheat oven to 425ºF.
Arrange tortilla chips in a slightly overlapping layer on a sheet pan or baking stone.

Combine chicken, cheese and 1 tablespoon of jerk seasoning.

Mix gently.

Sprinkle chicken mixture evenly over tortilla chips. (If you want to go a little crazy, sprinkle some extra cheese on the nachos right before putting them in the oven. Can you ever have too much cheese?) Bake 5-7 minutes or until cheese is melted; remove from oven to cooling rack.

Meanwhile, cut lime in half crosswise. Juice half of the lime into a small bowl. Add 1 tablespoon additional rub and garlic and mix into a limey jerk sauce. Add the corn, beans, and tomato to the spicy lime juice. Mix well.

Spoon corn mixture over nachos.

Sprinkle evenly with cilantro and jalapeños.

Combine sour cream and 1 teaspoon additional Jamaican jerk rub.
Spoon the sour cream mixture, guacamole, and salsa over hot nachos or serve them on the side.

Can you marinate the chicken before making Jamaican Jerk Nachos?
Yes, of course. Head over to my Jamaican Jerk Seasoning recipe to learn how to marinate chicken using Jamaican Jerk Marinade. It's easy, and if you marinate the raw chicken for 30-60 minutes, it will add a lot to the flavor of the nachos.
How to store leftover nachos
This is tough. If you have leftovers, you're going to need to store them in an airtight container such as a zippered plastic bag or Tupperware in the refrigerator. But they are gonig to get soggy.
To crisp them back up, you can try sticking them in the air fryer or oven at 300º for a few minutes, but they won't be as good the second time as they were the first time.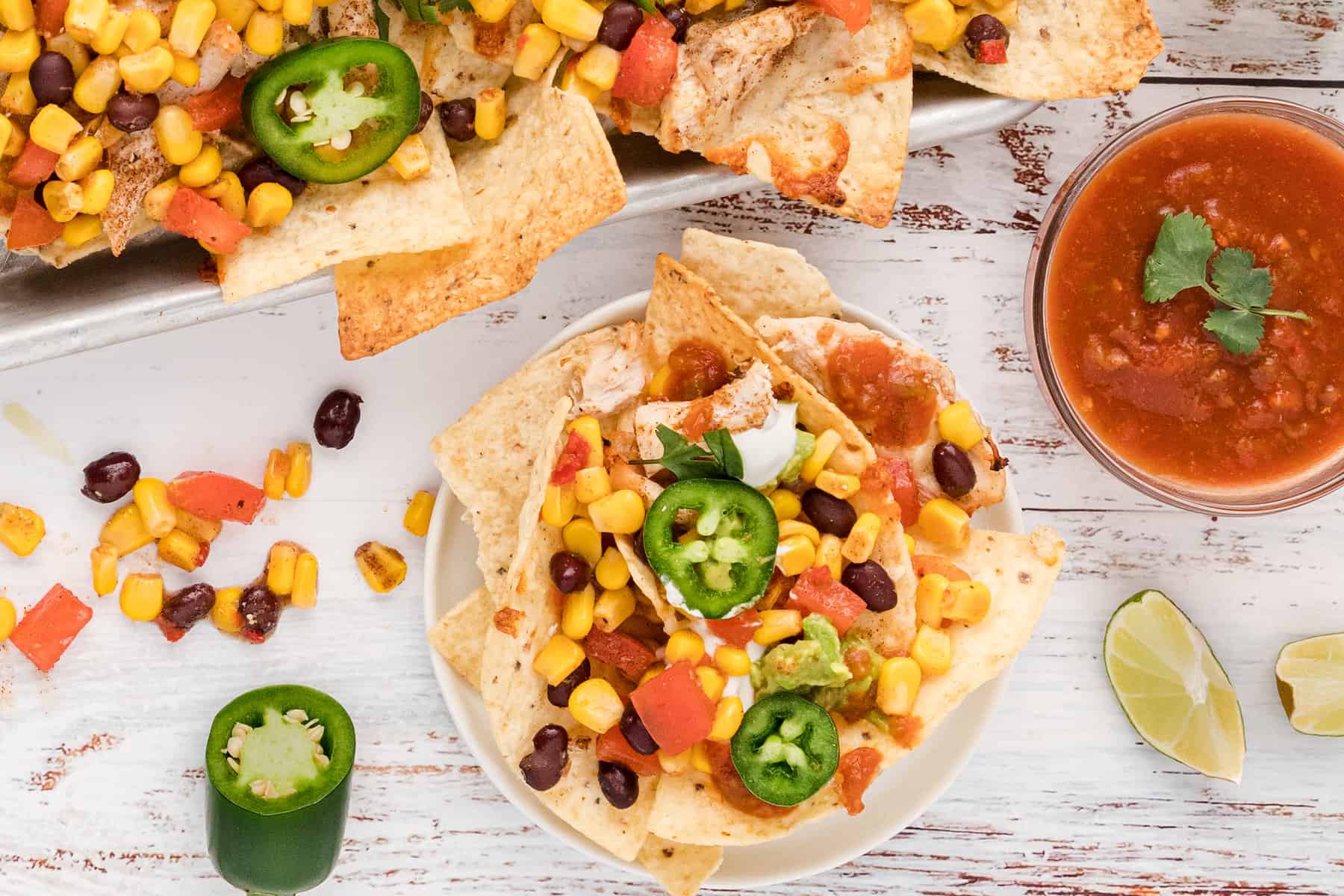 Try these other quick and easy dinners while you're here:
Recipe