Kung Pao Beef is a classic Chinese recipe with tender beef, roasted peanuts, and crisp vegetables in a flavorful spicy Kung Pao sauce. This homemade steak recipe is simple, quick, & easy. It's a healthy, delicious dinner that's ready in less than 20 minutes.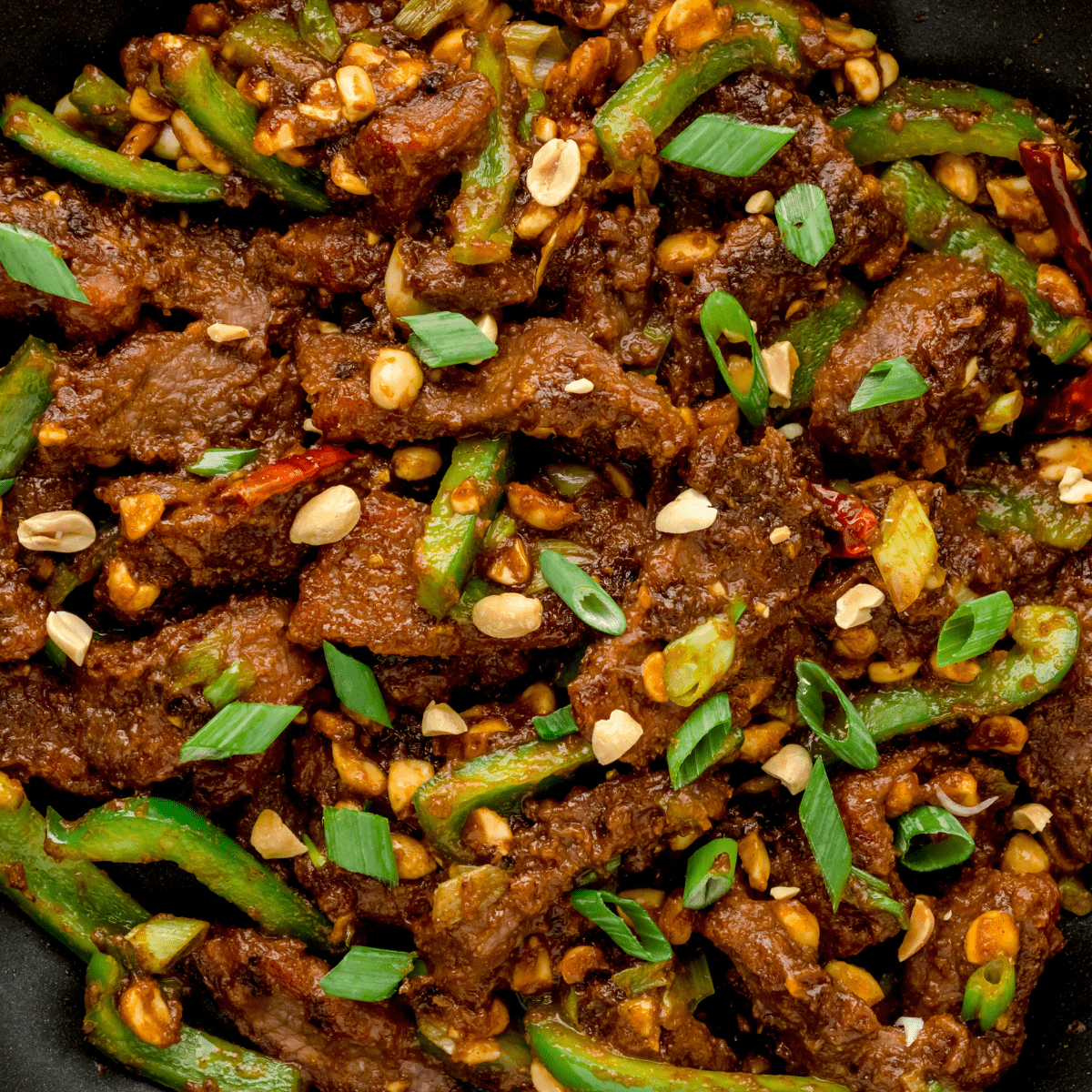 If you love spicy Chinese food, you already know all about Kung Pao. It's one of my favorites from Panda Express.
Except, I've been trying to eat healthier which means making more at home and eating less takeout.
This recipe is so simple and so easy and so tasty that you'll never order it again. What you make at home will be so much better.
What is Kung Pao Beef?
Kung Pao Beef is not actually an authentic Chinese dish, and that's why you don't see it on more restaurant menus. It's really a westernized adaptation of the super spicy Kung Pao Chicken dish that originated in the Szechaun province after being named after a governor in the 1800s.
Kung Pao Beef has become popular in America because of its sweet, savory and nutty flavors and its mouth-numbing heat.
Kung Pao Beef is sometimes compared to Mongolian Beef, the Taiwanese barbecue dish made famous by the restaurant chain P.F. Chang's. However, Mongolian Beef has much milder flavors and does not use nuts or vegetables other than green onions.
What you'll need to make Kung Pao Beef
EQUIPMENT
INGREDIENTS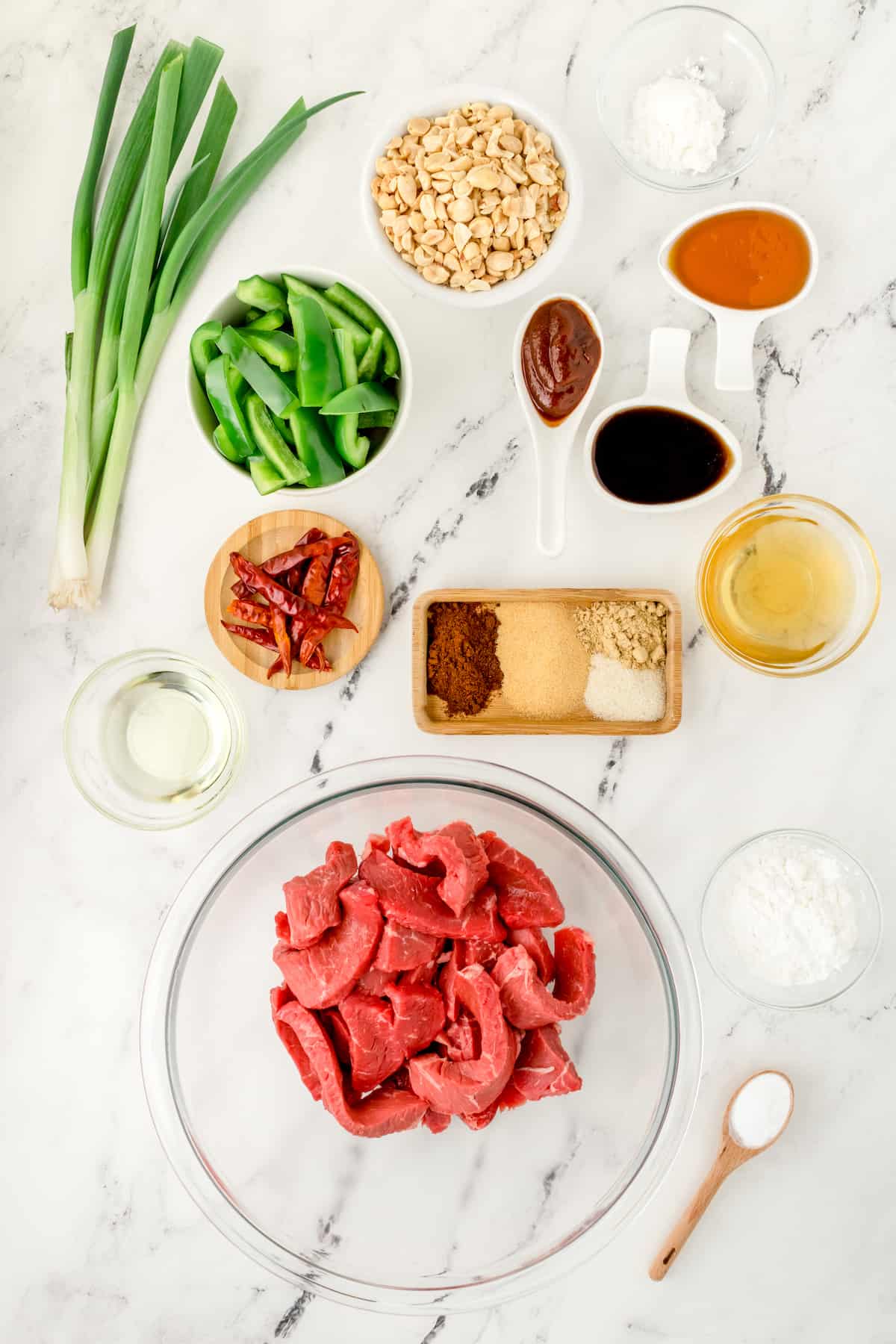 You can find measurements and more information in the printable recipe card at the bottom of the page.
For the steak
Kung Pao Sauce Ingredients
For the stir fry
Kung Pao Beef ingredient variations
You can use whatever you want in the stir fry, including broccoli, cauliflower, snow peas, celery, green beans, and other colors of bell peppers.
How to make the best Kung Pao Beef recipe
Coat the beef flank steaks in cornstarch and baking soda then set aside. (An easy way to do this is by placing both in a plastic bag and shaking it so that the cornstarch coats all the pieces.)

In a small bowl, whisk together the apple cider vinegar, honey, fish sauce, hot sauce, cornstarch, chili powder, garlic powder, onion powder, and ground ginger. Set aside for now.

Add the vegetable oil to a wok or large skillet over medium high heat.

Once hot, add the beef and cook until done, about 1-2 minutes on each side. (See note below.)

When you place the beef in the pan, do not move it around for the first 1-2 minutes so you can get a nice brown crust.

Remove beef and cook dried chilis for no longer than one minute.

Add the scallions, green bell pepper, peanuts, and beef.

Stir and cook all together for 1 minute.

Add in the sauce.

Cook for another two minutes.

Plate and serve with chopped green onions as garnish.

Serve over rice. Add salt to taste.
The best technique for Kung Pao Beef
Before cooking the beef, lightly coat all the pieces in cornstarch. Whatever you don't coat will pop as you are cooking it.
Fry the beef like you would bacon over medium high heat on the wok. Give each side about 30 seconds, using a fork to flip it over. Some of the cornstarch will stick to the pan, which is normal.
It's important not to overcook your meat as it will become tough when overcooked.
Does Kung Pao beef have to be so spicy?
Kung Pao is spicy. That's part of what it is. However, if you want to try the flavor without the heat, reduce the number of chili peppers to 1 or 2 or leave them out altogther. Will it still be Kung Pao? Not really, but it will still taste good.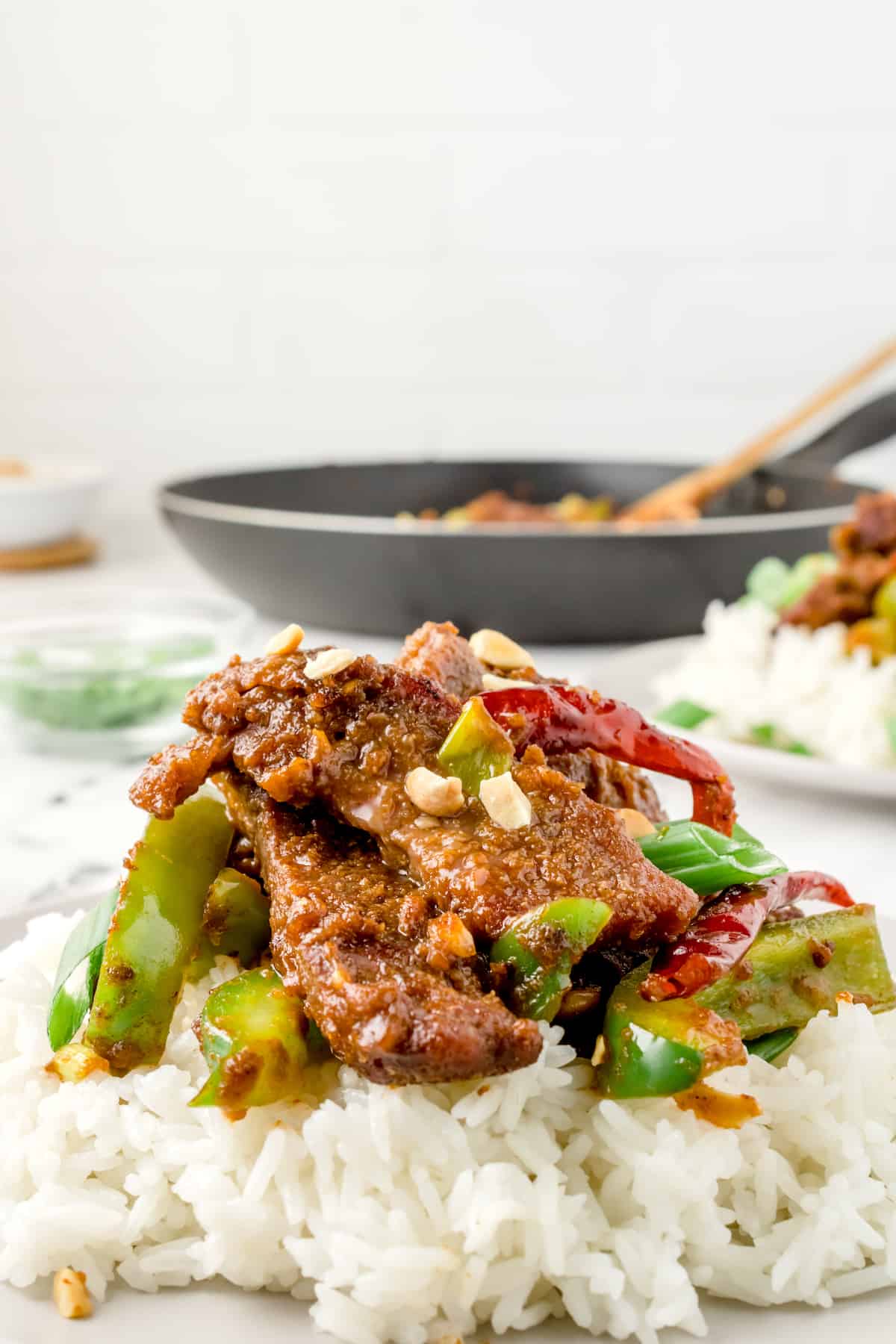 Tips for the best Kung Pao Beef
First, make sure you have all the ingredients prepped and measured before you start. This recipe goes so quickly that the dish will burn if it has to sit on the heat while you prep and measure the next ingredient.
Next, you will want the steak to be sliced super thin. You may find it easiest to partially freeze the beef to make it easier to cut.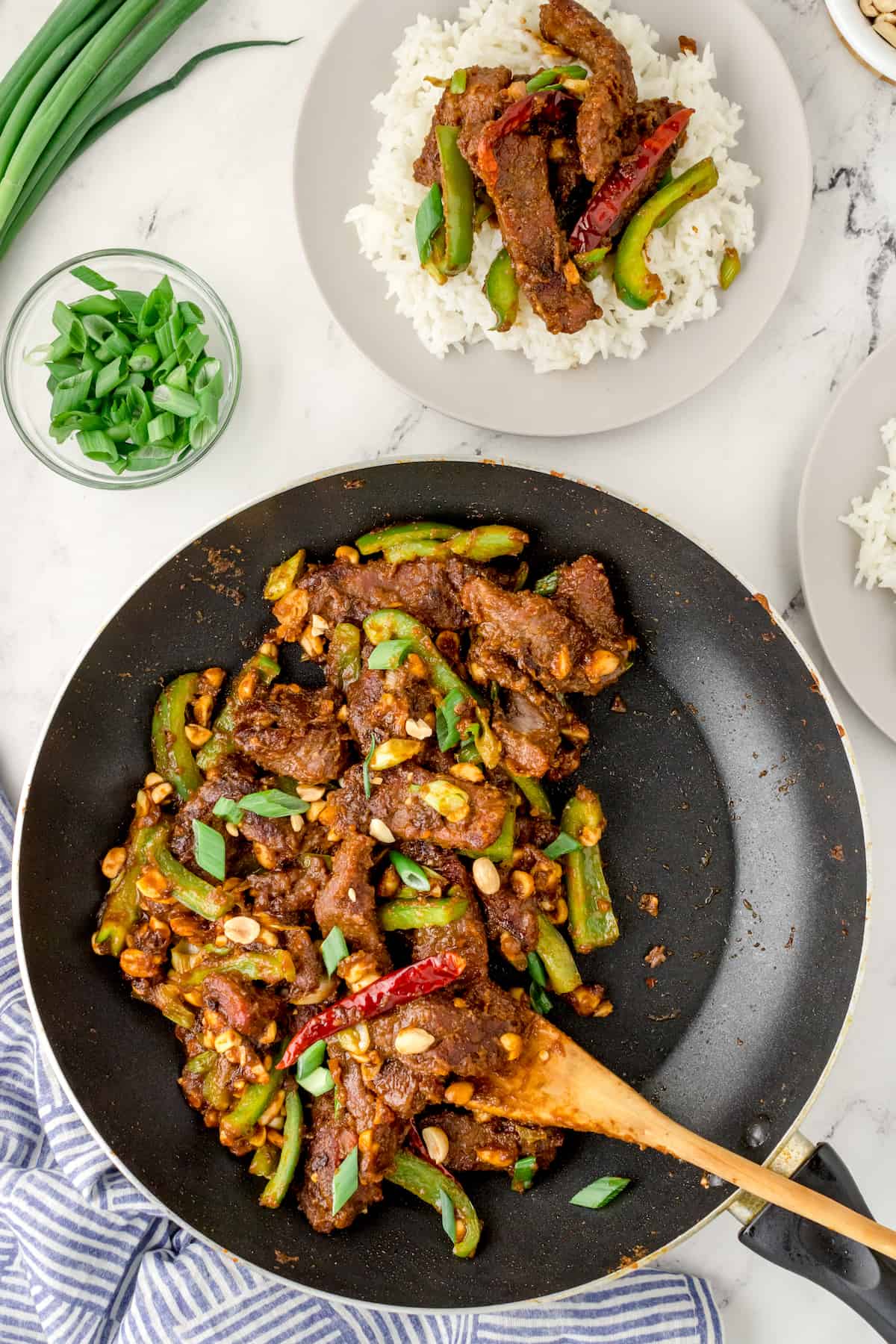 What to do with leftover Kung Pao Beef
Store your Kung Pao Beef in the refrigerator in an airtight container for up to 5 days.
You can also freeze Kung Pao beef. Put it into an airtight container or a plastic freezer bag. It will stay good for 2-3 months. To serve, thaw overnight in the fridge then stir fry in a wok to serve.
Try these other Chinese inspired recipes:
Recipe