This is the Best Ever Stir Fry Sauce and the only one you'll ever need! Use this simple and easy homemade stir fry sauce in all your favorite stir fry recipes. It goes great with chicken, beef, pork, shrimp, and vegetables. It's a healthy all-purpose sauce made with rice vinegar, ginger, garlic, and brown sugar. Can be spicy or not spicy. #stirfry #stirfrysauce #healthyrecipes #homemade #betterthanstorebought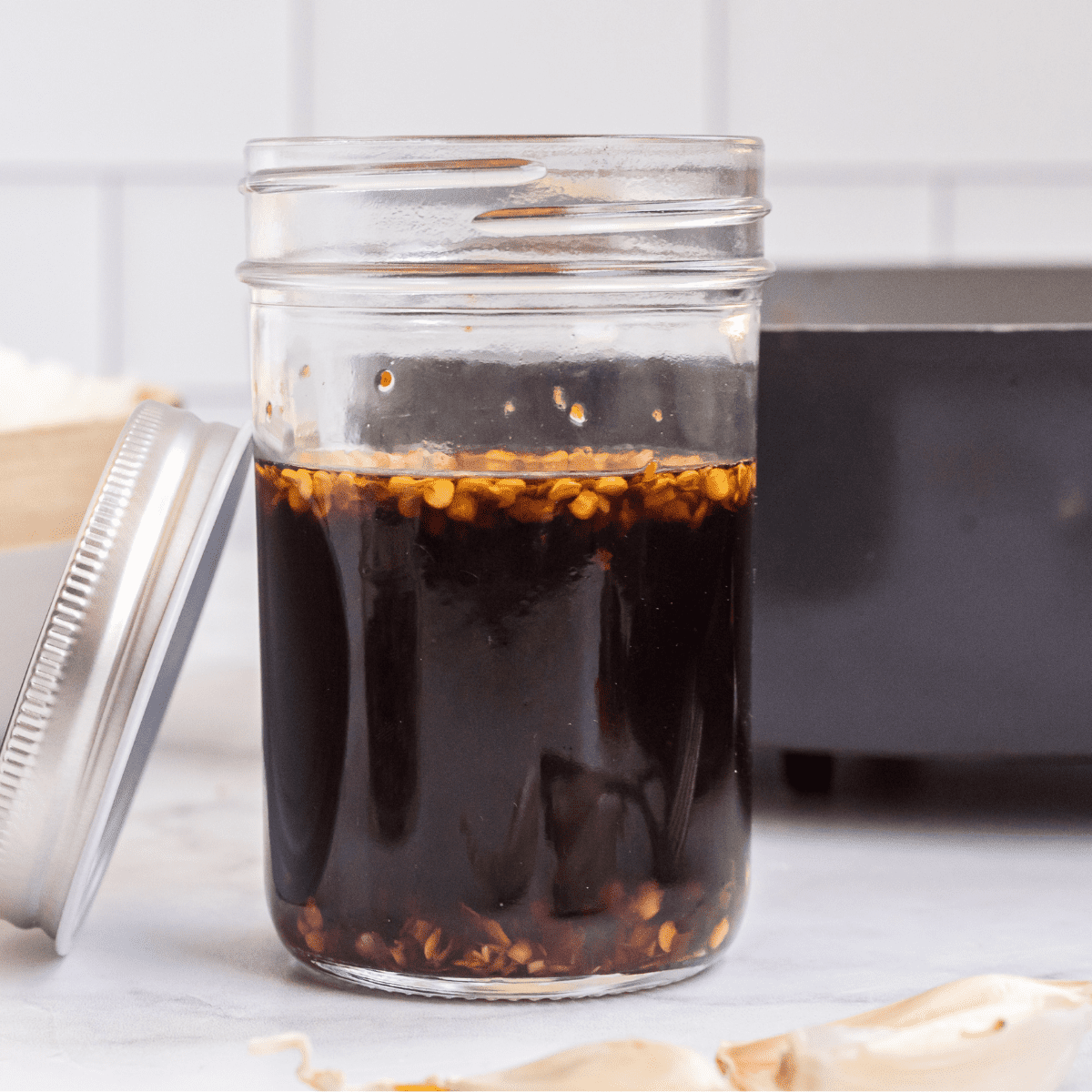 I have always liked a good vegetable stir fry. I used to make them a lot when I was a vegetarian. Back then, I would add tofu or seitan.
These days, I usually add a can of chicken or a couple of chicken breasts, cut into cubes.
My stir fry vegetables are a seasonal blend of whatever is available: from the farmer's market, from the CSA, or from the grocery store.
This particular stir fry was a mix of onions, carrots, cauliflower, and a bunch of broccoli. I also really like to put green beans and snow peas in, when I have them.
When I created this stir fry sauce, I had tired of my other stir fry sauce recipes. They were feeling drab and boring, and I wanted something new that was still healthy and light. So many stir fry sauces are loaded with sugar, and I am trying to cut down on processed sugar. This one fit the bill pretty nicely, and it tasted really good with all those fresh veggies.
What you'll need to make the best stir fry sauce
Equipment
You'll need a whisk, a garlic press, and a small jar with an airtight lid in which to store your stir fry sauce if you have any leftovers. Of course, you'll also need measuring cups and spoons.
To use the sauce in a stir fry, you'll need a wok or another very large, heavy skillet, and a wooden spatula or spoon.
What is the best stir fry sauce made of?
Ingredients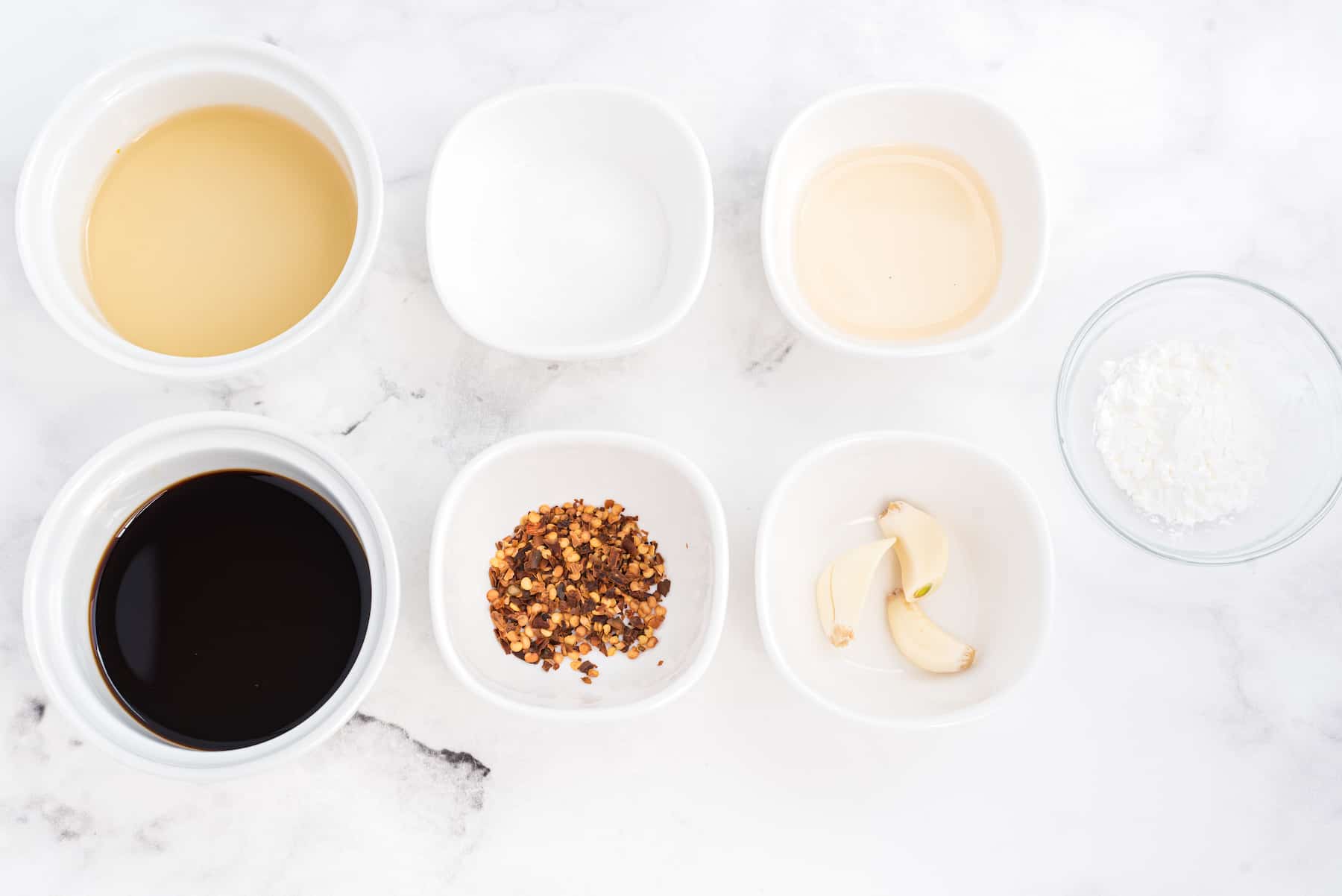 Chicken broth - I use low sodium because soy sauce has a ton of sodium in it, even if you use the low sodium version of that too.
Low sodium soy sauce - If you're gluten-free, pay attention to the soy sauce. A lot of brands contain gluten.
Garlic flavor rice vinegar - I love the garlic flavored vinegar, but if you can't find it, any variety of rice vinegar will work. In a pinch, you could even use apple cider vinegar or white vinegar.
Crushed red pepper flakes - Use more or less according to your preference.
Sugar - This recipe contains one tablespoon of sugar which is virtually none. But you do need it to balance out the salty and umami flavors of the sauce. You'll miss it if you leave it out.
Fresh garlic - I love fresh garlic. It's so pungent and flavorful! You'll want to use fresh cloves if it is at all possible. Jarred or canned garlic just doesn't taste the same.
Fresh ginger - Same as the garlic.
Cornstarch to thicken it a bit
Water for the cornstarch slurry
How to make the best stir fry sauce:
Whisk everything except the cornstarch and water together in a small mixing bowl, set aside.

Heat your work or large skillet over medium high heat. Cook the stir fry (meats and vegetables). Be sure that the meats are cooked through and the vegetables are however you like them, usually crisp-tender. Pour the prepared sauce over the vegetables in the pan and heat for 1-2 minutes.

If the sauce is too thin after you've heated it for a minute or two, make a slurry of 1 tablespoon cornstarch to 2 tablespoons water. Mix it together with a fork then stir the goo into your sauce and heat for another 3-5 minutes or until bubbly. The sauce will thicken up and be just fine.

Serve hot over rice, cauliflower rice, or rice noodles.
Add additional sauce over the finished stir fry, as desired.

Variations to the best stir fry sauce
Toasted sesame oil is a very nice addition to any stir fry sauce, but it has a very powerful flavor. Add ½ teaspoon to the sauce and taste it to see if you like it. If you think it needs more, add another ½ teaspoon, but I would never add more than one full teaspoon because it would overpower the other flavors.
You can replace the sugar with one tablespoon of honey.
What can you put in a stir fry?
The recipe below is for a savory soy sauce based stir fry sauce, and I haven't offered a recipe for the actual bulk of the stir fry. I do have many other stir fry recipes on my site, so you can see links for those below, but you don't really need a recipe for a basic stir fry with this sauce.
All you need for a stir fry is a protein and some vegetables.
I use broccoli, cauliflower, carrots, and mushrooms in most of my stir fries because that's what I like, but stir fry is a very versatile method that can include almost any protein and almost any vegetables.
One key to cooking stir fry is to cut the protein and the vegetables into thin strips or small pieces and start with everything raw.
Small pieces cook more quickly. If the pieces are too thick, the outsides will burn before the insides are cooked.
Protein options:
Tofu - Use extra firm.
Chicken - Use tenders or breasts/thighs cut into thin strips.
Beef - Use thin strips.
Pork - Use thin strips.
Scrambled eggs
Shrimp
Crab
Fish - Although this doesn't hold up well to the tossing motion that you normally would use to cook everything. If you want a fish stir fry, you may prefer to cook the veggies in the stir fry sauce and then lay the fish plank on top.
Veggies:
Onion - Sliced
Broccoli - Cut into florets
Cauliflower - Cut into florets or chopped
Carrots - Shredded
Mushrooms - Sliced
Cabbage - Shredded
Zucchini or summer squash - Cut into quarter or half rounds
Green beans - Whole or cut into pieces
Snow peas or sugar snap peas - Typically used whole
Green onions - Both greens and whites, chopped
Bell peppers - Sliced into strips
Tomatoes - Chopped and seeded
Spinach - Added in the last 4-5 minutes of cook time.
What oil should you use in a stir fry?
The best oil for stir frying is canola oil because it has a neutral flavor and a high smoke point, and stir fry is typically cooked at a higher temperature than most meals.
I don't recommend olive oil because it does funky things (on a chemical level) at high temperatures, and it can also sometimes make the smoke detector go off.
Can you serve stir fry over noodles?
Yes! Stir fry is awesome on noodles. I prefer rice noodles in place of the rice, or you can use ramen or even a plain old flour-based pasta!
Is stir fry healthy?
Yes! Most stir fries are full of veggies which are of course super healthy. The only place you can run into trouble is in the stir fry sauce which often contain huge amounts of sugar and fat.
This particular stir fry sauce does have a tiny bit of sugar, but it is negligible. The chicken broth and soy sauce have a lot of sodium, but you can reduce it quite a bit by using lower sodium versions.
I think this is a very healthy meal.
What to do with leftover stir fry
You can store this stir fry in an airtight container for 3 days in the refrigerator. To reheat, throw it back in the wok and stir fry for a few minutes, until heated through. Be careful not to overcook the veggies as they will turn to mush.
I don't recommend reheating chicken in the microwave because I think microwaved chicken gets really weird and kind of gross.
If you want to make this as a freezer meal, undercook everything slightly and pour the whole thing into a freezer bag. Thaw overnight in the fridge before reheating in a wok over medium-high heat.
Try these other stir fry dishes while you're here:
Recipe