This is the best garlic chicken stir fry recipe because it's super healthy and delicious! The sauce is made from garlic, soy sauce, and rice vinegar. Great for a quick dinner because it's simple and easy. Low carb, gluten-free, and sugar-free. Skip take out when you can make this amazing dish in just minutes.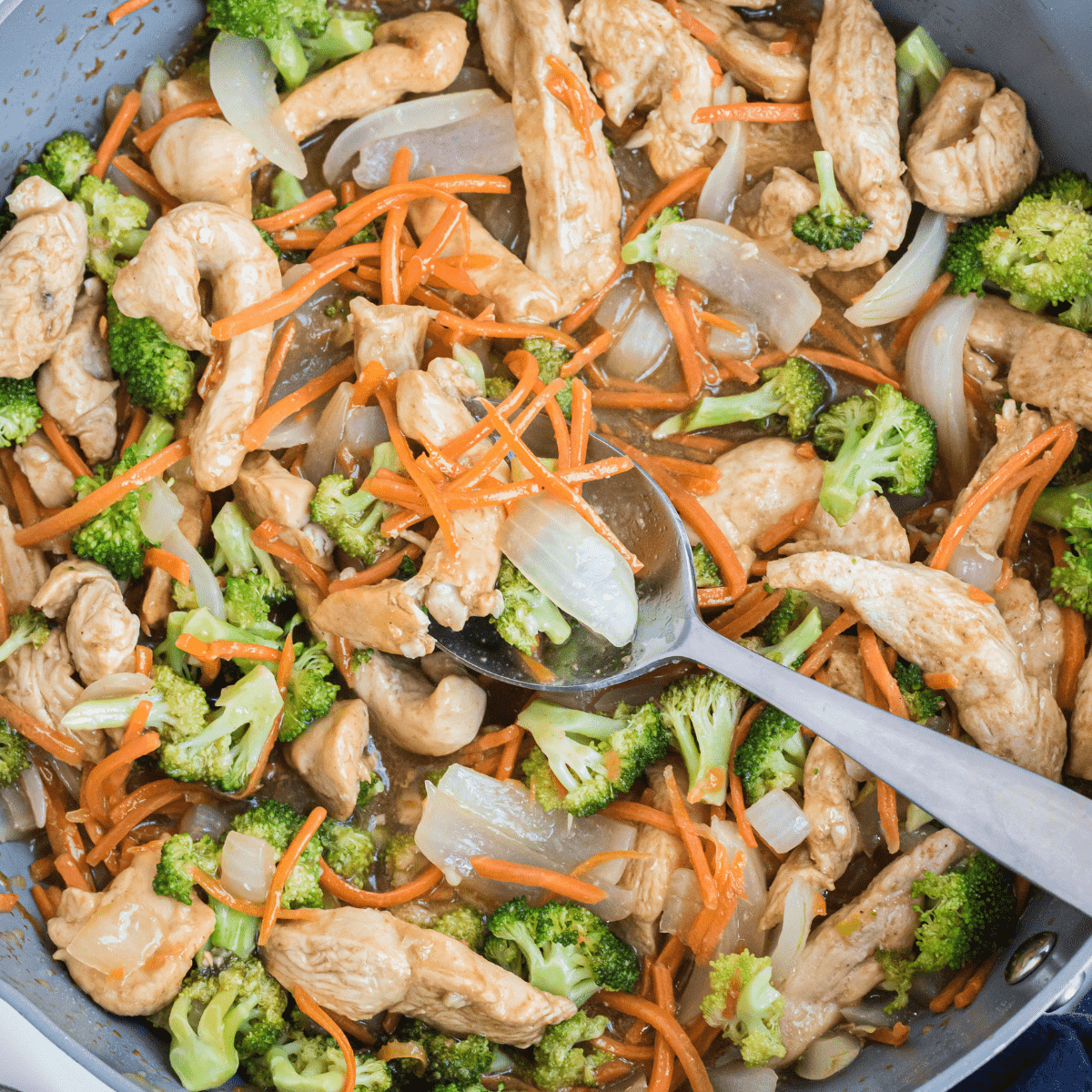 The biggest thing I learned from my last weight loss attempt was that small changes are more likely to become permanent changes than huge life-altering ones:
Parking further from the door when we're out.
Drinking water most of the time.
Walking to Grandma's house instead of driving.
Small changes.
I've recently been trying to increase our vegetable intake.
Instead of tossing all of our pasta and potatoes in favor of meat and eggs - cause that would last all of three days - we have adjusted our existing recipes (like we did with balsamic chicken with mushrooms and cabbage).
Joe and I like stir fry: General Tso's stir fry, faux stir fry, and quick and easy stir fry to name a few. Grace liked it too, before she became ridiculously picky.
Most of the recipes we've tried that include rice vinegar are tart and tangy. I like that flavor, and I was expecting it in this recipe, too, but it wasn't there.
The sauce in this stir fry is light and sweet and delicious, but not tangy at all.
Try it. You'll like it, too.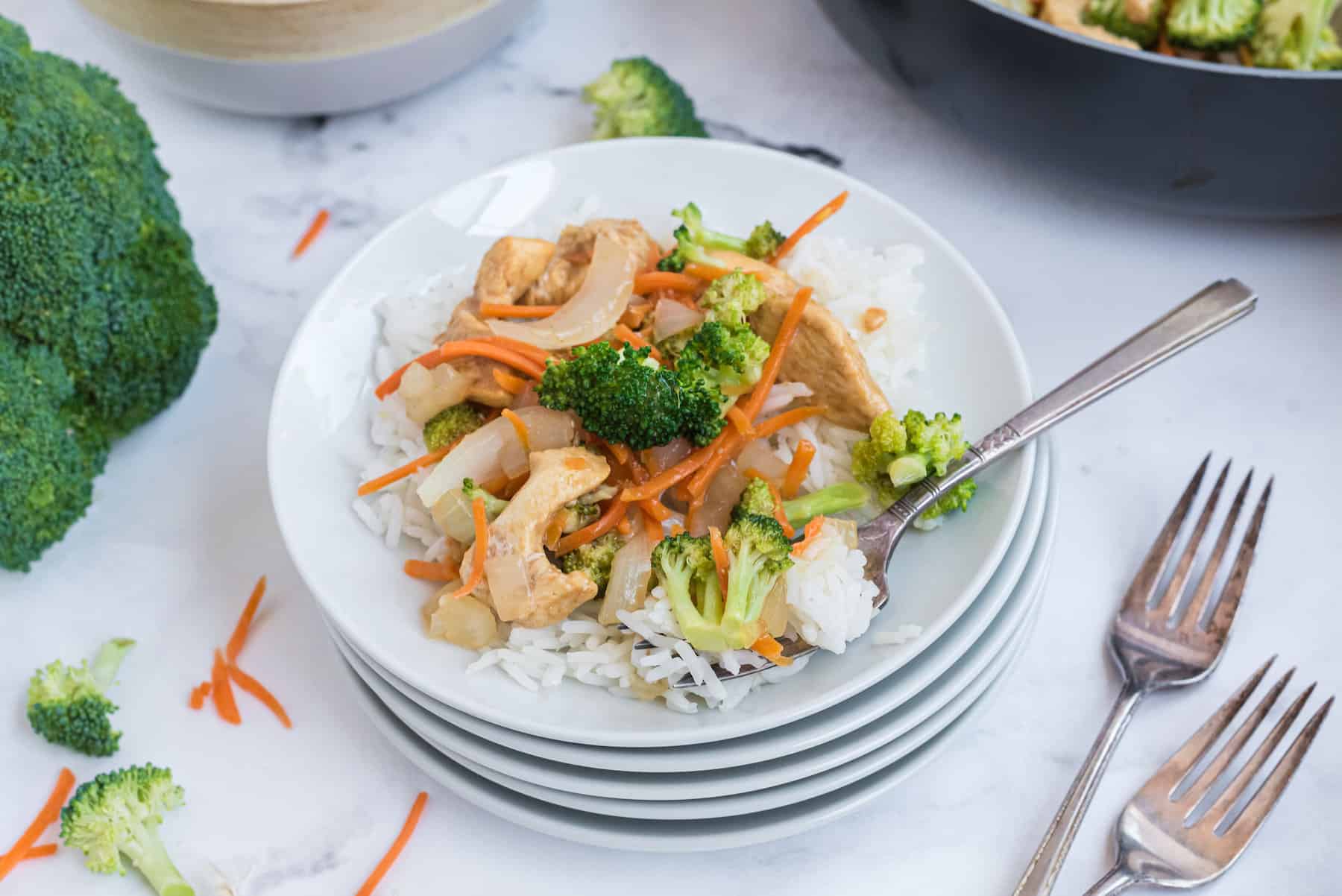 What can you put in a stir fry?
The recipe below is for a chicken stir fry with garlic stir fry sauce, and I have used broccoli, carrots, and onions but stir fry is a very versatile method that can include almost any protein and almost any vegetables.
Most stir-fries include a protein or two and a bunch of vegetables, but you have almost limitless options within those categories.
One key to cooking stir fry is to cut the protein and the vegetables into thin strips or small pieces. These cook more quickly. If the pieces are too thick, the outsides will burn before the insides are cooked.
Protein options:
Tofu - Use extra firm.
Chicken - Use tenders or breasts/thighs cut into thin strips.
Beef - Use thin strips.
Pork - Use thin strips.
Scrambled eggs
Shrimp
Crab
Fish - Although this doesn't hold up well to the tossing motion that you normally would use to cook everything. If you want a fish stir fry, you may prefer to cook the veggies in the stir fry sauce and then lay the fish plank on top.
Veggies:
Onion - Sliced
Broccoli - Cut into florets
Cauliflower - Cut into florets or chopped
Carrots - Shredded
Mushrooms - Sliced
Cabbage - Shredded
Zucchini or summer squash - Cut into quarter or half rounds
Green beans - Whole or cut into pieces
Snow peas or sugar snap peas - Typically used whole
Green onions - Both greens and whites, chopped
Bell peppers - Sliced into strips
Tomatoes - Chopped and seeded
Spinach - Added in the last 4-5 minutes of cook time.
What you'll need to make the best garlic chicken stir fry
Equipment
This recipe uses basic kitchen equipment including a sharp knife and cutting board and measuring cups and spoons. You'll also need a wok or very large skillet, and I recommend using a garlic press to mince the garlic. If you don't have one, you could mince it with a sharp knife, but be careful and make the pieces as small as possible.
Ingredients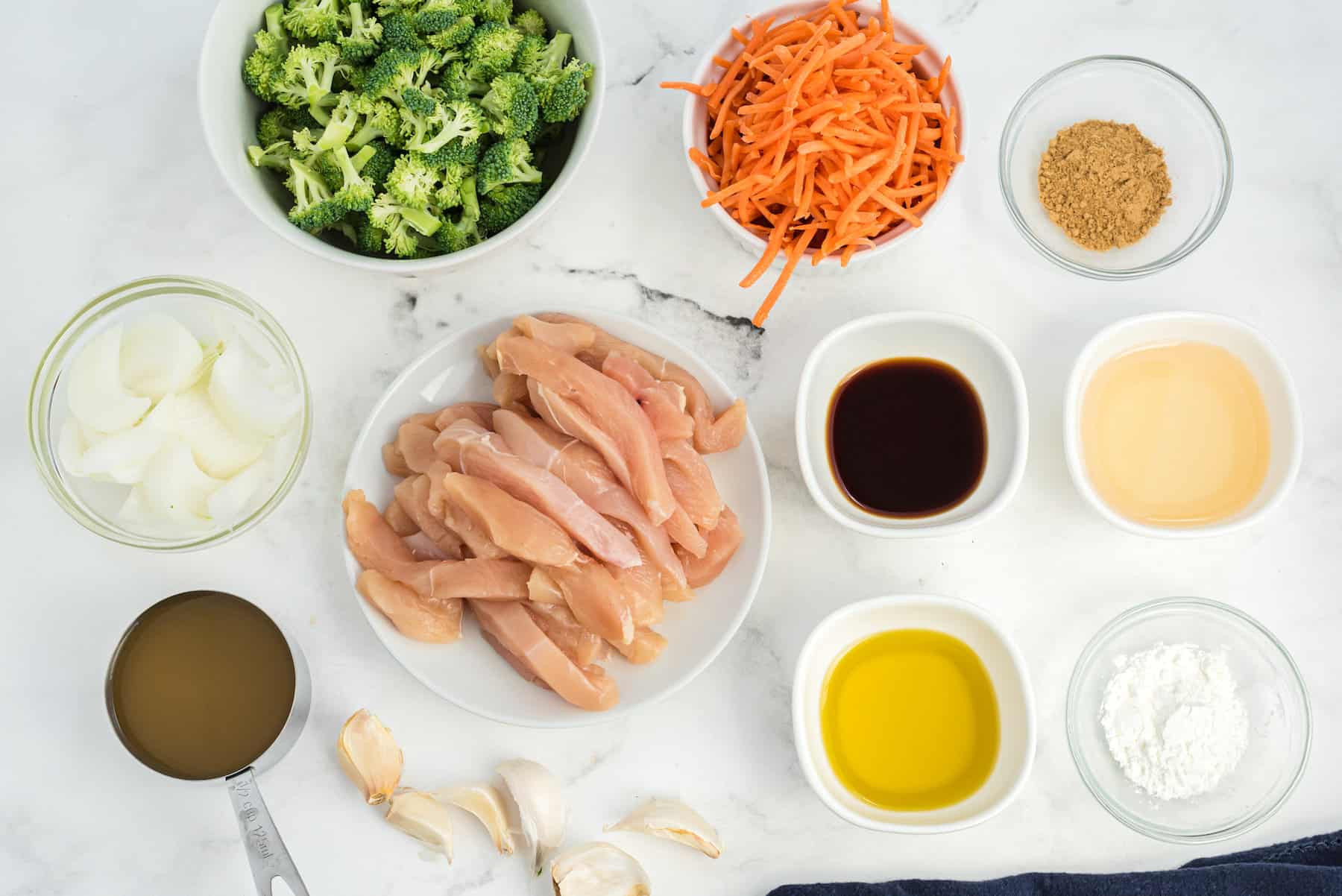 See the recipe card below for measurements.
Boneless skinless chicken breasts - You could also use boneless skinless chicken thighs. Either way, cut the chicken into bite-sized pieces before beginning.
Fresh garlic - I recommend pressing the garlic with a garlic press because that ensures that the pieces are tiny and the flavorful oils are distributed through the dish. If you have to, you could mince it with a knife. But please, buy a bulb of fresh garlic and skip the already cut up stuff in a jar. Fresh garlic has a much more pungent flavor that really makes the chicken in this stir fry sing. (You only need one bulb. Each bulb contains 8-12 individual cloves.)
Ground ginger - I just told you how important it is to use fresh garlic, and now I'm telling you that it's okay to use dried ginger. Ginger isn't my favorite flavor in the world, so I don't generally use fresh. But you certainly could if you wanted a more robust ginger flavor.
Red pepper flavor rice vinegar - The red pepper flavor gives the sauce a little something extra, but it has become increasingly difficult to find. If you can only find plain or generic "spiced" rice vinegar, go ahead and use that. It will still taste good.
Low sodium soy sauce - I always use low sodium soy sauce, and I think it still has plenty of salt. If you're gluten-free, make sure you get a gluten-free soy sauce. Many do contain gluten.
Low sodium chicken broth - As with the soy sauce, I prefer to control the amount of salt in my finished dish, and using low sodium broth helps me to do that. You can always add a pinch (or more) of salt at the end.
Sesame oil - This is optional but adds a nice depth to the marinade.
Red pepper flakes - These are optional. Sprinkle them on if you want to add a bit of heat or leave them out if you don't.
Cornstarch mixed with water - A cornstarch and water slurry is what thickens the sauce. You can't just dump plain, dry cornstarch into the sauce because it will get lumpy, and who wants a clump of dry cornstarch on their tongue? Exactly no one, that's who. So whisk the cornstarch with a bit of water until it's a liquid, and then stir that liquid into your stir fry sauce.
Olive or canola oil - You'll use this to sauté the chicken prior to adding the sauce.
A whole onion, cut into ½-inch wedges - You can use whatever vegetables you want, but I like to start with an onion. It gets sweet and tender when cooked for a long time.
Broccoli florets or other vegetables, cut into bite-sized pieces - I like red and green bell peppers, snow peas or sugar snap peas, cauliflower, mushrooms, green onions, and even bok choy stir fried in this recipe. Not all at once, though. Just pick a couple.
Carrots, cut into very small sticks - I have a Pampered Chef french fry maker that makes nice, skinny carrot sticks. But most of the time, I buy pre-cut "shredded" carrots in the produce section of my grocery store. They're not really shredded (as you would with a box grater), but rather teeny tiny little carrot sticks that cook quickly in a stir fry. You can see them in the photos. They're the same type of carrots that are in bagged salad mix.
How to make the best garlic chicken stir fry
In a medium bowl, whisk together the garlic, ginger, 2 teaspoons of rice vinegar, 1 teaspoon soy sauce, sesame oil (if using), and red pepper flakes (if using). Add salt and pepper as desired.

Add chicken to the marinade and squish it around to coat. Let chicken marinate for 20-30 minutes.

In a small bowl, whisk together the chicken broth, cornstarch and water mixture, remaining rice vinegar, and remaining soy sauce. Set aside.

Heat oil in a wok or large skillet over medium-high heat. Add the chicken mixture and sauté for 6 minutes, stirring 2-3 times.

Add onion. Stir-fry for one minute. (To stir-fry means that you stir or toss the food constantly while cooking over medium-high or high heat.)

Pour the chicken broth mixture into the pan.

Bring the sauce to a boil.

Add the broccoli and carrots.

Stir-fry until veggies are crisp-tender and the sauce is translucent.

What do you serve with garlic chicken stir fry?
Most people serve stir fry over brown or white rice. Being that I prefer a low carb diet, I eat mine over cauliflower rice or quinoa.
Other people really like stir fry over noodles. Rice noodles are most common, but I've seen ramen or even plain old spaghetti noodles used once in a while too.
Is stir fry healthy?
Yes! Most stir fries are full of veggies which are of course super healthy. The only place you can run into trouble is in the stir fry sauce which often contain huge amounts of sugar and fat.
This particular stir fry sauce has no sugar and only a minimal amount of sodium, assuming you use the lower sodium soy sauce and chicken broth. I think this is a very healthy meal.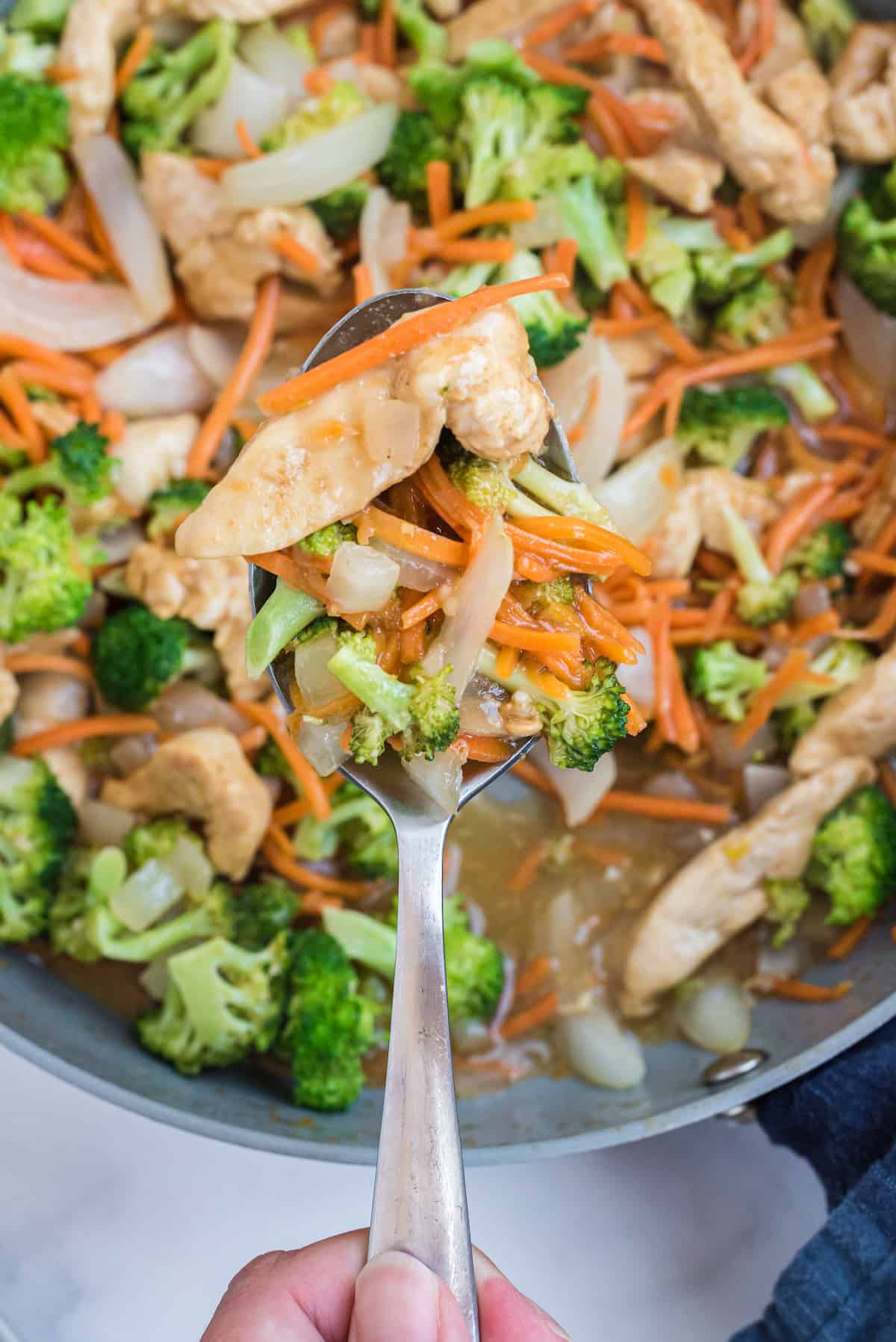 How to store leftover garlic chicken stir fry
You can store this stir fry in an airtight container for 3 days in the refrigerator. To reheat, throw it back in the wok and stir fry for a few minutes, until heated through. Be careful not to overcook the veggies as they will turn to mush.
I don't recommend reheating chicken in the microwave because I think microwaved chicken gets really weird and kind of gross.
If you want to make this as a freezer meal, undercook everything slightly and pour the whole thing into a freezer bag. Thaw overnight in the fridge before reheating in a wok over medium-high heat.
Try these other delicious stir fry recipes:
Recipe