Chicken and peaches stir fry is a simple, easy, and healthy dinner recipe made in 30 minutes and bursting with sweet and savory flavors!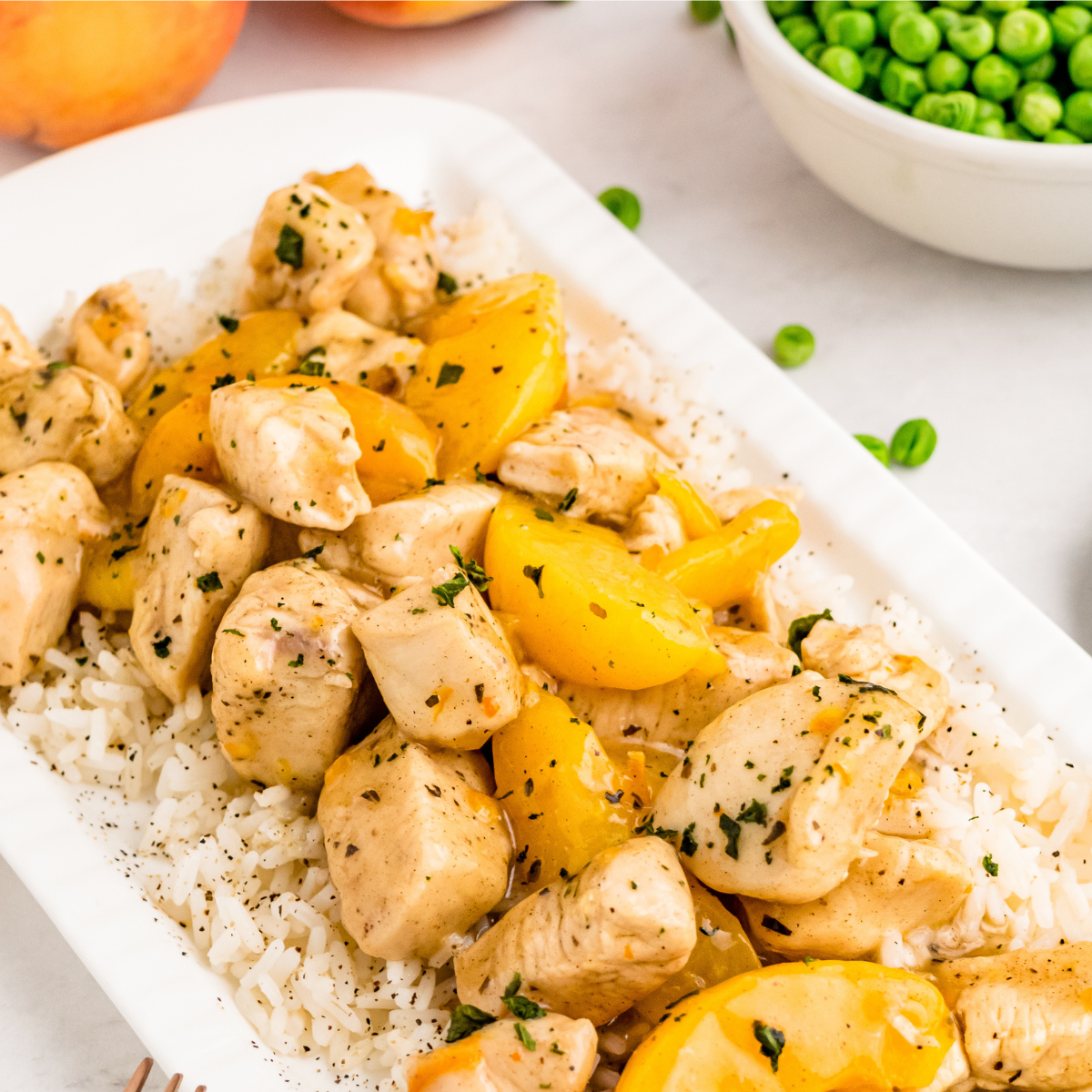 I am not a big fan of fruit in savory dishes. Fruit and main dishes just don't work for me.
However, when my husband wants to make a fruity main dish, I smile and feign eager anticipation. This happened one day last week.
Joe was very excited about this chicken and peaches stir fry recipe he found on a bottle of vinegar, and he couldn't wait to make it.
"Doesn't that sound good?" he asked.
"Sounds delicious!" I choked.
So of course, he made the chicken and peaches stir fry, and I ate the chicken and peaches stir fry.
I loved the chicken and peaches stir fry. I loved it so much that I ate the only leftovers for my lunch the next day.
What you'll need to make chicken and peaches stir fry
Equipment
You'll need a can opener and a very large skillet, such as a 12-inch skillet.
Ingredients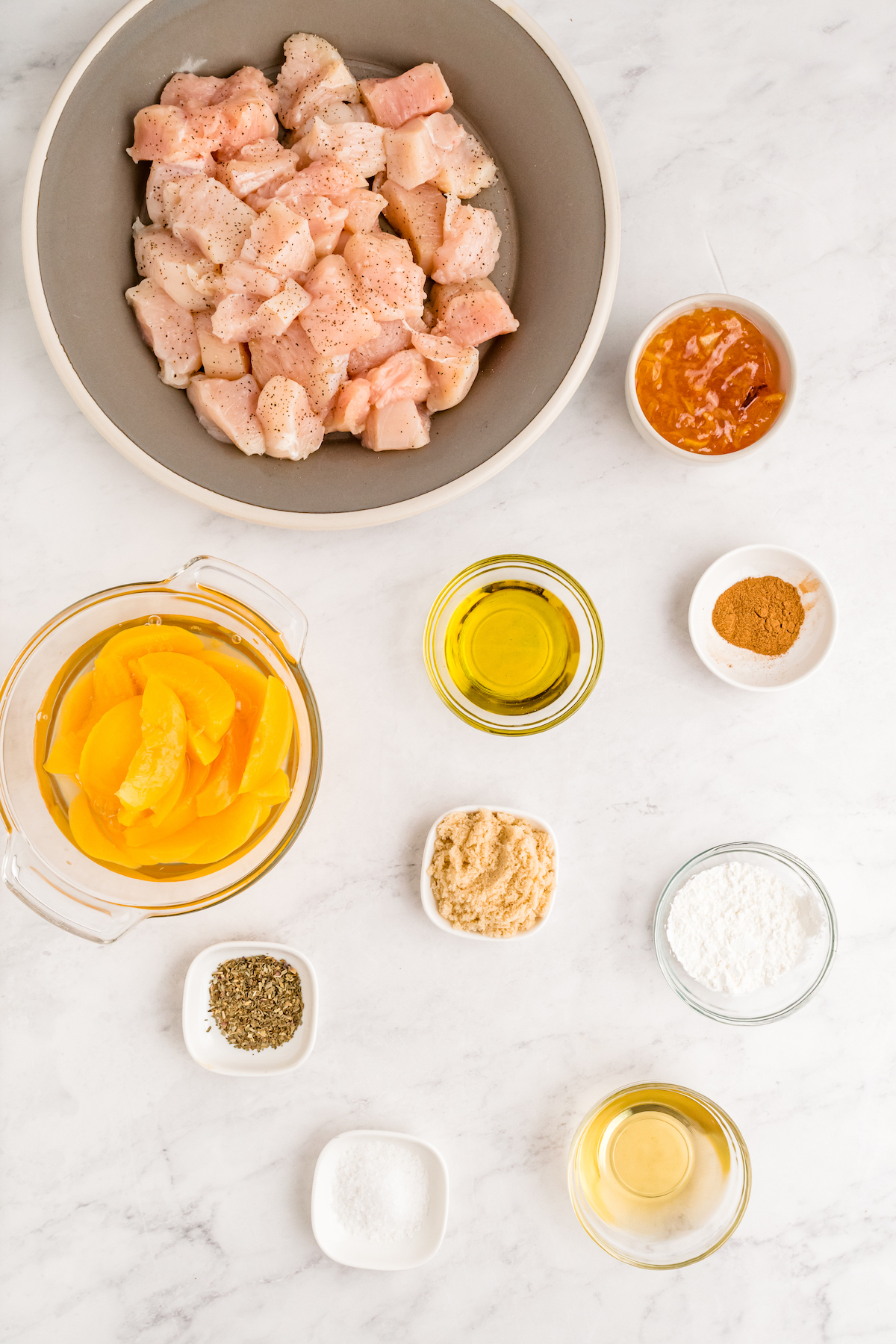 You can find the ingredient amounts in the recipe card at the bottom of the page.
A can of peaches - I like to use the peaches in juice only as they have fewer calories than the ones packed in syrup. But you can use either, as you prefer.
Boneless skinless chicken breast - You could also use boneless, skinless chicken thighs. In either case, cut the chicken into bite-sized pieces.
Olive oil - You'll use this for browning the chicken. You can also use canola or any flavorless oil.
Orange marmalade - The sweetness of the marmalade works well with the peaches to balance out the tanginess of the vinegar. You could also use peach or apricot preserves or jelly.
Rice vinegar - A flavored rice vinegar such as red pepper, garlic, or seasoned rice vinegar is really nice, but any rice vinegar will be good.
Brown sugar - You'll just use a very small amount of brown sugar, and it's necessary to balance out the tanginess of the vinegar.
Basil - Use dried basil. If you're going to use fresh basil, use three times as much.
Salt & black pepper
Ground cloves - This, together with the cinnamon, gives the dish a deep flavor.
Cinnamon - Typically, cinnamon does not pair well with chicken, but in this recipe it works. You'll just have to trust me.
Cornstarch & water - You'll whisk this into a slurry and use it to thicken the sauce.
How to make chicken and peaches stir fry
Drain peaches into a bowl; save the juice.
In a large skillet, heat olive oil over medium-high heat. Add chicken pieces.
In a small bowl, combine the liquid from the peaches, orange marmalade, vinegar, brown sugar, basil, salt, cloves, cinnamon, and pepper. Pour mixture over the chicken in the skillet. Cover.

Simmer the chicken for 25 to 30 minutes or until it's fully cooked. (Simmering means that you allow the liquid to bubble but not really boil.)

Add peaches to the chicken in the pan, heat over medium heat for a few more minutes.

Combine 2 tablespoons of cornstarch with 2 tablespoons of water to make a slurry. Stir the slurry into the skillet.
Heat, stirring often, until the sauce has thickened.
Chef's tips for the best chicken and peaches stir fry
Before serving, ensure that the chicken has reached an internal temperature of 165ºF. You can remove it from the heat at 160º, and it will continue cooking as the sauce rests and thickens.
Variations
If I have it, I like to add a chopped onion to the chicken when I sauté it in step two. I'll also throw in some carrots if I have them. (I like to use the "shredded" carrot that is sold in the produce department and sometimes packaged in salad mixes. It's like tiny little carrot sticks.)
If you have fresh peaches, you can use them in this recipe. If you do that, add about ¼ cup of water to the sauce in step 3.
You can substitute balsamic vinegar for the rice vinegar. Use an equal amount.
You can substitute honey for the brown sugar. Use an equal amount.
More stir fry recipes you'll enjoy
Recipe