How to make the best General Tso's stir fry with tofu and vegetables - This quick and easy recipe uses House of Tsang General Tso's sauce and healthy pre-cut veggies to make a 30 minute weeknight meal.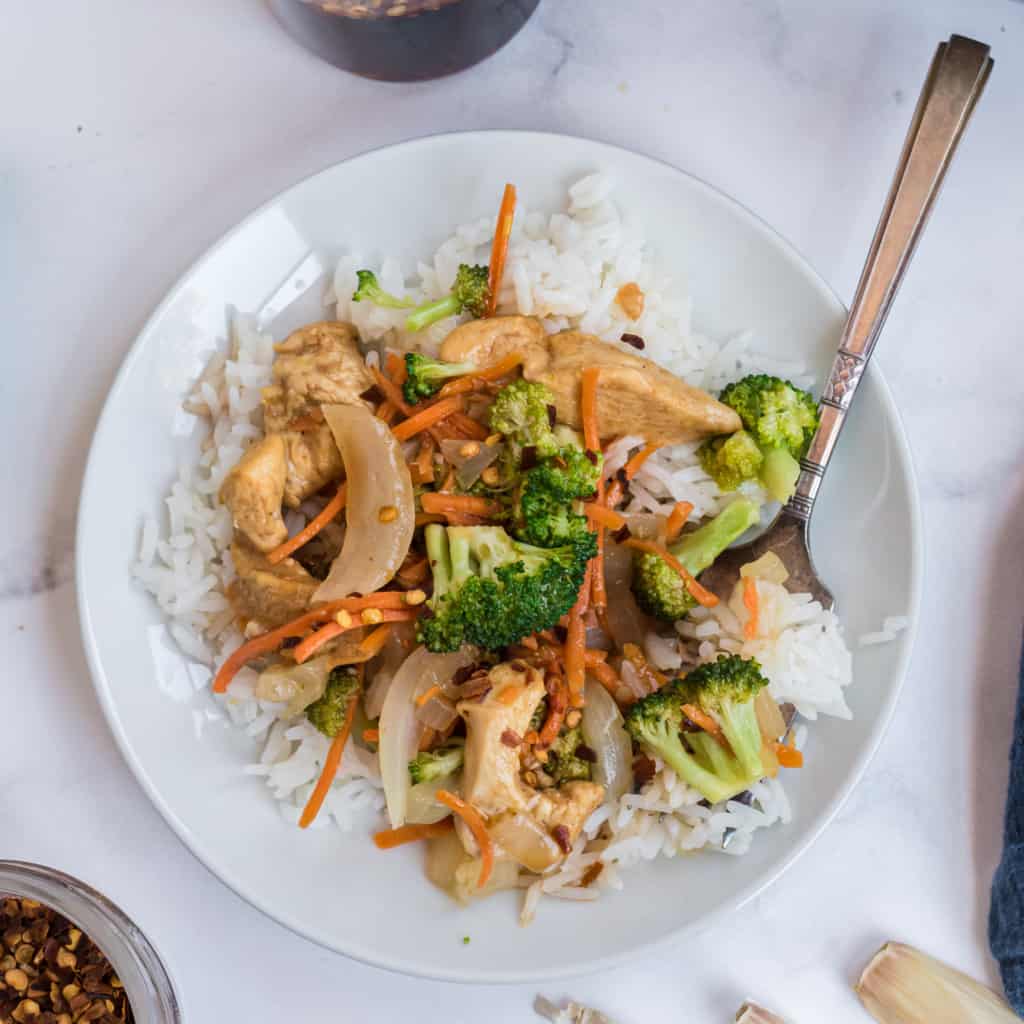 Yesterday, there was a 30-second segment on Sesame Street in which the characters talked about tofu.
Tofu? Grace asked me. What's tofu?
I explained that it's a food that I really like.
Can we have tofu for supper tonight?
I agreed, and I told Grace that we'd have to pick some up on our way home.
Unfortunately, we stayed at our friend's house too long (oohing and aahing over some four-week-old puppies) and didn't even walk into the grocery store until after 5.
I needed a quick and easy supper solution.
Featuring tofu.
I grabbed a bag of pre-cut broccoli, cauliflower, and baby carrots, a package of extra firm tofu, a bottle of House of Tsang's General Tsao's Stir Fry sauce, and a can of water chestnuts and left the store.
When we arrived home twenty minutes later, I threw it together, and we had a really tasty stir fry supper. It was even better the next day as leftovers.
If you don't like tofu, or aren't feeling adventurous, you could eat this without a protein or use small pieces of any meat - chicken, pork, beef, whatever.
How to make General Tso's Stir Fry with Tofu and Veggies
Heat olive oil in a wok or very large skillet over medium heat. Add tofu and 2 cloves of garlic, sliced or pressed. Cook until tofu is lightly browned and crispy, 15 to 20 minutes.
Add broccoli, cauliflower, carrots, onions, remaining garlic, and pepper. Sauté until crisp-tender.
When veggies are almost done, add squash and water chestnuts.
When squash has turned translucent, add stir fry sauce to your taste. Cook until heated through.
Serve over rice.
Recipe