This quick and easy copycat General Tso's Chicken recipe is super healthy, low carb, and keto and is smothered with a sweet and spicy sauce. Healthier and better tasting than takeout!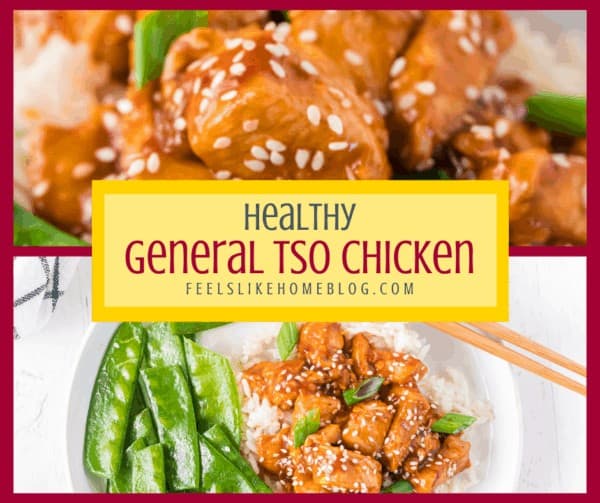 I love General Tso's Chicken. We have a local Chinese takeout restaurant that makes the best I've ever had: the sauce is sweet and syrupy and the chicken is deliciously deep fried with a crispy shell. It's amazing.
It's also L-O-A-D-E-D with sugar, fat, and calories, making it not at all desirable for a healthy lifestyle. Maybe a rare indulgence, but definitely not on the regular meal rotation.
Let me be 100% honest with you. This healthy General Tso's Chicken recipe does not taste like my favorite. It just doesn't.
But that doesn't mean it's not delicious because IT IS. This is so good with a slightly sweet and spicy sauce that is reminiscent of that original but without the calorie bomb. This is one of my 3 favorite recipes out of our whole recipe binder.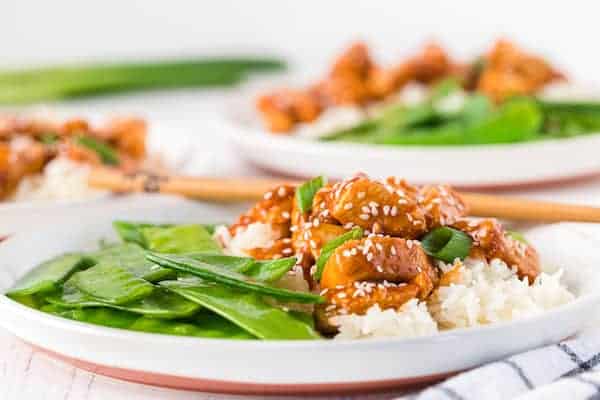 The chicken in this recipe is sautéed in oil which does add a few calories, but then you pat it dry, making sure no excess oil is transferred to your plate. It is not breaded in anyway, saving the carbs for the soy glaze which does have a little sugar but not too much. And finally, you use sambal oelek for the spice which is an Asian chili paste with so much zippy flavor that you'll soon be adding it to everything you make. (Take a look at those two links on Amazon, but buy them in the Asian aisle of your local grocery store where they will be significantly cheaper. If you can't find them locally, then Amazon works too.)
A note about sambal oelek: don't simply put in the amount I suggest in the recipe. This is a hot chile paste, similar to sriracha but in a paste form rather than a liquid. Put a teaspoon in the sauce, mix it up, and taste it. Add more if you prefer it to be spicier. 1 tablespoon is the perfect amount for me, but you will likely prefer more or less according to your spiciness tolerance.
How to Make Healthy General Tso's Chicken
This recipe has a lot of steps, but it is really quick to put together.
Prep the ingredients. Chop the chicken into bite-sized pieces. Slice the scallions, chopping the whites into small pieces and the greens into ½" lengths. Keep these separate. Snap off the stem ends of the snow peas and remove the tough string from the middle of each one.
Prepare the rice. I do not personally eat my General Tso's Chicken with rice, but my husband likes his that way so I will include the instructions here. If you are on a low carb diet, either skip the rice or use cauliflower rice instead. Add ¾ cup of Jasmine rice to 1 ½ cups of chicken broth (or water, but the rice will taste better with chicken broth) and bring to a boil. When it has started boiling, cover and reduce the heat to low. Simmer for 12 to 14 minutes or until the rice is tender and the liquid is all soaked up. Fluff with a fork and set aside.

Prepare the sauce. While the rice simmers, heat the sesame oil in a medium skillet over medium-high heat. Press the garlic into the skillet with a garlic press and add the white part of the scallions, stirring frequently for one minute or until fragrant. Turn off the heat and add ketchup, soy glaze, and sambal oelek. Stir to combine and transfer to a large bowl.

Cook the chicken. Season the chopped chicken with salt and pepper and toss to coat. In the skillet you used to make the sauce, heat a thin layer of sesame or olive oil on medium-high heat. Once the oil is so hot that a piece of chicken sizzles immediately upon contact, add the chicken in a single, even layer. Sauté, turning occasionally, for 7 to 9 minutes or until browned on all sides and cooked through. Transfer to a paper towel-lined plate and blot to remove any excess oil.
Add to the bowl with the sauce and toss to coat thoroughly. Set aside in a warm place. Discard the oil and wipe out the pan with a paper towel.

Cook the snow peas. In the same skillet used for the chicken, heat 2 teaspoons of sesame or olive oil over medium-high heat. Add the snow peas. Cook, stirring occasionally, for 2-3 minutes or until crisp-tender.

Serve. Serve 4 ounces of chicken on top of a spoonful of rice (if desired) and 4-6 ounces of snow peas. Garnish with the scallion tops and sesame seeds if you have them.

Here are a few more spicy but healthy recipes you might enjoy:
And make sure you try these other copycat recipes:
Recipe