This Carrabba's Chicken Bryan copycat recipe tops grilled chicken breasts with a basil lemon butter sauce, sun-dried tomatoes, and creamy goat cheese. It's just like the original at home!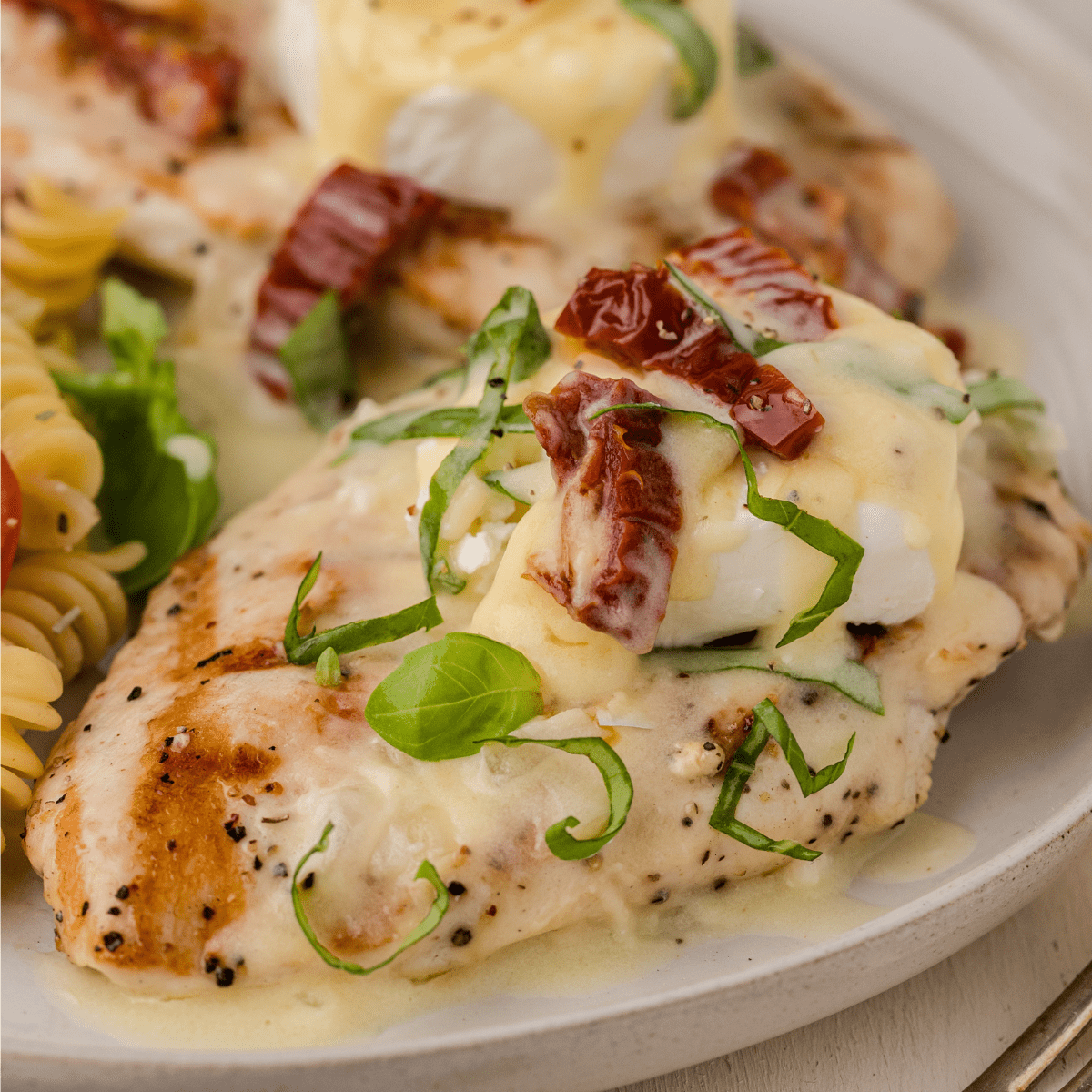 My favorite restaurant is Carrabba's, and I choose to go there for every birthday and anniversary and special occasion that I can manage. My favorite dish at my favorite restaurant is Chicken Bryan which is a grilled chicken breast topped with creamy goat cheese and tangy sun-dried tomatoes and smothered in a rich and tart basil lemon butter sauce. My mouth is salivating just thinking about it.
Let's get real for a second. Carrabba's is a pretty expensive restaurant, and we can't justify eating there outside of special occasions. So if I'm going to get Chicken Bryan more than a couple of times a year, I'm going to have to make it at home.
So I do.
We have made Chicken Bryan in two ways, both really excellent. Grilling the chicken on the grill outside gives it a really nice, rich flavor that adds something to the dish. Realistically though, I would have to wade through my dining room garden, fight two cats who constantly try to escape, and then hope there's propane in the grill. Suffice it to say that the chicken breasts get cooked in a skillet more often than not, especially during the colder months of the year (when the plants can't be outside), and the dish turns out just fine that way too.
As I mentioned in the recipe, you will want to use chicken breasts that are on the thinner side. They will cook more evenly if they don't have thinner parts and thicker parts, and the dish will just turn out better. If yours are too thick, simply cut them in half longways or pound the thicker parts with a mallet to thin them out a bit.
Why this is the best copycat Carrabba's Chicken Bryan recipe
This copycat recipe tastes even better than the original, plus you know everything that's going into it, so you can rest assured it's healthy.
Chicken Bryan is impressive and makes a great presentation when company comes over, but it's simple and quick enough that you won't have to spend the evening standing over the stove.
The tangy flavors of the sun-dried tomatoes pair really well with the lemon butter to make a rich and powerful sauce that is unlike any other you've ever eaten.
This recipe cooks in less than 25 minutes.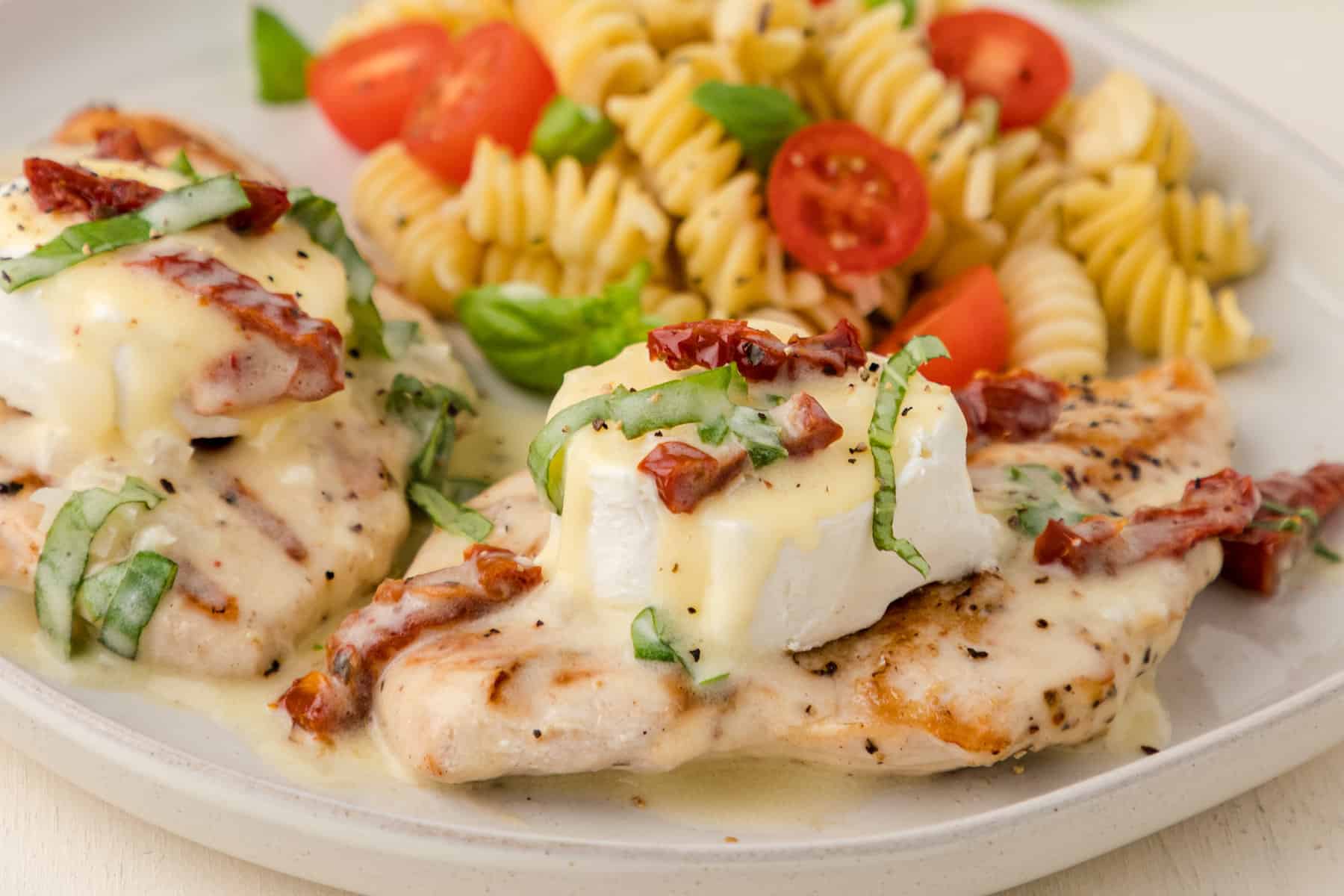 How did Chicken Bryan get its name?
This recipe is a Carrabba's original, having been named by the Carrabba family after the town of Bryan, Texas where they lived after immigrating to the US from Sicily in 1890.
The first family-owned Carrabba's restaurant opened in Texas in 1986, and it quickly grew into the chain we know and love today.
Chicken Bryan remains Carrabba's signature dish even today, and its cousin, Filet Bryan is just as good. You can find a copycat recipe for Filet Bryan here, but it's essentially the sauce from the recipe below, spooned over filet mignon instead of chicken breasts.
What You'll Need to Make the Best Copycat Carrabba's Chicken Bryan
Equipment
You'll need two large skillets for this recipe, as well as measuring cups and spoons, a garlic press, and a citrus juicer.
Ingredients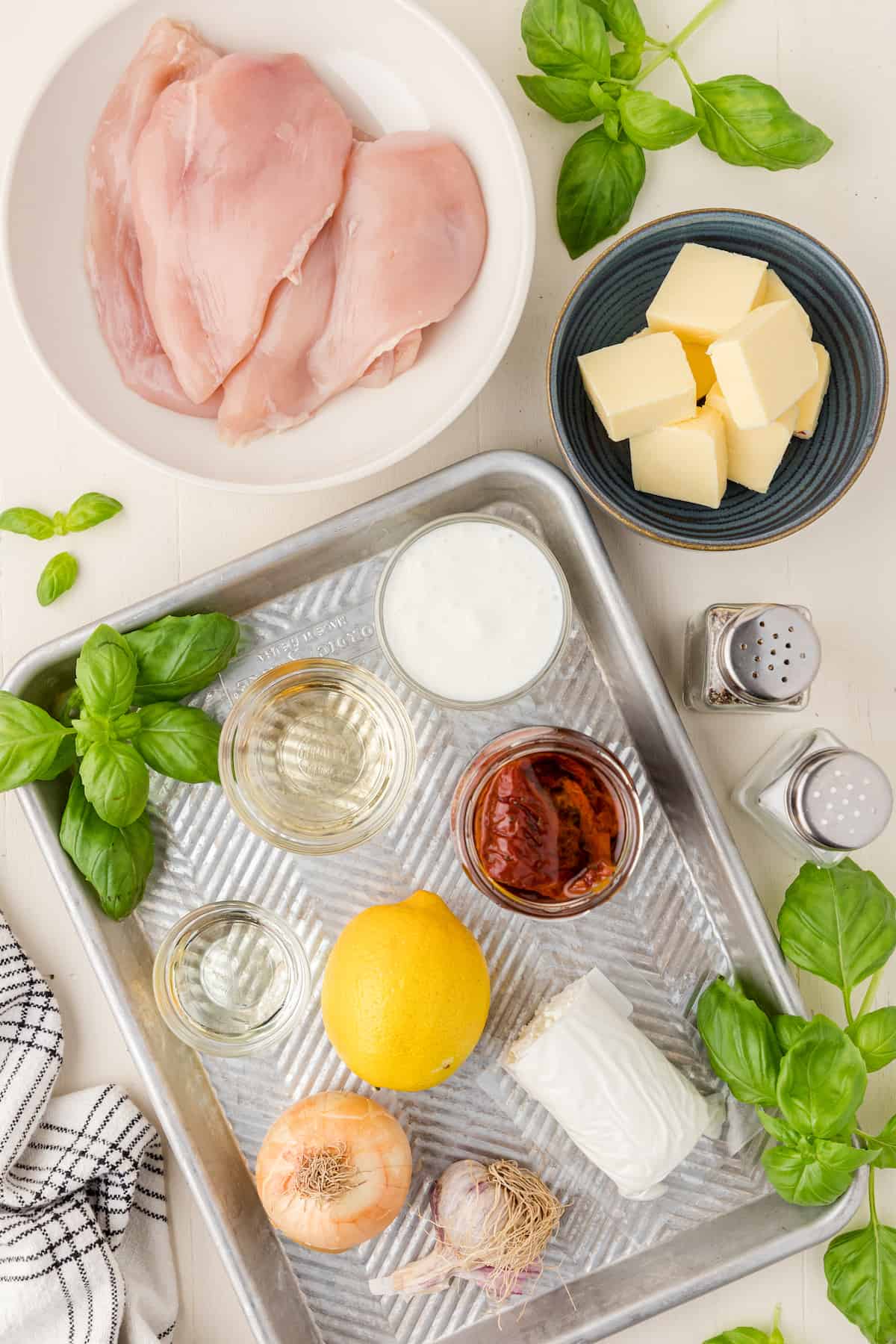 Boneless skinless chicken breasts - Thin breasts are better, 1-inch or less, so if yours are very thick, slice them in half or pound with a mallet.
Extra virgin olive oil
Salt and freshly ground black pepper - You'll use this to season the chicken breasts while they're cooking.
Goat cheese - I love goat cheese. I love all cheese actually, but goat cheese is special because it melts to almost a sour cream consistency but still has a tangy cheese like flavor. If you don't like goat cheese, you can use cream cheese with a similar result. Don't be afraid to use extra goat cheese. The more the merrier!
Coarsely chopped sun-dried tomatoes - I'm not a fan of raw tomatoes, but sun-dried tomatoes are sweet and tangy with an almost lemony flavor. I love sun-dried tomatoes.
Fresh basil, cut in ribbons - The easiest way to cut fresh basil into ribbons is to roll up the leaves and then use scissors to snip the roll into thin sections.
Minced sweet yellow onion - Cut this really small so that the onion sort of disappears into the sauce.
Fresh garlic - I always press my fresh garlic with a garlic press but if you don't have one, you could finely mince the garlic with a sharp knife. Pressing will make the pieces of garlic smaller which distributes the flavor better.
Butter - This can be salted or unsalted; it doesn't matter. But you need a lot of butter to make the lemon butter sauce.
White wine - This goes into the sauce and makes it amazing and tart. If you don't want to use wine, you could replace it with chicken broth.
Fresh lemon juice - This has to be fresh, or you will be sad. Lemons cost less than a dollar a piece, so buy two of them and squeeze them.
Heavy cream - You'll add this to the sauce at the last minute.
How to Make Chicken Bryan at Home
Start by getting the chicken cooking. As I said above, you can either saute it in a grill pan on the stove or on a grill. You could also use a George Foreman grill or something like that if you have it. Make sure you brush chicken breasts on both sides with some olive oil, both to prevent sticking and to infuse it with a nice flavor. Then season with kosher salt and pepper and place into the skillet.

Most thinner chicken breasts will cook in about 4 to 5 minutes per side. Be sure to cook the chicken until it measures 165º on a meat thermometer inside the thickest part.

Next, prepare the sauce. In a different skillet, sauté the onion and garlic over medium heat for about 2 minutes. Be careful not to overcook them because the garlic will get bitter.

When they are just beginning to get fragrant, add the white wine and lemon juice and simmer for 10 minutes. (Simmer means to cook over medium-low or low heat so that small bubbles form but the liquid is not boiling.)

After the 10 minutes has elapsed, you will add the heavy cream and the butter to the sauce, but only add the butter a tablespoon at a time. Wait until one tablespoon melts before adding the next one. You can whisk gently during this process, and be sure to keep it over low heat until the sauce is emulsified. (Emulsified means that two liquids which don't usually combine are combined.)

Finally, add the sun-dried tomatoes and basil and stir. Cook until they are just warm.

If you overcook the sauce, it will break. (That means that the two liquids that you emulsified will separate, and they cannot be re-combined.) Remove the sauce from the heat and set aside.

Assemble Chicken Bryan. The last step is to assemble the dish. Top each chicken breast with 2 coins of goat cheese. Allow the chicken to rest this way until the goat cheese is the consistency of sour cream.

Spoon the sauce with sun-dried tomatoes over the top, sprinkle with additional fresh basil, then serve.

Chef's tips for the best copycat Carrabba's Chicken Bryan
Make sure you are using fresh basil. Dried just won't cut it in this recipe.
Make sure you use heavy cream in the sauce at the end. If you use a lower fat liquid (even whole milk), it will curdle when you add it to the lemon juice. Curdled sauce is still safe to eat, but it doesn't look as nice.
Don't be afraid to use extra goat cheese.
Make sure your chicken is really thin. Don't be afraid to pound it with a mallet to get it down under an inch.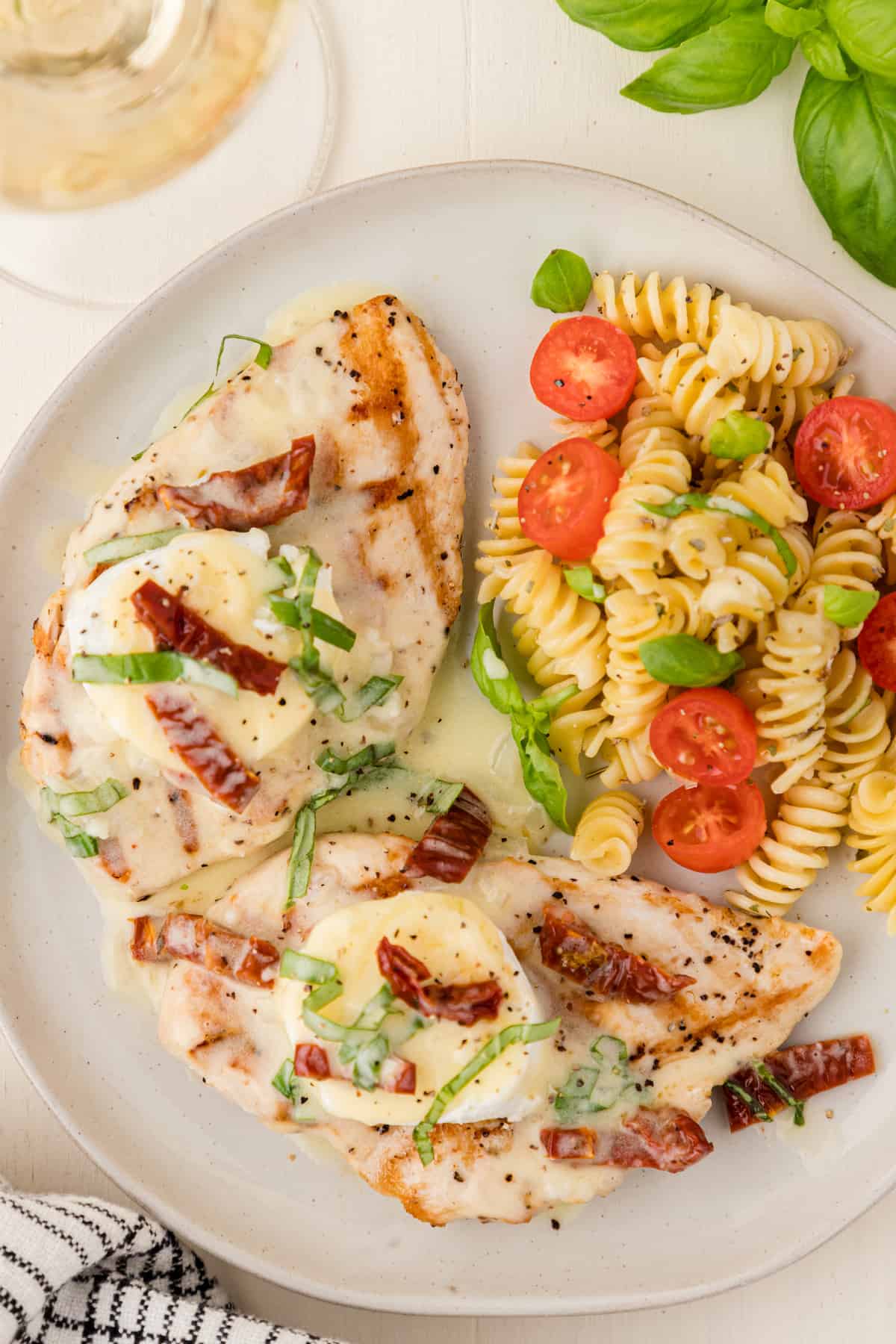 This recipe is truly my favorite dish to have at home or in a restaurant. I can't explain just how good it is. You'll have to try it for yourself!
What to serve with Chicken Bryan
I love this sauce over pasta or zoodles, so I often serve it that way.
You can also serve it with crockpot mashed potatoes and spoon the sauce over those. YUM.
I also love to serve roasted asparagus with Chicken Bryan because the lemon butter sauce complements the sweet asparagus really nicely, too.
How to store Chicken Bryan
Chicken Bryan is best served fresh, but if you have leftovers, you can store them in an airtight container in the fridge for 3-5 days.
The sauce does not freeze well.
How to reheat leftover chicken
You can reheat the sauce in the microwave.
Reheating leftover chicken in the microwave makes the chicken weird, so I recommend reheating it in a skillet or in the oven.
To reheat chicken in a skillet, add just enough water to the skillet to coat the bottom. Heat the water over medium heat, until it begins to simmer (that means there are a lot of small bubbles). Cut the chicken into strips and add them to the water. Stir chicken around in the water and cook until heated through.
To reheat chicken in the oven, pre-heat the oven to 350ºF and remove the chicken from the refrigerator.
Once the oven is hot, pour enough water or chicken broth into a small baking dish to completely cover the bottom (about a half inch deep). Place the chicken into the liquid, cover the pan with aluminum foil, and bake until the chicken is hot. There's no need to measure the internal temperature as you've already cooked it the first time.
Here are a few other yummy chicken recipes you could try while you're here:
And take a look at these other copycat recipes:
Recipe