This is the best chicken marinade recipe with southwestern flavors. It makes your grilled chicken juicy and flavorful without any heat.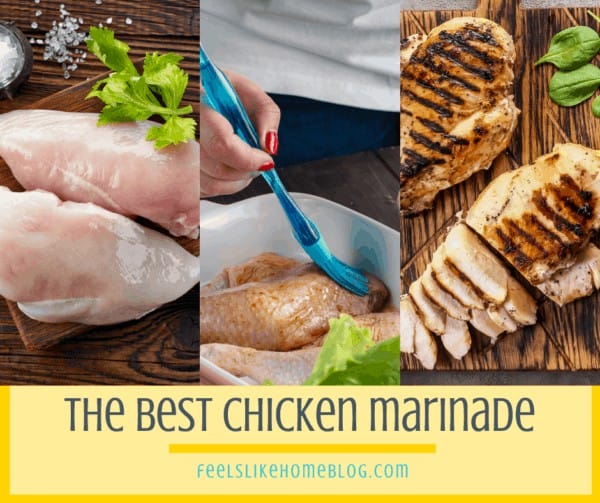 We joined a pool this year for the first time ever. It's a magnificent pool with a large green space, lots of pavilions with gas grills, three pools, and a splash pad with a large water slide.
We have spent many a summer day at the pool this year and, thanks to all those gas grills, we have eaten many grilled chicken breasts and hamburgers and hot dogs.
I personally prefer grilled chicken because it has the least calories and the most protein, but grilled chicken day after day was getting a little (or a lot) boring.
I don't eat BBQ sauce in general because of its sugar content, so I asked Joe to come up with some marinades that would make the chicken more flavorful and interesting. Being the dutiful husband that he is, he came up with some.
The first marinade he used was Gazebo Room's Original Greek Salad Dressing which was wonderful. Gazebo Room is a local company that makes the best Greek salad dressing you can buy, and it makes a wonderful marinade. If you live in the Harrisburg area, you MUST look for it at the grocery store. You will not regret it. If you are not in the Harrisburg area, you can get it on Amazon.
But, day after day and week after week of Greek marinated chicken got a little old, too. So he made me something new.
I was dubious about this Southwestern Marinade when I heard the ingredients. Since when does balsamic vinegar participate in southwestern flavors?! But Joe insisted that it would be good, and so I agreed.
It was amazing. I ate my southwestern chicken with half an avocado and some grilled zucchini, and I was pretty much in heaven. I could eat that a lot before getting tired of it. Actually, it's been a couple of months, and I still haven't gotten sick of it, so I think we're in the clear.
Alternating southwestern chicken with Greek chicken has proven very helpful, and I still love them both. So, if you are looking for a marinade to make your grilled (or even pan fried) chicken more flavorful, look no further. You have found it.
Here are a few recipes to pair with grilled chicken:
This southwestern marinade is my new favorite way to grill chicken, and I'm sure you're going to love it too. Give it a try today!