How to cook corn on the cob with NO shucking and no silks every single time! This method cooks the corn in the microwave. You'll have two perfectly cooked, perfectly cleaned ears of corn in under 10 minutes!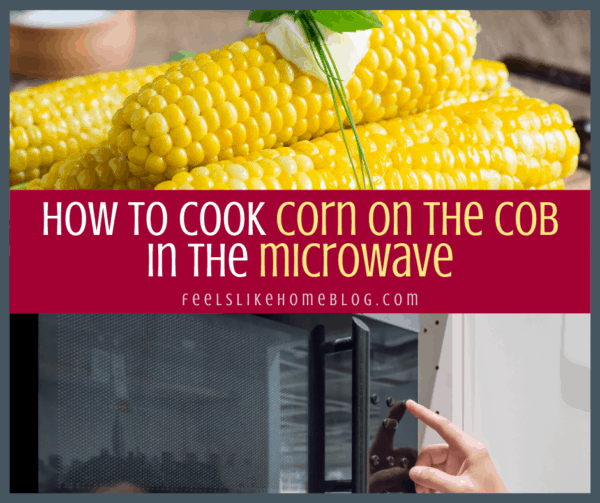 I love corn on the cob. A buttery, fresh ear of local sweet corn is as good as cake on a hot summer day.
There's just one little snag to eating fresh corn; I didn't know how to cook corn on the cob until today. I had always boiled it until Joe came along and told me to steam it in an inch of water.
The steaming method works okay, but you have to shuck the ears before you can cook them. Shucking is such a pain. The actual peeling of the green leaves isn't a problem, but removing all the silks! I can never get the silks all off, and then everyone has to pick them off after the corn is cooked.
I think I liked shucking corn a lot when I was little, but today not so much. I can never get as much of the silks off as I want to, and I end up with silks all over me and the floor. I agonize over each and every ear, trying to pick off every last piece lest it end up between my teeth and drive me crazy.
That ends up happening anyway.
Okay, so I'm neurotic about corn. While I was on Skype with my boss the other day, Joe and the girls were shucking corn. She asked how we planned to cook it, and she shared this YouTube video with me.
The man in this video is adorable. I'm pretty sure he's somebody's grandpa. I want him to be my grandpa actually.
Anyway, he explains that you can leave your corn in the husks and microwave it for 4 minutes (or 8 minutes for two ears), cut off the bottom end, and shake the cob out of the husk. He says there will be no silk attached at all, and there never is. We have used his method for cooking corn for over 8 years, and it has never failed us.
The only thing is that you need a reliable oven mitt that will allow you to hold the corn. We use oven gloves which Joe got for Christmas from my mom many years ago. We love love love oven gloves and have a whole bunch of them now. They also work really well for all kinds of hot foods, including hot corn on the cob.
We also use corn on the cob handles which I have had since the first summer I lived on my own. Handles make eating it so much easier because the hot corn isn't directly in your hand and also because you don't get butter all over yourself. A butter spreader is also handy to have.
The video is short is no longer available on YouTube, but you can follow my instructions above, and it will work!