The best creamy no crunch macaroni salad recipe is simple and easy! This sweet homemade salad is made with Miracle Whip, mayo, and deviled egg flavors and like the classic is served cold. You will learn how to make the perfect side dish with elbow macaroni for any summer BBQ.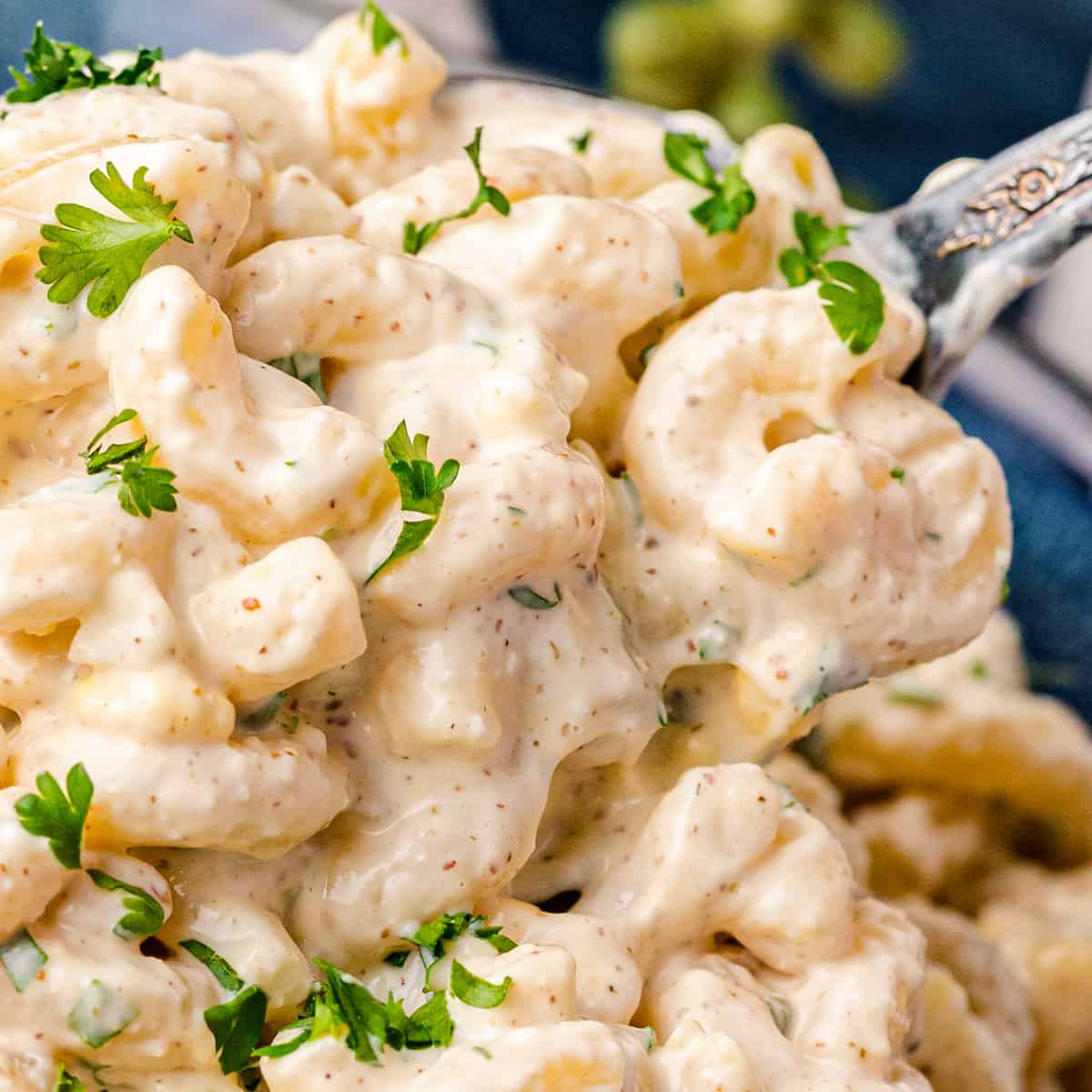 My friend, Joanne, has a sister who is the ultimate homemaker. Except that she works a full time job, but we'll ignore that. Joanne's sister, Mil, makes all sorts of wonderful foods to bring to all the barbecues and picnics she attends. Almost every time I see her, I say, "Mil, can I have the recipe for this?"
Can I also say that I HATE CRUNCHY BITS in my macaroni salad? Red onions, dill pickles, celery, red bell peppers, I hate them all. It's not that I object to them in theory, but I hate the smooth creaminess of my macaroni salad being interrupted by those little bursts of flavor. NO THANK YOU. So this recipe doesn't have any. You're welcome.
What you'll need to make the best creamy macaroni salad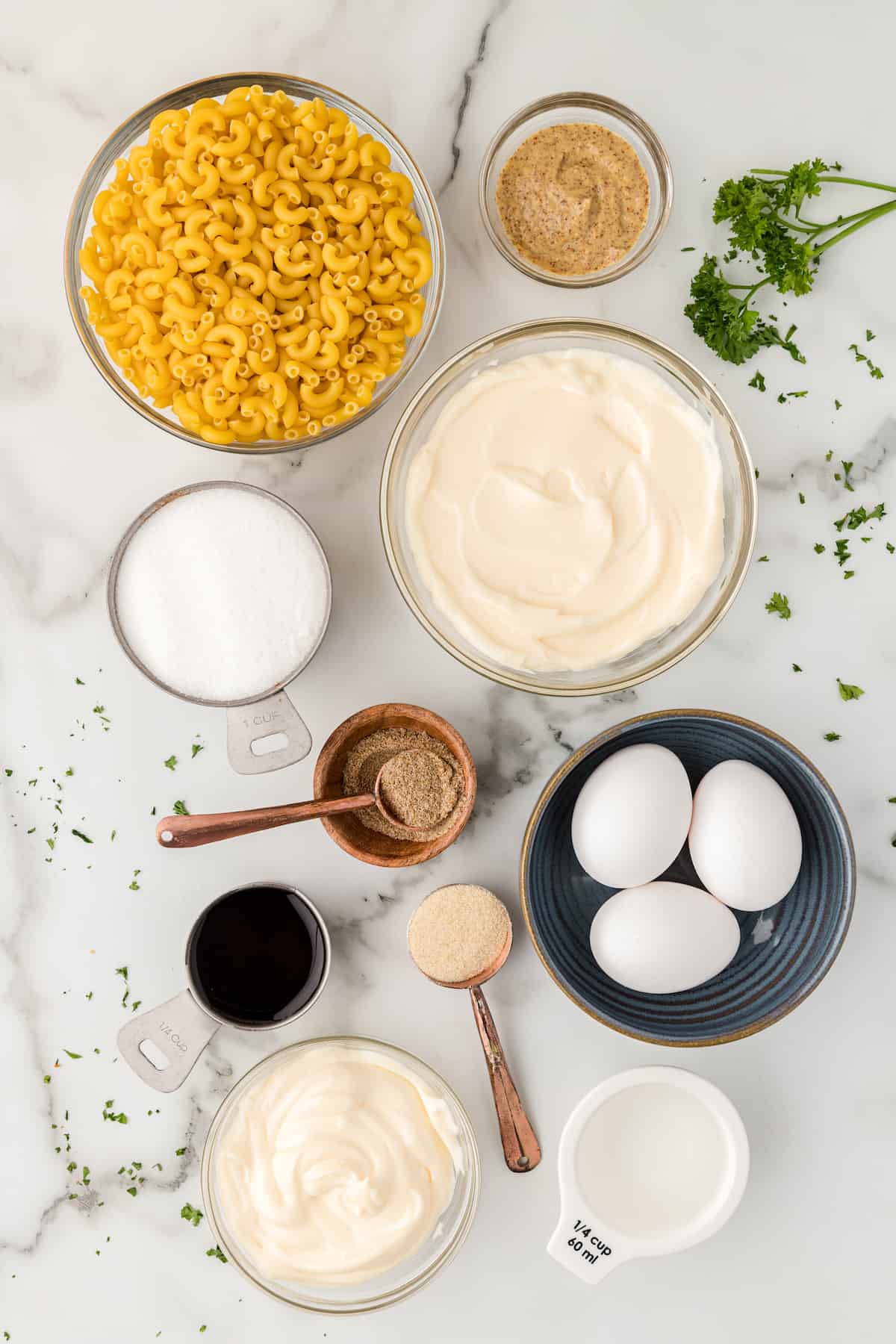 See printable recipe card at the bottom of the page for all measurements and more information.
Uncooked macaroni - You'll cook the macaroni in the first step of the recipe below. You could really use any shape of pasta, but elbow macaroni is the standard.
Miracle Whip - This recipe uses both Miracle Whip and mayonnaise. Please don't skip one or the other. The mayo has a rich, fatty flavor, and the Miracle Whip has a lighter, tangy flavor. Together, they make a dressing that is bright and full of flavor. The combination is so delicious.
Mayonnaise
Horseradish mustard - I love horseradish mustard, but if you don't, substitute spicy brown or dijon mustard instead.
Sugar - Or you can use half sugar and half Splenda. I don't recommend using all Splenda because the dressing doesn't quite taste right.
Water
Brown vinegar - I use apple cider vinegar.
Celery salt - I personally don't like celery, but I like the flavor that celery salt gives the dressing.
Onion powder - Macaroni salad tastes good with onion, but I hate having crunchy bits in my macaroni salad. The onion powder gives me the flavor of the onion but without the crunch.
Garlic powder - Garlic gives the dressing a little bite which is nice with the spice of the mustard.
Dried parsley - I feel like dried parsley has no flavor, but it brightens up the dressing and gives it a fresh taste.
Salt to taste - You probably won't need much if you're using celery salt.
Hard cooked eggs - These make the macaroni salad so rich and hearty. Feel free to add more than 3 if you really like eggs. (I do!)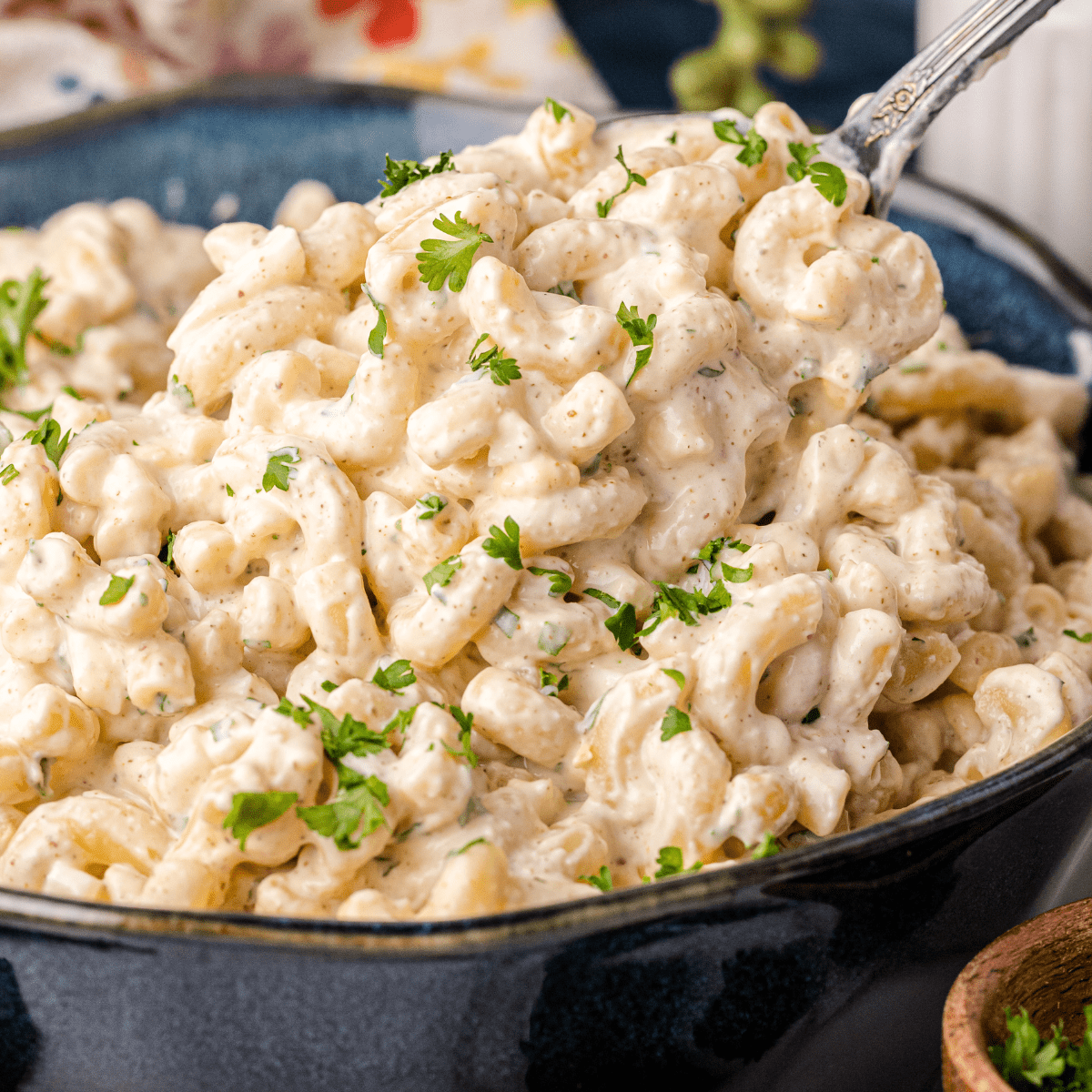 How to make the best no crunch macaroni salad
Prepare the macaroni in a large pot according to package instructions, except drain it a bit early so that the pasta is a little more firm than al dente. Drain and rinse in cold water until the pasta is cool, then put the cooked macaroni in a large bowl. Set aside.
Combine Miracle Whip, mayonnaise, mustard, water, vinegar, and spices in a small bowl. When I make this recipe, I measure the Miracle Whip, mayonnaise, sugar, Splenda, and vinegar, but I eyeball everything else.

Add the sugar.

Whisk to combine.

Pour the macaroni salad dressing over the pasta and toss to coat.

Add the chopped egg and parsley and mix well.

Cover and refrigerate at least an hour to overnight. Serve cold.

Tips for the best creamy macaroni salad
Make sure you don't overcook the pasta. Set a timer for 1-2 minutes less than the box says for al dente.
Make sure you rinse the pasta in cold water. Pasta is covered in starch after you boil it, and rinsing removes the starch. If you don't rinse the pasta, it might get sticky instead of saucy when you put the dressing on.
Make the macaroni salad ahead for the best flavor. You can even make it the day before, and it will taste great!
The pasta will absorb some of the dressing as it sits. It may seem like there's too much dressing, but trust me, some will soak in, and you'll be glad for the extra.
Any small shape of pasta will be good. Spirals, radiatore, wagon wheels, and even small shells will all work.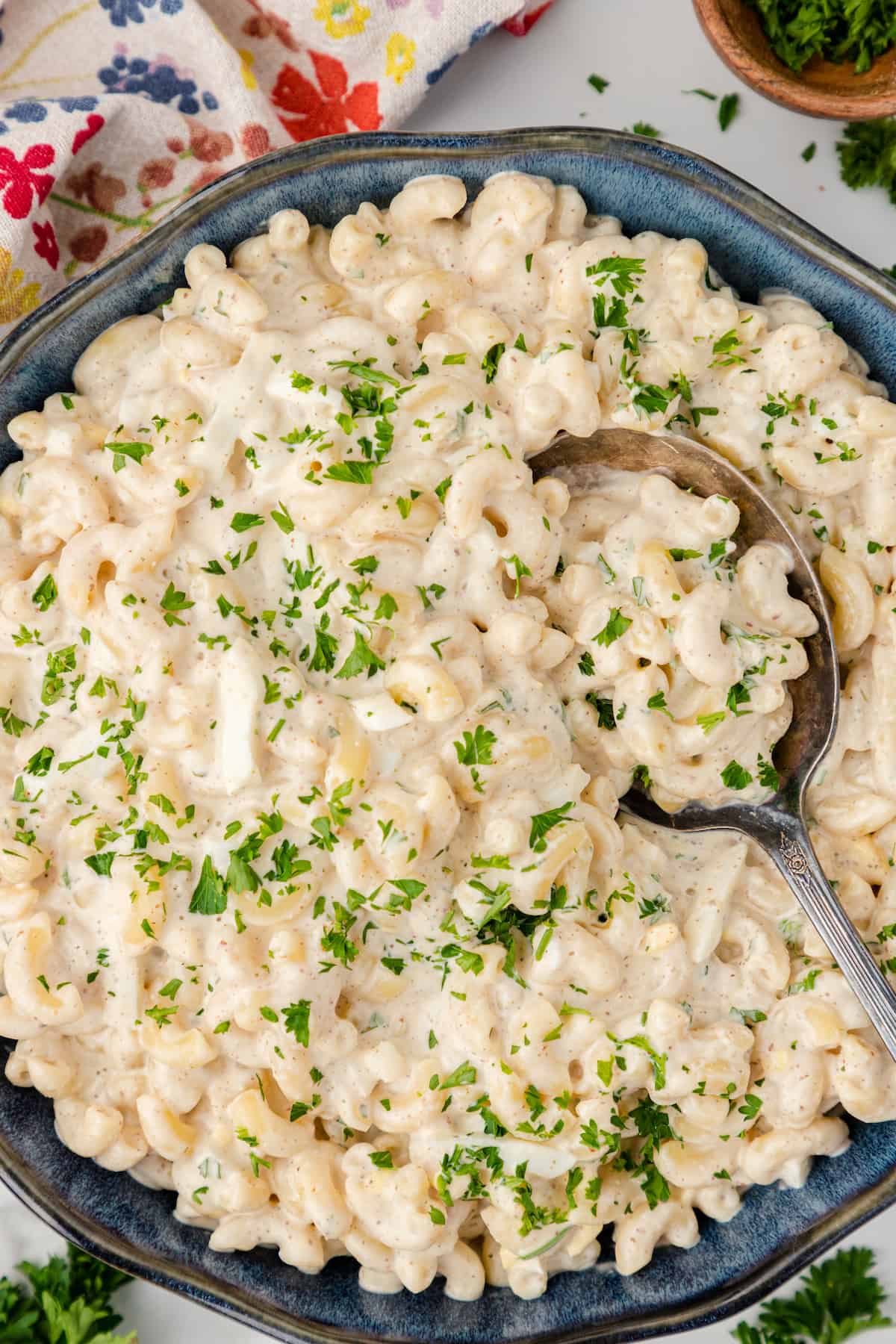 What to serve with this creamy summer pasta salad
This macaroni salad is perfect for all picnic food: grilled chicken, juicy burgers, and sticky ribs.
How to store leftover macaroni salad
Macaroni salad tastes best after it sits a while. In fact, it's even better the day after you make it. Store leftovers in an airtight container in the fridge for up to 5 days.
This recipe does not freeze well.
Try these other delicious salad recipes:
Recipe