Who needs caviar at your next party when you have this crowd-pleasing black bean dip? This quick and easy recipe combines black beans, black olives, cream cheese, hard-boiled eggs, and a zesty blend of spices to make a flavor and protein packed snack or appetizer. Make it ahead and store it in the fridge for an even better flavor at any party, picnic, or game day tailgate!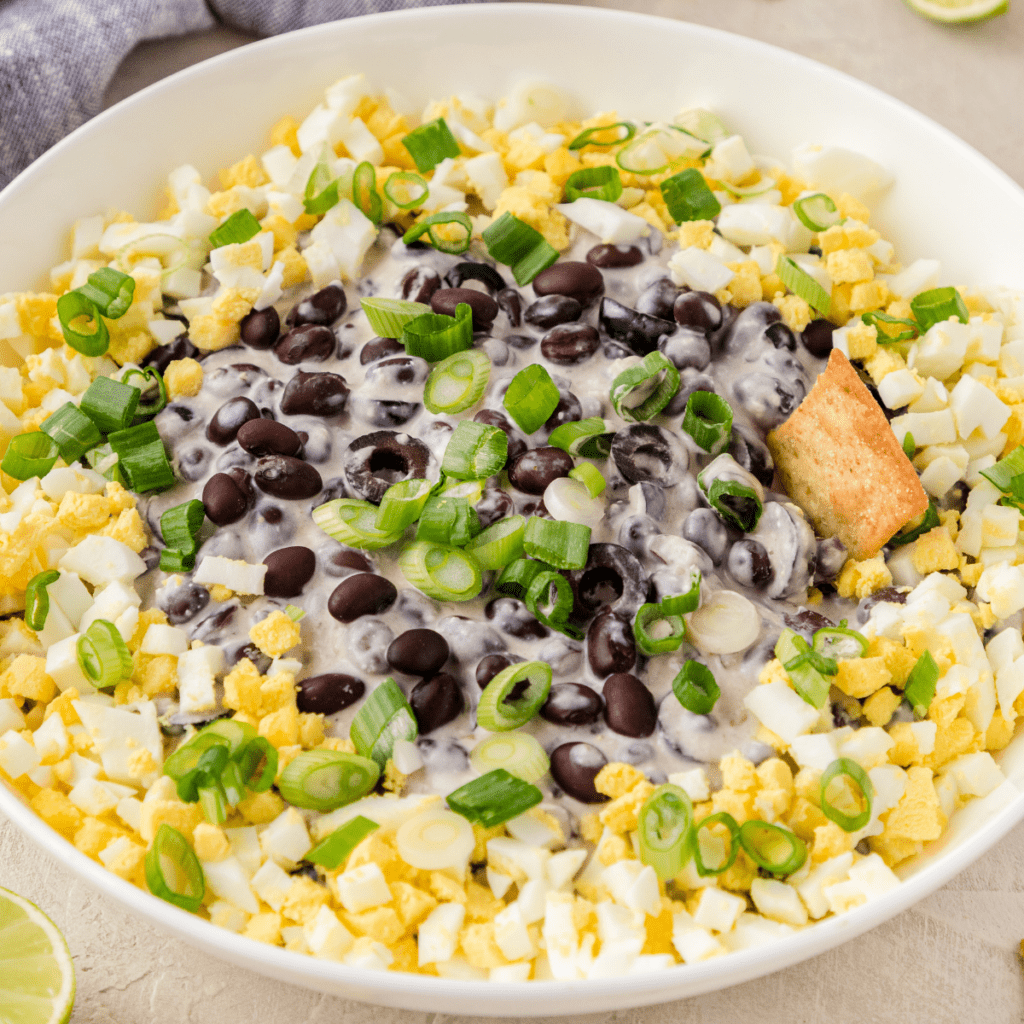 Near the end of my master's degree program, I had the wonderful fortune to meet eight women from whom I would learn more than I had from most of my coursework.
Our friendship began in an intensive writing workshop, where we poured our souls onto paper for eight hours a day, five days a week, for most of a summer. That exhausting and glorious workshop led into three semester-long courses on writing and teaching writing where a brilliant professor pushed us to the limits of our aptitudes and attention spans.
In those two short years, several among us got married, had babies, got teaching jobs, quit teaching jobs, and ferried grown children off to college.
At one point, we all got together at the professor's house to celebrate the impending birth of a classmate's baby boy. We each brought along a covered dish and a book for baby Noah's brand new library.
The food was amazing (of course!), so we all exchanged recipes. Sara's Cowboy Caviar recipe was different than all the other Cowboy Caviar recipes I'd ever seen. It contained only black beans (as opposed to black-eyed peas), and there were no other vegetables save black olives.
Because I'm not a fan of raw peppers or tomatoes, I hadn't previously enjoyed Cowboy Caviar, but I loved Sara's at the time, and I've made it often since.
Why this is the best Cowboy Caviar
This recipe makes an awesome appetizer for any picnic, party, potluck, or game day tailgate, and it's also an awesome snack for after school or work.
You can throw this dip together in less than 5 minutes. The flavor gets better if you can let it sit in the fridge for an hour, but it's good right away too.
Some other Texas Caviar recipes use black-eyed peas, chopped fresh vegetables, and store-bought Italian salad dressing. This is a very different recipe even though it has the same name. I like this one better because of the creamy base that you mix with the black beans, and also because of the combination of lime juice, fresh garlic, and cumin. It is rich, flavorful, and delicious!
What you'll need to make Cowboy Caviar
Equipment
This is a very easy recipe, and you'll only need a garlic press (or very sharp knife), a mixing bowl, measuring spoons, a spatula, and a serving dish. I use an 8-inch round dish or shallow bowl. It's not absolutely necessary, but I also used an egg slicer to make it easier to dice the hard boiled egg.
Ingredients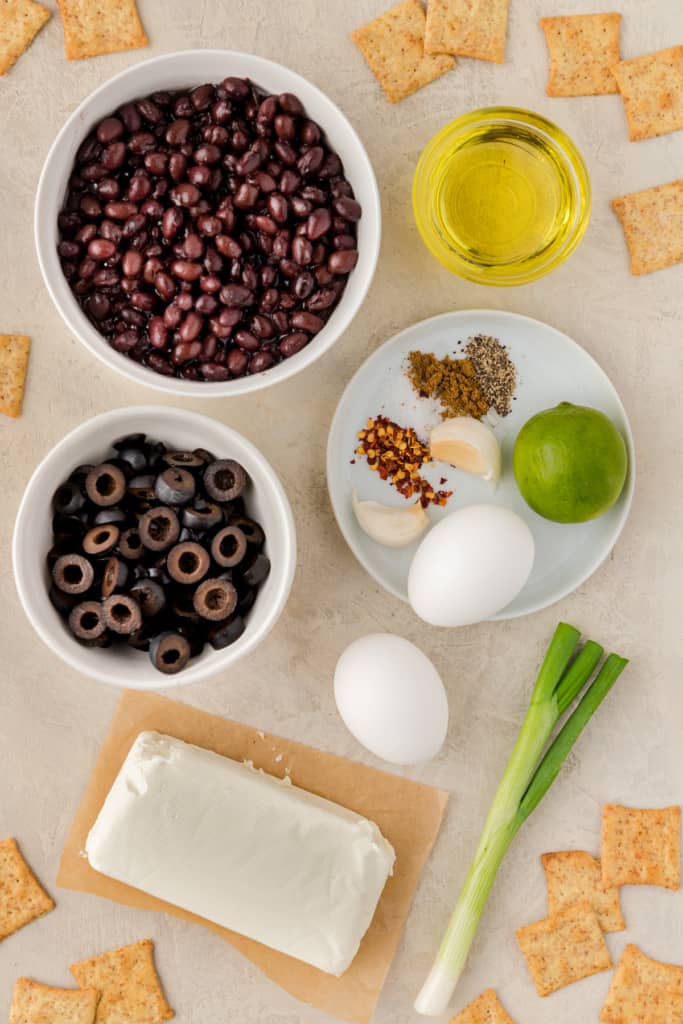 Softened cream cheese - I use neufchâtel, the lower fat cream cheese that tastes pretty much the same. It needs to be pretty soft so that you can whip it into a smooth paste.
Spices - cumin, crushed red pepper, salt, black pepper
Lime juice - This gives the dip a nice zing that brings all the flavors together.
Olive oil - This helps the cream cheese to be a little more fluid.
Fresh garlic, pressed or finely minced - I prefer to press my garlic using a garlic press. It's really simple, and it releases the pungent oils in the garlic in a way that adds incredible flavor to foods. If you don't have a garlic press, you can finely mince the cloves with a very sharp knife, but you'll never be able to achieve the tiny pieces that you'll get with a garlic press.
Black beans, rinsed and drained - Black beans are the star of this dip, but if you're in a pinch, you could use any type of beans. I prefer canned beans because they're easy, but if you'd like, you could soak and cook dried beans.
Black olives, drained and chopped - I adore black olives, the cheap kind that come in a can. They are amazing. I don't care for the pre-chopped ones though. I prefer to buy a big can and chop them myself. The pre-chopped olives are cut into microscopic pieces that you can't really taste in the finished dip.
1 green onion, white and green parts - This is for garnish. I know some people don't like the white part of the green onion because they have a more pungent flavor. You can leave out the whites and just use the greens if you prefer. Or replace the green onions with chopped chives or chopped fresh parsley. If you are feeling adventurous, you could even use chopped fresh cilantro.
2 hard cooked eggs, chopped - These are a garnish on top of the dip.
How to make Cowboy Caviar
Whisk the softened cream cheese in a large bowl until it's smooth. Add cumin, crushed red pepper, salt, and black pepper and mix well. Add lime juice, olive oil, and pressed garlic and mix until well combined.

Add black beans and black olives to the cream cheese mixture, reserving a handful of beans for garnish. Mix well. Let bean mixture refrigerate at least one hour, up to overnight.

Spread bean mixture evenly on bottom of a 9-inch round dish. Top with reserved black beans. Arrange chopped egg in a circle around the edge of the dish. Sprinkle all over with green onion.

Serve with tortilla chips, corn chips, or scoops.
Variations on Texas Caviar
You can replace the diced egg with diced avocado.
You can add diced red bell pepper, diced fresh red onion, or fresh corn kernels cut off the cob to the bean mixture.
For a heartier dip, add a can of shredded chicken to the bean mixture.
You can add ¼ teaspoon of dark red chili powder with the other spices.
More delicious dip & salad recipes
Recipe