The best buffalo cheese ball includes all of your favorite flavors - buffalo wings, cheddar cheese, blue cheese, and cream cheese. Easy appetizer recipe takes 10 minutes to prepare. Yum!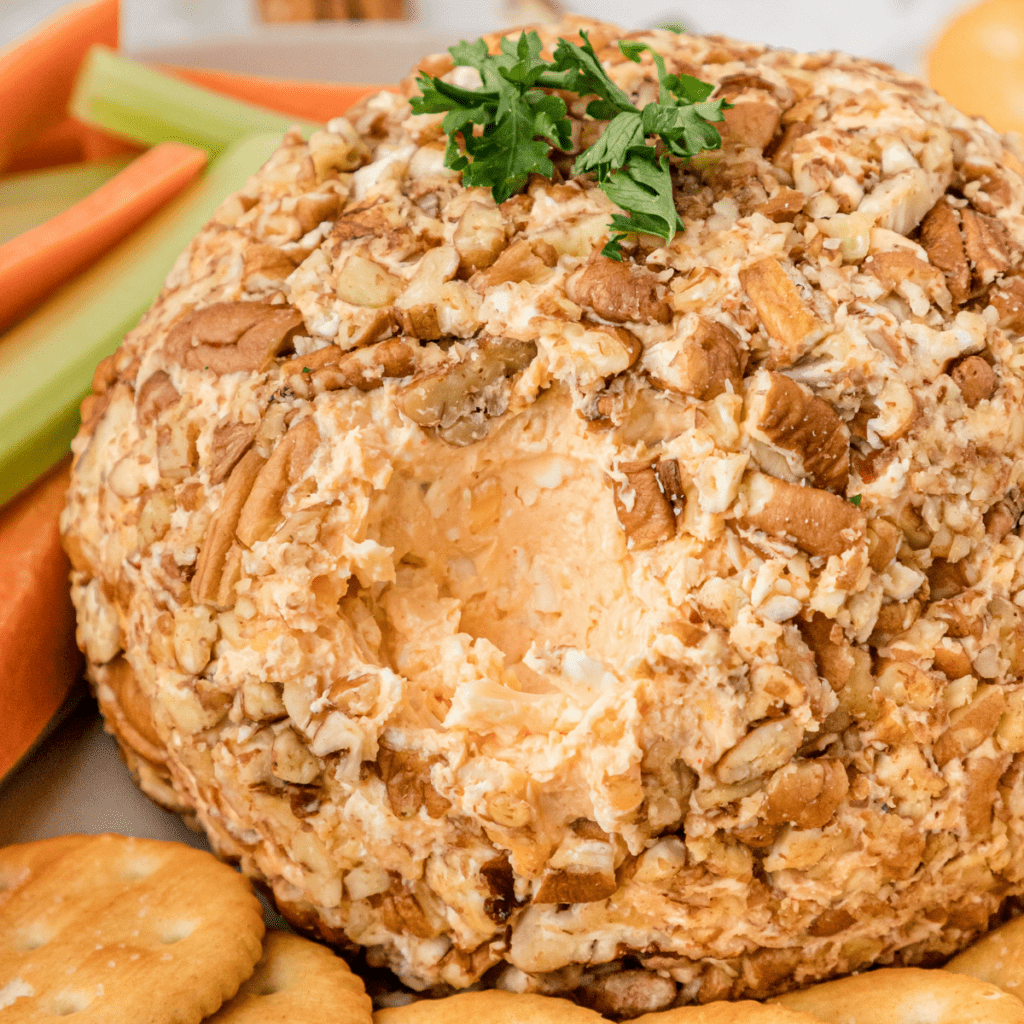 There are a few foods that I absolutely adore and can't get enough of: feta cheese, buffalo chicken dip, bbq chicken enchiladas, watermelon jam, ice cream, the chocolate cake recipe I made for my dad's birthday.
I have to admit that cream cheese, cheddar cheese, and blue cheese are also high on my list. That's where this recipe came from, a glut of blue cheese salad dressing that I wanted to get rid of.
If you like buffalo wings as much as I do, you are going to LOVE this cheese ball. It is smooth and creamy with a hot zing. You can, of course, vary the amount of hot sauce that you use to make your cheese ball more spicy or more mild. Play around with it, starting with 2 tablespoons as I suggest, and adding more when you're all finished mixing - only after tasting and deciding that it needs more spice. Tasting is the key here.
I debated about rolling the cheese ball in pecans before or after it hardens in the fridge. The pecans would certainly stick better and easier before, but the cheese is so messy at that point that I was afraid the pecans would get covered with cheese goo and your ball wouldn't look so nice. So it is a little more difficult to make the pecans stick after it's hardened, but it will look a lot better in the end. You're welcome.
I suggested that you serve this buffalo cheese ball with crackers, celery sticks, and carrot sticks. I thought that celery and carrots would make it authentically hot wing-y, whereas crackers just fit with every cheese ball ever. You are welcome to serve it with any veggies (I think cucumbers would also be quite nice).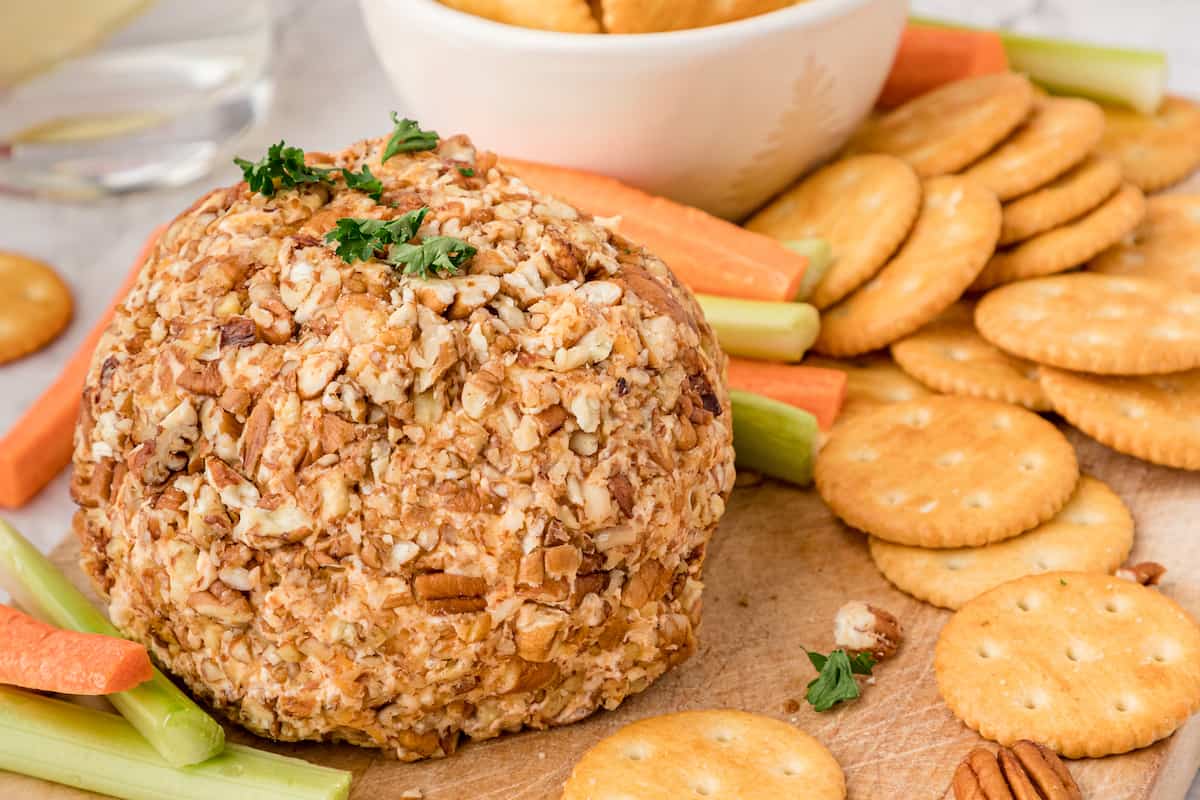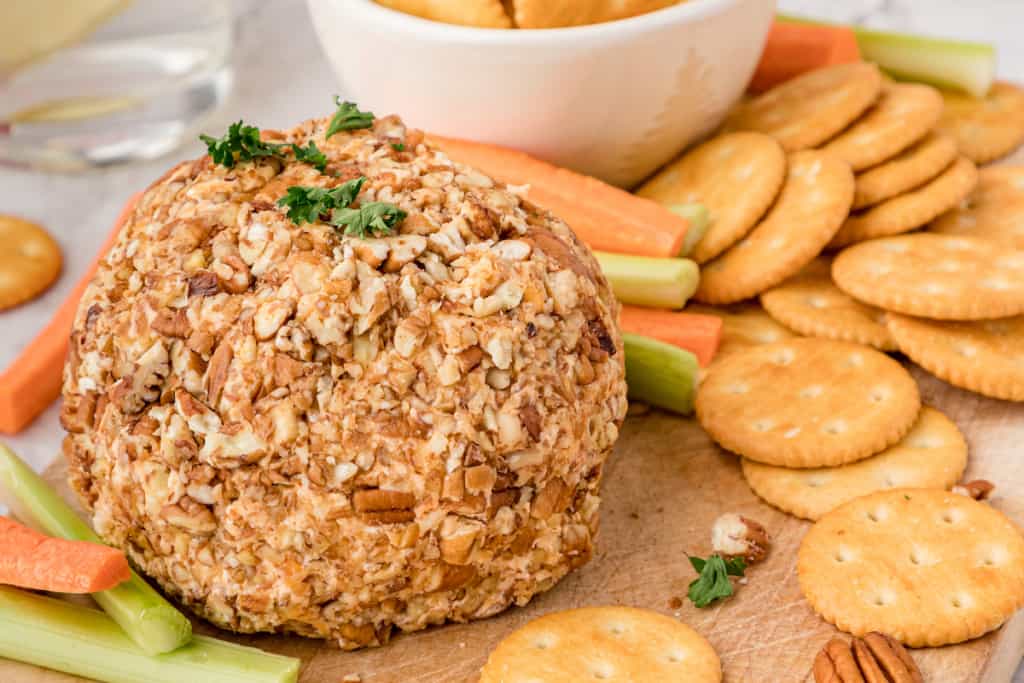 Why this is the best cheese ball recipe
Perfect party appetizer! Who doesn't love cheese and buffalo sauce? Plus, it doesn't need to be kept warm like buffalo chicken dip.
Easy prep! This recipe takes less than 5 minutes to put together.
Make it ahead! This cheeseball can be made up to a week ahead of time. Just keep it wrapped tightly in several layers of plastic wrap or in an airtight container. It will keep for a long time.
Lots of flavor! The addition of a small amount of buffalo sauce gives this cheese ball a zippy taste that you can't pass up. Plus the combination of blue cheese and sharp cheddar? It's a chef's kiss moment.
What you'll need to make the best buffalo cheese ball with blue cheese and cheddar
Equipment
This recipe uses basic kitchen equipment, including measuring cups and spoons, a large mixing bowl, a spatula, and plastic wrap.
Ingredients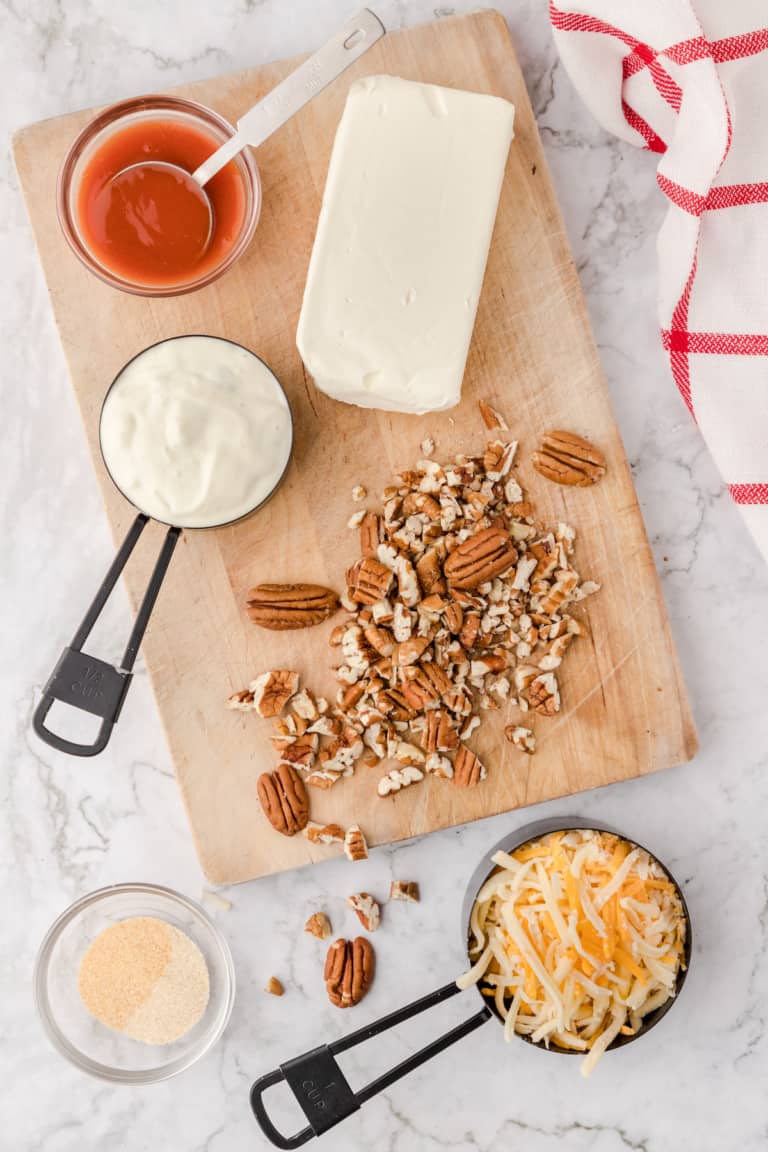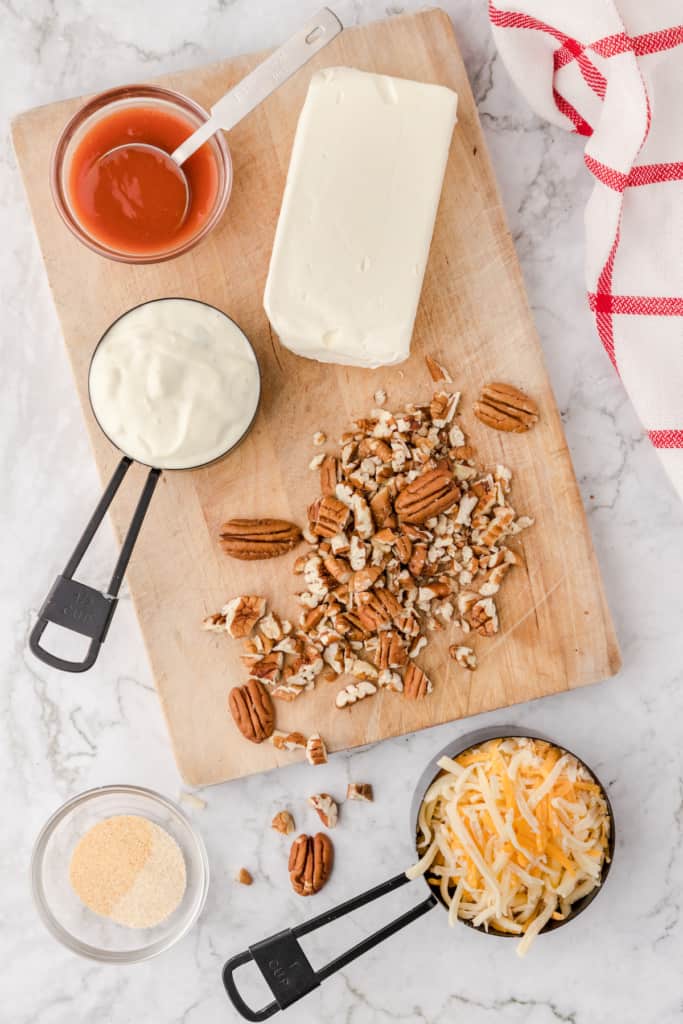 Blue cheese dressing - Regular or low fat will be fine.
Onion powder
Buffalo wing sauce - I like to use Frank's RedHot but you can use whatever you like.
Softened cream cheese - Like the salad dressing, regular or low fat will be fine.
Shredded sharp cheddar cheese
Chopped pecans - These are to give the outside of your cheese ball a nice crunchy texture. You could substitute with almonds, walnuts, or even macadamia nuts. Also, you can buy whole nuts and chop them yourself, but it's usually cheaper to buy pre-chopped nuts. If you don't want to use nuts, you could coat the outside with bacon bits or dried cranberries.
How to make a buffalo cheeseball with blue cheese dressing
In a medium bowl, mix the blue cheese salad dressing, onion powder, garlic powder, and hot wing sauce.

If your cream cheese is already room temperature, you can skip this step. Microwave the cream cheese for 30 seconds or until it is soft. It may take two go-rounds for 30 seconds each, but mine is usually soft after the first time.

Add the softened cream cheese to the salad dressing mixture and blend well.

Add the cheddar cheese to the cream cheese mixture and stir to distribute.

Lay out a square of plastic wrap and dollop the cheese mixture in the center. Use the plastic wrap to form the cheese into a ball. Think of making a snowball.

Wrap the finished ball in the plastic wrap and chill it in the refrigerator. This will take a few hours.

Once the cheese is firm, unwrap the ball and roll it in the chopped pecans.

Serve with a spreading knife and crackers, celery sticks, carrot sticks, or other vegetables.

What to dip in a cheese ball
Dipping is kind of a misnomer here. The cheeseball will be pretty firm, and you can't really dip into it the way you would buffalo chicken dip.
You'll need a spreading knife to slice a bit of cheese ball off and smear it on your "dippers."
Also, you can leave your cheese ball out to warm up a bit before serving. It will be softer and easier to smear that way.
Here are my favorite cheeseball delivery vehicles:
Toasted baguette slices
Crackers
Pretzels or pretzel chips
Pita chips
Full size or mini bagel halves
Bagel chips
Carrot sticks
Celery sticks
Cucumber slices or sticks
Bell pepper slices
Variations on the easy cheese ball recipe
I love green onions, and the next time I make this, I think I'm going to 3-4 tablespoons of chopped green onions or maybe chives with the blue cheese dressing in the first step. You could do the same thing with fresh parsley.
Feel free to use your favorite shredded cheese. I prefer sharp cheddar, but you could use mild cheddar, a Mexican 4-cheese blend, Colby Jack, Monterey Jack, or any combination of cheeses.
Buffalo bacon cheese ball recipe - I was also thinking that I'd like to try adding ¼ cup of crumbled or chopped bacon with the blue cheese dressing. Bacon bits make everything better, does it not?
Bacon ranch cheese ball recipe - Sub out the blue cheese dressing for ranch dressing and add the bacon as I suggested above. You can use the buffalo sauce or leave it out!
Classic cheese ball recipe - Keep everything the same, but reduce the buffalo sauce by half or leave it out altogether.
How to make a cheese ball ahead
Just make it, wrap it up, and stick it in the fridge. Don't roll it in nuts or bacon bits until you're ready to serve. If you do that part too early, they'll get soggy. Not the end of the world, but it's nicer if they're crunchy.
How to store a cheese ball
This cheeseball can be made ahead, up to a week before you need it. It tastes better the longer it chills! Just make sure it's wrapped tightly in plastic wrap or in an airtight container.
Storing leftovers is pretty much the same: airtight container or several layers of plastic wrap. The cheese will stay good for quite a while, up to two weeks, but the pecans will get soggy. The whole thing still tastes great; it just won't be as crunchy on the outside.
You can also freeze a cheese ball. Simply make it (don't add the nuts), wrap tightly in several layers of plastic wrap, and drop the whole thing into a plastic freezer bag. It will stay fresh in the freezer for up to a month. To serve, let it defrost overnight in the fridge, then roll in pecans just before serving.
Try these other delicious party appetizer & dip recipes!
Recipe