This easy black bean and corn salsa is a healthy and hearty side dish, salad, appetizer, or snack that is amazing when paired with grilled chicken or pork as a main dish, and equally perfect for a hearty but healthy dip appetizer for any party or game day! This simple but delicious blend of beans, corn, avocado, red pepper, jalapeño, and a fresh honey lime dressing makes this salsa so good that you might just add it to everything!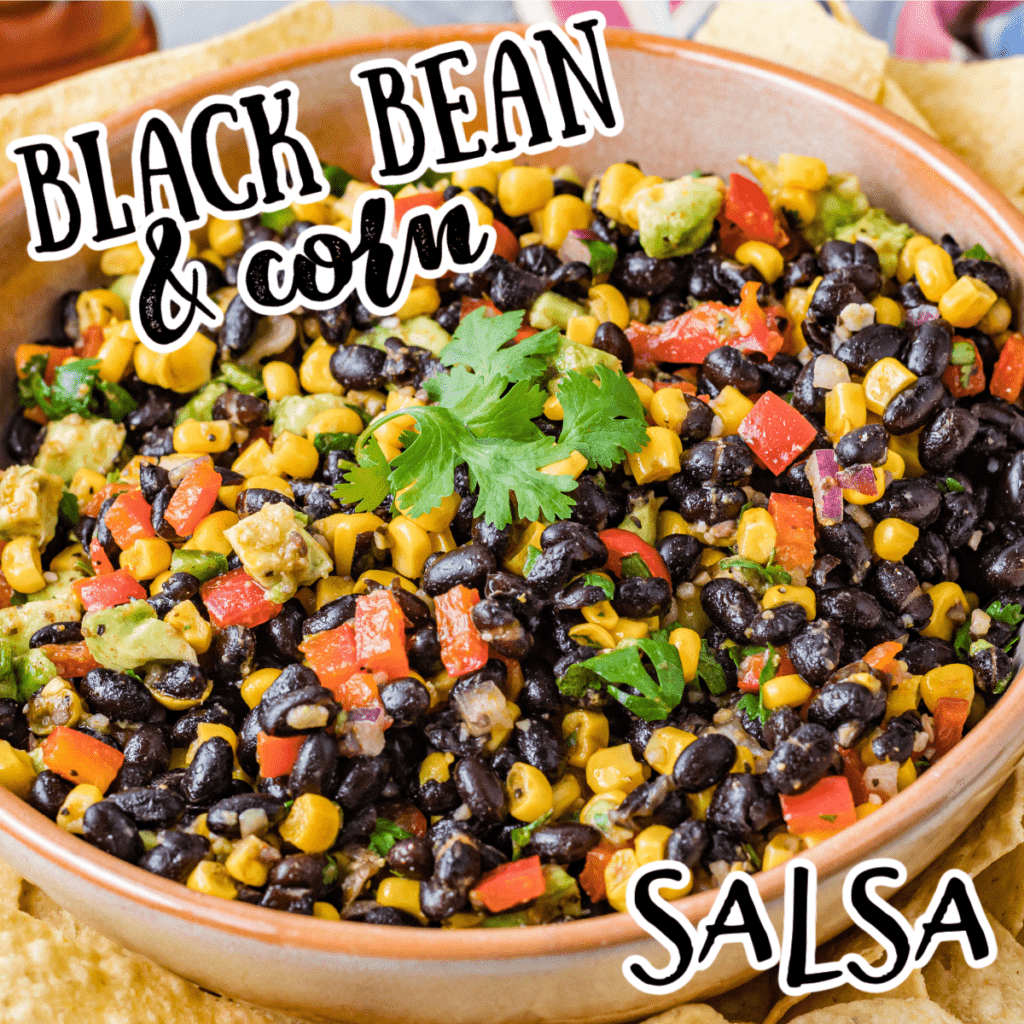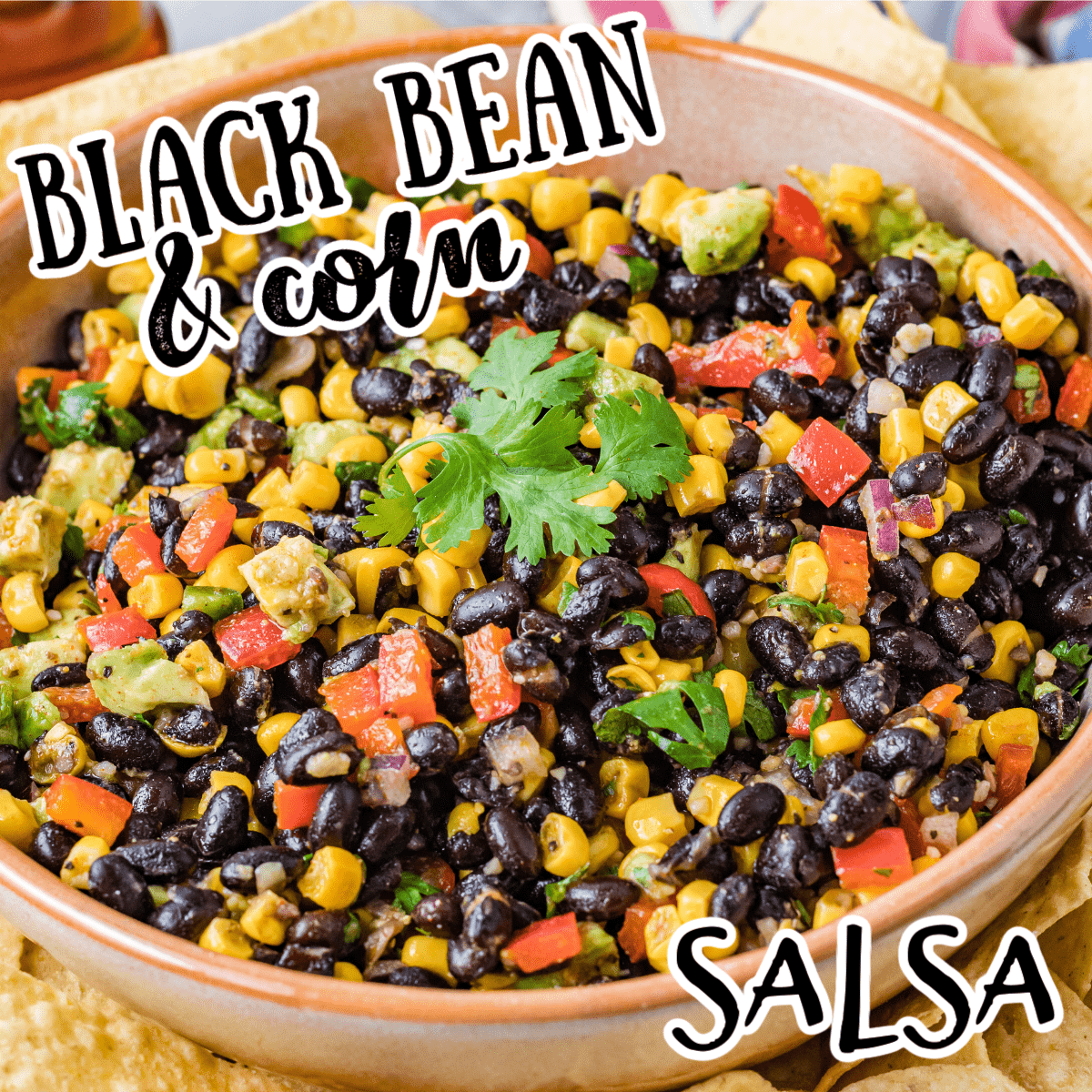 I don't know about you, but my family loves appetizers on special occasions. We eat hot pizza dip, touchdown taco dip, buffalo chicken dip, air fryer coconut shrimp, air fryer mozzarella sticks, and air fryer potato chips for every New Year's Eve and football game day and when we have friends over and on random Sundays when we decide. It's all good.
The only trouble with appetizers, in my estimation, is that they are generally pretty unhealthy. I've made modifications to my pizza dip, taco dip, and buffalo chicken dip recipes to make them healthier than the originals, but they're still full of cream cheese and other high calorie ingredients. (And they taste SO SO SO GOOD!)
Anyway, I wanted to come up with an appetizer that was both super delicious and more healthy for my own personal diet choices. That's where this black bean, corn, and avocado salsa came from.
This recipe is delicious as a salsa with chips of course, but it's also really good as a topping for chicken or fish, tacos or burritos, and as a side dish salad that you just eat straight out of a bowl. I am sure that you're going to love it!
Why you'll love this Mexican corn and black bean salad
Kids love this salad with its black beans and corn and slightly sweet honey lime dressing. My very picky eater gobbles it up like crazy.
You can easily adjust the level of spicy heat by leaving the seeds and membranes in the jalapeño, adding extra jalapeños, or by leaving them out altogether.
You can make it ahead, as early as a day or two before you intend to serve it. In fact, the dressing tastes better the longer it sits!
It only takes 10 minutes to throw this salad/salsa together, including the time it takes to whip up the dressing.
It's made with simple ingredients you probably already have in your pantry and fridge.
This salad is loaded with healthy, low calorie, fresh, fiber-rich foods that pack a nutritional punch.
What you'll need to make Mexican black bean, corn, & avocado salsa
Equipment
This recipe requires only a garlic press, sharp knife, and possibly a set of sharp kitchen shears. (I prefer shears to a knife for chopping fresh herbs like cilantro.) I also use a citrus juicer to squeeze the lime.
Ingredients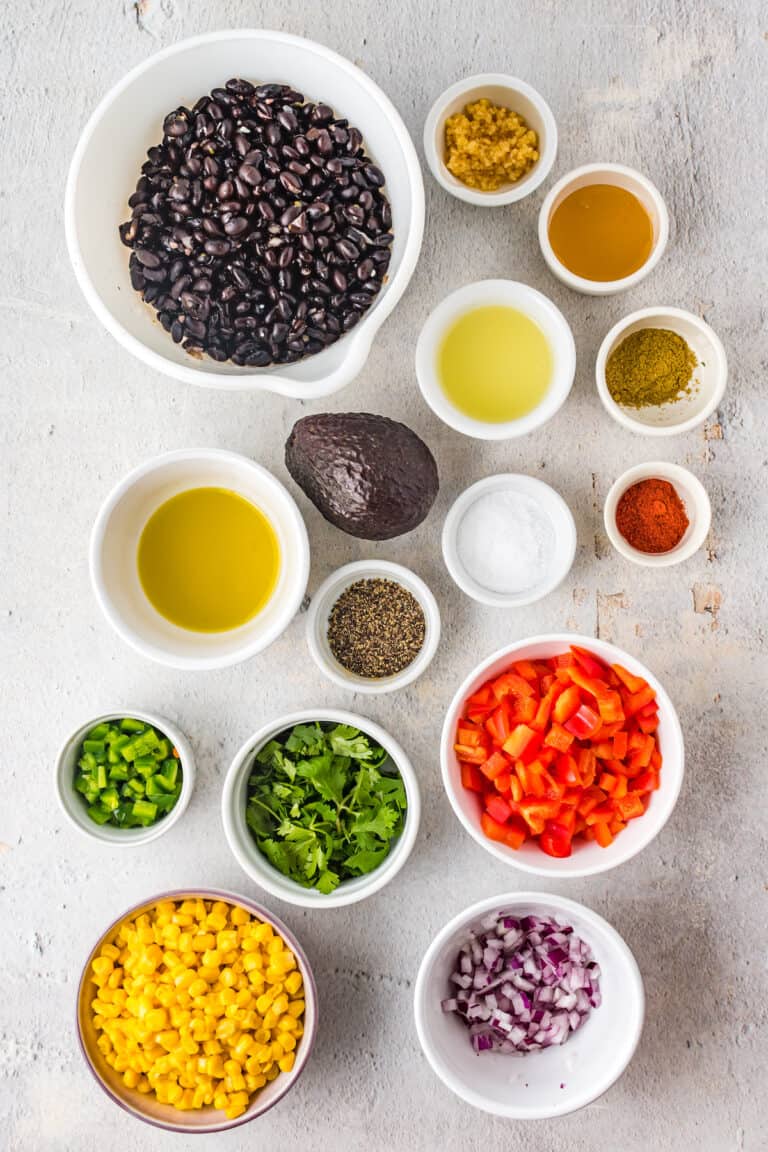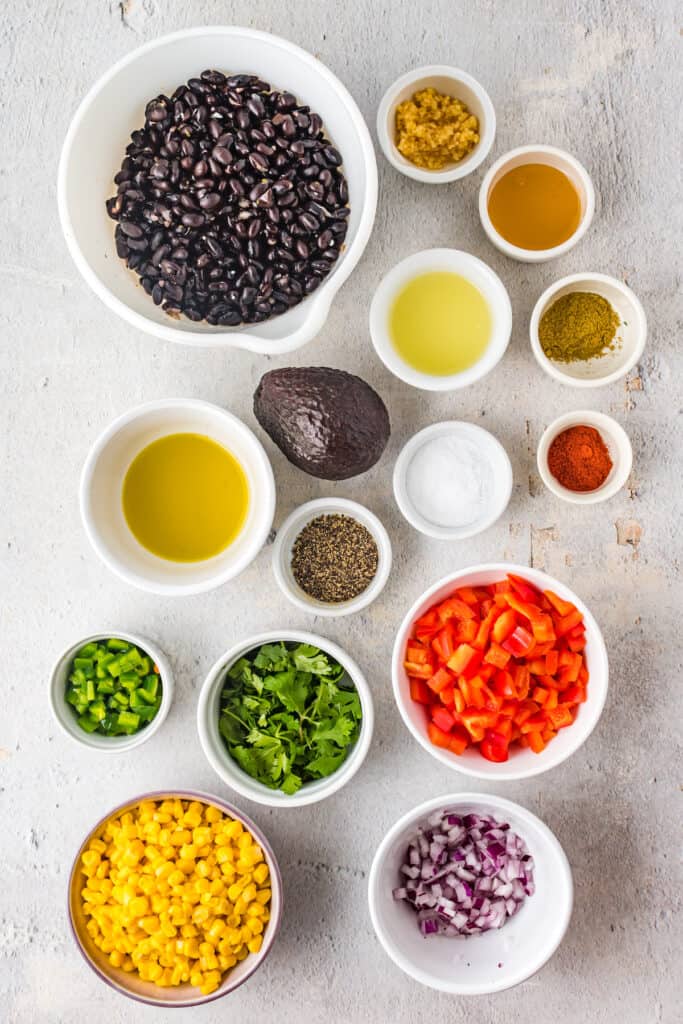 Black beans, rinsed and very well drained - I buy and use canned beans because they're easier, but you could also buy dehydrated beans and soak and cook them yourself. You can substitute kidney beans or white beans if you prefer. I buy low sodium beans and add salt if I think it's needed at the end.
Corn kernels - I like frozen corn because I think it tastes the best. If you use frozen, you will need to thaw and thoroughly drain the kernels. If you use canned, drain them before using. If it's in season, corn freshly cut from the cob would make this salad sing with joy.
Red onion, minced - You could use half of a sweet Vidalia onion, yellow onion, or white onion in place of the red. If you're afraid of the pungent raw onion bite, try making this salsa the day before and letting it sit in the fridge overnight. The raw onion flavor mellows out the longer it sits in the dressing.
Red bell pepper, diced very small - You could substitute any color sweet pepper.
Green bell pepper, diced very small - You could substitute any color sweet pepper.
Jalapeño - Remove the seeds & membranes (so it's not quite so hot), then mince the flesh. This is optional, and you can omit it if you prefer your salsa to be mild. Alternately, if you like a lot of heat, leave the seeds and membranes in the pepper and/or add an extra one.
Fresh cilantro, chopped or snipped - I love fresh cilantro and use a lot of it, but I don't like chopping it with a knife. I prefer to snip it with kitchen shears. If you are a cilantro hater (it's genetic), use fresh parsley instead.
Olive oil - Use the best, darkest green olive oil that you can find. If you don't have good olive oil, you could use avocado or sunflower oil instead.
Fresh lime juice - This is the juice of about 2 small limes. Limes cost less than $1 each, so please for the love of all that is holy, buy 2 limes and squeeze them yourself. There is no comparison between fresh lime juice and the abomination you can buy in a green plastic bottle. You need fresh lime juice in this recipe.
Honey - This balances out the tart lime juice and makes the dressing slightly sweet.
Fresh garlic, pressed - As with the lime juice, you need fresh garlic. There is no comparison between garlic in a jar and freshly pressed garlic. If you don't have a garlic press (you should get one), carefully mince the fresh cloves into the tiniest of tiny pieces using a very sharp knife. A bulb of fresh garlic costs about $1, contains about 10 cloves, and lasts for a very long time on the counter. Don't skimp on garlic. Also, I am normally very heavy handed with garlic and add twice the recommended amount to any recipe, but you DO NOT want to do that here. Too much garlic will completely overpower the delicate flavors of the paprika, honey, and lime juice.
Smoked paprika - Smoked paprika has an earthy, slightly smoky flavor that really makes this dressing rich and robust. If you don't have smoked paprika, you could substitute sweet paprika (that's the normal kind that's typically labeled simply "paprika"), taco seasoning, chili powder, or cumin, but the flavor will be significantly different.
Salt & pepper - This recipe will most likely need salt and pepper, especially if you use low sodium beans. If you taste it, and it seems like it's missing something, add salt ½ teaspoon at a time, mixing well, and tasting often until the flavors come together.
Diced avocado - I go heavy on the avocado and often use 2 large ones, but the recipe as written calls for 1 large or 2 small avocados. Make sure that you don't cut these until just before serving or they will turn brown.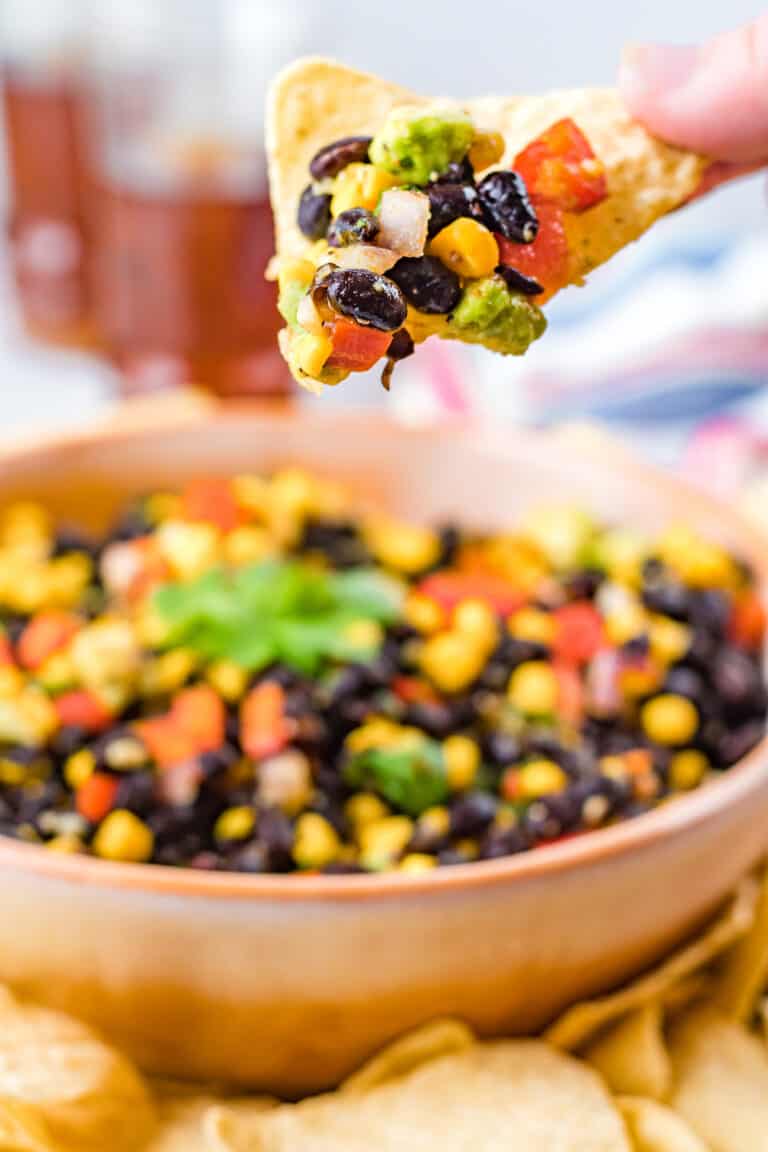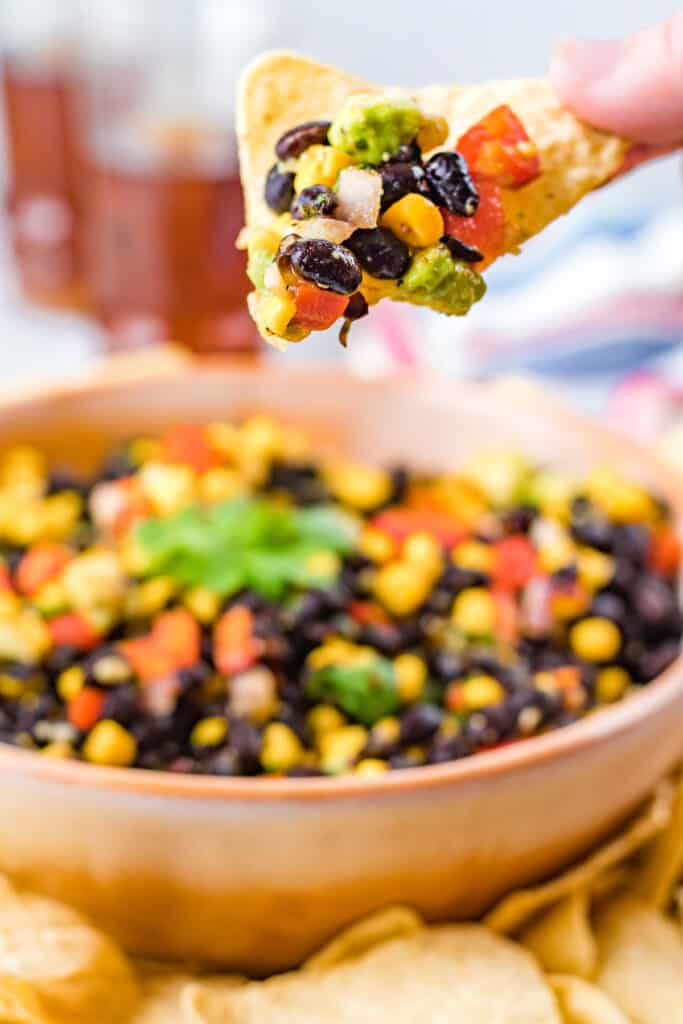 How to make black bean and corn salad
Stir together the black beans, corn, onion, peppers, jalapeño, and cilantro in a large bowl.
In a small bowl, mix the olive oil, lime juice, honey, pressed (or minced) garlic, salt, paprika, and black pepper.
Pour the vinaigrette over the bean mixture and toss to combine. Refrigerate for 30 minutes or longer, up to overnight. It tastes good when freshly made, but it tastes amazing if you let it sit awhile.
Just before serving, dice the avocado and toss with the salad.
Serve with tortilla chips for dipping or spoon over meat, tacos, burritos, or salad.
Variations
Keep in mind that adding fruit, vegetables, or grains will require increasing the amount of dressing. If adding grains, you will likely have to increase the dressing significantly as they will soak it up.
You could chop a couple of fresh tomatoes or a handful of cherry tomatoes and add them to the salad. Be sure to remove the seeds and goo from the center of the tomatoes before chopping so that your salad doesn't get slimy. (Can you tell that I don't like raw tomatoes?)
You could replace the smoked paprika with sweet paprika, taco seasoning, chili powder, or cumin.
You could leave out the jalapeño if you prefer a no heat salsa.
You could leave the membranes and seeds in the jalapeño when you chop it if you prefer a spicy heat.
You could add a can of very well drained diced green chiles for a tiny bit of sweet heat.
You could substitute lemon juice for lime juice. I prefer lime, but lemon will work in a pinch.
You could add a diced cucumber, diced radishes, or sliced asparagus spears.
You could add well drained pineapple chunks or diced mango.
You could add cooked quinoa, rice, or couscous.
Ideas for serving this black bean salsa recipe
Taco and burrito topper - This salsa is great as a topping for tacos such as these Shredded Beef Tacos or Southwest Chicken and Rice Tacos and burritos such as Easy Chicken Burrito and Quick and Easy Black Bean Burritos.
Burrito bowl ingredient - This salsa is also really good in Cilantro Lime Shrimp Burrito Bowls and Chicken Burrito Bowls.
Side salad - This salsa is good as a side salad, spooned into bowls at a picnic or lunch.
Nacho topping - To make top notch sheet pan nachos, spread tortilla chips on a sheet pan, then top with shredded chicken or ground beef, this salsa, and loads of shredded cheese. Stick it in the oven at 350ºF for 15 minutes or until the cheese is melted.
Taco salad - To make a delicious taco salad, fill up a bowl with spring mix or baby greens, then add some shredded chicken or ground beef, this salsa, a spoonful of tomato salsa, a handful of shredded cheese, and a dollop of sour cream. So good!
Loaded baked potato - Split a baked potato in half, then top with this salsa, a handful of shredded cheese, and a dollop of sour cream. If you want to make it a full meal, add some shredded chicken too.
Egg topper - This is awesome on top of scrambled eggs or Mexican or plain cheese omelets.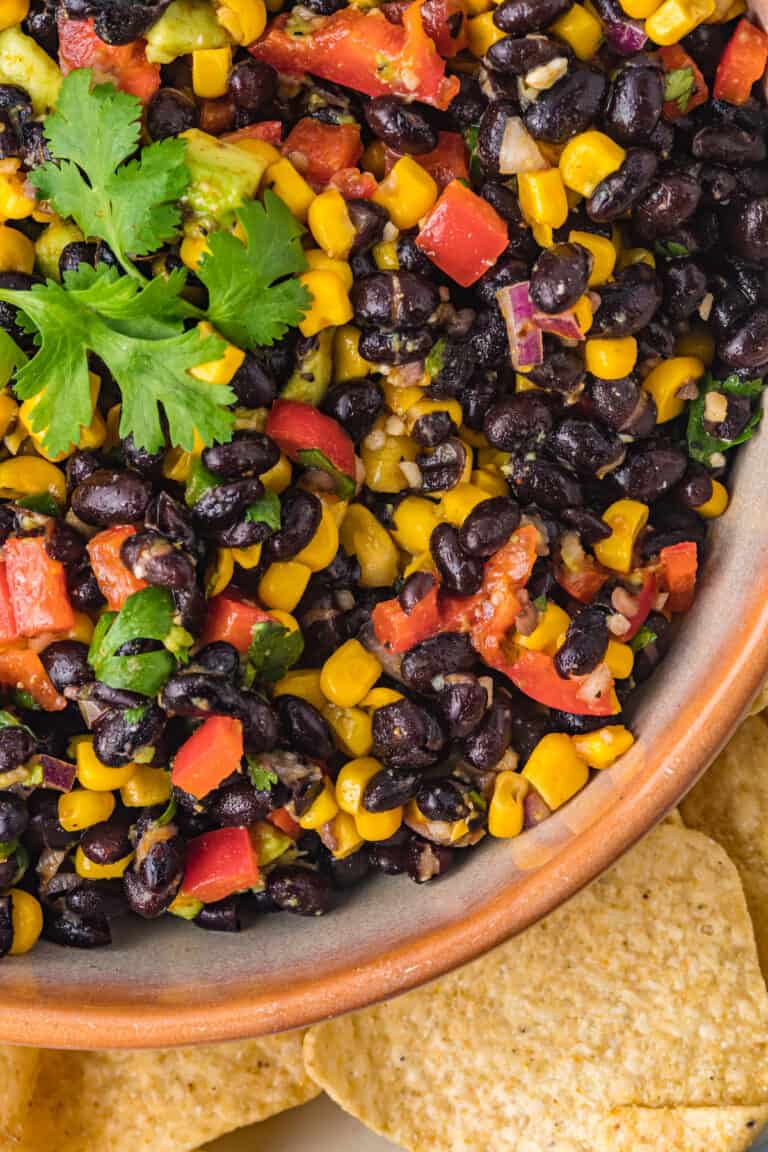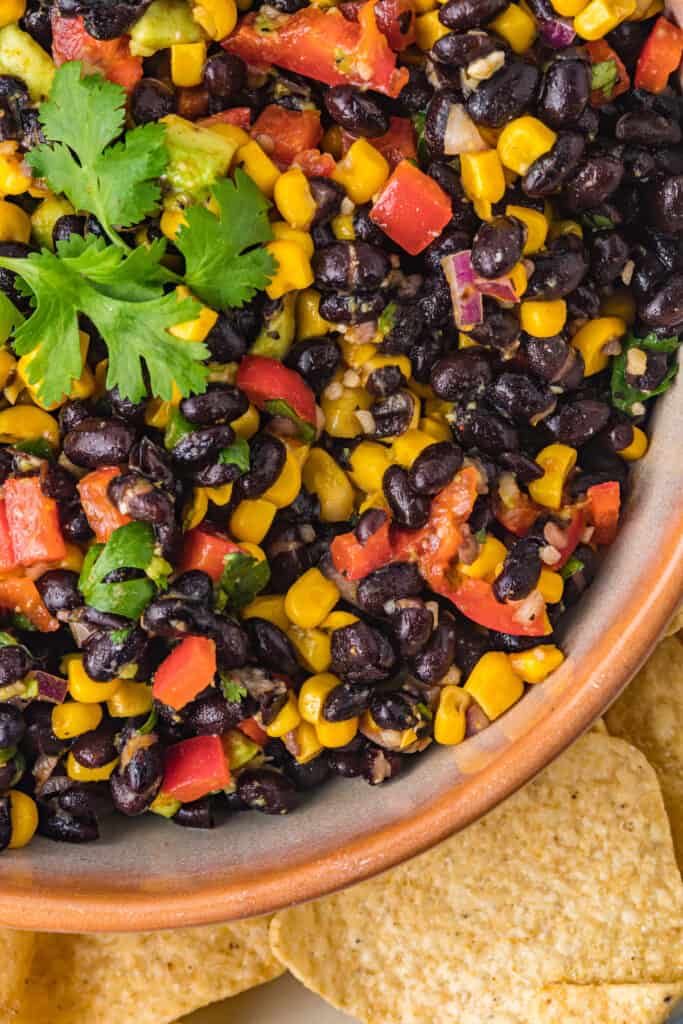 Storing black bean corn salsa
You can keep this black bean and corn salsa in an airtight container in the refrigerator for up to 5 days. The avocado will more than likely turn brown, but that doesn't mean it has spoiled. It's just oxidized on the outside and will still taste good.
I would not recommend freezing this salad.
More delicious appetizers to try
This salsa/salad can be served in a lot of different ways, but I typically use it as an appetizer dip with tortilla chips. Here are some other appetizers that I like to serve alongside this one:
Recipe