How to make the best savory Chex Mix. This simple and easy recipe is the original healthy traditional homemade snack mix with cereal, pretzels, and nuts. Baked in the oven.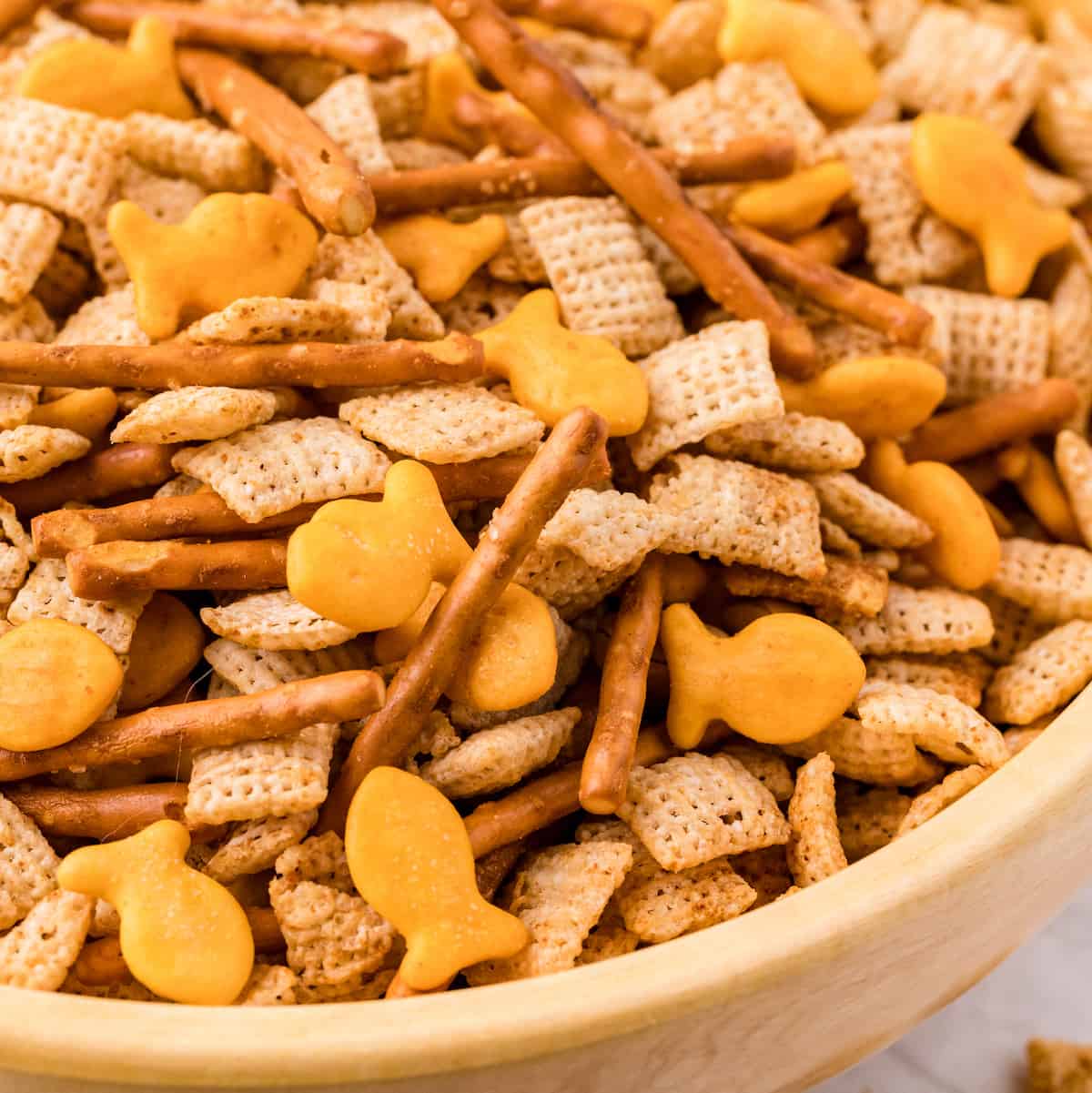 At a friend's house this evening, Grace discovered that she likes Chex Mix.
I've never been a fan, so she didn't have to worry about me nibbling from her bowl.
I wonder if that was part of its charm.
At any rate, I poured Grace a bowl of Chex Mix (the premade Chex Party Mix kind, in a bag), and she immediately picked out all of the Chex and left the pretzels and crackers behind.
My like these little crunchy things, Momma.
I told her that they're a kind of cereal, and that you can eat with milk or as a snack.
Can my have more of the little crunchy things?
Have you ever tried explaining Why not? to a 2-½-year-old who wants you to pick the cereal bits out of a friend's bag of Chex Mix? It doesn't compute.
My want more little crunchy things.
She was begging for a healthy food. No sugar involved. How often does that happen?
When we got home, I looked up the recipe for Chex Mix, tweaked it, and gave Joe a shopping list.
We made our Chex Mix almost entirely out of Chex because that's what Grace likes. Most people put in pretzel sticks and crackers such as Cheeze-Its, Goldfish Crackers, or oyster crackers. You can use those if you want.
The best Chex Mix recipe
This recipe is great to package up in a pretty box and give as a gift. It's also perfect for a game day or movie night snack. And, as I said above, it's perfect to set out when you have friends over.
Kids love savory Chex Mix as an after school snack, and it's awesome to nibble on while you're preparing holiday meals like Thanksgiving, Christmas, New Year's, and Easter.
The reason that Chex Mix is so perfect is that it doesn't need to be refrigerated or kept warm, so it's safe to sit at room temperature all day.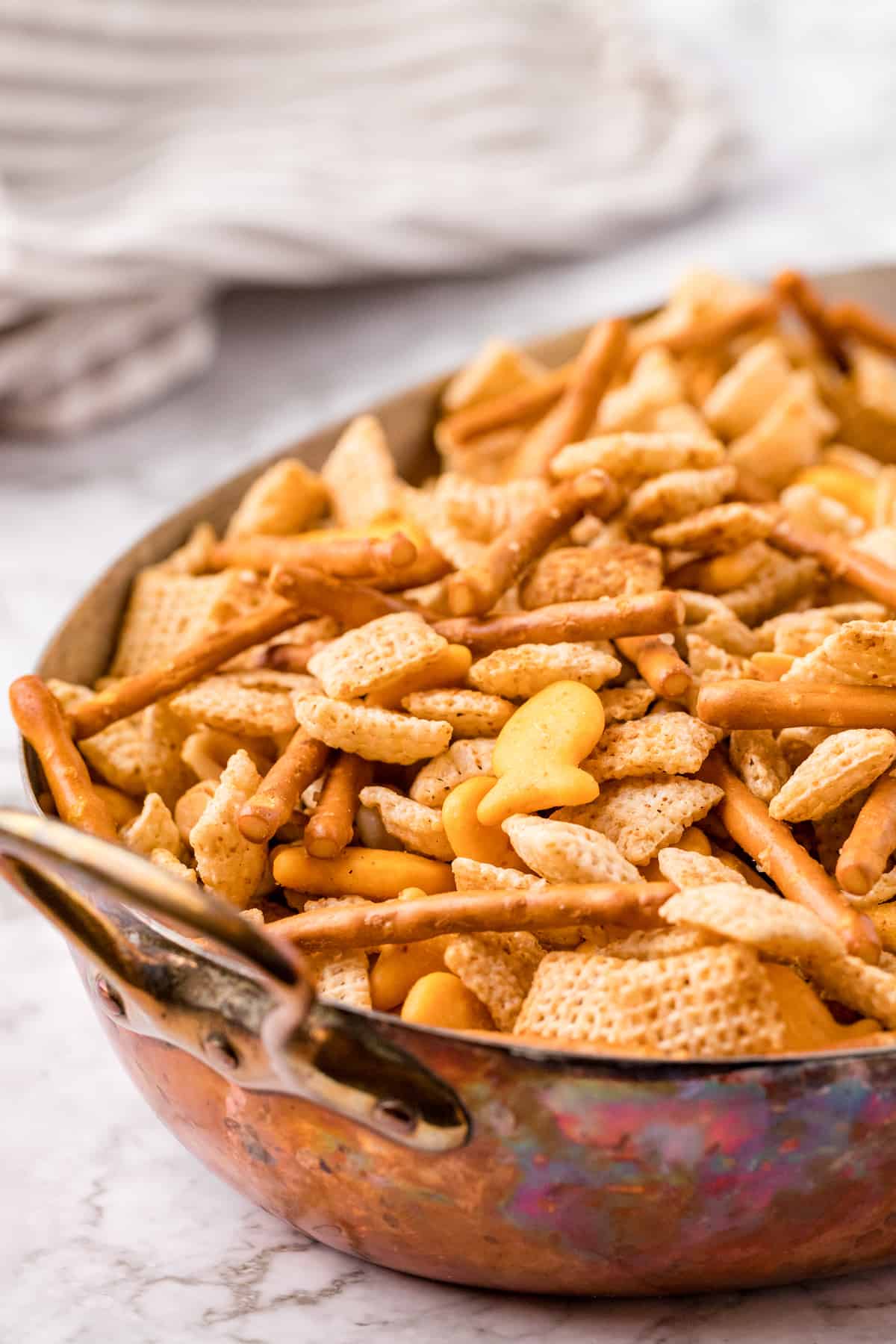 Is savory Chex Mix healthy?
For the most part, it is healthy being that it has only a small amount of butter and no sugar. It is naturally vegetarian, low fat, and low calorie.
If you use Rice Chex and Corn Chex only and carefully choose your add-ins, it can be gluten free.
If you replace the butter with coconut oil, it can be dairy free.
If you choose a Worcestershire sauce without anchovies (read the label) and use coconut oil instead of butter, it can be vegan.
If you stick with peanuts, it can be tree nut free.
If you use cashews or almonds, it can be peanut free.
Get the picture? This recipe can easily be adapted to almost any diet and allergy need.
Is Chex Mix better for you than chips?
It absolutely is! Chips are typically deep fried in oil, and Chex Mix is coated in a very small amount of melted butter. It's much healthier and has fewer calories.
What is savory Chex Mix made of?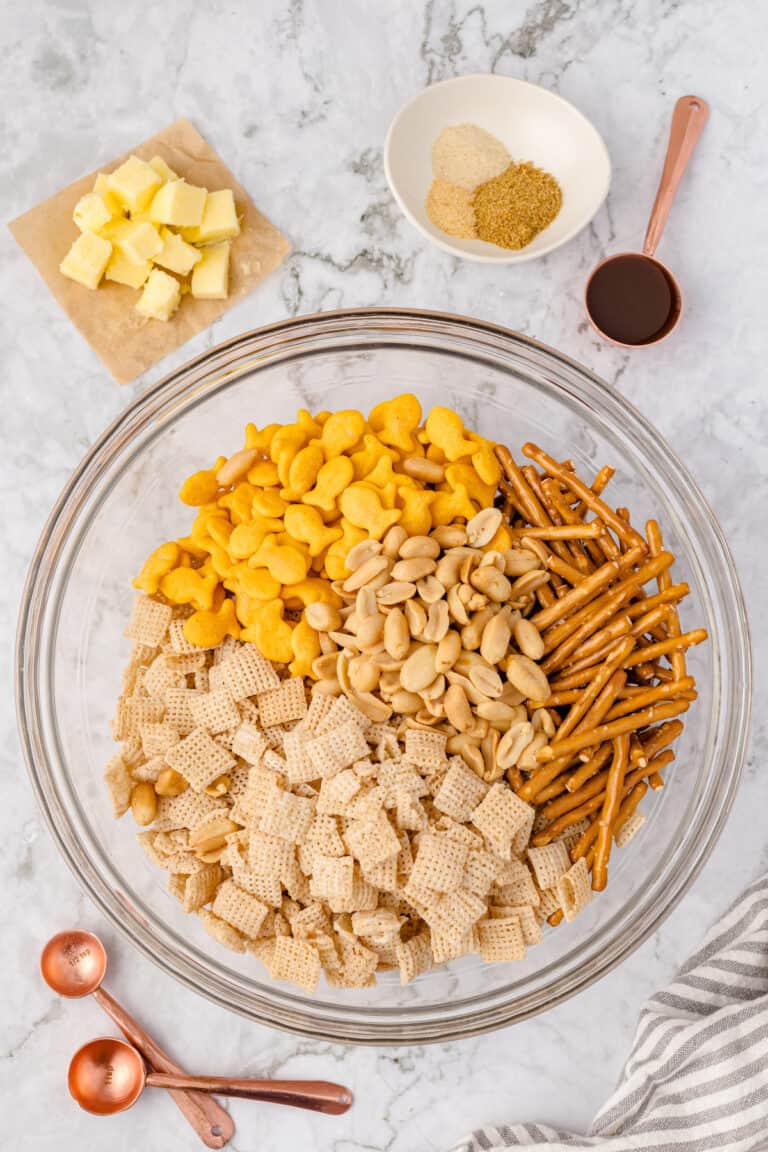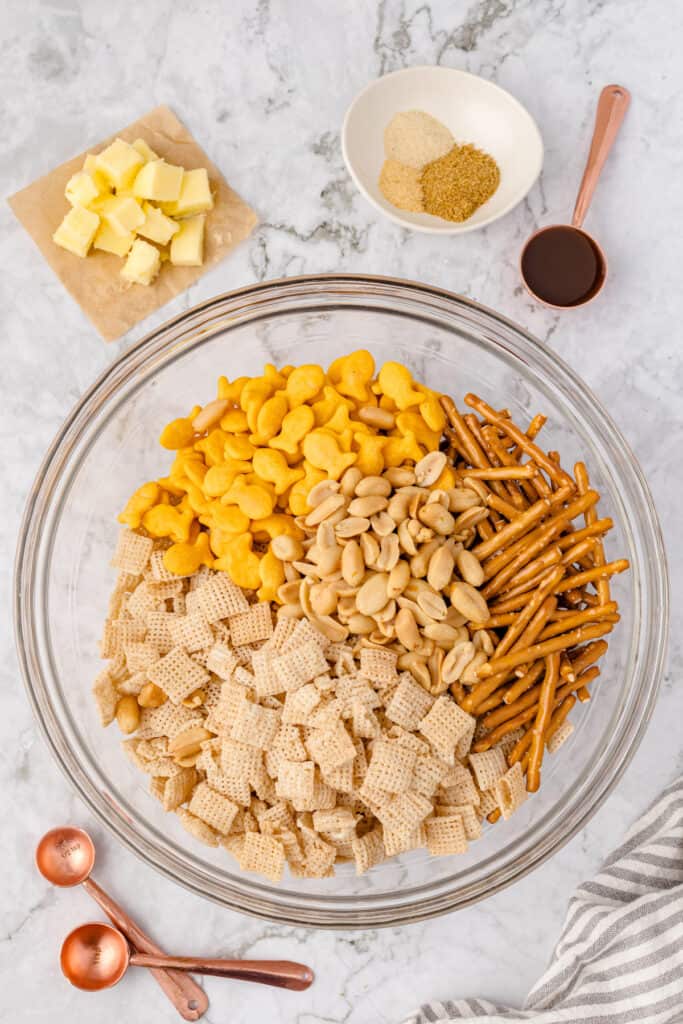 Chex cereal - You can use any combination of Chex varieties including Rice Chex, Wheat Chex, or Corn Chex.

You can add, remove, or replace any of the following add-ins:
Peanuts or cashews or almonds or even mixed nuts
Pretzel sticks
Goldfish crackers or cheese crackers
Cheerios
Oyster crackers
Bagel chips
Cheeze-Its

Then you toss it in melted butter and spices:

Unsalted butter - This gives the finished mix a slightly sweet and rich flavor, and it is what coats the cereal and add-ins and makes the whole thing into a snack and not just a bunch of trail mix.
Worcestershire sauce - This is a salty umami flavor that you need. Don't skip it.
Seasoned salt - Seasoned salt is salt mixed with some spices including turmeric, paprika, and garlic. It will change the overall flavor of the Chex Mix, but you could substitute kosher salt if you had to.
Garlic powder - You can use more or less of this to suit your personal taste.
Onion powder
Then you toast it in the oven until it's nice and crispy.
How to make the best homemade Chex Mix recipe in the oven
Preheat oven to 250ºF.
In a large microwave safe bowl, microwave butter for 30 seconds or until melted. Stir Worcestershire sauce, seasoned salt, garlic powder, and onion powder into the melted butter and whisk to combine.

In a second large bowl, mix Chex, pretzels, peanuts, and crackers.

Pour the cereal mixture into the melted butter mixture A LITTLE AT A TIME and toss to coat.

Spread on a baking sheet in a thin layer and bake for 1 hour, stirring every 15 minutes.

Remove the Chex Mix from the sheet pan and spread on paper towels to cool to room temperature.
Store in an airtight container.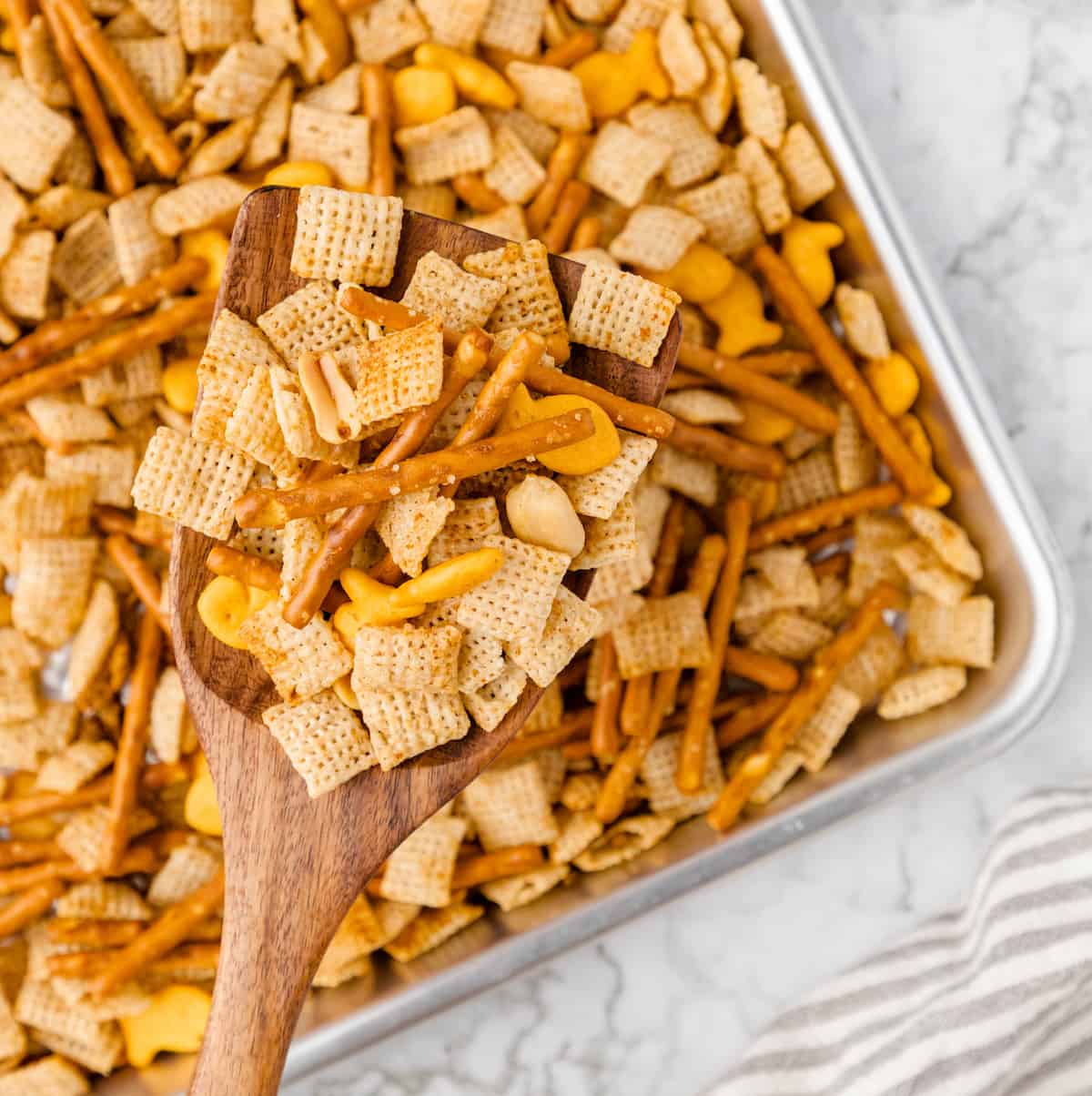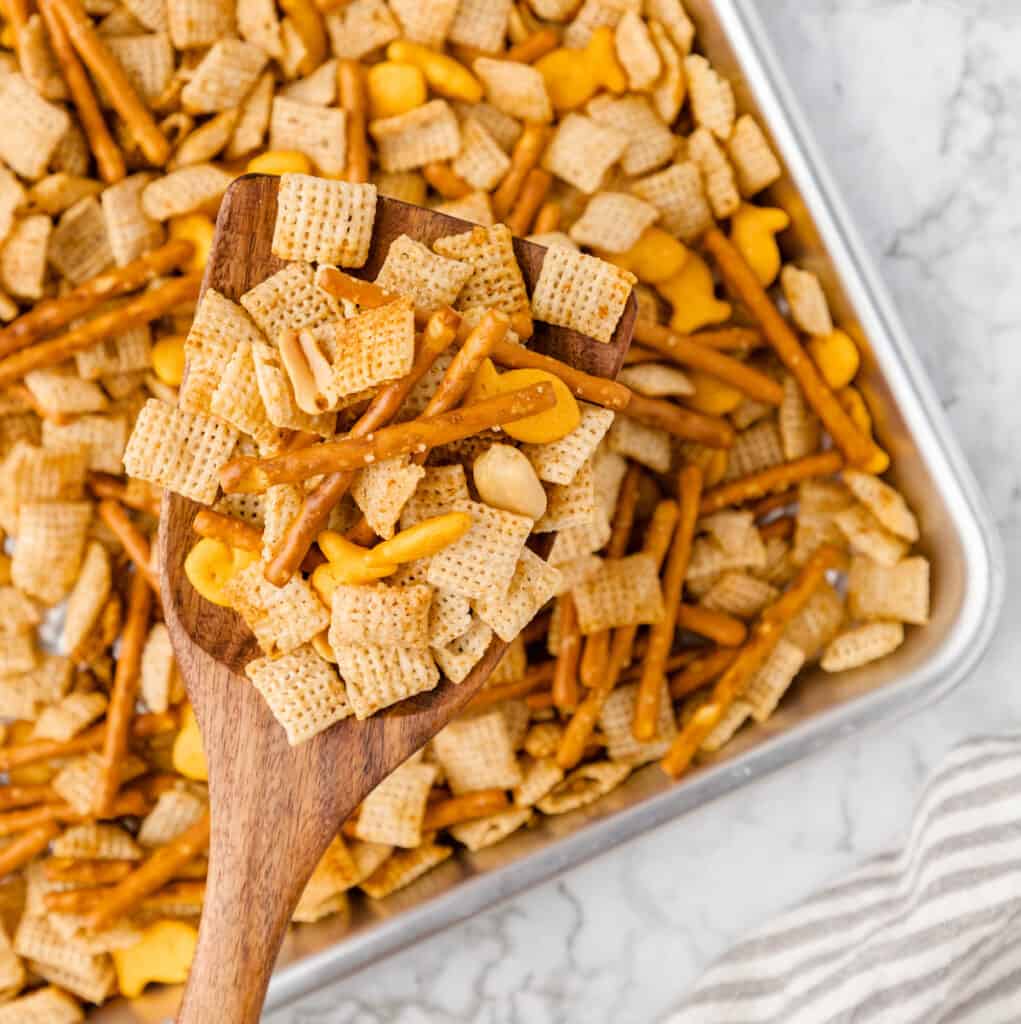 Other Chex Mix recipes
For ranch Chex Mix, add 2 tablespoons of dry ranch dressing mix to the melted butter mixture.
For a cheesy Chex Mix, add ½ cup Parmesan cheese to the cereal mixture before tossing it in the butter mixture.
For Tex-Mex Chex Mix, add 1 tablespoon of taco seasoning or fajita seasoning to the butter mixture.
For spicy Cajun Chex Mix, add 1 tablespoon of cajun seasoning to the butter mixture.
For buffalo wings Chex Mix, add 2 tablespoons of Frank's RedHot buffalo wing sauce, 2 tablespoons of dry ranch dressing mix, and 1 teaspoon of celery seed to the butter mixture.
For bacon honey BBQ Chex Mix, add 2 teaspoons of BBQ seasoning and ½ cup of coarsely chopped bacon. Replace the salted peanuts with honey roasted peanuts.
Tips for the best homemade Chex Mix
Stick with unsalted butter! There will be plenty of salt in the recipe from the Worcestershire sauce, seasoned salt, and all those crackers and pretzels. You definitely don't want to add extra!
Stir the mix every 15 minutes while it's in the oven. This helps to prevent it from sticking to the pan and burning, and it also helps everything to toast evenly.
Use multiple flavors of Chex to make your mix. The most popular varieties are wheat, corn, and rice, and the finished mix is really tastiest if you use a combination of all three.
Add fresh herbs just before serving. Fresh herbs like parsley, thyme, and rosemary will make your Chex Mix sing, but they will cook to nothing if you add them before baking. Toss them with the mix after it's cooled for the best flavor.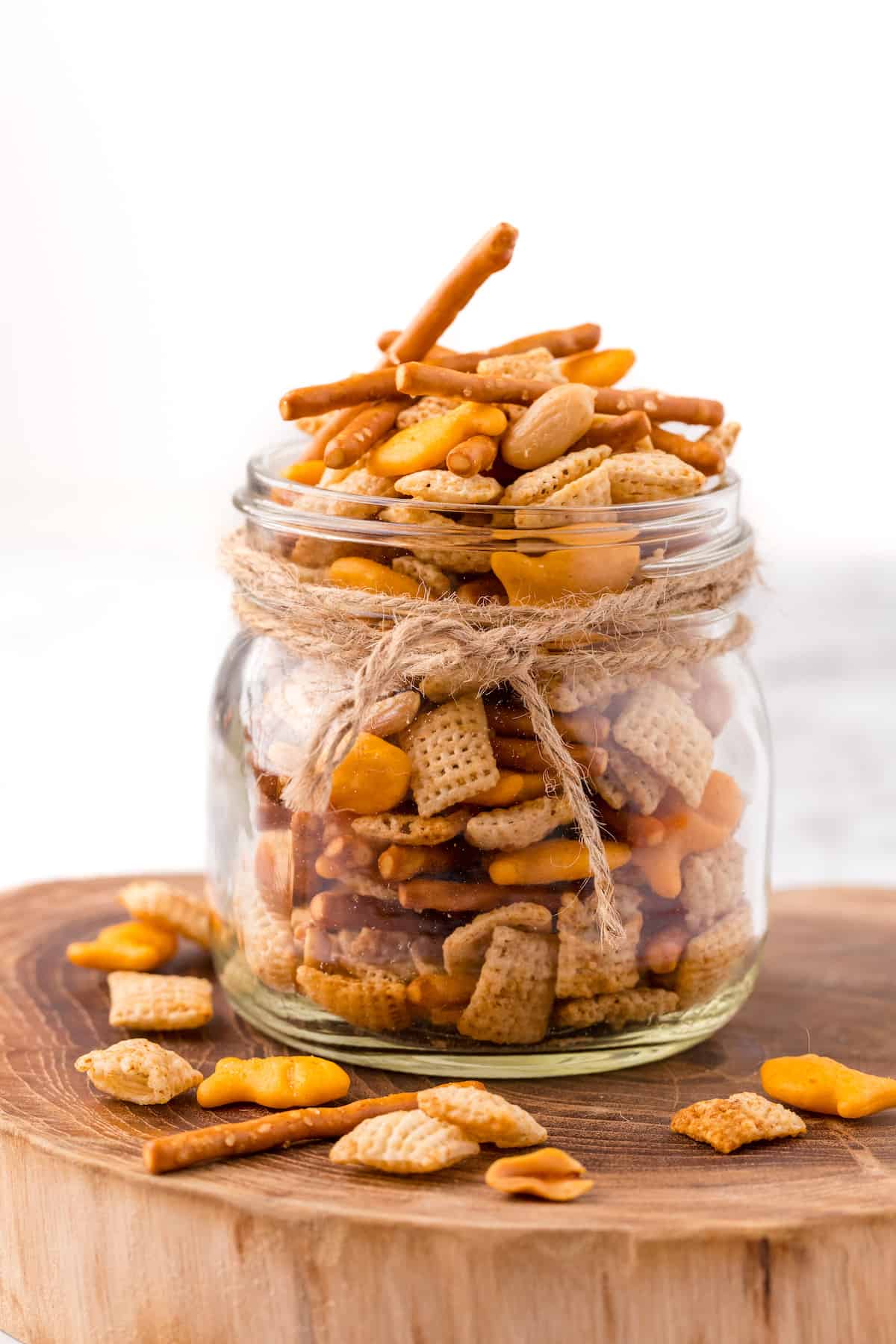 How to store original savory Chex Mix
My better than the original Chex Mix recipe makes a smaller batch than most other recipes, so there typically aren't a lot of leftovers. But if you do have some, simply store them in an airtight container like Tupperware or a zippered plastic storage bag. It will stay fresh at room temperature for 2-3 weeks or in the freezer for 4-6 months.
Try these other snack recipes while you're here:
Recipe