Light, crispy, and delicious, these easy homemade air fried potato chips are healthy because they're seasoned with salt and pepper and cooked to perfection in the air fryer! They taste better than store bought and are much better for you!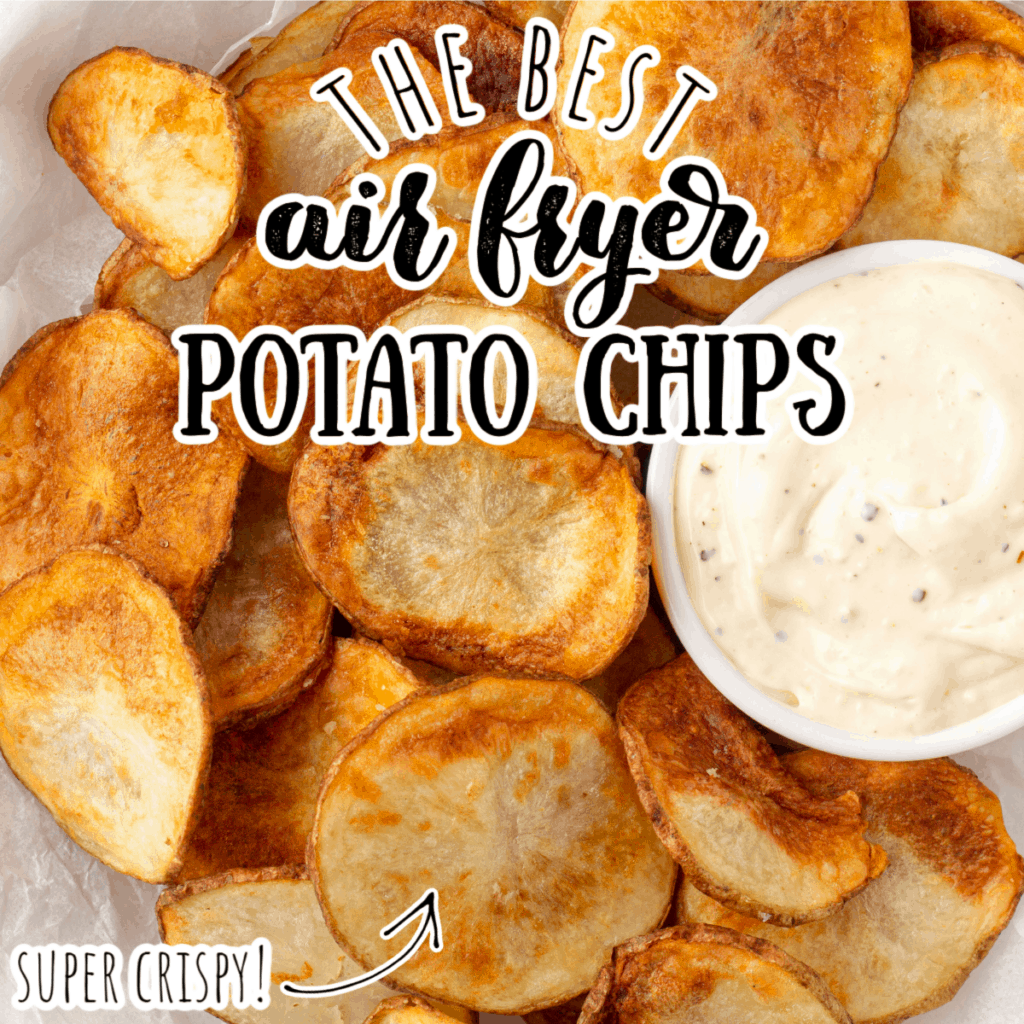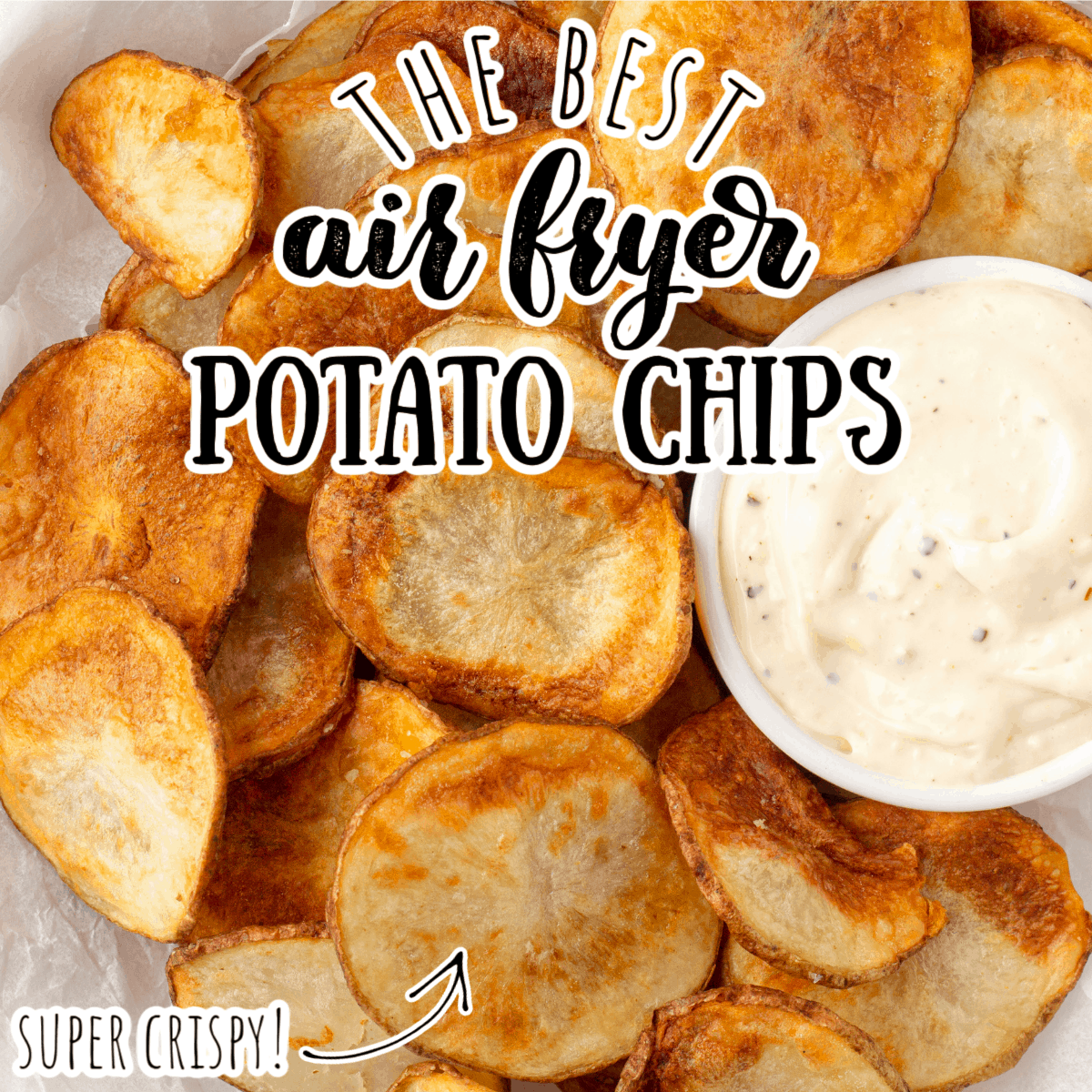 My kids love potato chips, but I have a hard time with buying foods that are fried in oil. I know they taste good, but they are just so unhealthy.
Knowing that weight issues run in my family, I feel like I really need to protect my kids as much as possible from super unhealthy foods like potato chips.
But, like I said, they love potato chips.
So, to appease them, I figured out how to make potato chips at home. We started out making chips in the oven, but since air fryers have become a big thing, I wanted to try adapting that recipe for the new gadget.
I think the chips in the air fryer come out even better than the ones in the oven. The oven chips get a little hard and tough rather than crispy, and the air fryer chips are just crispy. I don't know how else to explain it. You'll have to try them both ways and see which you like better.
I think it will be the air fried chips. Just saying.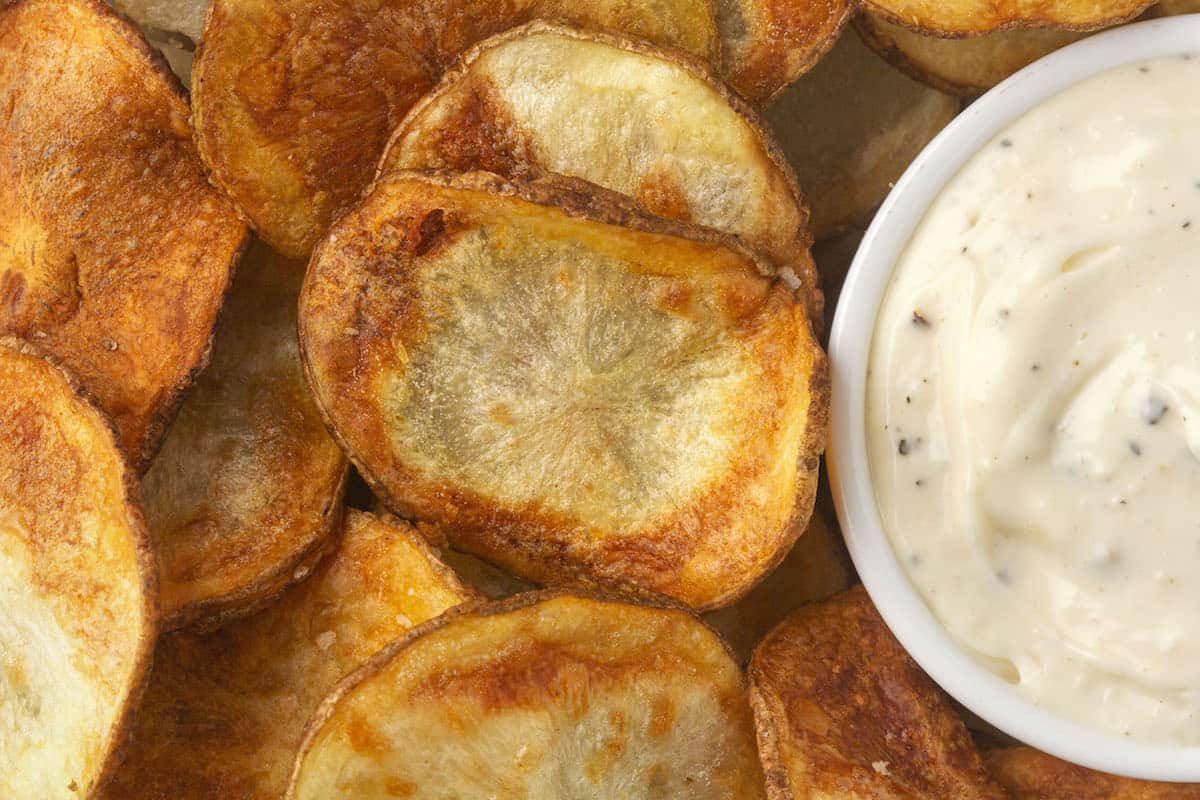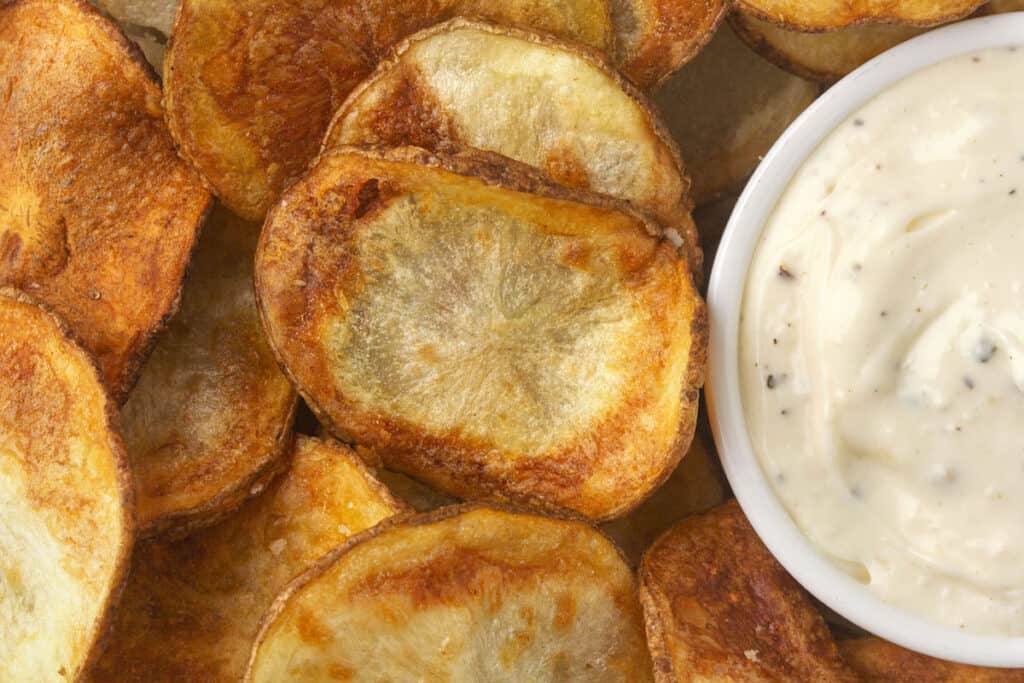 One of my favorite meals right now is this blue cheese burger with these potato chips and garlic aioli. You can't beat it for a quick and hearty supper.
How to make homemade air fryer potato chips
Equipment
Obviously, you'll need an air fryer, but the specific model is not important. If you have an extra large one, you may be able to cook all the chips in one batch, but it's still a good idea to divide them in half and cook just one potato's worth at a time.
I used a mandoline slicer to cut the potatoes for this recipe. I like a mandoline slicer because it makes very thin and perfectly consistent slices. If you have a very steady hand, you could try for thin slices with a sharp knife, but it will be a lot more difficult to get uniform chips that way.
Ingredients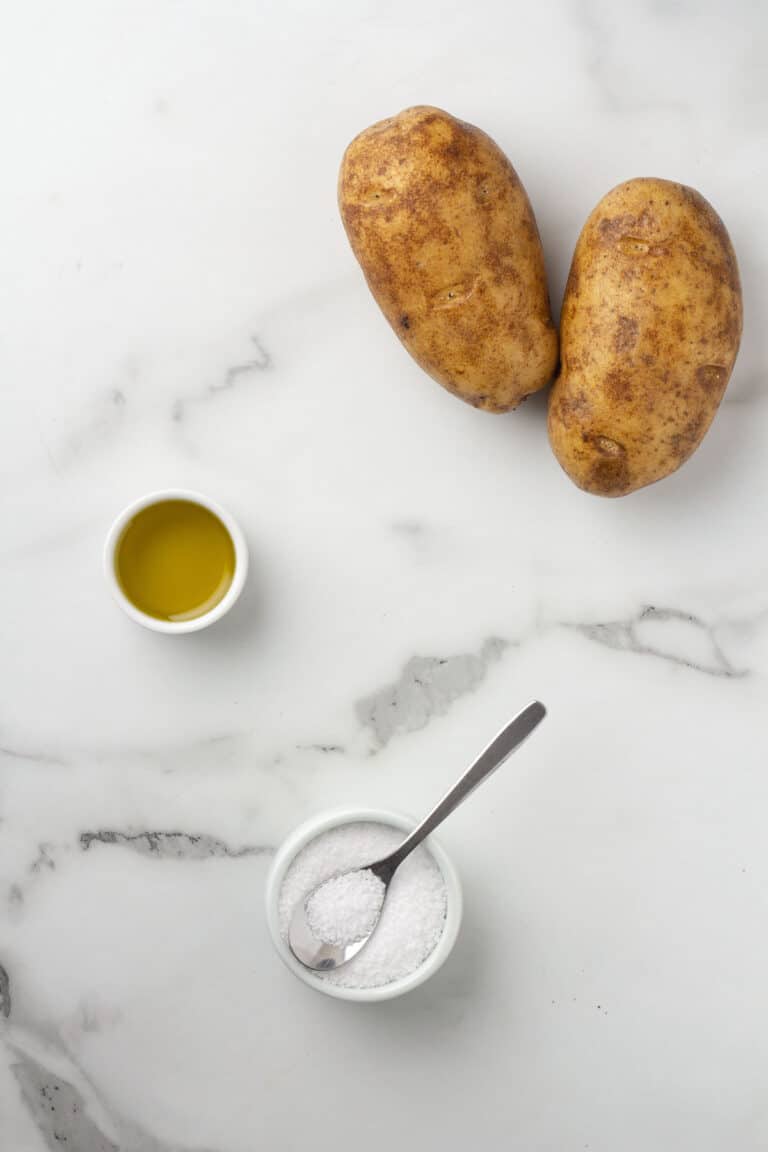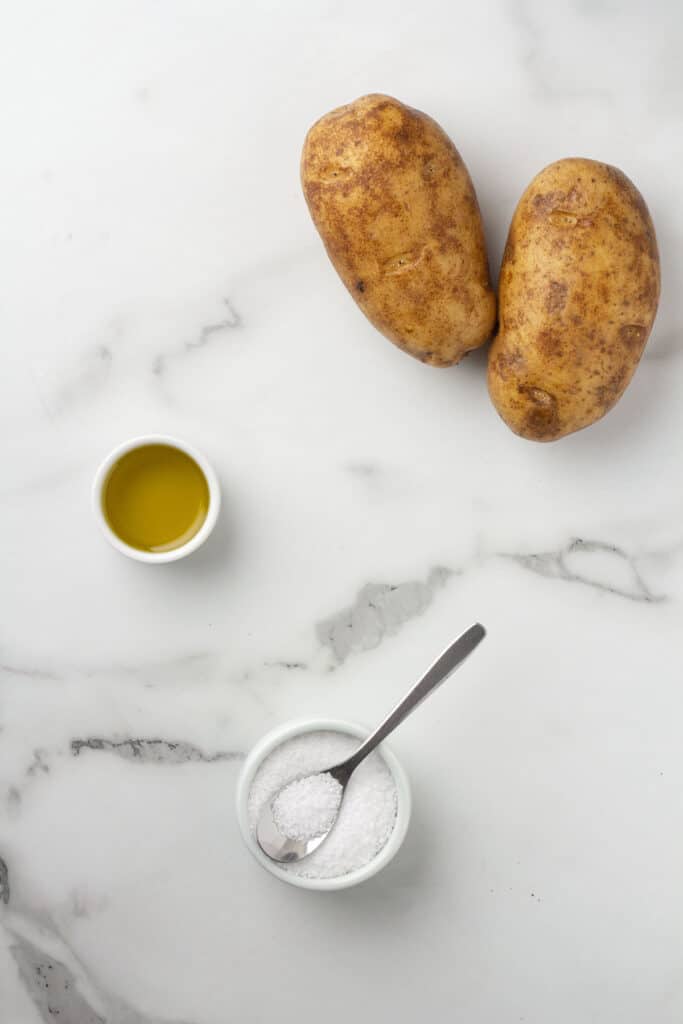 2 medium potatoes, thinly sliced - I prefer Yukon Gold potatoes personally, but russet potatoes will also make nice chips.
1 ounce olive oil - This is 2 tablespoons.
1 teaspoon salt
Black pepper (if desired)
How to make homemade air fried potato chips
Place the sliced potatoes in a large bowl. Fill the bowl with cold water and swirl the potatoes around. Drain off the starchy water, then rinse the chips under running cold water. Fill the bowl with ice water, and allow the potatoes to sit in the ice water for 10 minutes.

Drain the ice water from the bowl and lay the potatoes out on a sheet pan lined with paper towels. Pat dry, making sure to remove all the water.

Transfer the potatoes to a large bowl and toss them with the oil and salt until well coated.

Place half of the potatoes in the air fryer. Set the fryer to 390°F and air fry for 20 minutes.

After 10 minutes, stir the potatoes to ensure even cooking.

Once the first batch is cooked to golden perfection, repeat with the rest of the potatoes.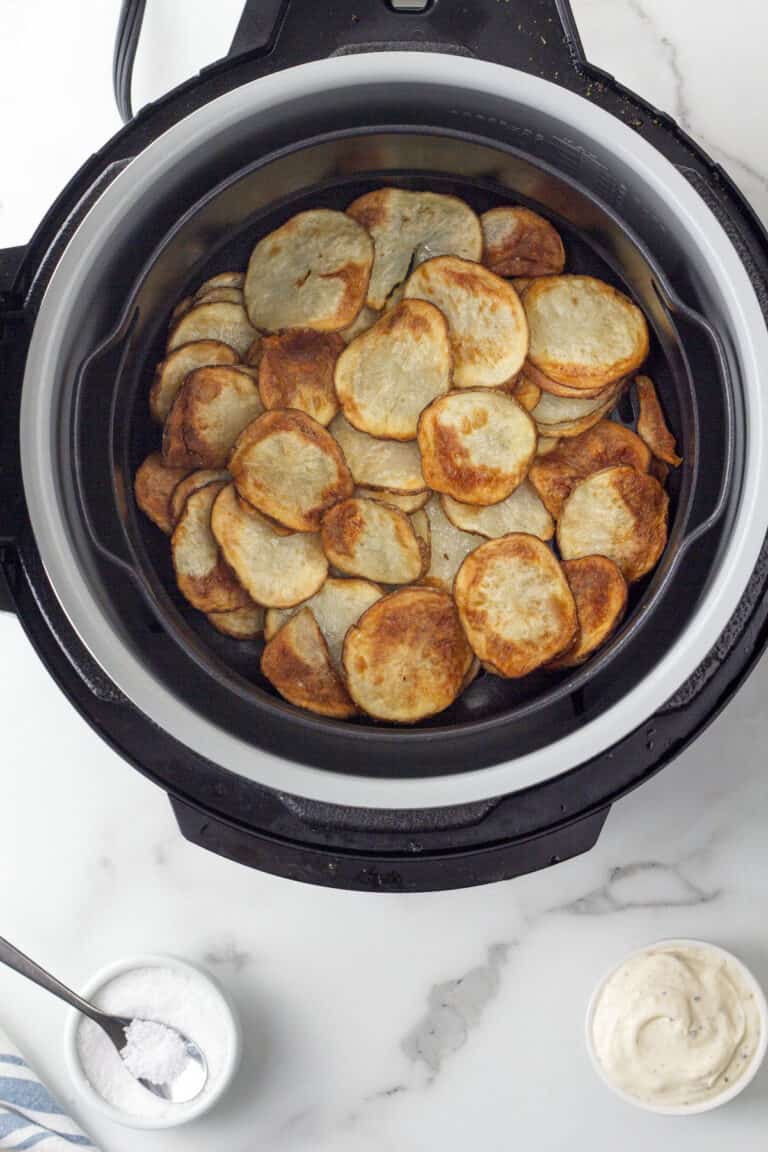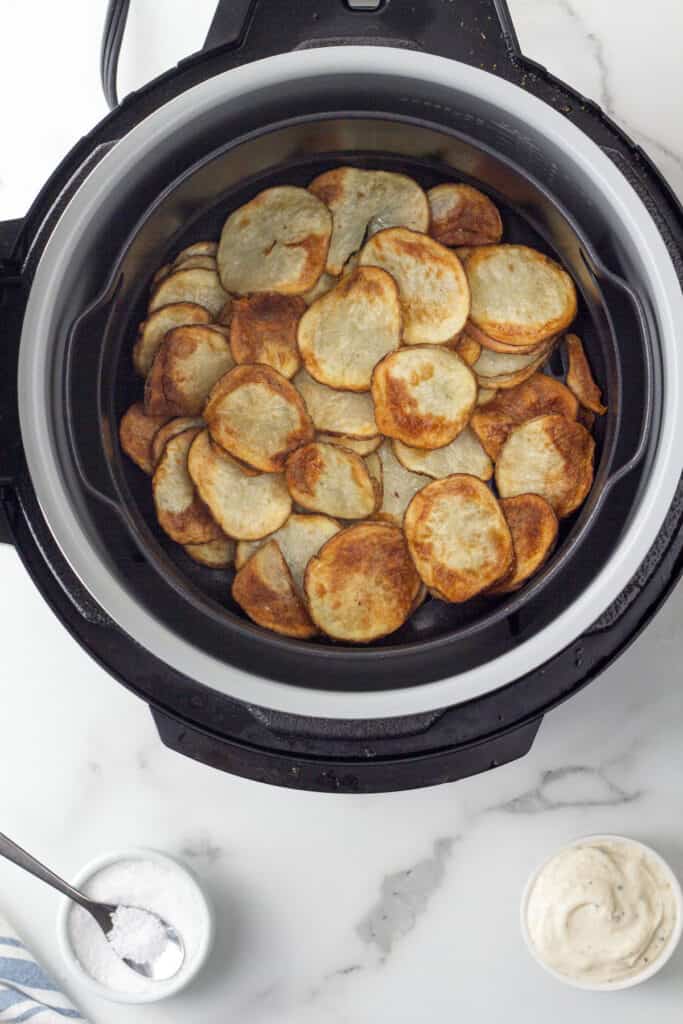 Heed this special warning for your first time!
Hopefully, you know your air fryer better than I do. But still, you will need to keep a close eye on your potato chips as they cook, especially the first time.
If your potato slices are really really thin, they will take less time and may burn if you set your air fryer for 20 minutes and just let them go. Stay close to your machine and take them out if they start to smell too done.
Conversely, if you cut your slices with a knife and they're on the thicker side, they're going to take longer than 20 minutes for sure.
I know opening the air fryer basket makes them take longer in the end (because it lets the heat escape and the machine has to spend time heating back up), but it will be worth it to make sure you chips don't burn.
When should I take my potato chips out of the air fryer?
Do NOT let your chips turn golden brown!!! By the time they are brown, they will taste burnt.
Remove the chips from the air fryer as soon as they turn golden (see the photos above and below). Golden chips will be crispy crunchy and taste good. Brown chips will taste bad, very very bad. You will throw them in the trash.
Can I cook all the potatoes at the same time?
Typically, you want to cook food in the air fryer in a single layer. Because these potato chips are cut so thin, you can probably cook them in a double or even a triple layer, but tossing them around partway through cooking is a necessity.
If you have an extra-large air fryer, you might be able to cook them in one big batch. You will probably have to add some extra time and stir at least once more to get them slightly brown and crispy.
I have tried to cook all at once in a standard-sized air fryer, but it just didn't work; half of them were crispy, and half of them were floppy.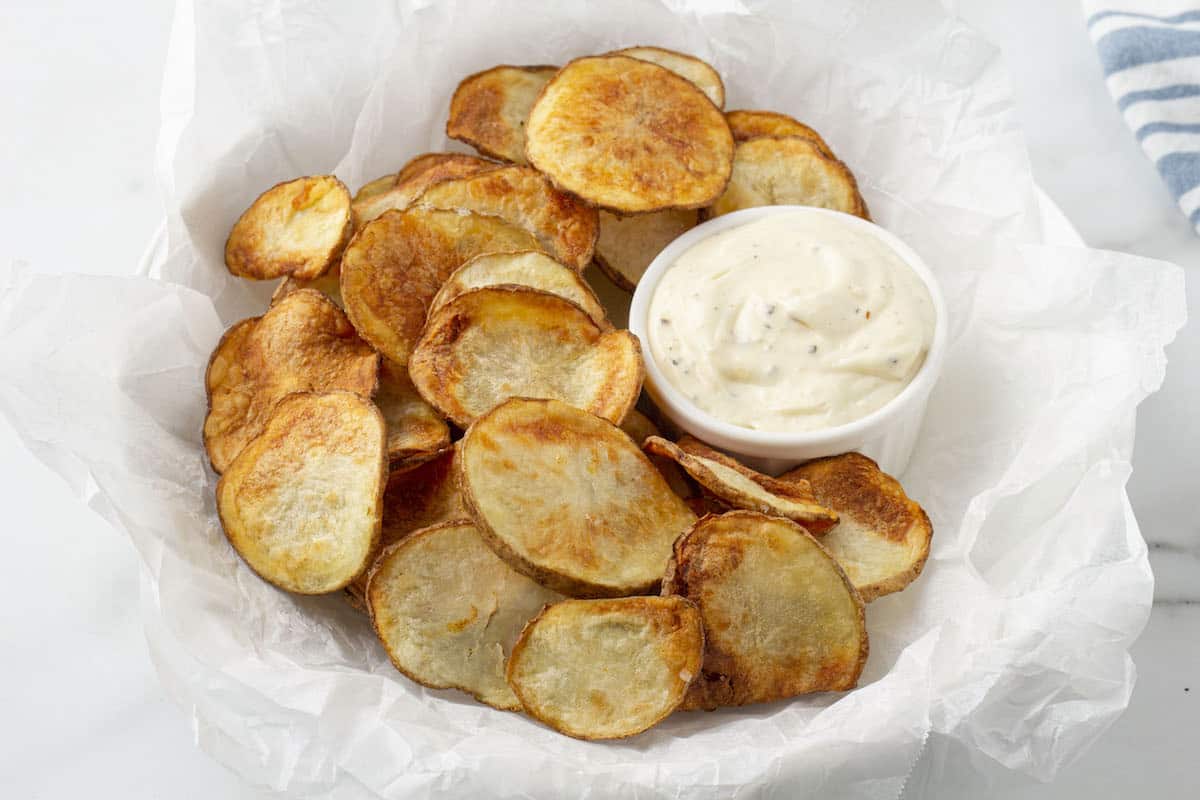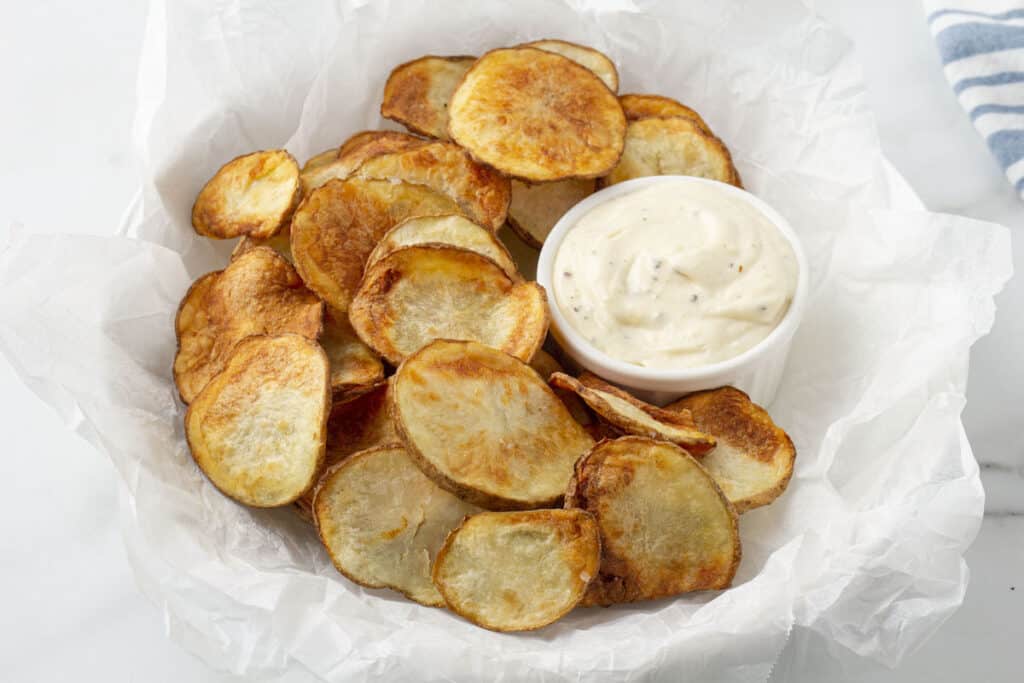 Why do I need to soak the potatoes in cold water?
Rinsing the potatoes the first time removes the excess starch. Together with the ice water soak, rinsing will give you crispy potato chips. It will also prevent them from sticking together while they cook.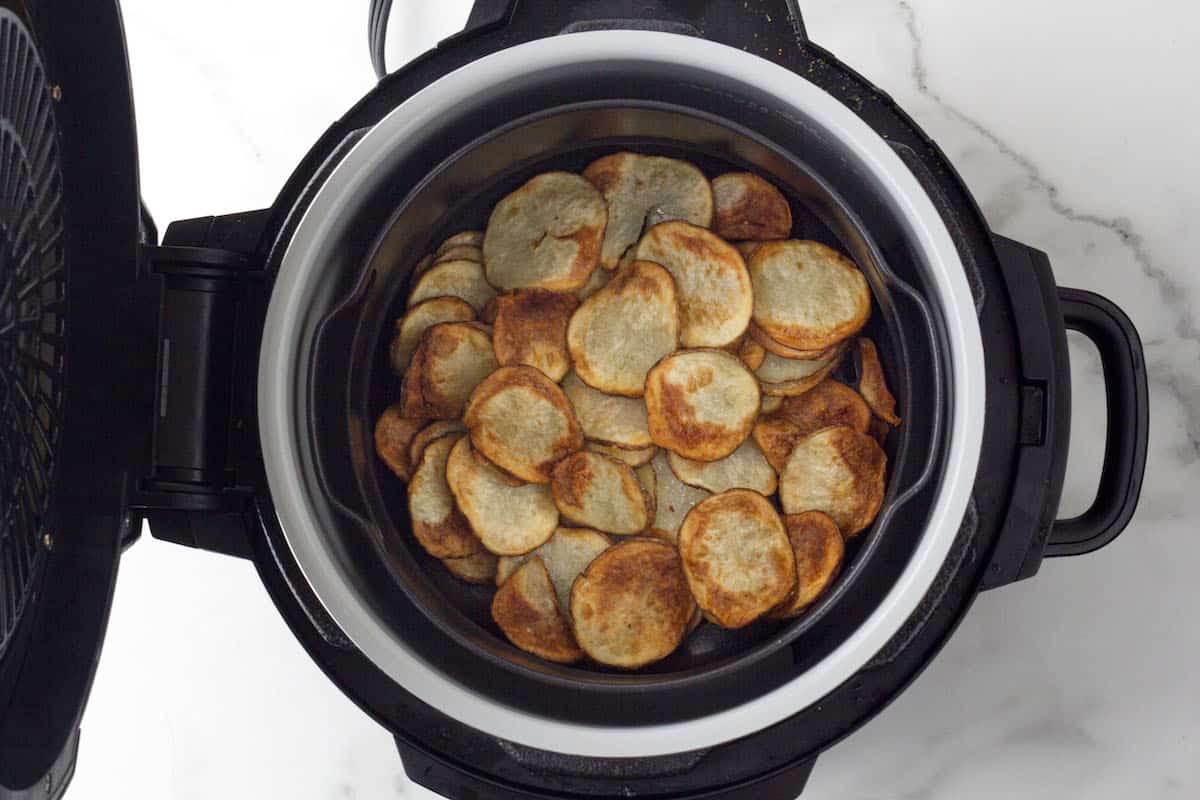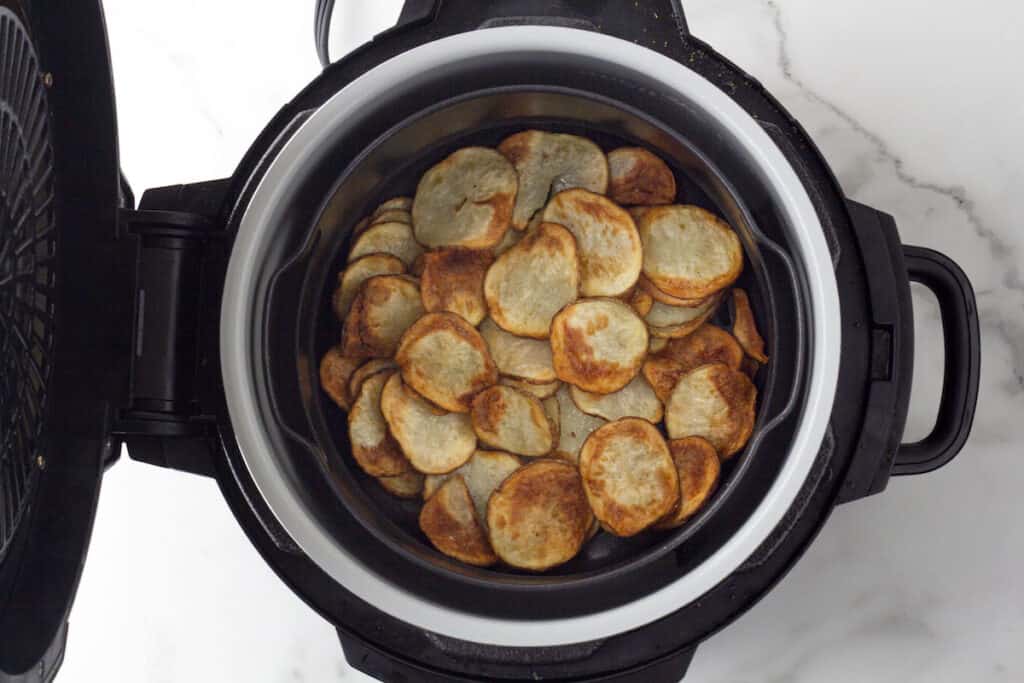 Why did my homemade potato chips come out soggy?
You probably overfilled the basket with potatoes so the air couldn't get in to crisp them up.
If this happens, remove some of the potatoes from the air fryer and add an extra 5 minutes of cooking time.
Can I make this without all that oil?
If you're watching calories, you can remove the olive oil from the recipe and lightly spray the potatoes with a good quality cooking spray. This will prevent the chips from getting dry in the fryer while minimizing the amount of oil in the recipe.
Can I make homemade potato chips with more flavor?
Of course you can! There are tons of recipe variations that are really delicious. I have had great success when I sprinkle the chips with any of the following (or a combination) before cooking in the air fryer:
Onion powder
Garlic powder
Chili powder
Smoked paprika
What should I serve my air fried chips with?
My favorite dip right now is this garlic aioli sauce, but Allie prefers hers with plain ketchup and Grace prefers hers with homemade ranch dressing.
And of course, I'm sure some people just snack on them plain and don't dip them in anything. That's always an option too.
How do I store air fried potato chips?
You store these chips just like any other: in an air-tight container on the counter at room temperature. They should stay fresh up to two weeks.
If you have leftover chips that you want to keep longer than two weeks, you can freeze them. Simply place them in a single layer on a baking sheet lined with parchment paper. Put this sheet in the freezer. Once the chips are completely frozen, you can transfer them to a plastic freezer bag. To reheat, pop them back in the air fryer for a couple of minutes, until they're warm and crispy. Don't let them overcook. Alternately, you can reheat them in the oven at 250º for about ten minutes.
More delicious air-fryer recipes
Recipe