Learn how to make prime rib in the air fryer with this delicious and juicy Air Fryer Prime Rib recipe! Includes a flavorful prime rib rub featuring a horseradish, garlic, and butter crust. Makes a beautiful addition to any holiday meal.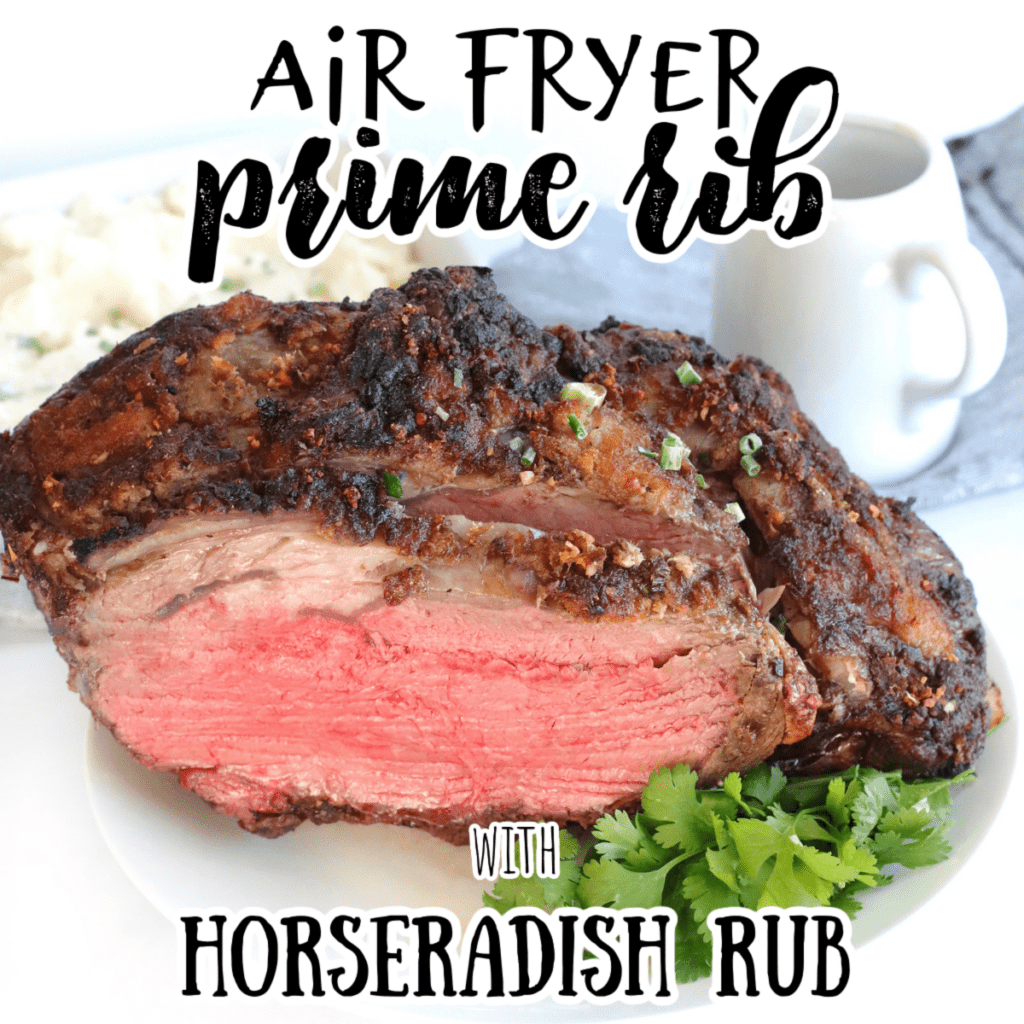 What is prime rib?
Prime rib is the same cut of beef as a standing rib roast, and most people say that it's the very best beef roast you can buy. It's a very juicy, tender, and thick cut as it comes from the rib area of the cow and always has a lot of marbling. (Marbling being the ribbons of white fat that go through the tissue and make a piece of meat juicy, flavorful, and tender.)
A prime rib roast usually has a bone in it, but it's possible to get a boneless piece as well. I recommend a boneless roast for the recipe below, primarily because those tend to be smaller than the bone-in prime rib cuts.
The label "prime" is a USDA classification for the best pieces of meat, so if it is labeled a "prime rib," you can be assured that you are getting something that's going to be really good.
This same cut of beef can be labeled as a standing rib roast (bone-in) or a rib-eye roast (boneless) and still be as nice but missing the prime label.
What is the best way to cook a prime rib roast?
The best way to cook prime rib is to start with a room temperature piece of beef. In order to achieve this, you're going to have to let it sit out on the counter for a few hours before cooking.
Once the beef is room temperature the whole way through, you'll cook at a high temperature to sear the outside. (Searing means to create a crunchy and flavorful crust that seals the juices inside.) Then you turn the heat down and roast the meat so that the inside cooks to the temperature you desire.
Most of the time, prime rib is cooked to an internal temperature of 135ºF, which is rare to medium rare. That's how mine is done in the photos below. However, when I am cooking for myself and my family, I cook mine a little longer, to an internal temperature of just exactly 145º. Purists would say this is too long, but I just don't like the red juices flowing state of beef.
The air fryer is perfect for a small prime rib because it makes the outside crunchy - as you would expect with any air fried food - and then you can turn the heat down and roast the meat just like you would in the oven.
Where do you buy prime rib?
The best place to buy prime rib is at a butcher shop or grocery store with a large butcher section. True "prime rib" is very very expensive and often hard to find. You'll have better luck getting a standing rib roast or a bone-in rib roast or a ribeye roast. They're all almost as good as a prime rib (and still pretty expensive) but more readily available.
If you're committed to a true prime rib, you'll probably have to special order it from the butcher.
Whatever the label, you'll want to choose a roast that has lots of white marbling and some fat around the red parts, but still has more meat than fat overall. There's no reason you should spend the money on a rib roast and buy more fat than actual meat. There should be some, but it shouldn't be the most prominent part.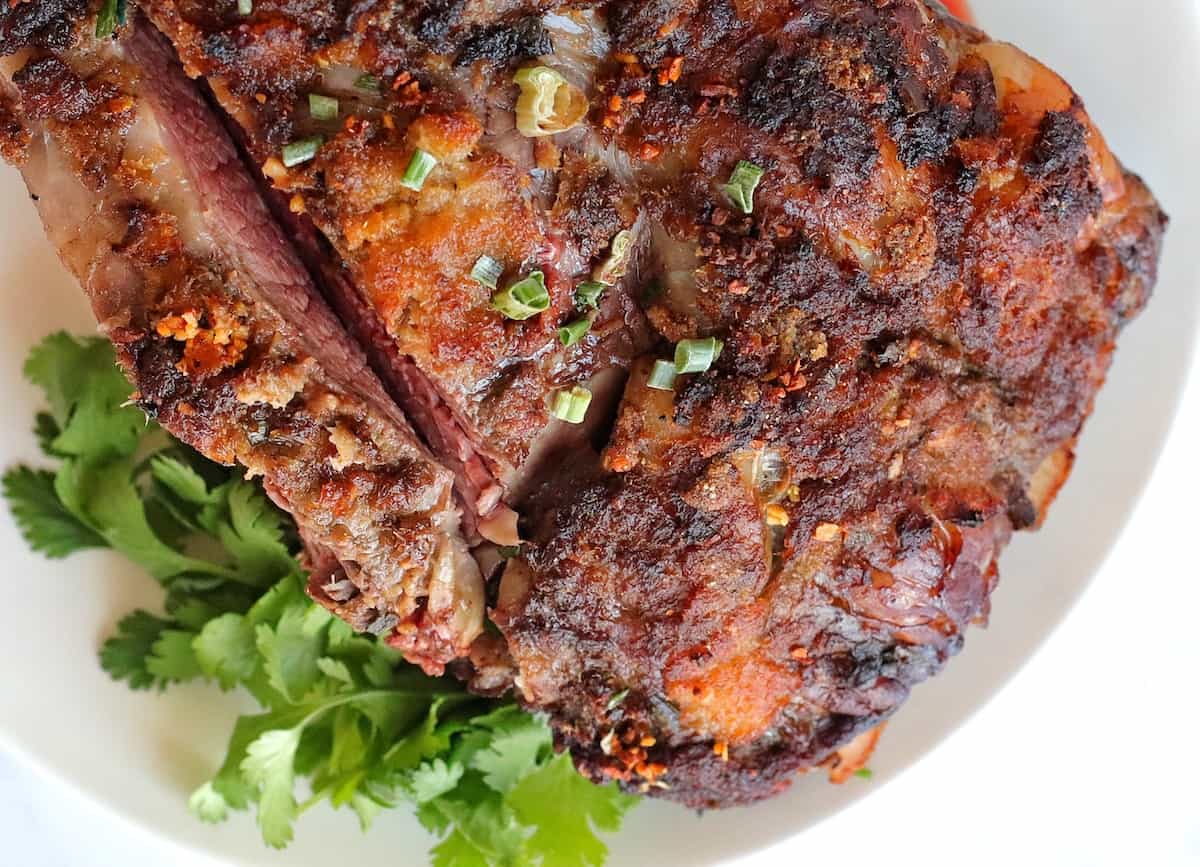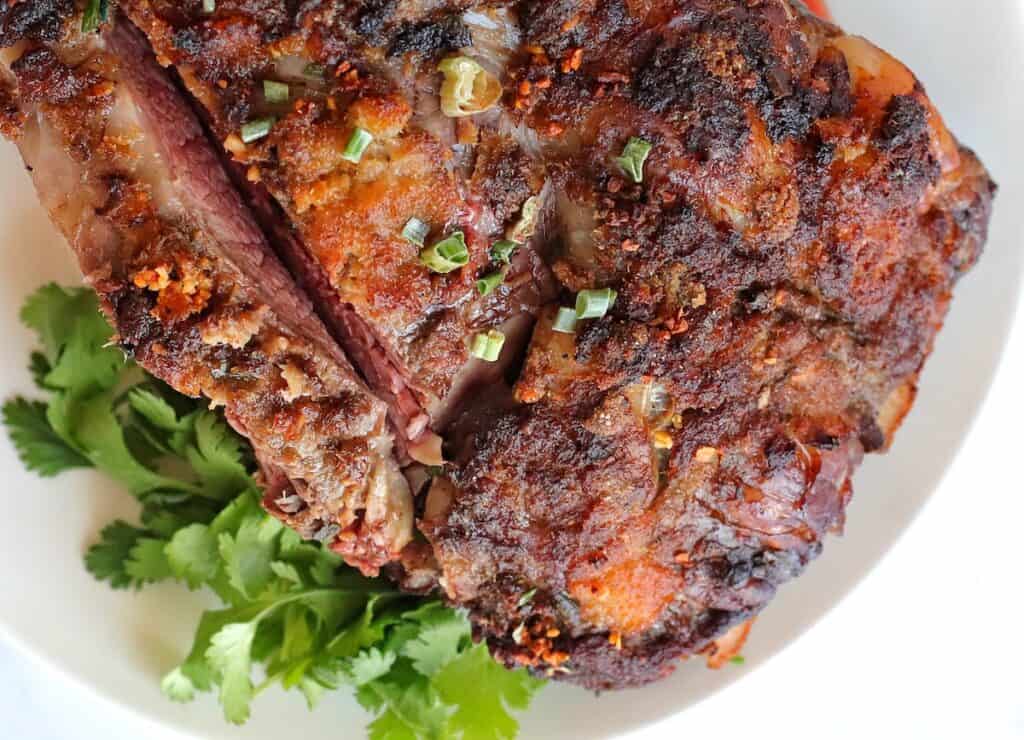 Why this is the best prime rib with the best horseradish rub recipe
Cooking the prime rib roast in your air fryer makes the outside crispy and crunchy and full of flavor while leaving the inside juicy and melt in your mouth tender.
I especially like the horseradish, garlic, and butter rub because it imparts a burst of flavor in the seared crust that I really enjoy. Most people serve horseradish with prime rib, so why not cook them together to start with?
What you'll need to make air fryer prime rib
Equipment
Of course, you will need an air fryer to make this recipe. I have this one that is both an Instant Pot and an air fryer. The basket is a little on the small side, but I can still get a decent sized roast in it.
You'll also need a garlic press to crush the garlic. If you don't have one, you could finely mince the garlic with a very sharp knife or use a bench scraper or the wide part of the blade of a chef's knife to crush the cloves.
Finally, you will need an instant read thermometer so that you'll know when the prime rib is cooked to the appropriate temperature.
Ingredients
Prime rib roast - Remember, as I explained above, you can use a bone-in or boneless prime rib roast, a standing rib roast, a ribeye roast, a bone-in beef rib roast. They're all more or less the same. A bone-in prime rib is pretty huge, so you'll most likely need a boneless roast for the air fryer. They tend to be smaller.
Unsalted butter, room temperature - You're going to rub this all over the roast, so it's important that it's soft and squishy but not melted.
Worcestershire sauce - This is for flavor and also saltiness.
Salt & black pepper - For seasoning. The meat will be a little bland if you don't use them.
Prepared horseradish - You'll need the prepared horseradish that comes in a jar. It's a white paste. Horseradish is very potent, so you don't want to go overboard on this.
Chives - I love the delicate onion flavor of chives and use probably 3 times the amount called for in the recipe.
Fresh garlic - I know 12 cloves seems like a whole lot of garlic, but it won't be overwhelming once it's paired with the horseradish. If you're afraid of the garlic, use less. It's your roast after all.
How to make prime rib with horseradish rub in the air fryer
Preheat your air fryer to 375ºF.
Remove the prime rib from the packaging. Smear the softened butter all over the outside of the prime rib.

Pour Worcestershire sauce on top. Sprinkle with salt & pepper.

Stir horseradish and crushed garlic together until well blended. Rub the mixture all over top & sides generously.

Sprinkle with chives.

Place the prepared Prime Rib into the air fryer basket and air fry at 375ºF for about 15 minutes.

Reduce air fryer temperature to 315ºF and continue cooking for another 50 minutes.

The meat is done to medium rare when it reaches an internal temperature of 130ºF. Use a reliable meat thermometer to determine this. Always stick the thermometer into the thickest part of the roast and away from the bone if there is one. If it's not reached the correct internal temperature, continue cooking in increments of 8 minutes and then check again.
Remove the meat from the air fryer and allow it to rest at room temperature for 20-25 minutes before slicing it. Cutting it too soon will make the meat dry and tough, so be sure to let it rest properly.

What should the internal temperature of prime rib be when it's done?
Most people eat prime rib rare or medium rare, but as I said above, I like mine more on the medium to almost medium well side.
Here's a handy little chart:
| | |
| --- | --- |
| Rare prime rib | 120º-129º |
| Medium rare prime rib | 130º-134º |
| Medium prime rib | 135º-144º |
| Medium well prime rib | 145º-154º |
| Well done prime rib | Don't do it! |
I go over this below, but remember that the internal temperature of meat rises while it rests, even after it's out of the oven. Expect it to go up by as much as 5º-10º, so remove it from the oven before it reaches the temperature above.
Tips and tricks for the best prime rib roast
When it's a bone-in roast, tying your prime rib can help it to cook more evenly and also makes slicing a bit easier. You can ask the butcher to do it for you, or you can do it yourself with the instructions in this YouTube video.
Take the roast out of the refrigerator at least 4 hours before cooking so that it can warm up to room temperature inside and out.
Use a meat thermometer. There is absolutely no way to know when the center of the prime rib is cooked to your desired doneness without a meat thermometer. You can't tell from the outside. No one wants an overly rare or a well done prime rib. Use a thermometer and let the internal temperature be your guide.
The roast will increase in temperature while it rests, so you if you are really tied to a certain level of done-ness, you should remove it from the air fryer when it's 10º below your actual desired temperature.
You must let the roast rest. Any time you cook meat or poultry in the oven, you should let it rest on the counter or stovetop for at least 10-20 minutes. This allows the juices to soak into the meat fibers and leave them tender and juicy. If you cut the meat before the juices have soaked in, it will be chewy, dry, and possibly tough.
Cut across the grain. When you cut the prime rib (or any roast), you will notice that there is a grain to the meat fibers. You should always cut directly across the grain. If you cut parallel to the fibers, the meat will be tough and chewy.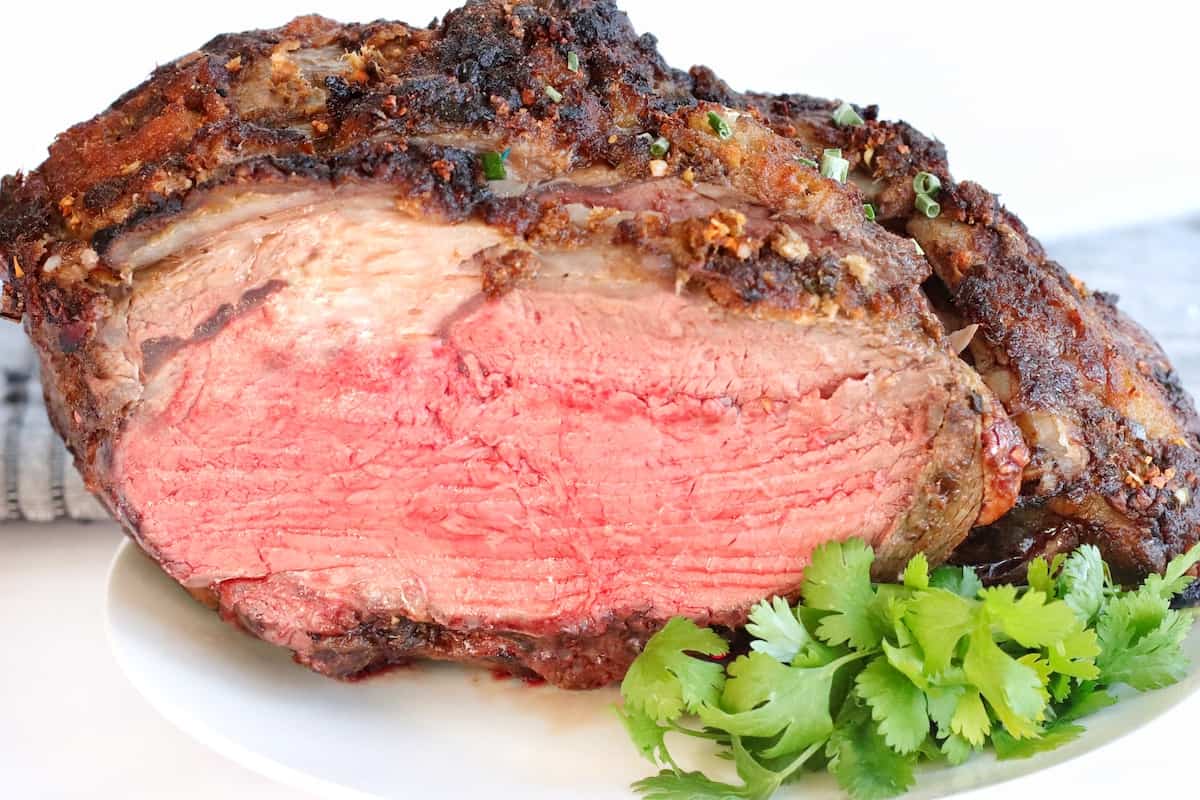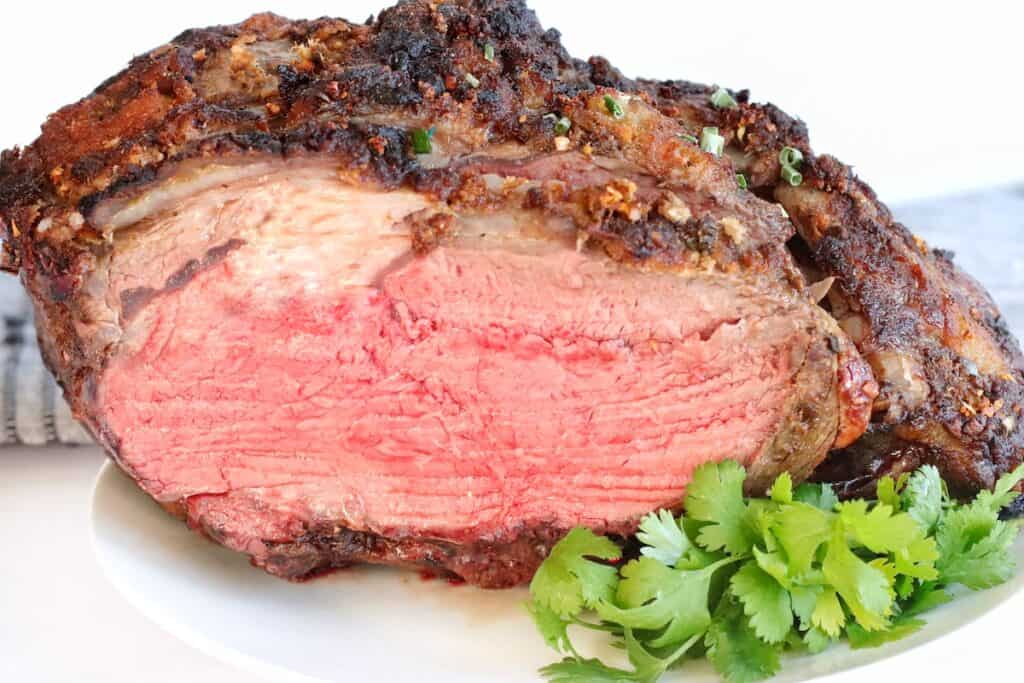 How to store prime rib
Because you cook it to a precise temperature, prime rib is best eaten soon after it's prepared. However, if you have leftovers, you can wrap them tightly in plastic wrap and aluminum foil and store the roast in the refrigerator for up to 5 days.
You can also freeze leftover prime rib, wrapped tightly in plastic wrap then aluminum foil then into a plastic freezer bag. It will keep in the freezer for up to 6 months.
It's best not to slice more of the roast than you'll need immediately because it does store much better uncut than in slices (whether in the fridge or freezer).
You can keep an uncooked rib roast or prime rib for up to a year in the freezer. Wrap it in plastic wrap and then aluminum foil and then put the whole package into a plastic freezer bag.
Condiments for your prime rib roast:
People often serve prime rib or rib roast with plain prepared horseradish out of the jar, horseradish aioli, or au jus. Au jus is basically a very very thin beef gravy made with drippings from the roast and flour, whisked together and cooked.
Beautiful side dishes to serve with your prime rib roast:
Recipe