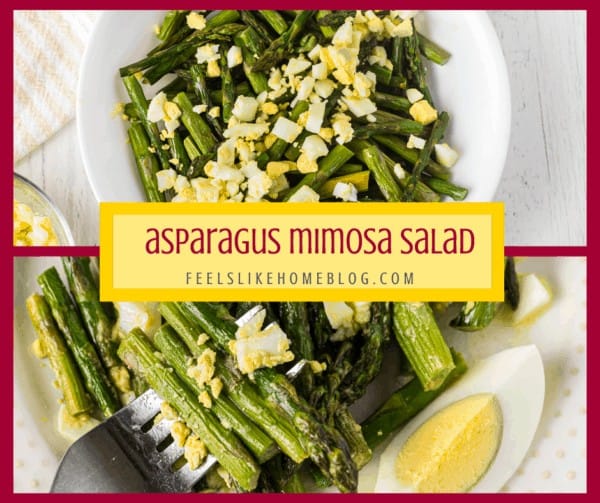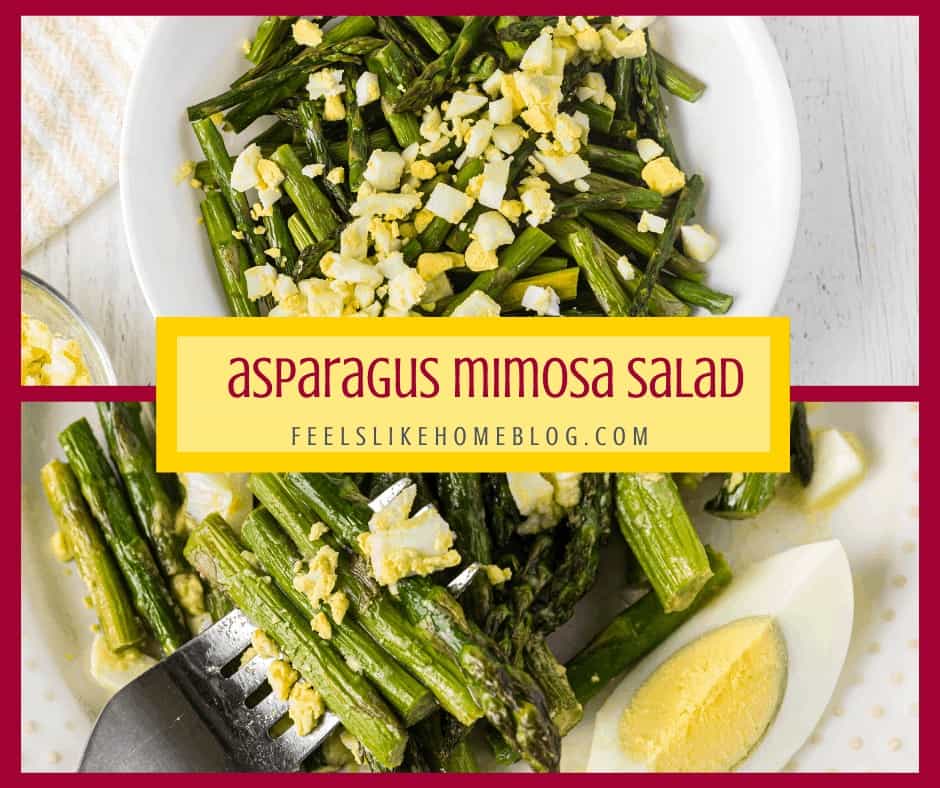 Roasted asparagus, tossed with chopped hard boiled eggs and a tangy mimosa vinaigrette made with garlic and Dijon mustard make the perfect side dish for Easter or any spring meal.
Spring is asparagus season. The asparagus patch that I helped my dad to plant is just beginning to produce the tasty spears, and they are starting to show up in farmer's markets in my area.
As with most foods, fresh asparagus from your own garden is worlds different from what you buy in the store from half a world away, and when you roast it, the spears are sweet and juicy and amazing.
I love to roast asparagus and use it all different ways, but one of the best is in this gorgeous salad.
If I'm cooking for just Joe and myself, I mix the salad all together on a serving plate. If we're cooking for others (as we will be for Easter dinner), I serve the dressing on the side.
Also, this dressing gets very tart if you leave it for longer than a couple of hours. By the second day, it's almost inedible. Make it and use it fresh and don't save leftovers.
How to Make Asparagus Mimosa Salad with Dijon Vinaigrette Dressing
Prepare the vinaigrette dressing. Combine the lemon juice, white wine vinegar, olive oil, Dijon mustard, sugar, pressed garlic, salt, and black pepper. Whisk until well blended. Cover; refrigerate until ready to use.

Roast the asparagus. Preheat oven to 400º. I cut my asparagus spears into 2-inch pieces at this point, but you can also leave the spears whole if you prefer. Spread the asparagus pieces in a shallow baking pan. Drizzle with olive oil and toss to coat. Cook until tender, 15 to 20 minutes. Allow to cool.

Assemble the salad. Move cooled asparagus to a serving platter. Top with egg. Drizzle with vinaigrette; serve immediately.

Here are some other asparagus recipe you might like:
Recipe